For those of you just joining us on this bed-update journey, poor Zoe had been sleeping in her crib-now-converted-to-toddler-bed for her whole life.
She did still fit in it, but as she said, "Mommy! Six-year-olds should not be sleeping in toddler beds."
I knew I wanted to buy a bed that could be an heirloom someday (or that would at least last until Zoe moves out!), but I didn't want to pay $600.
So, I poked around on Craig's List and found just what I was looking for…a wooden bed with drawers underneath it.
And it was $50. Shweet.
I don't have a very good before picture, but this will have to do.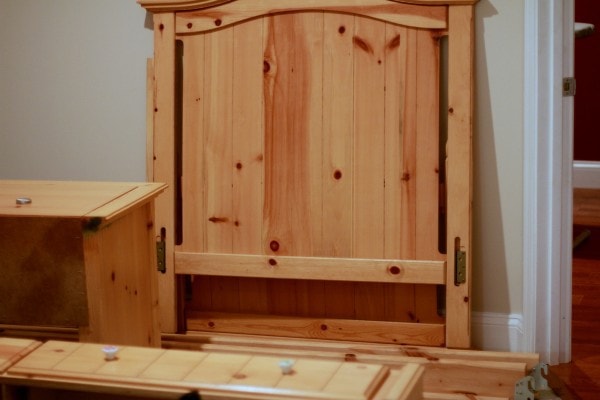 Here are the drawers. I was so excited to find one with drawers because I dearly love hidden storage.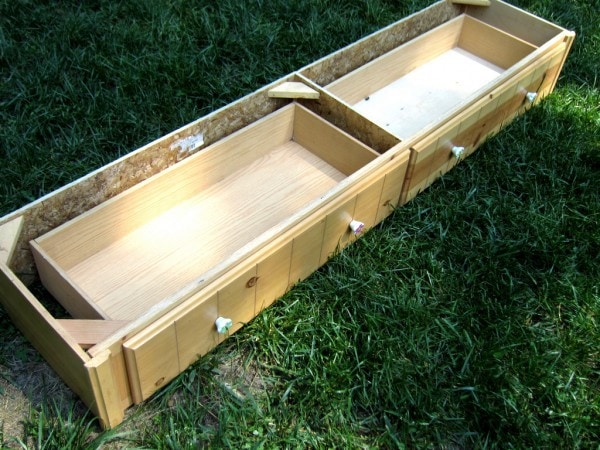 I sanded the bed using my orbital sander. I didn't go down all the way to the wood grain since pine grain doesn't show through paint nearly as well as oak does. Also, the grain doesn't show as well with white as it does with black.
So, I just sanded enough to take off the gloss. I primed it with white Painter's Touch spray primer, and then painted it with the brush-on Painter's Touch paint, using lots of very thin coats.
My whole sanding/priming/painting method is outlined in this post, so go check it out if you've got questions!
I know some of you adore the bare wood look, but I love this bed SO much more in white.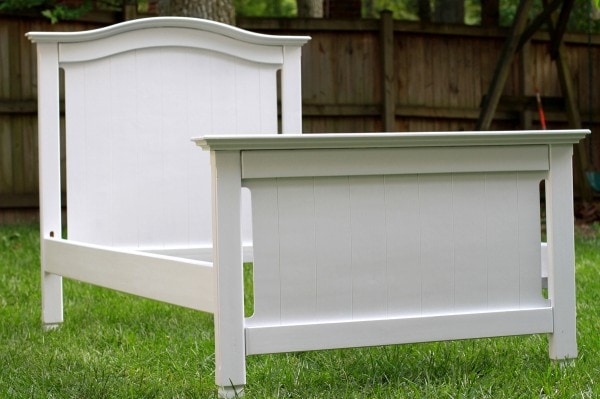 You really wanted to see it in Zoe's room, though, right?
Well, first we had to take apart her crib. This picture should satisfy those of you who think my house is always clean.
It's not.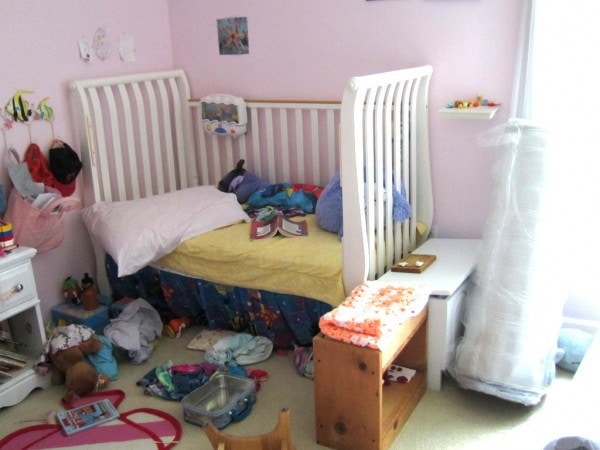 We took the crib apart and gave it to my brother and his wife, who are expecting their second baby. It had definitely served its time here at our house, and though I felt slightly sentimental about it, I was mostly glad that it was going to someone who needed it.
Zoe must have been feeling a little sentimental too, because she took a photo with her toy camera. 😉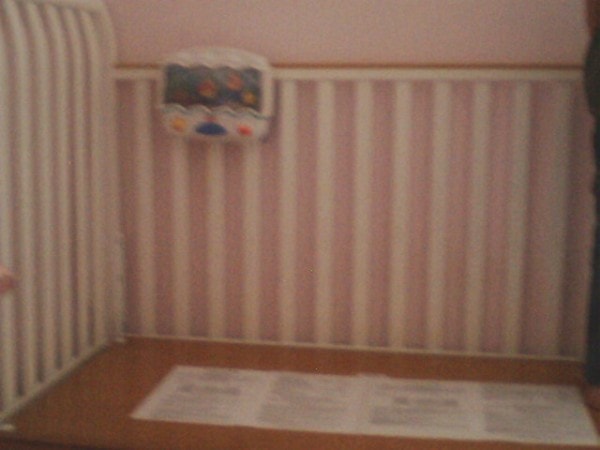 The floor under the crib was pretty dirty. What can I say? I don't vacuum under beds very often*!
*meaning, never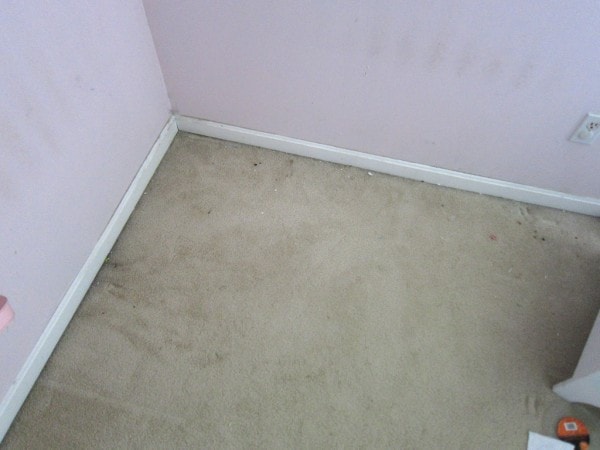 (can you see the dirt marks on the walls from baby/toddler fingers reaching through the crib slats?)
The carpet really kind of needed a shampooing, but I was in too much of a hurry for that. So, I just vacuumed.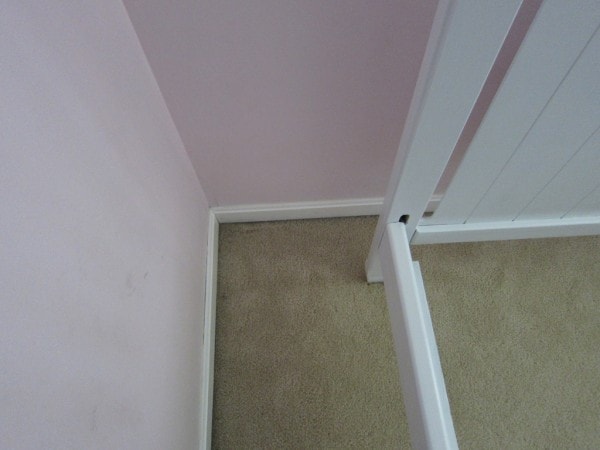 One of the bed slats broke in transit to our house, but we had a piece of scrap wood that was the right thickness, and Mr. FG just used his saw to cut it down to the perfect length.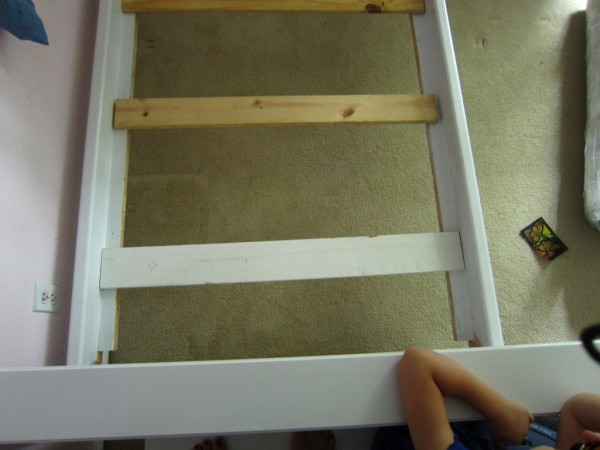 Ok. Here's the bed all put together…ta-da!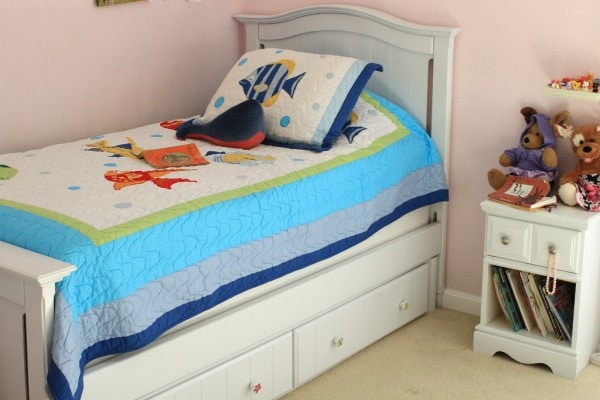 Except the drawers have new handles on them now, so they look like this: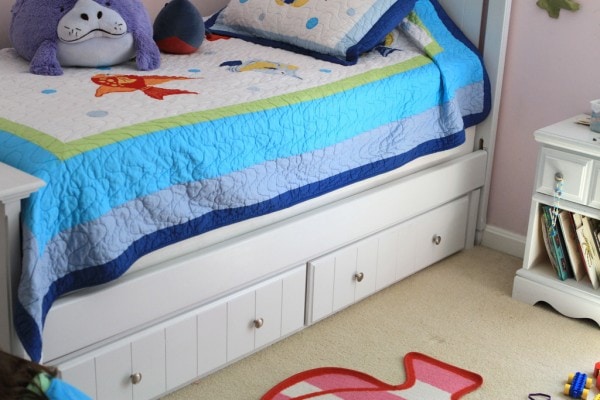 Zoe's quilt before was a toddler-sized one, so we had to buy something new. This fish quilt was perfect.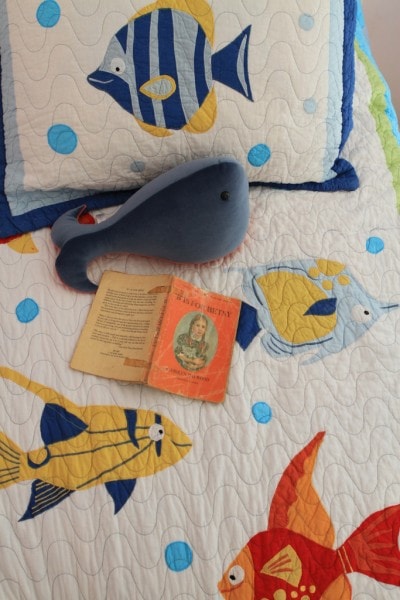 I especially liked the pillow sham.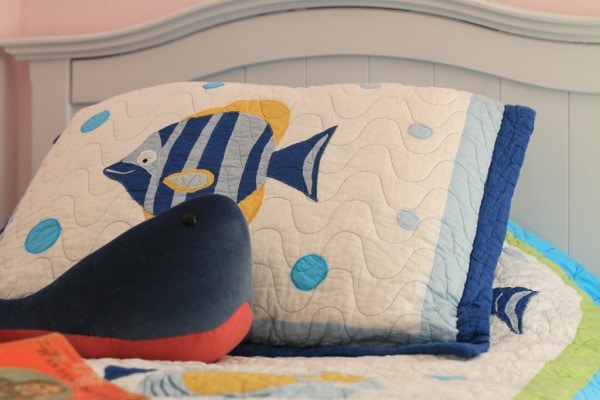 I moved her tropical fish wall hook set to a new place, and also installed a hook for her bath towel.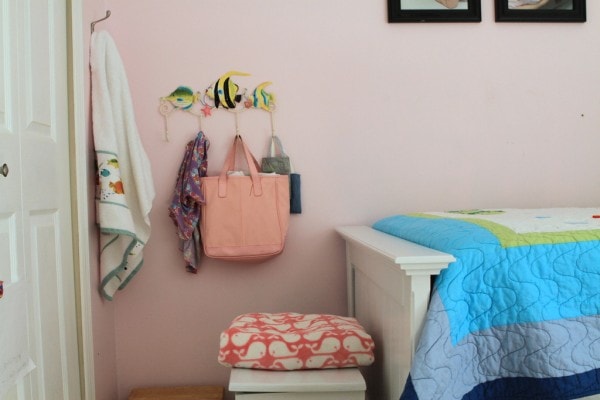 I was a little worried that this chest, a painted Freecycle find, wouldn't fit at the foot of her new bed like it did with her crib, but I was pleasantly surprised.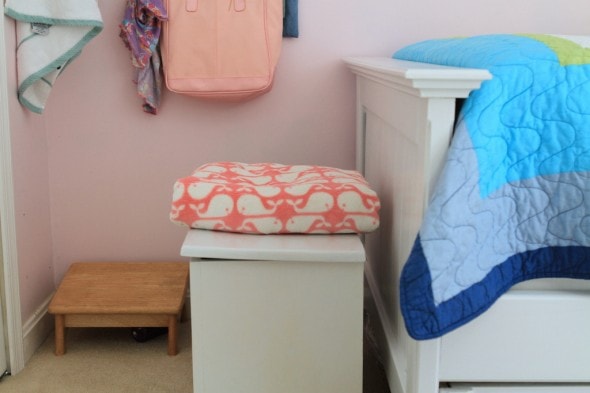 One of the underbed drawers holds Zoe's craft/art supplies.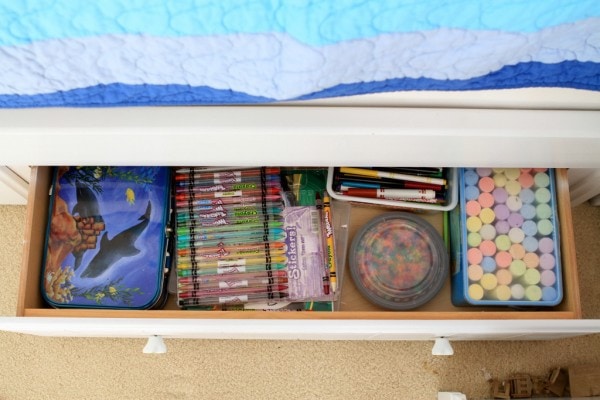 And the other holds some blankets and clothes.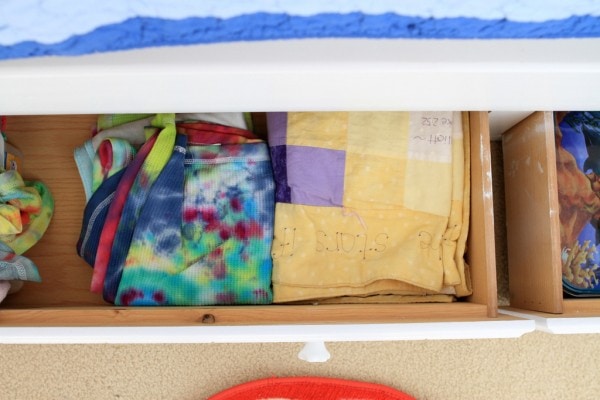 The nice thing about painting old furniture is that you can make mismatched pieces look like they sort of go together.
In addition to the bed and storage chest, Zoe's got a nightstand from freecycle: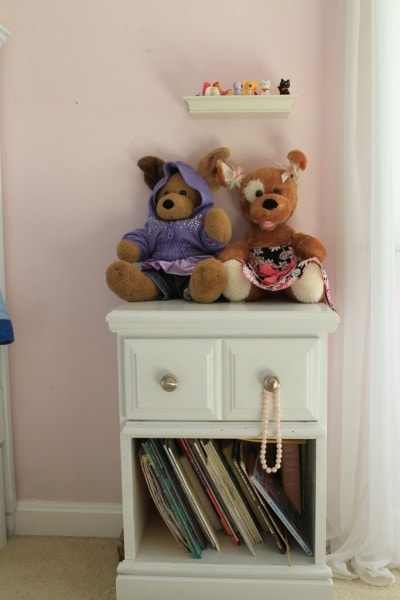 A dresser from freecycle: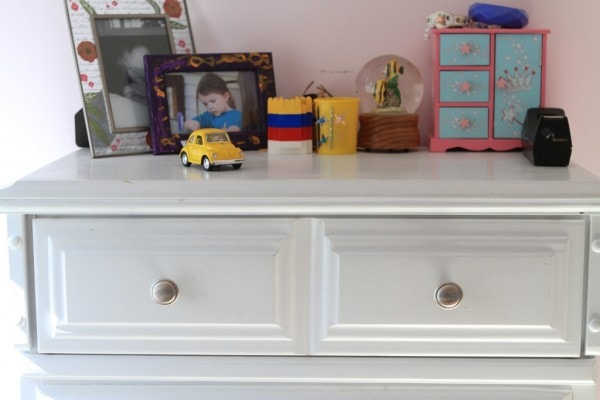 And a bulletin board from Goodwill.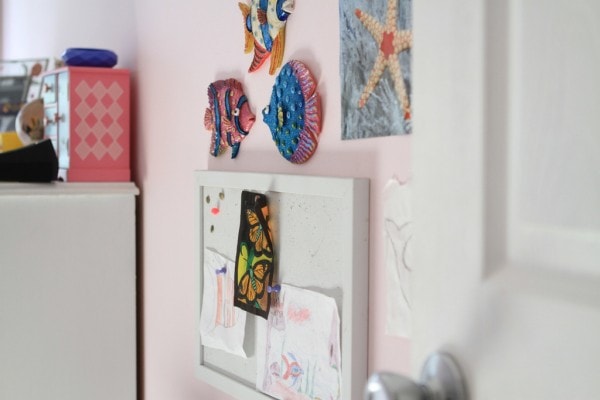 I've painted everything white and added new matching hardware, so it looks nicely pulled-together.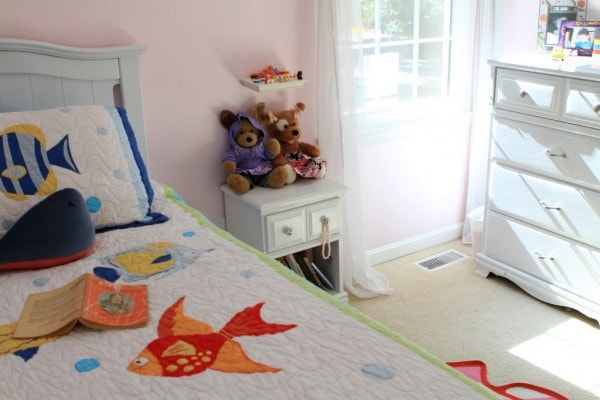 I'm really happy with how this turned out, and I'm also very pleased that we obtained a good-quality bed for a very fair price. The bed was a mere $50, and I spent $5-$7 on paint and another $6 on hardware.
But, I sold the Ikea chair that used to live in Zoe's room for $35, so that offset my bed expenditures a bit and freed up some space for the bed.
Of course, I did have to put in some hours of labor to pull this off (probably about 8 hours all told), but considering that a similar bed from Pottery Barn or L.L. Bean costs $800 with the under-bed storage, I'm quite sure this was worth my time.
And Zoe's very pleased that she's not sleeping in a toddler bed anymore, so that makes me happy.
Browse my other furniture painting projects