We got this bed back in 2001 as a hand-me-down from an extended family member (Mr. FG's uncle's wife's aunt, I think!).
When it arrived at our house, it was stained with a somewhat dated-looking color, and it didn't go with the white dresser at all.
So, my younger brother and I scuffed it up and slapped a coat of white paint on it.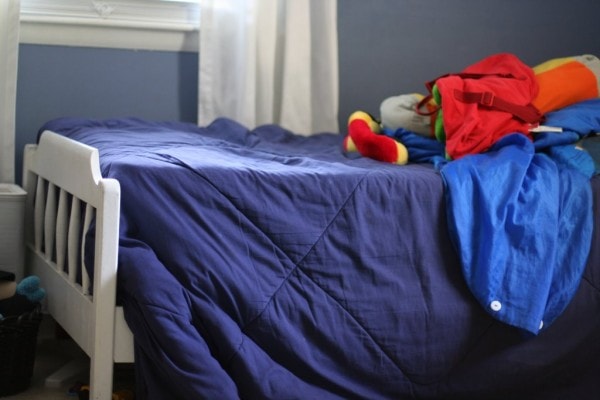 I really had no clue about painting furniture back then.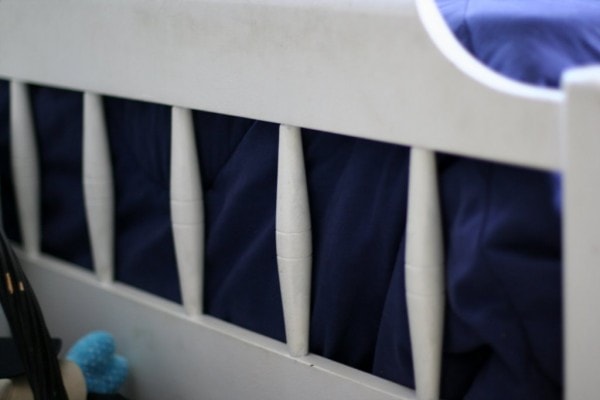 I think I might have used wall paint, actually.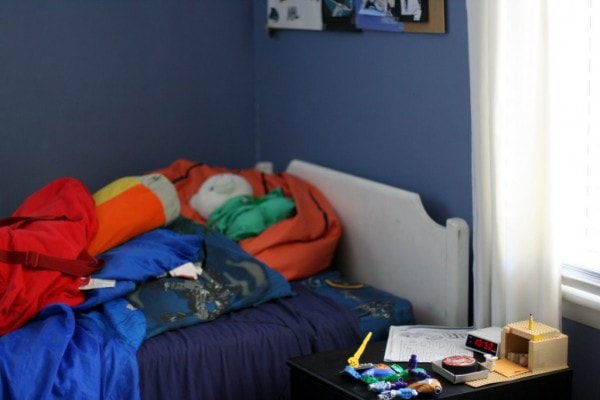 And horror of horrors, I think we used a wall roller to apply the paint, so the finish was, shall we say, not too smooth.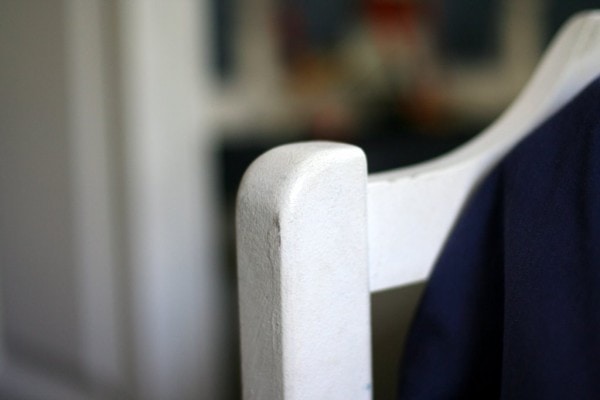 After 9 years, the white paint was sort of off-white, and it was starting to chip off in places from wear and tear. Since all the other furniture in this room is black, I thought a black bed would be more appropriate, and he agreed.
So, we took the bed apart, and found it necessary to do a little bit of decluttering and vacuuming.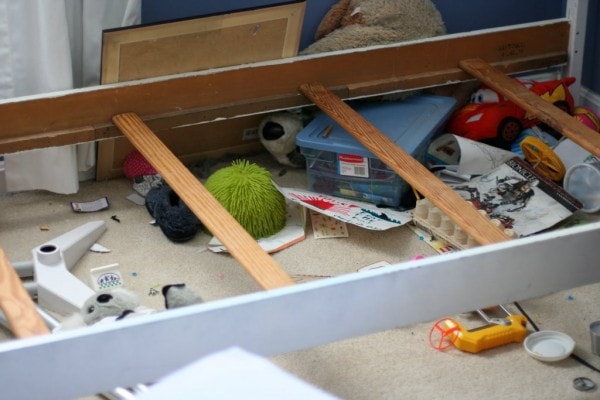 Because you can't exactly put a boxspring and mattress directly on top of all that.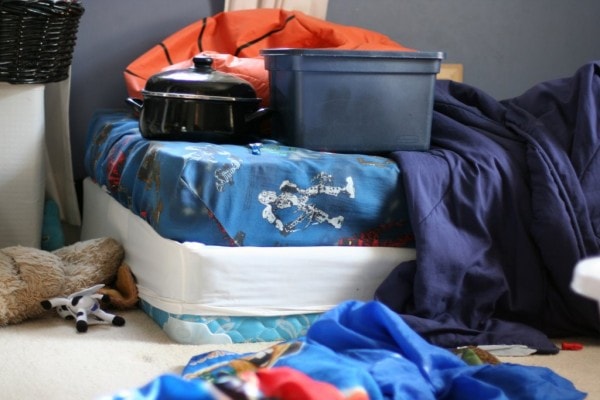 (as you can see, a lack of underbed space does not deter my children from keeping things cluttered!)
This took me two afternoons and I could probably have gotten it done faster, except that I really wanted to sand down to the bare wood wherever possible, just because I love to have the wood grain show through the black paint.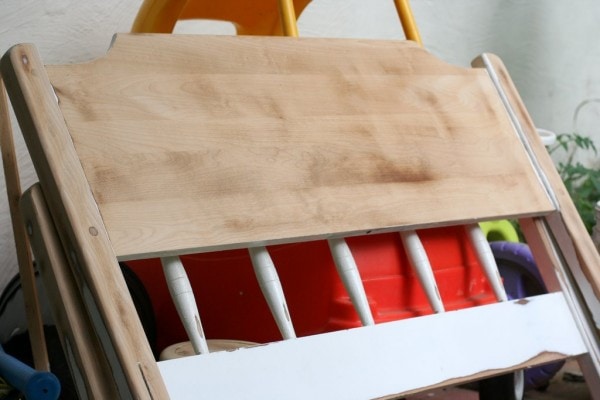 Unfortunately, whatever paint I used on that first go-round was remarkably resistant to sanding.
Either that, or the problem was the gobs and gobs of paint I used.
Ahem.
Whatever the cause, my orbital sander and I had to spend a lot of time together to get rid of the paint (and I went through a small pile of 60-grit sand paper!).
Once it was all sanded down, I used the painting method described in my How to Paint Wooden Furniture post to paint the bed black.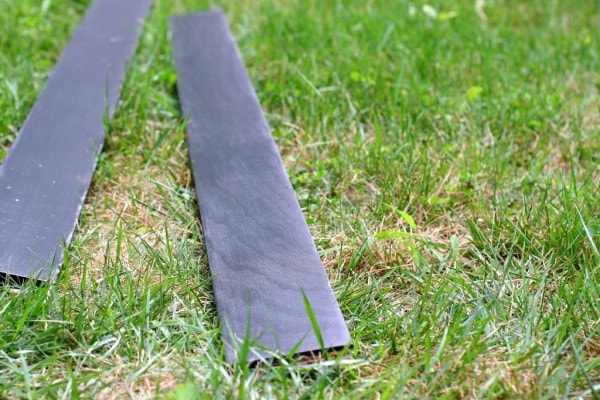 (excuse the dust on the left piece. And these really are black-black, not gray like they appear!)
You can see how the wood grain is showing through on the one side rail. Love that.
I don't actually paint in the grass, just so you know. I use sawhorses whenever possible.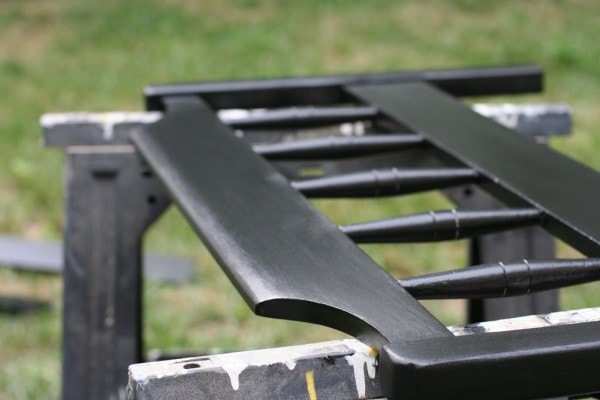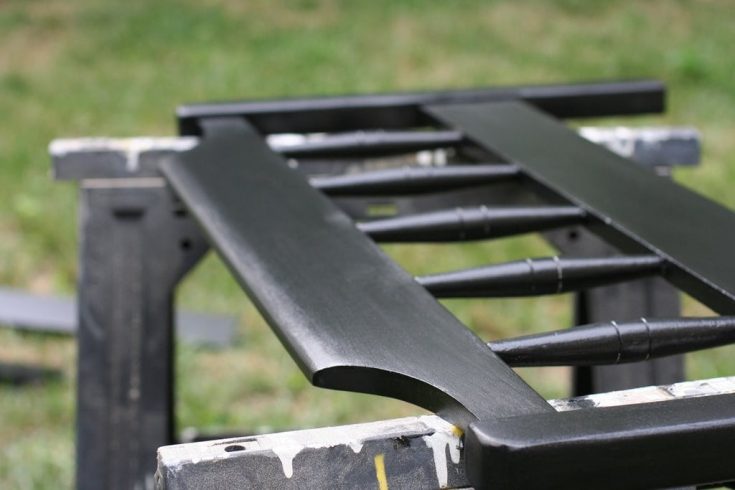 And sometimes I use cardboard boxes to prop things up. 😉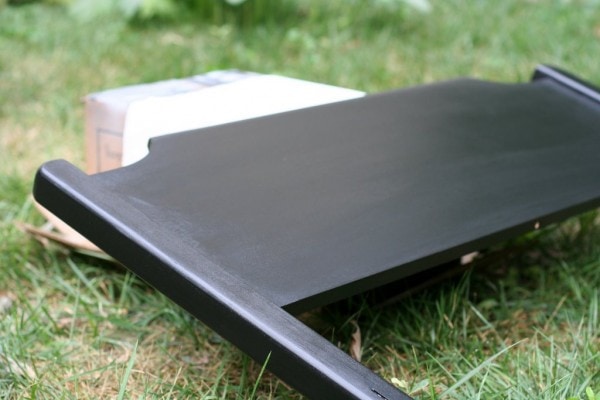 I was going to let the pieces sit overnight before putting them back together, but Joshua wasn't going to have any of that….he was very excited to get his new bed!
Unfortunately, the bed is in a dark corner of his room, and it's kind of a cloudy morning here, so I had trouble taking pictures. None of these really blow my hair back, but I'm too impatient to wait to share about his bed, so here you go!
First, check out the underside of his bed…there's nothing there! At least, not for the moment.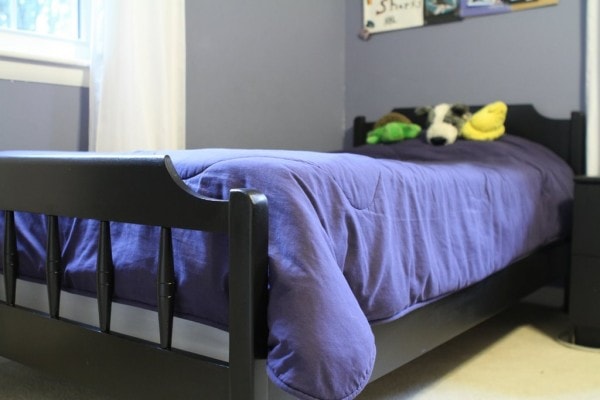 I'm not a big fan of the blue comforter/black bed combo, but we will get another comforter soon.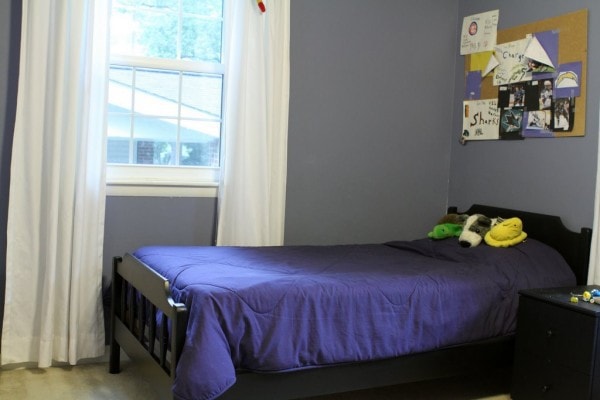 I'm so pleased with the look of this bed…it really does seem like a brand new piece of furniture! The pictures don't do it justice, so you'll just have to trust me on that. And Joshua's very pleased as well…I think he feels that his bed looks a little more manly now. 😉
Not only is the bed beautiful, I think it was a total bargain, especially for a bed made from 100% real wood.
A black twin bed from L.L. Bean, made from birch and, uh, manufactured wood comes with a $399 price tag.
Even Ikea's only twin black bed, which is made from "Fiberboard, Particleboard, Acrylic paint, & Foil" costs $129.
Pottery Barn carries a solid wood bed (not in black, though) but that would run me $599 (on sale!).
This bed, on the other hand, was free!
And a $3.50 can of primer, a pack of sanding pads (I already had those, so I don't remember what they cost! It's usually less than $5, though), and a $7 can of paint have made it look like those beds that cost hundreds of dollars.
Plus, that can of primer and can of paint are also going to rehab three picture frames and a mirror and possibly a few other items as well.
So, my out-of-pocket cost for redoing this bed is actually far less than $16.50.
Stuff like this just makes me all happy inside…yay for hand-me-downs, for high quality furniture, and for fabulous paint.