Every Monday, I answer a few of the questions that my readers send me. If you have a question you'd like me to answer in a future Q&A post, just leave me a comment here or email me (thefrugalgirl [at] gmail [dot] com) and put Q&A in the subject line. I look forward to hearing from you!
I like the idea of the Klean Kanteens and have decided to cut down on my bottled water purchases. I'd like your advice, I have gone on the Uk Amazon site and there are so many different KK to choose from. Have you any particular type, you would recommend?? Or is it just trial and error?

-Laura
I'm so delighted to hear that you're going to be purchasing less bottled water…that's great!
This is the Klean Kanteen that I have…the 18 ounce bottle with the sport cap. I like the sport cap because it makes it very easy to drink from the bottle, and the 18-ounce size is perfect for me. Not too big, not too small.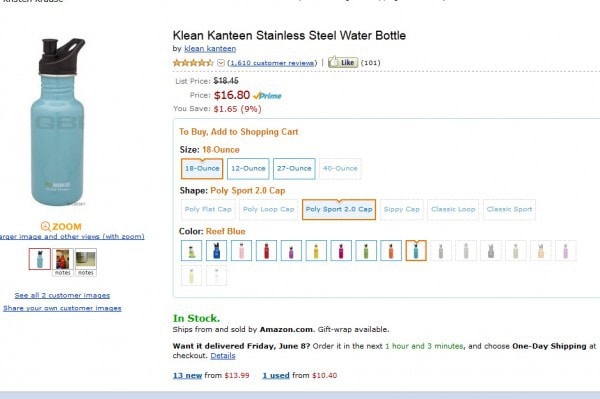 If you're going to be out a while and need to carry more water, the 27-ounce Kanteen is a good choice, though. If you choose to get a screw cap instead of a sport cap, you should know that the larger size of this bottle makes it a bit difficult to drink from without spilling.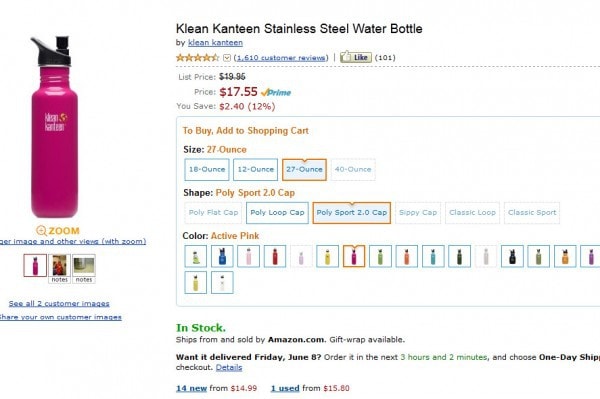 When we bought Klean Kanteens a few years back, we chose the smaller size for Sonia and Zoe. It was great for them back then, but now that they're 6 and 8, they tend to need a lot of refills since they drink more water now. They're probably due for an upgrade!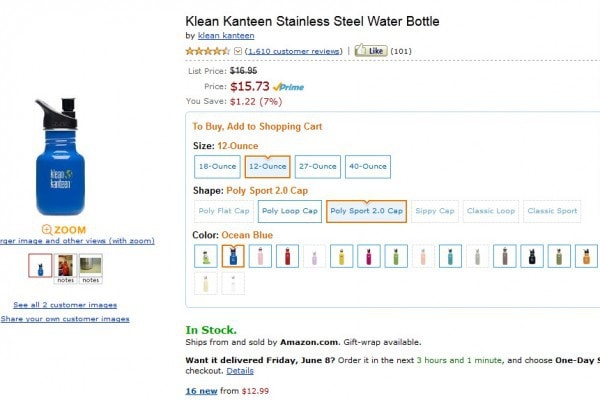 In addition to a traditional loop top and sport top, you can also buy a flat top and even a sippy cup-type lid. And if you're really, really committed to keeping plastic from touching your water, they offer a lid that has a stainless steel inside.
I hope you love your Klean Kanteen! Ours have served us really well, and the quality of the Klean Kanteens is definitely superior to that of other, cheaper water bottles we've tried.
(Just so you know, I bought all of our Klean Kanteens with my own money and Klean Kanteen doesn't even know that I exist. I just think their water bottles are fabulous.)
I have recently read on a blog that you are spending 450$ a month to feed your family of 6.
Needless to say I was in shock because we spend at least $800 on food monthly for a family of four – and I do cook from scratch. It is true we buy quite a few organic products but not everything is organic.
I have noticed that you invited one of the posters to e-mail you on tips, so I decided to write to you hoping you don't mind. I would appreciate any advice you might have for us.
Thank you so much,
C.
First off, please don't think my grocery budget is necessarily right for your family. My kids aren't teenagers yet, we don't have any allergies or special diets to follow, and none of us has football-player sized appetites. What works for me might not work for you!
Do you plan a menu? That saves me so much money and time. Here's how I plan mine. And here's how I come up with meal ideas.
Also, you should check to see if your grocery store has the best prices in town If you have an Aldi, I so recommend shopping there, and do compare prices at other grocery stores too. A bulk club like Costco might also help to keep your budget down. If you're into buying organic, have you checked to see what's available from local farmers? Sometimes you can find produce that's organic in everything but the name, and it's usually cheaper than official organics.
Do you spend a lot of money on beverages? We drink mostly water at our house, and this single habit makes our grocery budget much more sustainable.
Also, here are a few posts from the archives that might be helpful. I'm not a couponing gal, so I wrote about how to save money on groceries without using coupons. I also did a series about the basic of saving money on groceries. Here are the first posts and here are the last three.