Every week, I post a picture of the food that has gone bad over the last seven days. I started doing this in March of 2008 to help motivate myself to use up my food instead of wasting it and it's been very effective. Since it helped me so much, I invited other bloggers to join me in posting their food waste photos, and Food Waste Friday was born.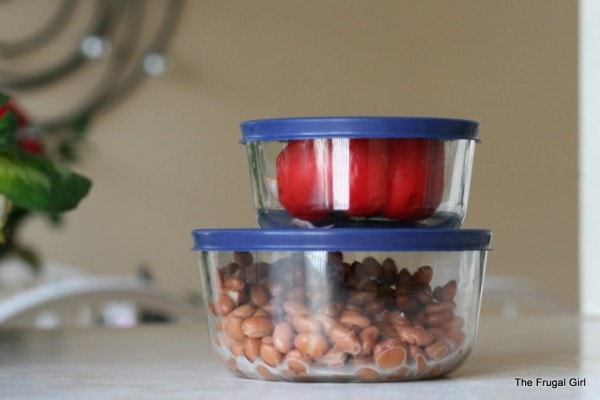 Sooo, this week I learned that those big bargain cans of beans are only appropriate for households where more than two people eat them. Ahem. It's small cans from now on here at Chez Frugal Girl (I know I could cook them myself, but I'm not inspired enough to soak and cook a small amount of beans, and canned beans are still really cheap!).
The red thing on top is the last bit of a red pepper that went bad before I finished it. I should have frozen it, but I was totally going to, you know, add it to my salad (good intentions and all that!).
________________________________________________________
How did you do this week? If you blogged about your food waste, link us up by entering your info into the widget below. You'll save money, reduce your trash output, and get a little publicity for your blog!