As it happened, our weekly shopping trip landed on Zoe's birthday. Fortunately, she doesn't mind grocery shopping, so she wasn't at all upset about this turn of events. 😉
We made a birthday cake first…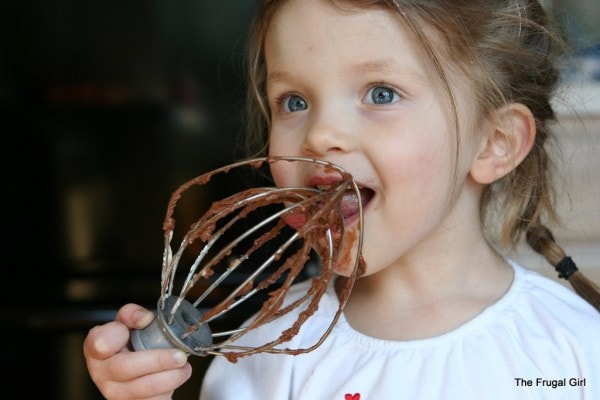 …and then we headed out to go shopping. Here's what we bought.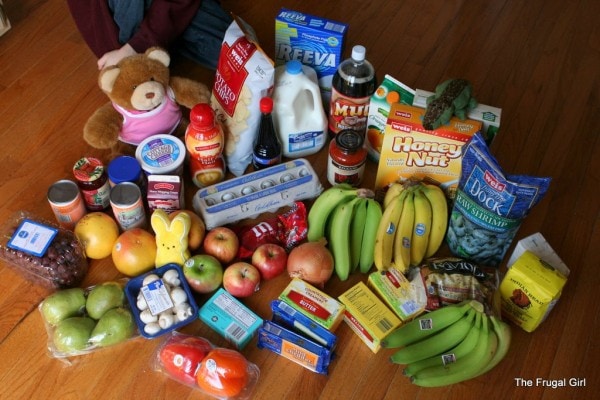 The kids wanted me to show you what we found at Goodwill….a stuffed Peep! It was $1, and we decided that it should belong to Zoe, since it was her birthday.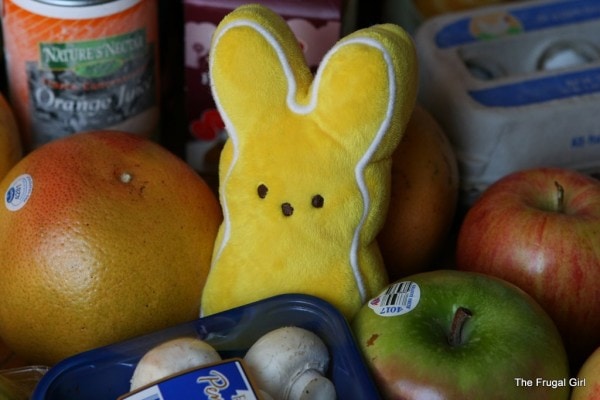 At Aldi, I spent $45.73 and at Weis I spent $29.51. That means my total for the week is $75.24…yay!
Saturday
Tonight is the night for our make-up date night. You may remember that we were supposed to have one of these about a month ago, but (big surprise!) it snowed. Just enough to make it necessary to cancel the date night. But tonight we are trying again, and no snow is forecast! Yay! (and large thanks to my brother and sister-in-law, who gave us a restaurant gift card + babysitting at Christmastime).
Sunday
We're visiting my in-laws for a multi-birthday celebration (we have 4 birthdays at the end of February and 3 in March, so we do one February get-together and one March get-together). I'm bringing rolls, which is both predictable and wonderful. Baking bread is like breathing to me, so I'm always happy when it's the item I'm asked to bring!
Monday
Shrimp and Ravioli in Pink Sauce
green salad
Whole Wheat Rolls
Tuesday
Chicken Wraps
fruit salad
potato chips
Wednesday
Creamy Chicken and Mushroom Soup
green salad
cheese buns
Thursday
Seafood Subs
grapefruit
corn
Friday
Fajitas with Shrimp, Chicken, Onions, and Red Peppers (and of course, tortillas, cheese, sour cream, and cilantro…yum!
fruit salad