On Tuesdays and Thursdays, I post a picture and just a few words.
Frequently when I put dinner on the table, I realize that all or nearly all of the food is made with Cook's Illustrated/America's Test Kitchen recipes and cooked in CI/ATK recommended pots and pans.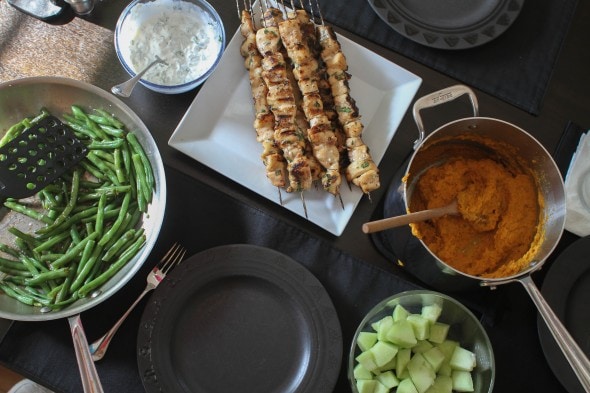 Last night, it was chipotle chicken kabobs with cilantro dipping sauce (from The America's Test Kitchen Quick Family Cookbook), sauteed green beans, and mashed sweet potatoes (both from the The Cook's Illustrated Cookbook
).
(Plus a small bowl of melon, because I got a baby honeydew in my produce box. I managed this with no recipe. Ha.)
And the two All-Clad pans there are both recommended by Cook's Illustrated too.
I'm such a fan-girl.
_________________________
P.S. The four All-Clad pans I have are all listed here. I've accumulated them slowly over many birthdays/Christmases, while they're expensive, I think they're totally worth waiting/saving for.