On Tuesdays, I post a picture and just a few words.
This is my setup for meal planning/weekly schedule planning. I use this Blue Sky Planner (though mine was only $16.99 when I bought it.) because it doesn't have hours pre-written.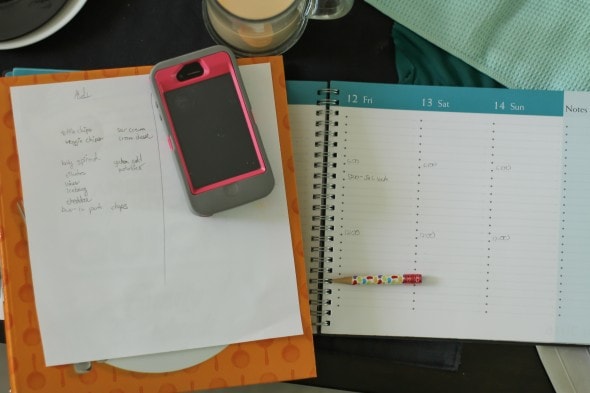 In my head, days start at the bottom and go to the top, so most planners are upside down for me. I love this blank one because I can set up my planner days in the right direction. 😉
(You think visualizing days is a little weird? Not everyone does it…but people with spatial synesthesia do.)
I often have my ATK Quick Family cookbook out as I meal plan (I just saw there are used copies for only $5 on Amazon!). And my grocery list is usually just on a scrap piece of paper from the recycling bag.
The tea is Constant Comment (yum!) and the phone is my 2.5 year old iPhone 4s, which I bought as a refurb. It's in an OtterBox case, which is totally clunky and big. But hey, I've had the phone for 2.5 years and haven't broken it, so I think that speaks to the sturdiness of the case.
And I just realized that my latest Mighty Fix is in the photo too! I got an ecloth, which is a cloth that's supposed to clean mirrors and windows without any cleaning products. It just arrived, so I haven't actually tried it yet.
Save