On Tuesdays, I post a picture and just a few words.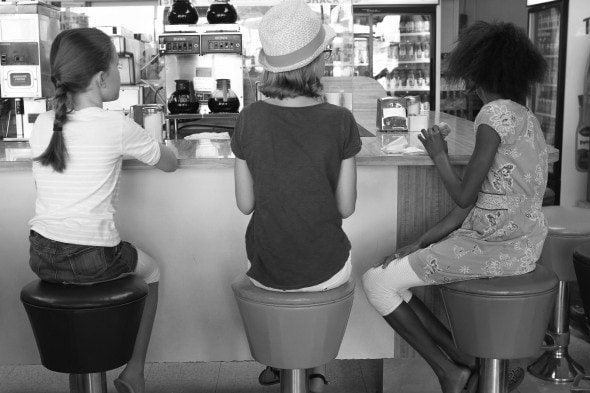 Yesterday, I took Sonia and Zoe and a friend out to run some errands, and we stopped for a little snack first. The girls enjoyed the snack, but I think the twirly chairs may have been equally as delightful.
I love how old school they are…a blast from the past.
One of our errands afterward was shorts shopping for Sonia and Zoe. Somehow, Sonia doesn't fit into any of Lisey's summer short/capri hand-me-downs, so she had nothing.
And since Sonia and Zoe take pretty much the same size in shorts, there's nothing to hand down to Zoe, so she was in need too.
Luckily, they're both in pretty good shape in the shirt department, though, so after our shorts shopping trip yesterday, I think they are all set for summer weather.
(In case you're curious, I bought them brand new shorts. Shorts are not an item I routinely have luck finding second-hand! Shirts, dresses, and jeans? Yup. Shorts? Nope.)