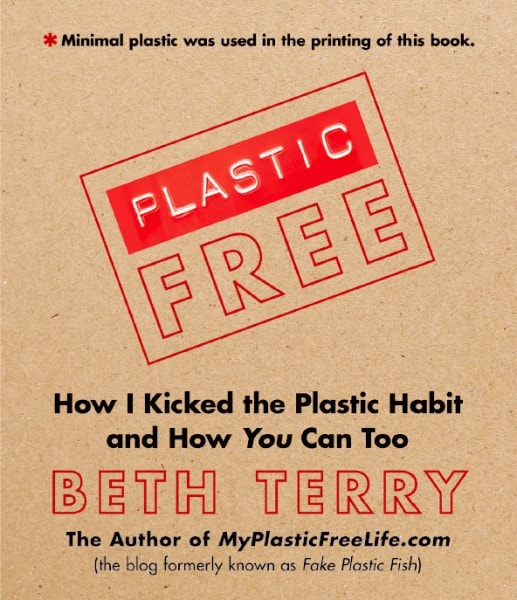 Beth Terry of My Plastic Free Life has just written a book about, well, plastic free living, and she offered me the opportunity to read a review copy.
Interestingly enough, in light of our discussion on Monday about Kindles, I read it by borrowing her copy on my Kindle.
(She did send me a PDF version, but I vastly prefer reading longer ebooks on the Kindle instead of on the computer screen.)
I'm not exactly sure about the mechanics of loaning someone a book on Kindle, but on the receiving end, it was easy. I got an email from Amazon letting me know that my book was available, and I logged on and downloaded it.
The loan was just for two weeks, but I had no trouble finishing the book in that amount of time…it's a well-written, informative, and practical book.
In the first chapter, Beth outlines the main problems with plastic. Among other things, it takes oil to produce, it's not biodegradable, the production of plastic produces pollutants (look at me alliterating there!), and plastic contains chemicals that aren't healthy for us.
And she also talks about why recycling isn't a magic bullet, which is so important. I think all too often we blithely throw things into the recycling bin, thinking that the impact of our plastic is somehow reduced to zero.
The first two plastic enemies Beth addresses are plastic grocery bags and bottled water. I'm already an avid cloth-bag shopper, and I am so not a fan of bottled water.
So, I was feeling pretty good up to that point.
And she talked about waste-free lunch packing, and I felt pretty good there too (Mr. FG's lunch is full of stainless steel and glass food containers with an occasional plastic one.)
But the next topic was grocery shopping, and I didn't skate through that chapter nearly so well.
If we graded plastic use on a curve, my groceries would probably get a pretty good grade. I don't buy individually wrapped items, I cook a lot of our food from scratch, I don't buy prepared meals, I don't buy single-serving items, I use reusable produce bags or leave my produce bare when possible, and I bring a glass container to buy my chicken.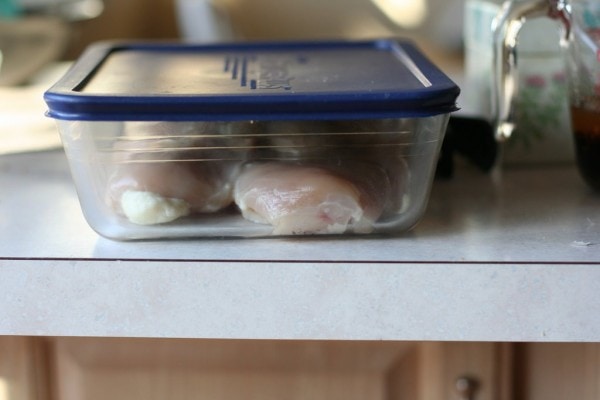 But my shopping is nowhere near zero-waste or even zero-plastic.
The problem is, I've already done most of the easy-ish things to reduce the plastic in my groceries. The steps I'd have to take to further reduce my plastic usage are either hard or expensive. For example, I'd have to drive to a store that had a great bulk bin selection and which would let me bring my own containers, or I'd have to find a dairy source that used returnable glass jars, and so on.
I don't really care that you can't find individually-portioned foods in plastic-free containers, but I do hate that it's so hard to buy bare ingredients without plastic.
I make my own yogurt in mason jars, but my milk comes in a plastic jug.
I make my pancakes from scratch, but the buttermilk comes in a wax (or plastic?) coated container. And even if I made my own buttermilk, I'd still be starting with milk from a plastic jug.
It's enough to make you feel pretty discouraged.
Which brings me to something I appreciated about this book…Beth understands very well the frustration comes with trying to live with less plastic. In fact, she devoted a whole chapter to fighting discouragement and keeping your motivation up.
And there's another chapter about why our personal choices matter. Sometimes when I'm thinking about ways to reduce my trash output, I feel discouraged because it seems like what I do doesn't make a difference. So what if I compost my produce scraps and drink tap water when our streets are lined with full trash cans and recycling bins every week?
But Beth's book reminded me that individual choices do matter, because great change can come about when many individuals make the right choice. My choices alone won't clean up the ocean, but my choices along with other people's choices can indeed.
If you're already striving to limit the amount of plastic in your life, that's great! I think Beth's book will inspire you to keep on trucking.
If you're a person who hasn't really thought much about this before or who feels completely overwhelmed at the thought of trying to live without plastic, I think this book is perfect for you. Beth has a very not-preachy tone, and she does NOT expect everyone to live entirely without plastic. She's happy to encourage even a little bit of change, and this book offers a lot of baby steps that you can take.
You can buy your copy of Plastic-Free on Amazon (just $11 for the Kindle version), or of course, you could check to see if your library has a copy. If they don't, ask them to order one!
Although I've already made strides to reduce plastic in our lives, Beth's book has inspired me to take a few more, and I'll be sure to share about those changes in the next few weeks.
I might even scout out some bulk bins. 😉
_________________________
How do you feel about the pervasiveness of plastic in our culture?
_________________________
Today's 365 post: Sometimes, things are more beautiful before they bloom. Do you agree?