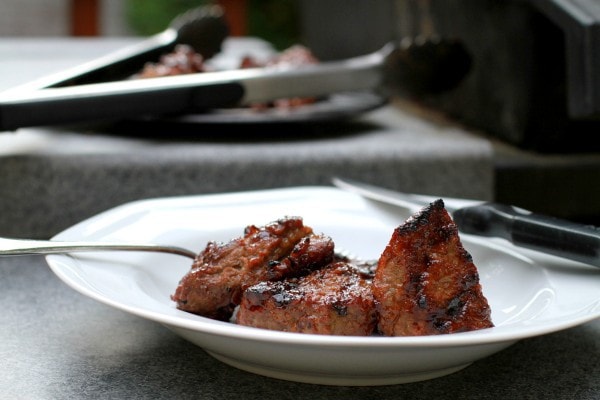 I've never purposely bought beef short ribs. Like, in my whole life.
But when we buy a quarter of a cow, we sometimes get cuts of beef that are wholly unfamiliar to me. Short ribs are one of those cuts.
A couple of you said that they're pretty expensive to buy, so my apologies for posting this recipe on a blog about frugality. While they might not be a very frugal purchase, for those of us who buy portions of a cow, it IS frugal to use up all the beef we bring home.
So, that's why I'm posting it.
Having no idea how to prepare these bad boys, I browsed through my Cook's Illustrated Cookbook
and came across a recipe for Korean Grilled Ribs.
This recipe calls for taking the meat and excess fat off of the rib bones, which is (not gonna lie) kind of a laborious process. The recipe then calls for cutting the boneless meat into slices and then pounding them to an even thickness.
This probably works great if your ribs are the predictable, uniform sort they sell at the store, but the ribs I had were very not uniform.
So, I deboned them as best I could and sliced and pounded them. But as you'll see in a later photo, my finished meat wasn't exactly neat and tidy.
Anyway, after you debone the meat, you make a marinade by blending up a pear with a number of other ingredients. This is a great use for a pear that's gone a bit mushy, by the way.
The meat needs to be marinated at least 4 hours.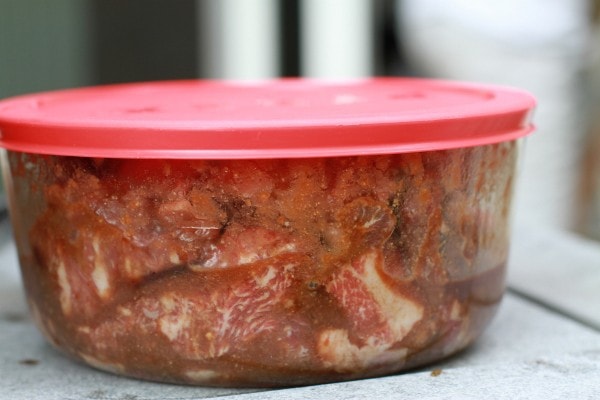 Heat the grill until it's very hot (15 minutes or so), and then grill the meat until it's browned on both sides, turning it often.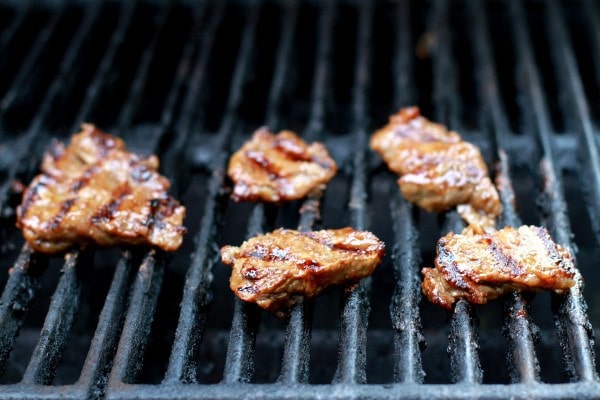 All six of us thought these were really good…I think the marinade was key. The pear gave the meat a nice subtle sweetness, and I'd definitely consider using the marinade for other cuts of meat.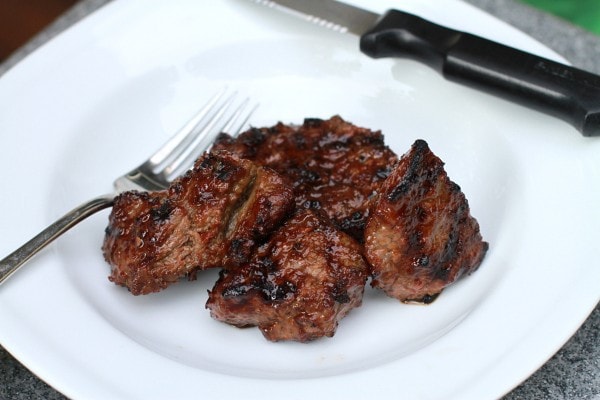 I still have more short ribs, and I think I'm going to try a slow-cooker recipe next. And then I think I will have successfully used up all the rib packages in my freezer. Sweet.
Printable Korean Grilled Ribs (no picture)
Printable Korean Grilled Ribs (picture)
Korean Grilled Short Ribs
1 medium pear (ripe), peeled, halved, cored, and roughly chopped
6 medium cloves garlic, peeled
4 teaspoons minced fresh ginger
1/2 cup soy sauce
2 tablespoons toasted sesame oil
6 tablespoons sugar
1 tablespoon rice vinegar
3 scallions, green and white parts sliced thin
5 pounds bone-in English-style short ribs, meat removed from bone, trimmed of excess fat, sliced widthwise at angle into 1/2- to 3/4-inch-thick pieces and pounded 1/4 inch thick
Vegetable oil for grill rack
Combine pear, garlic, ginger, soy sauce, sesame oil, sugar, and vinegar in a food processor and process until smooth. Stir in the scallions.
Pour a third of the marinade into a pan or bowl, add the meat, and top with the rest of the marinade. Refrigerate for at least 4 hours.
Heat grill on high for 15 minutes. Place ribs on grill, and cook, flipping frequently, until both sides are well-browned.
____________________________
Today's 365 post: I didn't take any pictures at all yesterday.
Joshua's 365 post: The club is now open!