This recipe has been on my menu posts multiple times, and you all have asked for the recipe more than once.
I kept trying to find a time when I could make it and take good pictures of it, but it just never happened.
So I decided to say, "screw it" and I settled for pictures that are not-that-good.
Thank you for your understanding. Nursing school and all that jazz, you know?
I found the recipe in a Cook's Country magazine some years ago, and I haven't tweaked it much except that I add broccoli into mine, so then it's a one-dish meal (rice, chicken, and broccoli).
Perks of this recipe:
it uses boneless chicken thighs, which are affordable and also hard to overcook
it's a pretty fast recipe
it uses mostly pantry ingredients
it's a one-dish meal (as I said above!)
One small note: the first time I made this, it was too salty, in my opinion. Ever since then, I've used low-sodium soy sauce, and that improves the salt situation immensely.
To make this, mix soy sauce, sugar, water, bourbon, sesame oil, and pepper in a measuring cup, and microwave it for a minute or two, stirring to dissolve the sugar.
Next, cut up your chicken thighs and mix them with cornstarch plus a couple of tablespoons of the soy sauce mixture.
Then cut up your broccoli into bite-sized florets.
Heat a little oil in a pan, add the broccoli, and saute for a few minutes, just until it's bright green and slightly softened.
Remove the broccoli, then heat a tablespoon or two of oil in the same pan, and add the chicken.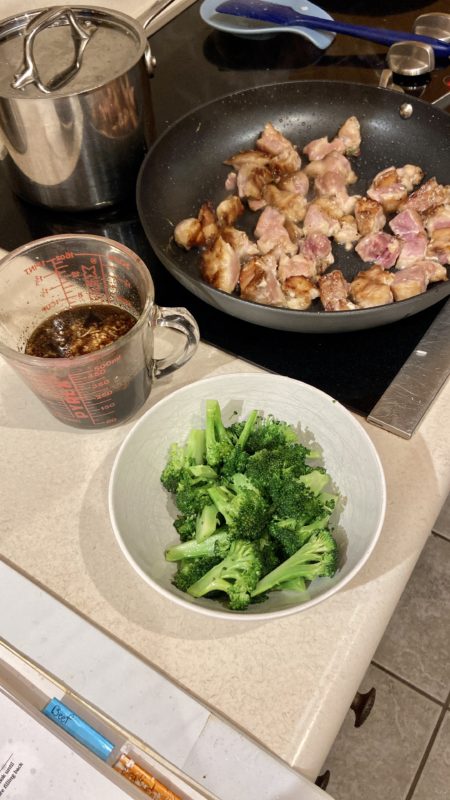 Cook that for about ten minutes, stirring every now and then.
Then you'll stir in garlic, ginger, and the soy sauce mixture and cook it until the sauce is syrupy.
Stir in the broccoli until it's coated with the sauce, and serve over rice.
And that's it!
Scroll down for the printable recipe with ingredients and measurements.
And click here for more main dish recipes!
Bourbon Chicken with Broccoli
A quick one-dish meal, served over rice
Ingredients
½ cup soy sauce (I use low-sodium)
½ cup packed brown sugar
¼ cup water
2 tablespoons bourbon
1 teaspoon toasted sesame oil
½ teaspoon pepper
2 pounds boneless, skinless chicken thighs, trimmed and cut into 1-inch pieces
2 tablespoons cornstarch
2 cups broccoli florets
3 tablespoons vegetable oil, divided
2 garlic cloves, minced
1 teaspoon grated fresh ginger
Instructions
In a 2-cup measuring cup, combine soy sauce, sugar, water, bourbon, sesame oil, and pepper. Microwave until hot, 1-2 minutes, and stir to dissolve sugar.
In a bowl, combine chicken, cornstarch, and 2 tablespoons of soy sauce mixture; stir to combine.
In a nonstick skillet, heat a tablespoon of oil until shimmering. Add broccoli; saute for several minutes or until bright green and slightly softened. Remove to plate.
Heat 2 tablespoons of oil in same skillet over medium heat until shimmering, then add chicken and cook, stirring occasionally, for about 10 minutes or until cooked through.
Add garlic, ginger, and soy sauce to skillet with chicken, heat to boil, and cook until sauce is syrupy, about 6 minutes. Add broccoli, stir to coat, and serve over rice.
Notes
Adapted slightly from Cook's Country.
Recommended Products
As an Amazon Associate and member of other affiliate programs, I earn from qualifying purchases.