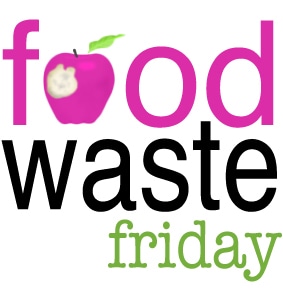 Every week, I post a picture of the food that has gone bad over the last seven days. Why do I do this? Because in March of 2008, I finally got fed up with the amount of food I was wasting, and I thought that showing my waste to other people would motivate me to use up my food instead of wasting it. Because this often embarrassing practice was so helpful for me, I invited other bloggers to join me in posting their food waste photos, and Food Waste Friday was born.
I found some yucky, slimy things in my vegetable drawer.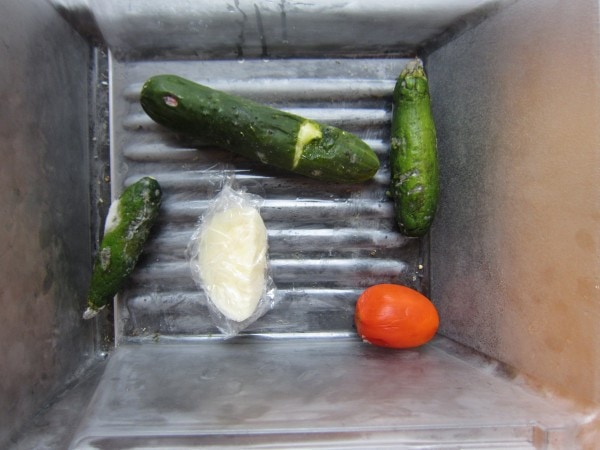 And I have no idea why a tomato is in there because I don't even keep tomatoes in the fridge.
At least, not on purpose.
On the bright side, I washed the drawer, so now my non-rotten veggies are enjoying a shiny home.
I have to also report that I let some cilantro go bad.
That's especially embarrassing given that I wrote a whole post about how to use up cilantro.
I did try to save a slightly soft cucumber by peeling it and slicing it for a salad, but it just didn't taste very good. So the last few slices of that are probably going to be composted.
Oh!! And I forgot about one more vegetable tragedy. I bought a nice bunch of asparagus and it got shoved into a cold part of the fridge.
It froze.
And when I thawed it, it was so mushy, it pretty much just fell to pieces.
But, I bought a new bunch this week and cooked it promptly. So perhaps that atones a bit for my asparagus faux pas.
Well. This week was just full of sad vegetable stories, and I probably made some of you feel much better about your own food waste.
I'll try not to do that next week. 😉
________________________________________________
How did you do this week? If you blogged about your food waste, link us up by entering your info into the widget below. You'll save money, reduce your trash output, and get a little publicity for your blog! And if you don't blog, you can still share about your food waste by leaving a comment.
Those of you who participate in Food Waste Friday can now grab a fancy-schmancy button to perk up your posts. If you copy and paste the following code into your Food Waste Friday post, this little graphic will appear.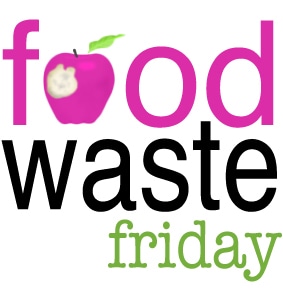 If you blog on WordPress, just make sure you're in html mode when you copy and paste the code, or it won't work properly.
Today's 365 post: Drawers? Check. Paint? Check.
Joshua's 365 post: Pogo Pogo Pogo!! Yay! (it's a video of Lisey's hamster in a hamster ball)