I spent $46.22 at Aldi this week and $27.31 at Weis.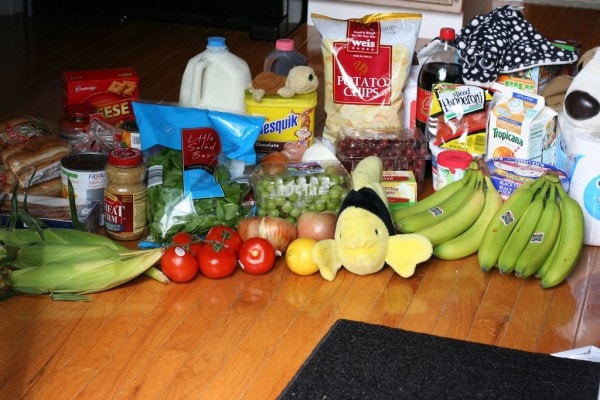 I also spent $7 at the produce stand for these groceries: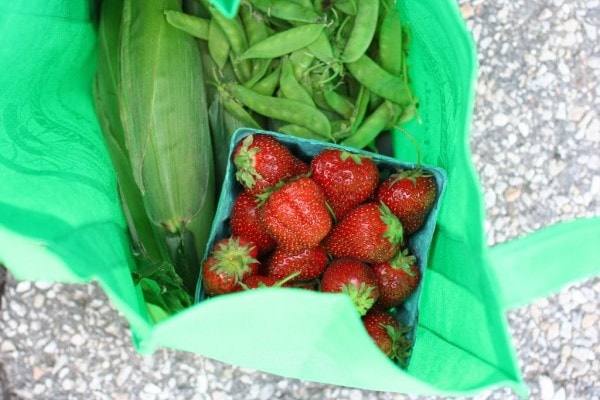 And that all adds up to $80.53. I've got $82.50 to work with each week this month because of my wheat purchase, so I'm right on target! Color me happy.
For breakfast, we'll be eating homemade granola, homemade yogurt,, fruit, scrambled eggs, and cereal.
Lunches will be leftovers, yogurt smoothies, fruit, sandwiches, and some raw veggies.
Dinners will be as follows:
Saturday (my brother and his wife are visiting for dinner, which is why we're having two different types of pizza. I only have one oven, so by using the grill and the oven, I can produce enough pizza at one time to feed us all!)
a salad that my sister-in-law is bringing!
Sunday
I'm not sure yet…we may be having some friends over, in which case we'll grill out. If it ends up being just the 6 of us, we'll probably do our usual breakfast for dinner thing.
Monday
We're probably going to have an at-home date night…we'll feed the kids spaghetti and then eat sushi on the deck by ourselves after sending them to bed (or for the older two, sending them to Joshua's room to hang out with each other)
Tuesday
Fish (I have some tilapia and some salmon, and I'll likely cook them two different ways)
Cheese bread
green salad
Wednesday
Quesadillas-some chicken and some seafood, to use up some food from the fridge and freezer
fruit salad
Zucchini Patties
Thursday
Mandarin Chicken Salad (like the one Wendy's makes)
English Muffins
Friday
Club Sandwiches
raw veggies
watermelon