Hello, everyone!
Thanks for playing along with our cookie game yesterday. 🙂 No one got all the answers correct, so I spent a long time poring through the comments this morning trying to figure out who got the closest.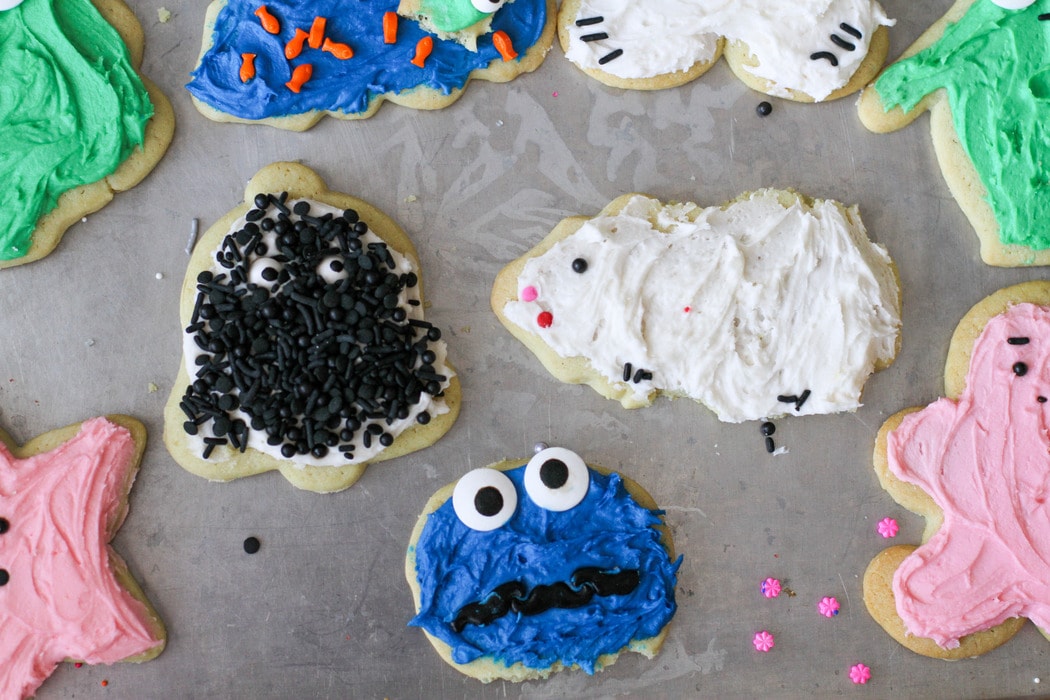 Brooke was the first reader to get only two wrong; she got me and Sonia reversed, but got everything else right!
But then Sara was the first one to get just one wrong; she only missed the Beaker cookie. Good job, Sara! You've been emailed.
Here are the correct matches: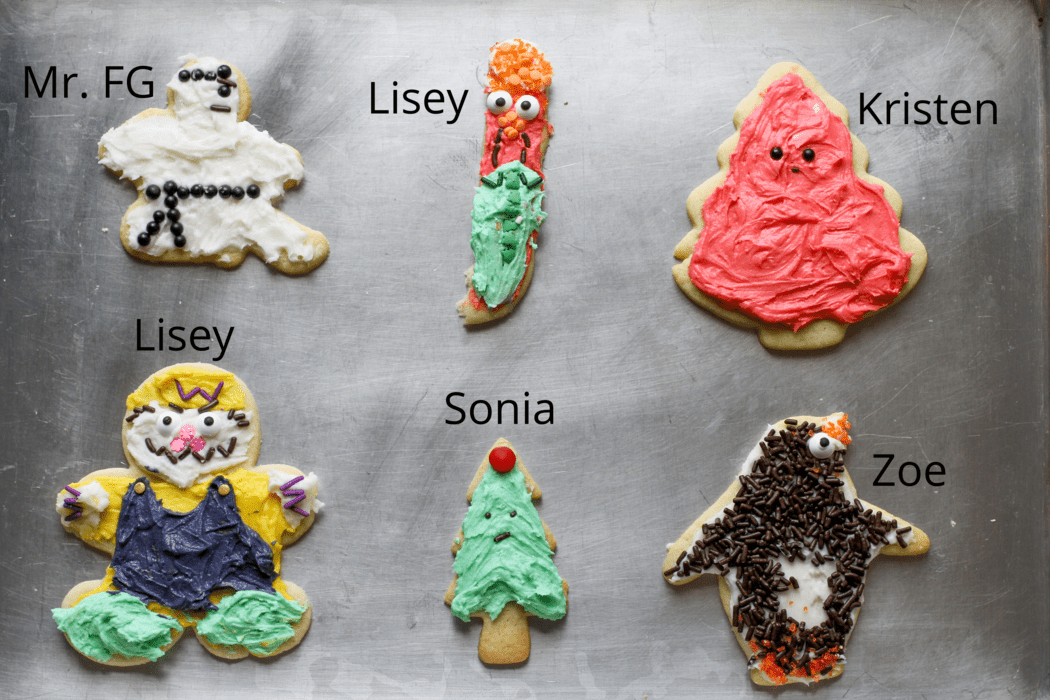 I love that lots of you realized that #2 and #4 were both made by the same person! Lisey must have a style. 😉 Also, you might know that Lisey loves Sesame Street/Muppets, so there was a small clue there about the Beaker cookie.
I usually link to the recipe we use, but I neglected to do that. Whoops. Here's the cut-out sugar cookie and frosting recipe.
Alrighty…on to Thankful Thursday!
This week, I'm thankful:
that Lisey still lives close enough to decorate cookies with us
Once she graduates, she plans to live all over the place…California, Hawaii, Florida, and who knows where else. Next Christmas, she should still be pretty local, but after that, we may have to end the cookie contest due to too few cookie artists. 🙂
that we were able to give our blow-up Santa to our neighbors
Our kids are a little too old to love yard blow-ups, so I gave our Santa to our neighbors across the street. They have three young kids so they're at a perfect stage of life for an obnoxious yard blow-up.
that the shortest day has passed
We are now en route to the longest day of the year. Woohoo!
It's slow going at first (by the end of January, we will only have gained about 30 minutes of daylight), but at least we are headed in a brighter direction.
that Lisey is back home for winter break
I'm so glad to have one of my birdies back in the nest for a few weeks. 🙂
that I don't have travel plans right now
The lines for the free drive-up testing have been unbelievably long every time I've driven by lately, so I'm thankful I'm don't have to try to get a molecular test for travel purposes right now.
I really hate waiting in lines!
(I had to take Sonia for a test there a few months ago, and it took three hours even then. I cannot even IMAGINE how long the wait is now.)
that it's so easy to get a booster
Sonia's got an appointment coming up for a booster, and I was remembering the headache it was to get her initial shots…a long drive to stand in a long line at a mass vax site. Now it's just a quick drive to a local drugstore, which is way, way, way easier.
(again with me not doing great at standing in lines. Ha.)
for medical podcasts
I'm in-between semesters, but I've been binge-listening to Dr. Mike and Dr. Matt's Medical Podcast, partially just for fun, and partially to get a head-start on next semester. They don't publish episodes very often, but they have a pretty big backlog for me to work through, and since they're both A&P professors, the content is pretty much all relevant for me.
The episodes are almost always over an hour, so they do take a while to get through. And since both of the doctors have Aussie accents, I cannot manage to listen to them on double speed (2x is what I do with most podcasts!)
Something funny I realized while listening to Dr. Mike talk…if you say, "an iron ion" with an Australian accent, it just sounds like you are saying, "an ion ion".
for a sunny day yesterday
Tuesday, it was cloudy and rainy, which always makes me feel a little more crabby. But Wednesday, there was lots of sunshine and life felt much more cheerful.
I try to see drizzly days as cozy but man, it just does not work for me. I still end up kind of, "womp-womp" despite my best efforts.
So. Yay for sunshine!!
What are you thankful for this week?