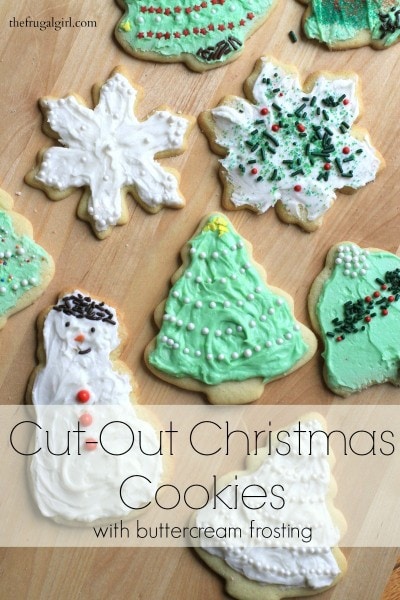 The other day, a friend asked me what sugar cookie recipe we use for frosted Christmas cookies, and I realized I haven't shared that on my blog.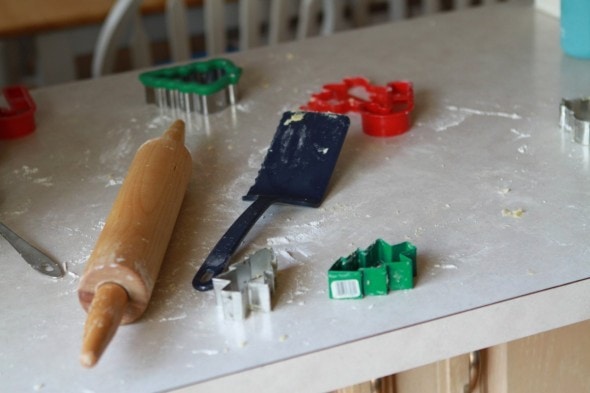 So, I'm here to fix that today.
Making Christmas cut-out cookies was one of my very favorite things to do when I was a kid, and so from the time my kids have been really little, we've done this every year.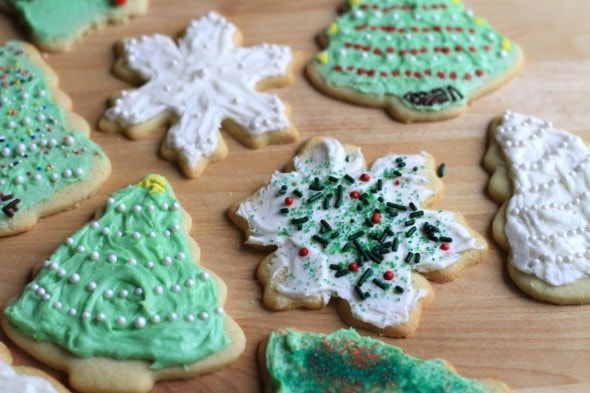 (When I was looking for photos for this post, I came across this hilarious one of Zoe from a few years back. She put the goggles on because, "I don't want the sprinklies to get me in the eyes, Mommy!")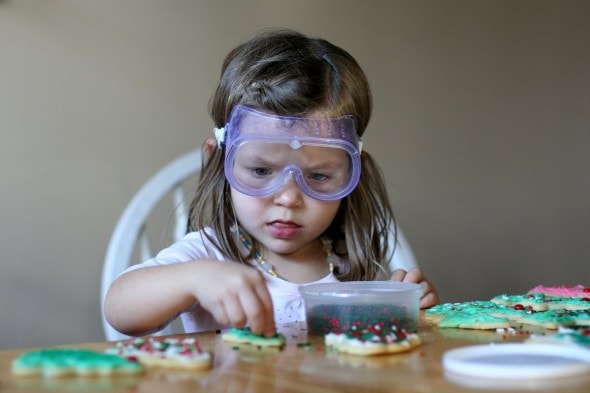 Our cookies are often messily decorated or completely covered in red hots, but our goal in making these is not so much beautiful cookies but rather having fun together.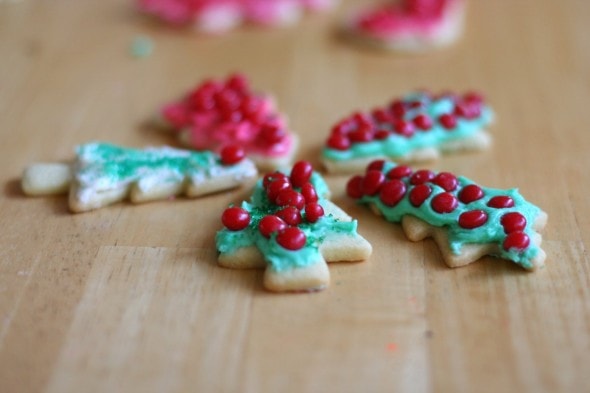 In the last few years, my kids (and who am I kidding? Mr. FG too!) have been making goofy cookies, which crack me up.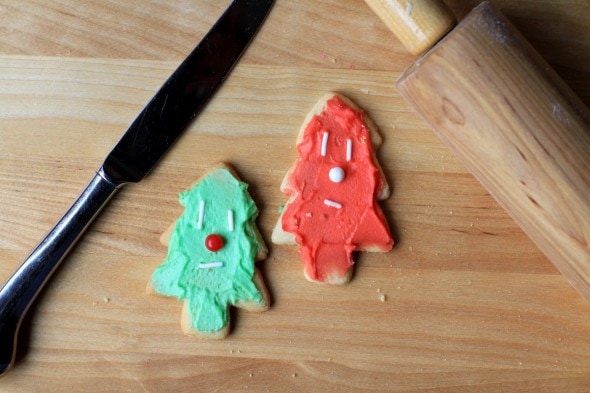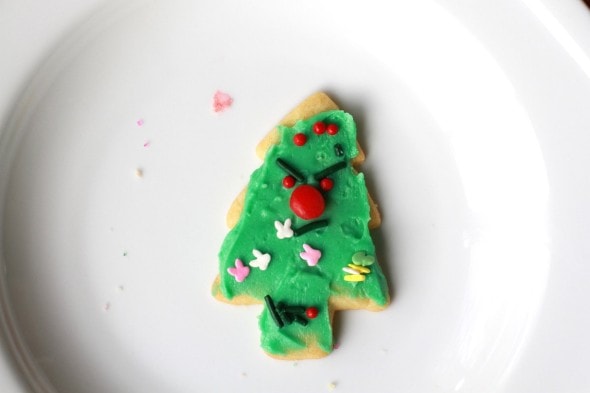 Wait until you see some of the crazy stuff they came up with this year (coming next week!)
I use a recipe that I found on another blog (I modified it very slightly) and for the frosting, I make a simple buttercream recipe that my family used growing up.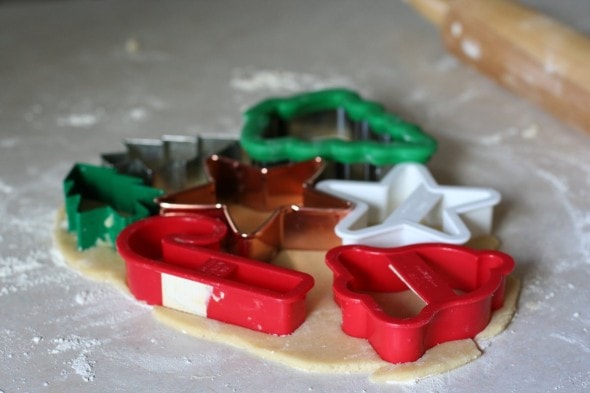 I don't have step-by-step photos, but this isn't rocket science. Basically, you make the dough, let it chill for an hour, roll it out, cut it with cookie cutters, and bake the cookies for 8-10 minutes.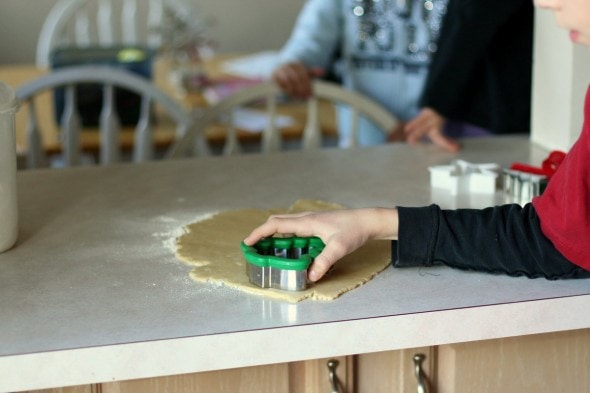 This recipe turns out cookies that are really buttery and slightly soft, though they are still sturdy enough to be handled and frosted. Also, the dough has always been easy to work with, and I've found the cookies to be easy to transfer to a baking sheet after cutting.
The frosting is just a basic buttercream, and when you make it, you can feel free to adjust the milk a bit to make the frosting the consistency you like. And if you accidentally add too much milk, you can always mix in a little extra powdered sugar to firm it up again.
Christmas Sugar Cookies
Printable Christmas Sugar Cookie Recipe
(I usually make a double batch of the cookies and frosting so that the six of us have plenty to decorate.)
1 cup butter at room temperature
1 cup sugar
1 egg slightly beaten
1 teaspoon vanilla extract
1/4 cup sour cream
3 cups sifted flour
1 tsp baking soda
1/4 tsp salt
Beat butter and sugar together until creamy. Stir in egg, vanilla, and sour cream.
In a separate bowl, mix together flour, baking soda and salt; mix into butter/sugar mixture until thoroughly combined.
Cover and refrigerate for at least one hour.
When ready to bake, heat oven to 350. On lightly floured surface, roll dough to 1/4 inch thick. Cut out using cookie cutters, place cookies on ungreased baking sheet, and bake for 8-10 minutes, or until lightly browned. Remove cookies from sheet, let cool, and then frost.
Butter Frosting
(frosts one batch of cookies)
4 cups powdered sugar
1/2 cup butter, at room temperature
4 tablespoons milk, half and half, or cream
2 teaspoons vanilla
Beat together 2 cups of powdered sugar with the butter until smooth. Beat in vanilla and milk, then beat in remaining powdered sugar. Color as desired (for a pure white frosting, use less vanilla).
________________
Psst! Come back this afternoon for a giveaway from Third Day Naturals!