(I first published this recipe in 2009, before the advent of printable recipes. So, here it is with fresh pictures, a printable recipe card, and a video!)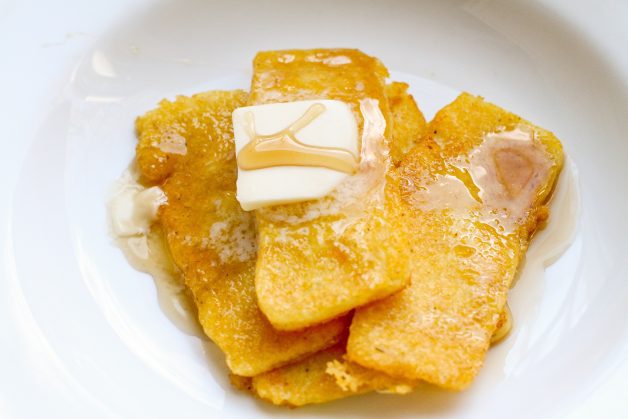 I think that this dish may possibly have the least appealing name of any breakfast food out there, but trust me, it really is tasty.
I should probably call it fried polenta…that sounds much more delicious.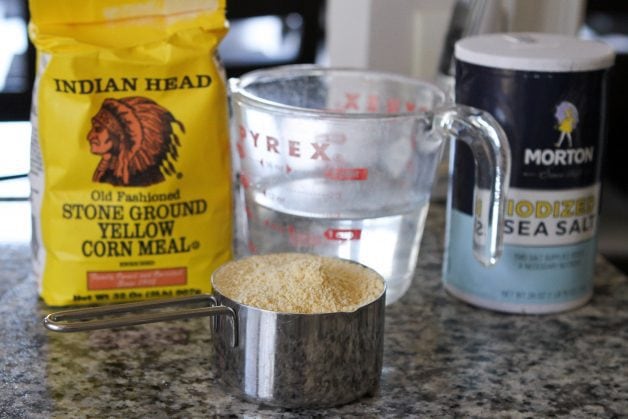 Cornmeal mush is an exceedingly frugal food, but in its original state, it's quite bland, and the texture definitely leaves a lot to be desired.
However, when it's cooled, sliced, and lightly fried, it's transformed into something crispy, buttery, and flavorful.
(and it's still really cheap!).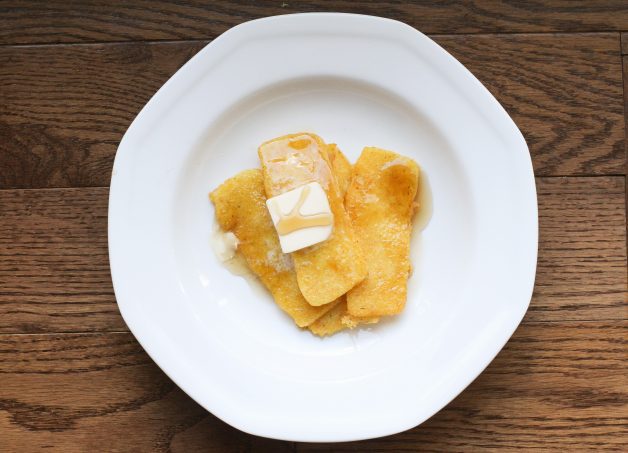 Since the cornmeal needs to be cooked and cooled ahead of time, you may want to make the polenta mixture the night before so that all you have to do is slice and fry in the morning.
If you don't have time to cook the whole batch, you can refrigerate the polenta for several days and fry it when you have time.
I use un-degerminated (whole) yellow cornmeal, but you can use regular cornmeal as well.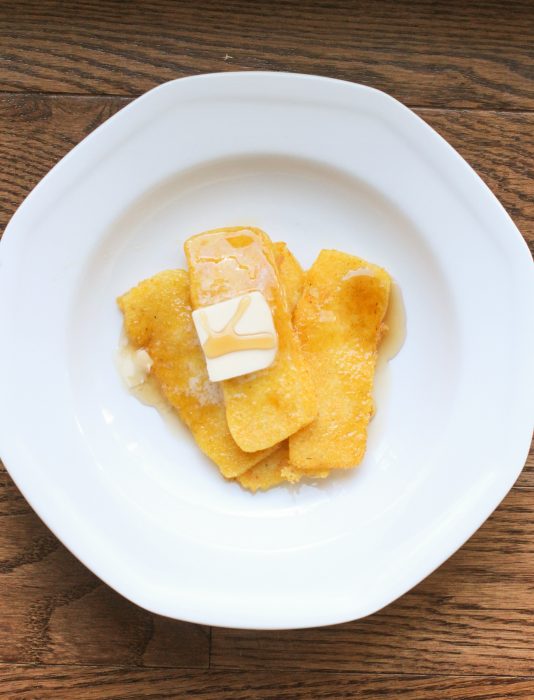 To make the cornmeal mush
First, bring 2 3/4 cups water to boiling.
While the water is coming to a boil, mix the cornmeal and salt with 1 cup water, to make a sort of cornmeal slurry.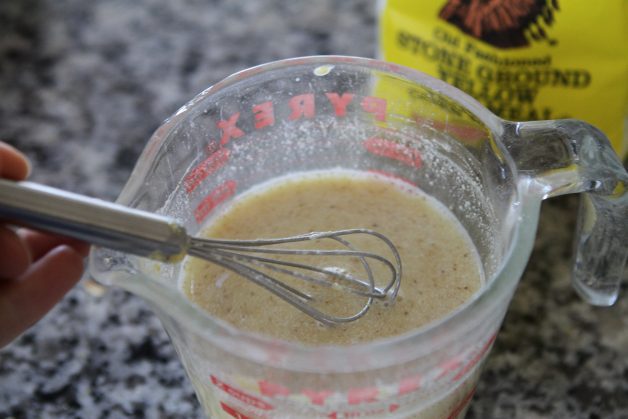 A mini whisk is great for this (and so many other kitchen tasks too!) My particular mini-whisk is not widely available right now, but here's a similar one.
When the water comes to a boil, stir in the cornmeal slurry.
Bring back to a boil, cover, and cook over very low heat for 10 minutes, or until very thick. This is a bubbly mess while it's cooking, so be sure to put a lid on your pot.
Pour the hot cornmeal mixture into an ungreased 4×6 inch loaf pan, and let cool for several hours. It can even sit in the fridge overnight if you like.
I slid my loaf pan into a plastic bag for overnight storage when I made this particular batch.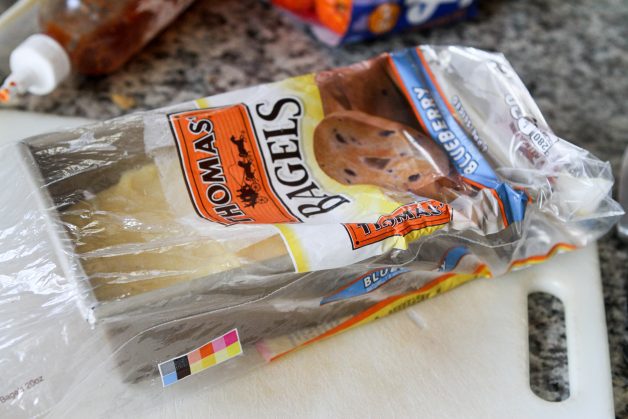 When the cornmeal mush is completely cool, it'll be firm enough to turn out onto a cutting board.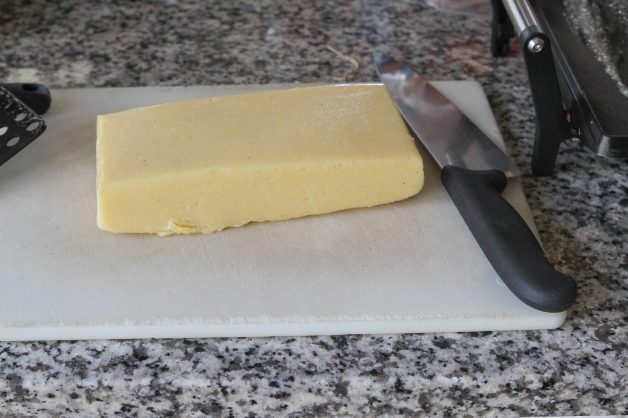 How to fry cornmeal mush/polenta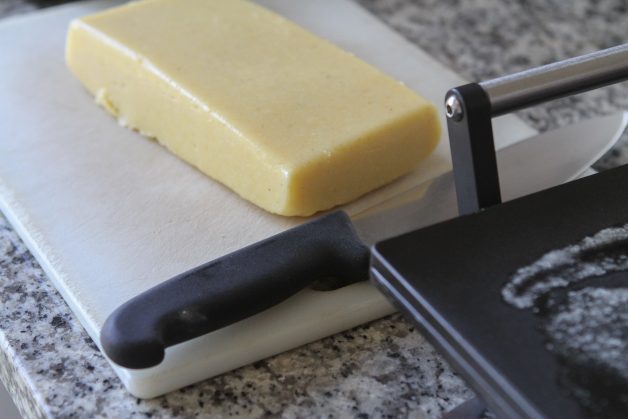 Heat up a skillet or griddle, add a generous amount of butter, and then slice the mush and place the slices in the butter to fry.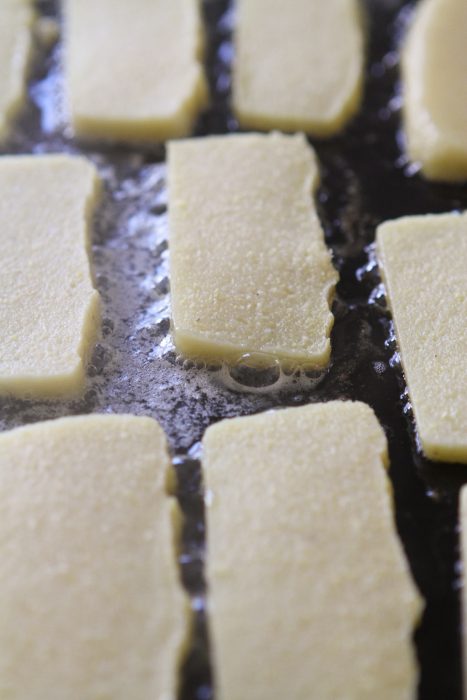 You might be wondering: how do I keep my fried mush from sticking?
Well, a nonstick pan is very helpful. And copious amounts of butter (or some other fat) are also key; this is not a time to be skimpy with the fat. If you try to cook these in a barely greased skillet, you are surely going to have sticking problems!
In conclusion: use a generous hand with the butter. 😉
Cook the slices until they're starting to crisp up on the underside, about 10 minutes or so.
It's nearly impossible to burn these at this point, since they have such a high water content. The bigger risk is flipping them before they're sturdy enough to hold together!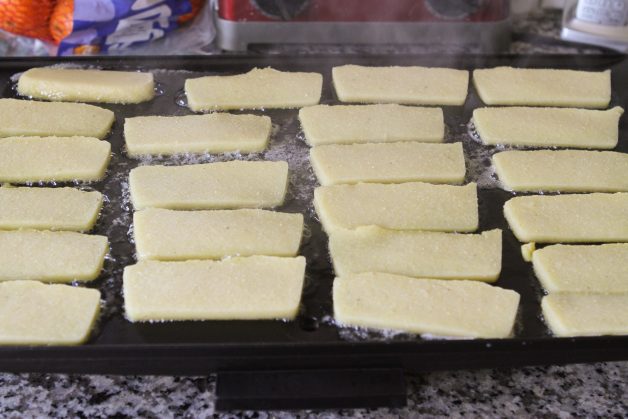 At first, you will think that these are never, ever, ever going to crisp up.
But with enough patience and evaporation, it will happen, I promise. They'll develop a delightful, buttery, browned exterior, which is super delicious.
Once the underside is browned, carefully flip each piece over and cook until the second side is browned, adding more butter as desired.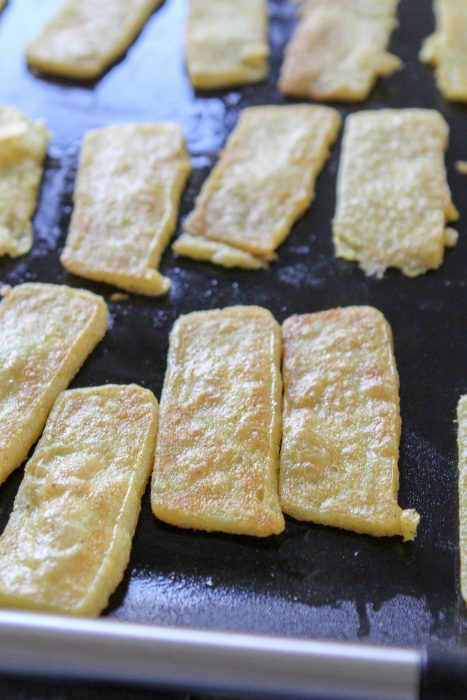 Do not worry if you break up a piece or two as you flip; I've been doing this for years and some of my pieces still end up a little mangled.
These are very tasty as is, but they're even better with butter and syrup (naturally)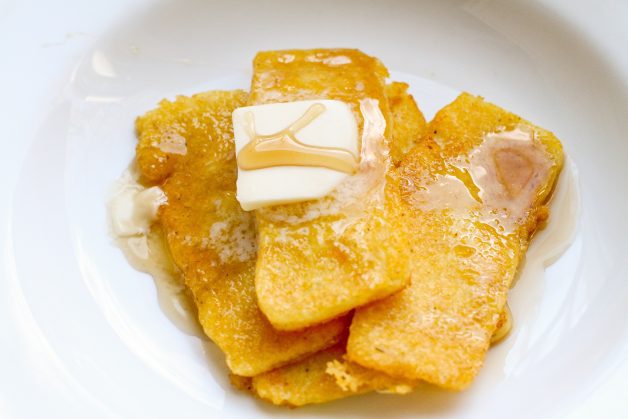 Scroll down for the printable recipe.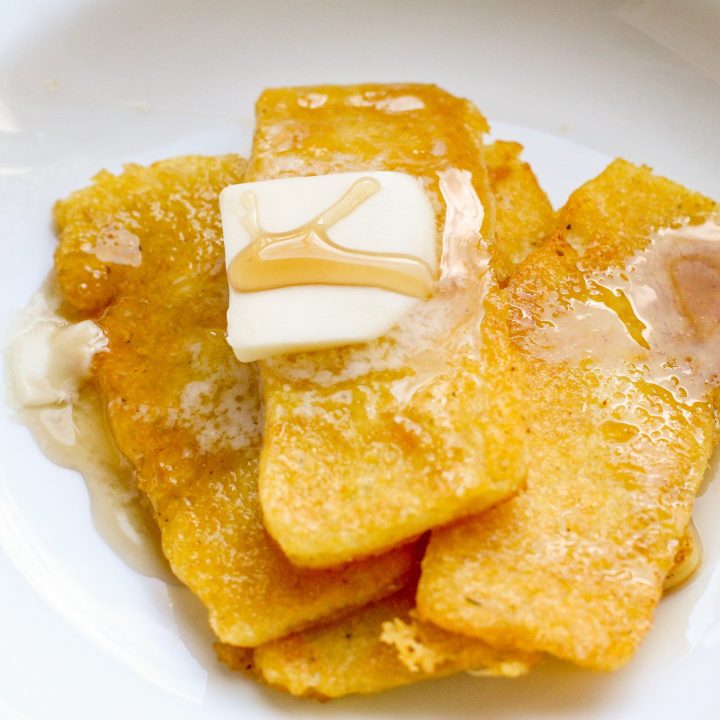 Fried Cornmeal Mush
Yield: 4 servings

Prep Time: 20 minutes

Cook Time: 30 minutes

Additional Time: 3 hours

Total Time: 3 hours 50 minutes

If you thought cooked cornmeal was bland, give this recipe a try! These fried slices are buttery, crispy, and delicious, and they cost just pennies.
Ingredients
1 cup cornmeal
3 3/4 cups water, divided
1/2 teaspoon salt
butter for cooking
Instructions
Bring 2 3/4 cups water to boil in a pot over medium high heat.

In a separate container, whisk cornmeal and salt with 1 cup cold water.

Stirring constantly, add cornmeal mixture to boiling water. Return to boil, turn heat to low, cover with a lid (leave the lid slightly off-center to let some of the heat out) and cook for 10-15 minutes or until very thick, stirring occasionally.

Pour mixture into an ungreased 4x6 loaf pan, and let cool completely.

(You can refrigerate once cool.)

When ready to fry, heat a skillet or griddle over medium heat and add a generous amount of butter.

Turn cooked cornmeal out onto a cutting board, slice about 1/4 inch thick, and place slices in butter to fry.

Cook about 10 minutes on the first side (bottom side should be browned and slightly crispy), then flip and cook on the second side until browned and crispy, adding butter as needed.

Serve hot with butter and syrup.
Recommended Products
As an Amazon Associate and member of other affiliate programs, I earn from qualifying purchases.
Nutrition Information
Yield 4 Serving Size 1
Amount Per Serving Calories 136Total Fat 4gSaturated Fat 2gTrans Fat 0gUnsaturated Fat 2gCholesterol 8mgSodium 307mgCarbohydrates 23gFiber 2gSugar 0gProtein 3g

This calculation does not include butter for cooking purposes.

__________________