Pancakes are seriously one of the easiest foods in the world to make from scratch. I promise, even if you are a novice in the kitchen, you can do this without a mix!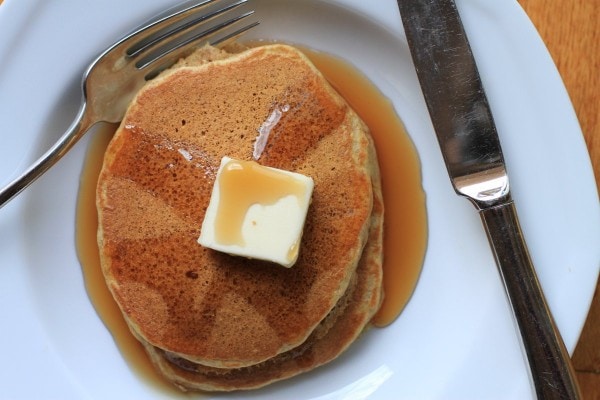 These pancakes are 100% whole wheat, but they are light, fluffy, and delicious, and they're very filling.
As my mom would say, these will stick to your ribs. 😉
They're very quick and easy to make (7 ingredients), and they're super inexpensive.
To make these, mix the dry ingredients (except for the brown sugar) in a bowl with a whisk, and, using a whisk or an egg beater, mix the brown sugar, buttermilk, oil, and egg in another bowl.
I like to do this in a 4 cup measuring cup, so as to avoid dirtying another dish.
Add the wet ingredients to the dry ingredients, and mix gently.
There will still be some small lumps of flour in the batter when you're done, and that's just fine.
If you over-mix the batter, you'll have tough, chewy pancakes.
Let the batter sit while you heat a skillet over medium high heat. It's hot enough when a drop of water sizzles immediately after landing in the skillet.
If your skillet is nonstick, you probably won't need to grease it, but if it's a traditional pan, you'll want to put some oil or butter in the pan before you make the pancakes.
Drop 1/3 cup portions of batter into the hot skillet and cook the pancakes until bubbles form on top.
(By the way, do you see the lumps in my batter? That's exactly how it should be.)
Flip and cook for another 2-3 minutes. Serve warm, topped with butter and syrup.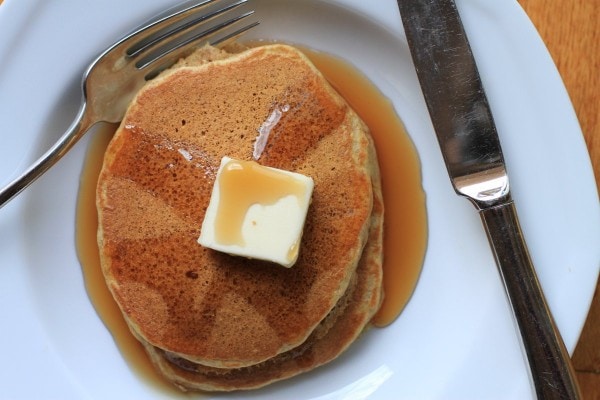 Or you can opt for whipped cream and whatever fresh fruit is in season.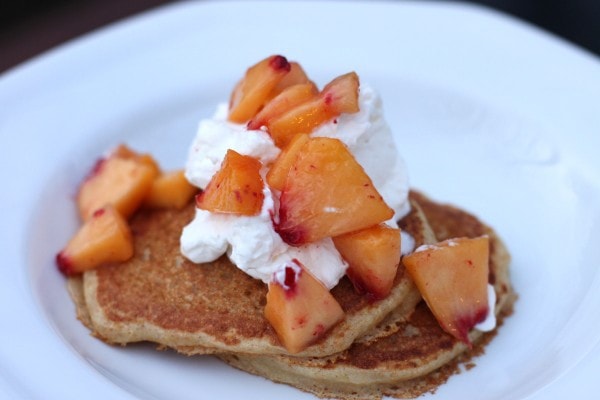 And that's all there is to making your own not-from-a-mix pancakes!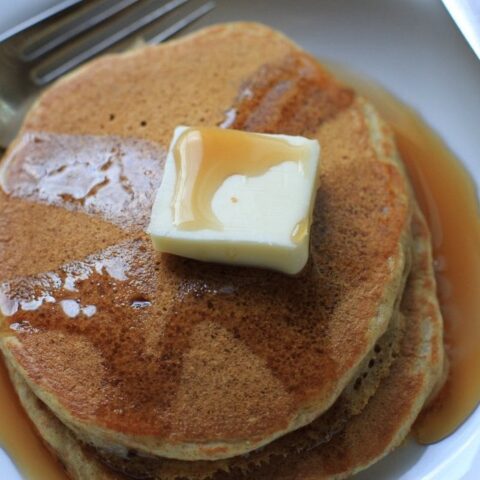 Whole Wheat Buttermilk Pancakes
Prep Time: 10 minutes

Cook Time: 10 minutes

Total Time: 20 minutes

Easy, 100% whole wheat pancakes
Ingredients
1 cup whole wheat flour
1 teaspoon baking soda
1/2 teaspoon salt
1 tablespoon brown sugar
1 cup buttermilk
1 tablespoon vegetable oil
1 egg
Instructions
In a large bowl, combine flour, baking soda, and salt.
In a smaller bowl, combine brown sugar, buttermilk, vegetable oil, and egg; whisk to combine.
Add dry ingredients to wet ingredients and stir gently to combine. Some small bits of dry flour are fine; don't overmix!
Heat a skillet over medium heat until a drop of water sizzles immediately. Grease surface if desired, then drop batter by 1/3 cup portions onto skillet.
Cook until bubbles form on first side, then flip and cook for another 2-3 minutes.
Serve immediately with butter and syrup. 🙂
Notes
I marked this as four serving sizes, but honestly, it depends how hungry your people are! These are more filling than white flour pancakes, though, so you won't need quite as many as you might think.

If you are unlike me and enjoy making pancakes ahead to reheat later, you can cook a large batch of these, let them cool, and store them in ziploc bags in the freezer until you need them.
Nutrition Information
Yield 4 Serving Size 1
Amount Per Serving Calories 185Total Fat 6gSaturated Fat 1gTrans Fat 0gUnsaturated Fat 4gCholesterol 49mgSodium 715mgCarbohydrates 27gFiber 3gSugar 6gProtein 8g

P.S. Prefer white pancakes? Here's the basic buttermilk pancake recipe I use.