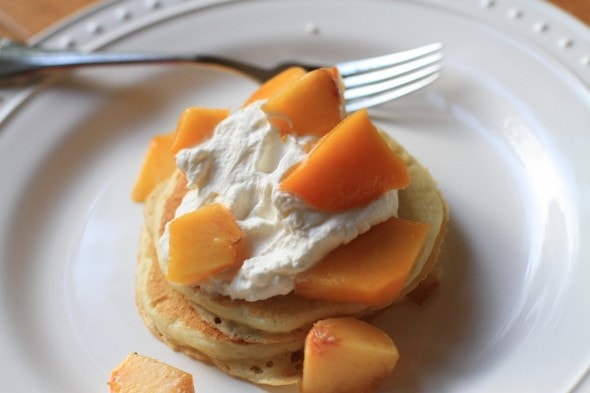 Pancakes are a very inexpensive food if they are made from scratch. And this recipe is so easy, I can't really think of a reason NOT to make them from scratch!
While I've never made pancakes from a mix, I can't imagine that this takes more than 2 minutes longer.
You should note that the buttermilk is an essential part of this recipe…mixing vinegar into milk really will not suffice. The buttermilk makes the batter nice and thick, which results in fluffy pancakes rather than flat pancakes.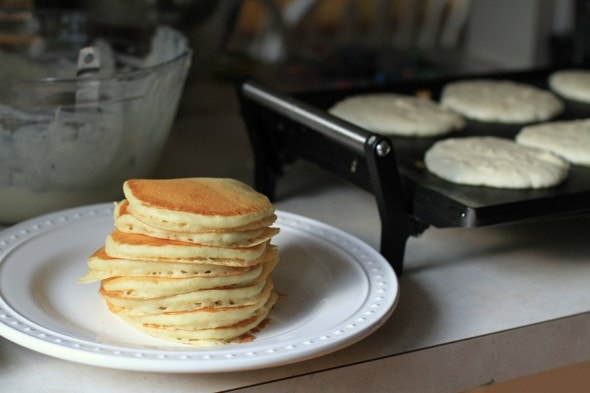 Also, it's very important to avoid overmixing the batter. If you do, you will develop the gluten in the flour, which is a lovely thing when you're making yeast bread but is a not-so-lovely thing to do when you're making breads/pancakes/muffins that are raised with baking powder or baking soda.
Developing the gluten will make your pancakes chewy (and I consider that to be an undesirable trait in a pancake!) so use a light hand when mixing.
By the way, I have a slightly different recipe for whole wheat pancakes, but you can also just substitute whole wheat flour for part of all of the white flour in this recipe.
Buttermilk Pancakes
Ingredients
1 egg
1 cup buttermilk
1 tablespoon oil
1 cup flour
1 tablespoon sugar
1 teaspoon baking powder
1/2 teaspoon baking soda
1/2 teaspoon salt
Mix egg, buttermilk and oil in a measuring cup or bowl. I like to do this in a large measuring cup, and then I can use my egg beaters to mix it up.
Mix dry ingredients in large bowl, using a whisk.
Add wet ingredients to dry ingredients, and mix gently by hand(a mixer will make you prone to overbeating). I use a combination of a spatula and a whisk. Don't worry if there are still a few lumps…the pancakes will be fine.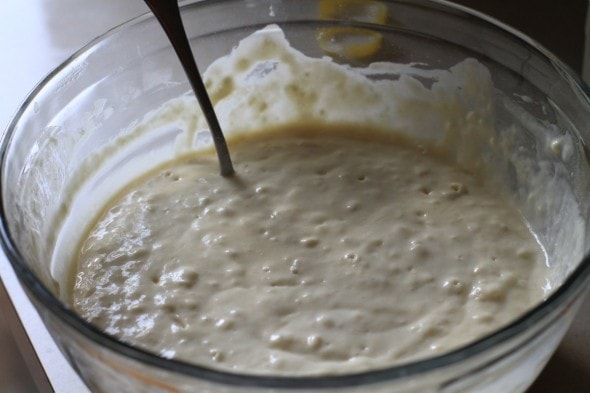 Let the batter sit for 5 minutes(this will allow the flour to be fully hydrated), and while it's sitting, heat the pan or griddle over medium high heat. To test the readiness of your pan, sprinkle a few drops of water onto it. If the water immediately bubbles up and sizzles, the pan is ready.
Drop 1/4-1/2 cup size dollops of batter into pan, depending on how large you like your pancakes. Cook until the tops are speckled with bubbles, then flip.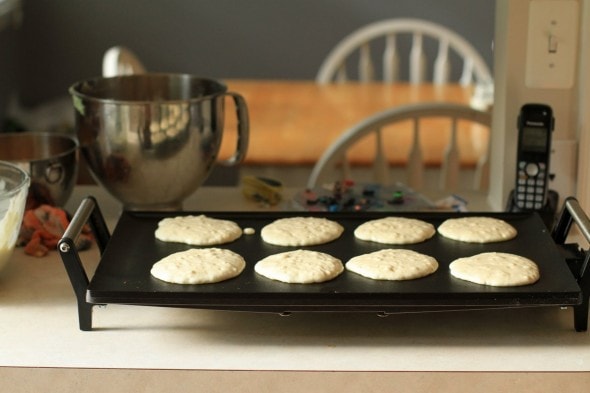 They should look like this once you flip them, and they'll only need to be cooked for a few minutes more. They'll be done when the underside is brown like the top.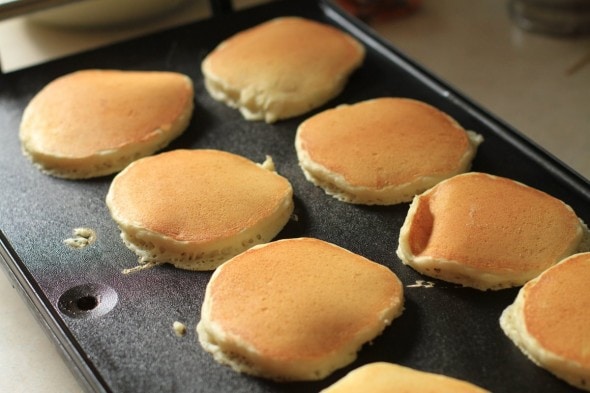 Top with butter and syrup (or my favorite, whipped cream and fruit) and enjoy!