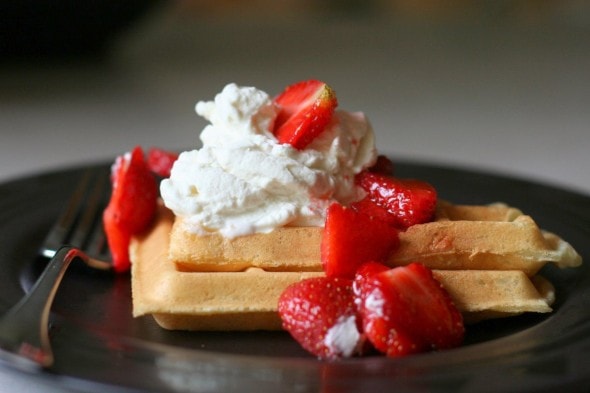 If you've never tried making waffles at home, well, let this be the day that things change!
Waffles aren't at all complicated to make at home, and these buttermilk waffles are probably the best I've ever had.
You will need a waffle iron for these (nothing else will do).
Cook's Illustrated recommends this waffle maker, but you also might take a peek around your local thrift store, as waffles irons seem to show up at those types of places with some regularity.
And honestly, I have a very basic waffle maker kind of like this one, and it's served me fine for 19 years. I'm sure there are better ones out there with more bells and whistles, but basic is workin' for me!
Buttermilk Waffles

Ingredients
2 eggs, separated
2 cups buttermilk
2 cups flour
1/2 teaspoon baking soda
1/2 teaspoon salt
1 tablespoon sugar
1. Pour buttermilk into a measuring cup and add egg yolks. Beat the egg whites, using a mixer, until they are stiff.

2. Combine the dry ingredients in a large bowl, using a whisk. Beat the egg yolks and buttermilk together (I use a handheld egg beater or a whisk to do this task).
3. Add the buttermilk mixture to the dry ingredients, and mix gently. Some lumps of flour may remain, which is fine. Don't over beat.

4. Using a spatula, gently fold the egg whites into the batter. It should look something like this when you're done.
5. Grease (I use cooking spray) and preheat the waffle iron. Put about 1 cup of the batter into the iron, and cook according to the manufacturer's instructions.
I don't like my waffles especially brown, so I take them out when they look like this(I also never seem to put quite enough batter into the corner of the iron, so mine are rarely perfect squares.).
6. Break the waffles apart, and serve promptly(waffles get cold really fast) with butter and syrup.
Or, if you are feeling indulgent, whipped cream and strawberries make a very acceptable topping.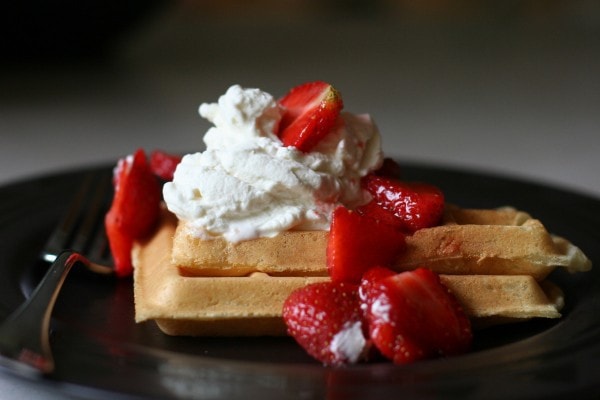 Save
Save
Save
Save