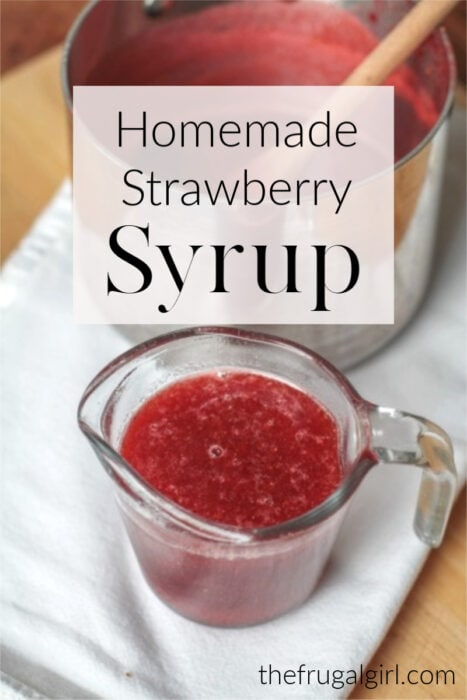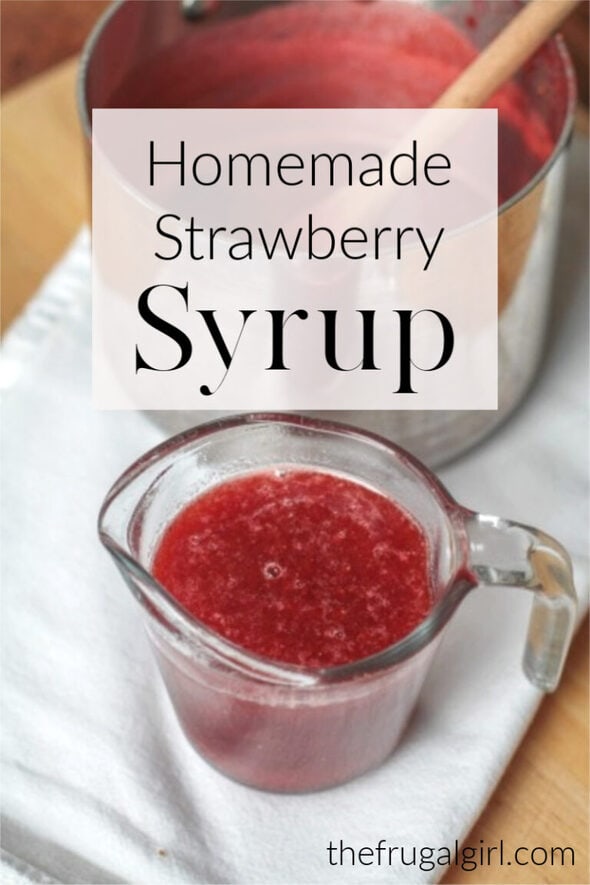 A version of this recipe has been on my blog for several years, but it's waaay back in the archives.
And it was sharing a post with the orange julius recipe, which made it sort of inconvenient to just look up the strawberry syrup recipe.
(I discovered this when I went to look it up myself!)
Also, I've modified the recipe a bit to be lower in sugar, so it needed updating anyway.
This syrup is quick to make, it only requires three ingredients, it has no high fructose corn syrup, and it's a lot cheaper than the ready-made strawberry syrup you can buy in the store.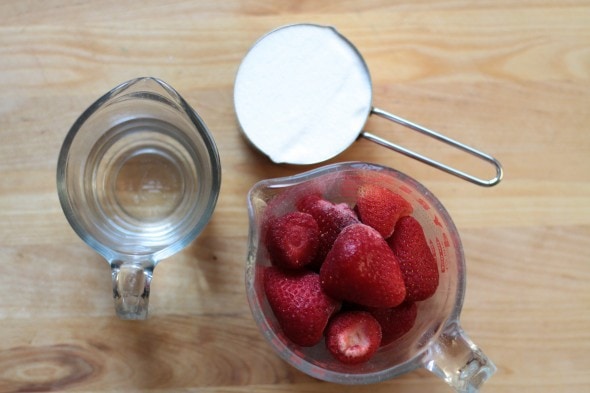 A cup of sugar ($0.21) and 2 cups of frozen strawberries ($1.04) yields almost a quart of syrup.
The water and the teeny amount of electricity you need to make this are negligible in price, so I'd say a quart of this costs right about $1.25.
You can use fresh strawberries to make this, of course, but frozen berries are available year round, and they are almost always cheaper than fresh anyway.
(I might also point out that they are frequently fresher than "fresh" strawberries, given that they go from plant to freezer very quickly, whereas "fresh" berries take days to get from the plant to your grocery store.)
To start out, thaw 2 cups of frozen strawberries and then use your food processor or blender to puree them.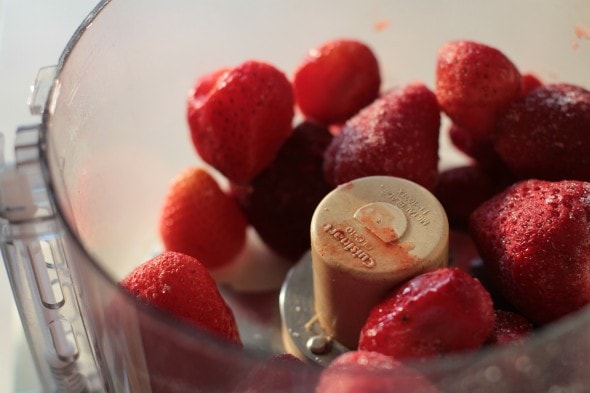 You can leave a few berry bits if you'd like, or you can process the berries until they're completely smooth.
Scrape the berries into a small saucepan and add 1/2 cup water and a cup of sugar.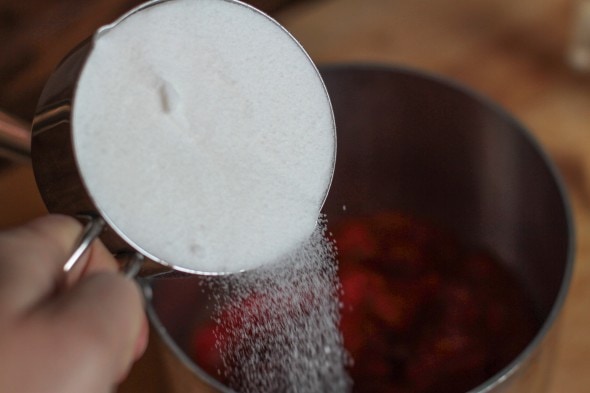 The original recipe called for 2 cups of sugar, but I've decided that's unnecessarily sweet. A cup works just fine.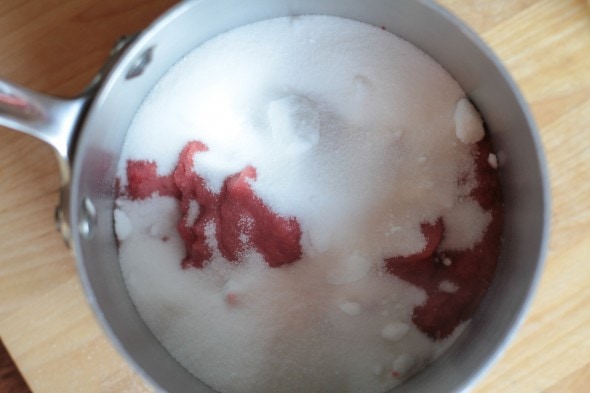 Bring the syrup to a gentle boil over medium heat, and boil for 5 minutes, or until the syrup has thickened a bit.
It'll be bright red at first, and then it'll darken as you cook it.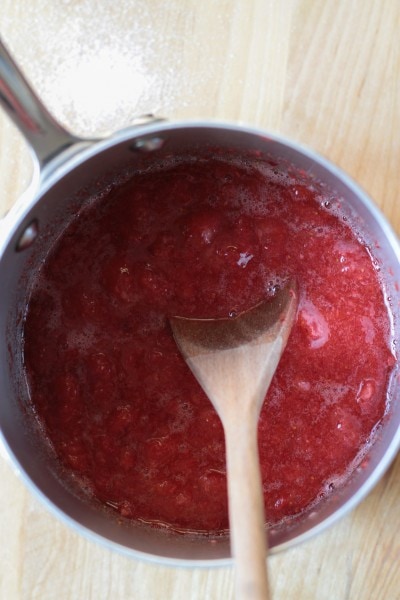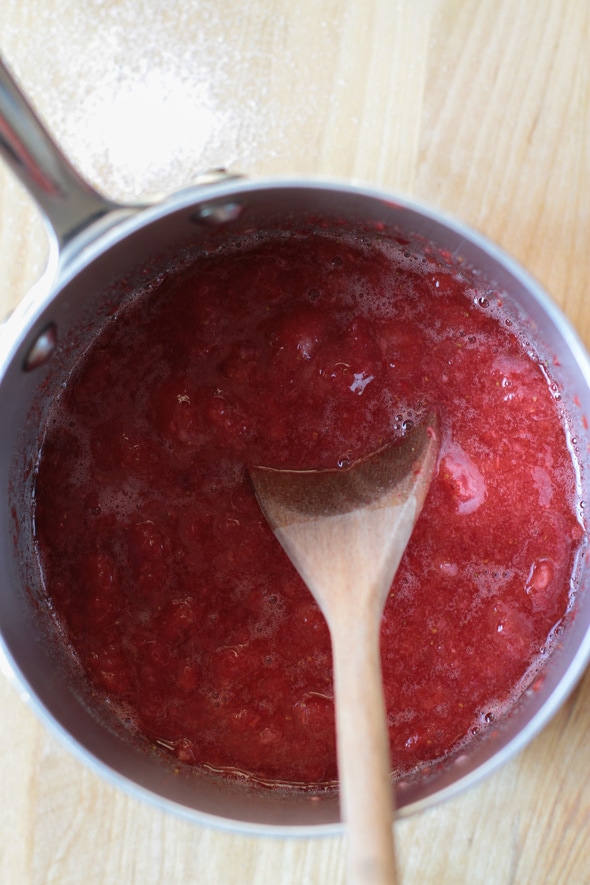 This is not a super thick syrup when it's hot, but as it cools down, it'll thicken to the consistency of real maple syrup. My kids like it either way!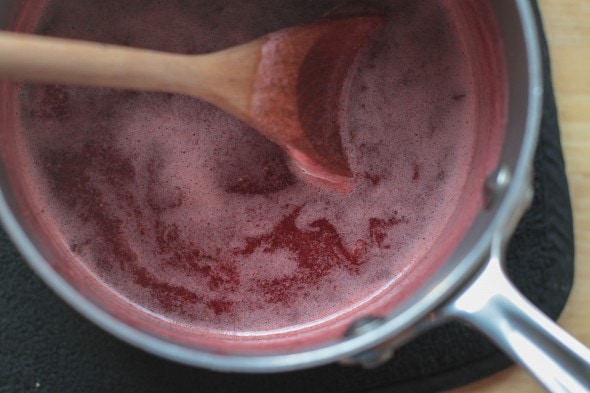 To store leftovers, pour the syrup into a glass jar and keep it in the fridge.
The longest we've kept ours is a week, but I imagine it'd last longer than that, given that it is similar to jam, and jam keeps for ages.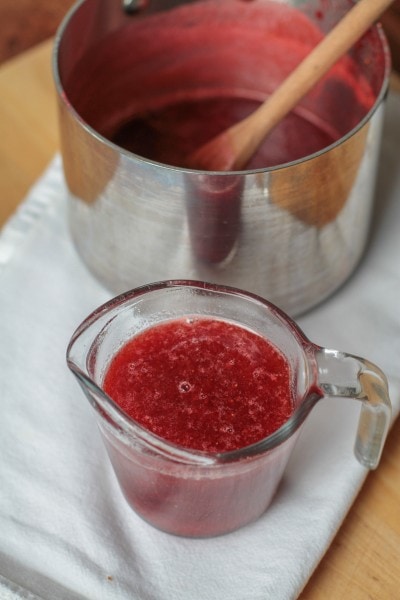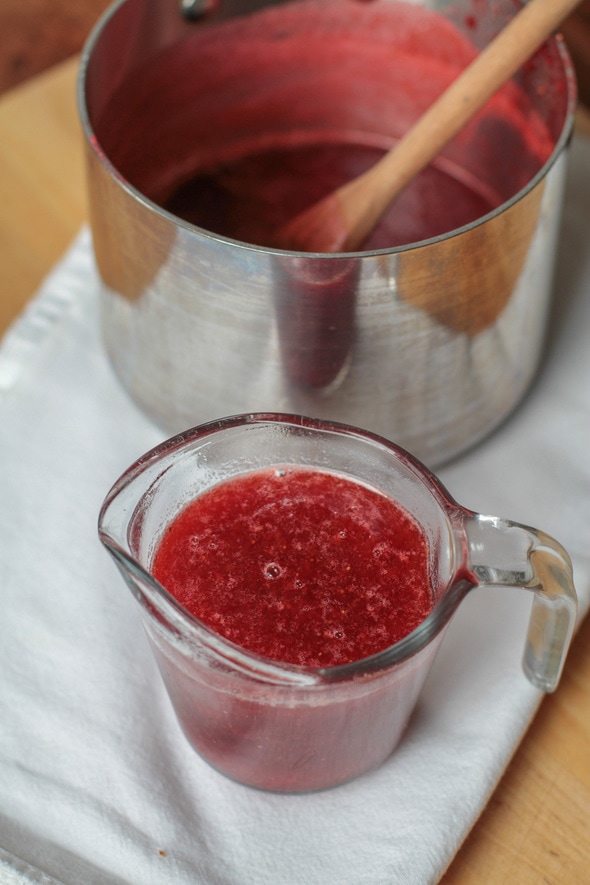 I imagine you could make this with other frozen fruits too. Peaches would definitely work, and raspberries would too, as long as you don't mind seeds in your syrup.
Now I want to go scout out some frozen peaches!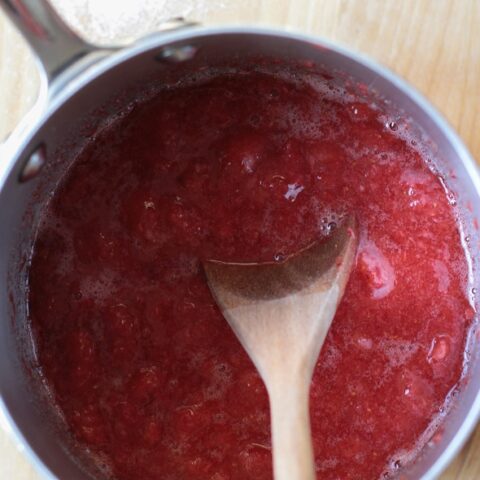 Homemade 3 Ingredient Strawberry Syrup
This DIY homemade syrup costs a fraction of the prepared kind and it's really quick to make.
Ingredients
2 cups fresh or thawed frozen strawberries
1 cup sugar
1/2 cup water
Instructions
Using a food processor or blender, process strawberries until smooth.
Pour berries into a saucepan; add the sugar and water.
Bring to a boil over medium heat; lower heat and simmer for 5 minutes.
Serve warm, or let cool to room temperature and refrigerate for future use.
If you're looking for other cheap and tasty breakfast recipes, try this syrup on buttermilk waffles, buttermilk pancakes, or whole wheat buttermilk pancakes.