Many years ago, I got a little wooden chest from freecycle.
I painted it white, and I put it in Zoe's room, and then Lisey's, and then when I moved here, I brought it along and kept it in Lisey's room.
You can see some "after" pictures of it here, in this tour of Lisey's room at the other house. Look at the foot of the bed and you'll see it.
Anyway. Sonia texted me a few weeks back to see if she could have the chest to store some blankets and stuffed animals.
And I said, hmmm, you are gonna need something bigger than this! The freecycle chest is pretty small.
Soo, I poked around on Facebook Marketplace, and found a solid wood chest for $15. Sonia and I went to pick it up and I brought it home to sand and paint it.
We didn't like the white/pink combo, and besides, the paint job was a little sloppy and a lot worn.
Definitely time for some fresh paint.
But first, no one's favorite task: sanding.
I took the lid off to make my job a little easier.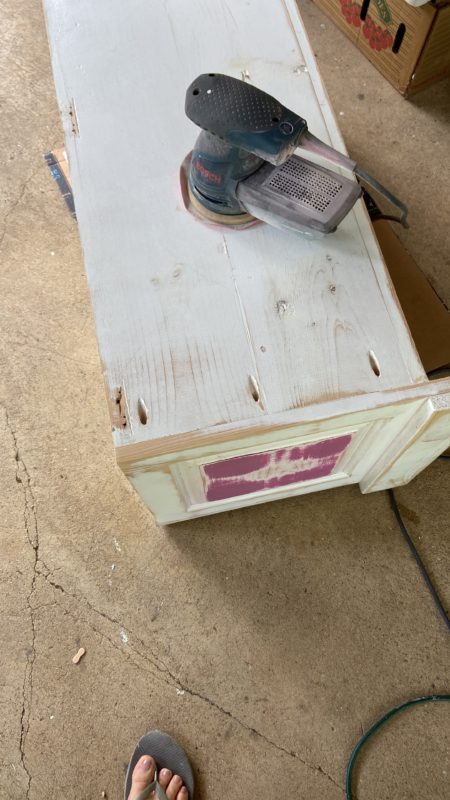 This pink paint felt like it was made of concrete…so thick and hard.
Luckily, I didn't need to get it down to raw wood. That's the beauty of painting!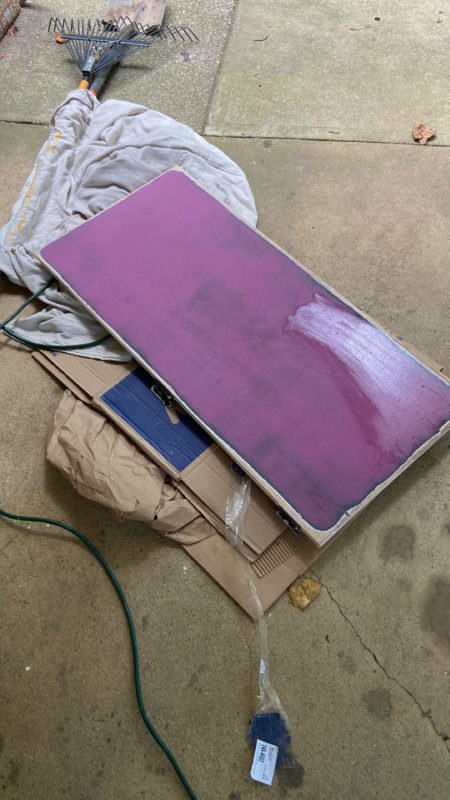 After the sanding step, I brushed everything off and brought it inside for priming and painting.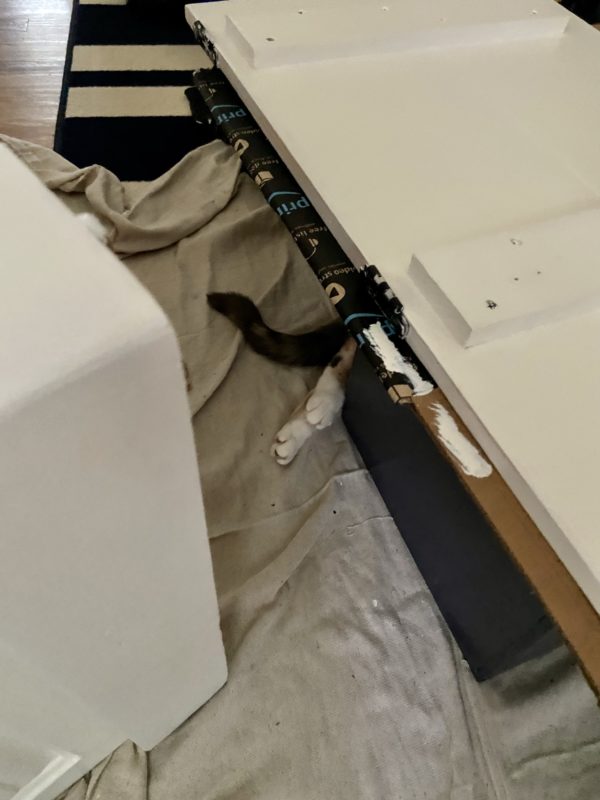 I don't let Chiquita in the room when the paint is wet, but once the paint was dry, she enjoyed having new hiding spots.
After I got some coats of paint on the piece, I decided to put the extra effort in and fill some of the holes and dings in the top and on the sides.
There were a lot to fill on the top!
And I filled a few spots on the sides as well.
I sanded those down, gave the chest one last coat of paint, and reinstalled the lid.
Then I was ready to make a delivery!
I put this at the end of Sonia's bed, and it fit perfectly.
As you can see, Sonia has a lot of blankets/stuffed animals to store. 😉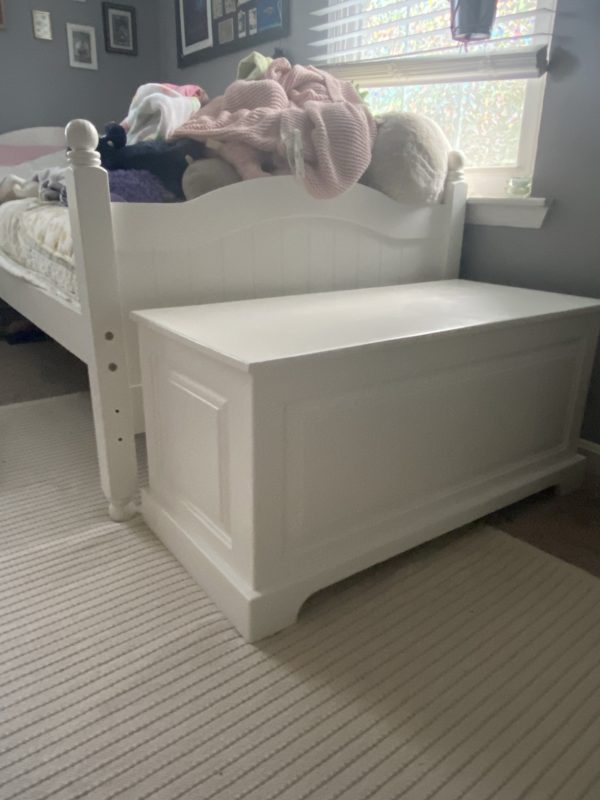 Her bed, her bookshelf, her nightstand, and her dresser are all free/inexpensive secondhand AND they are all painted in the same Benjamin Moore Cloud White paint.
So, even though nothing technically matches, it does all kind of match since the color is precisely the same.
And since Sonia's maximalist self fills her room with all sorts of colorful things, the simple white furniture is perfect for her; a blank slate. 😉
The chest has lots of room for blankets and stuffed animals.
A nice thing about a solid storage chest is that when closed, it doubles as a seat.
That's Sonia's cat, Crouton. She adopted him after we met him during a volunteer shift; she fell in love with his super fluffy self!
I always think he looks a bit like a mini-lion.
Sooo, that's the story of Sonia's storage chest. I really, really love how this looks in simple white; so classy.
I almost wanted to keep it! But that would have sorta defeated the whole point of this project. 😉
I know I've been doing an awful lot of painting posts lately, but that's because I got on a finish-all-the-projects roll at the end of summer.
The looming nature of nursing school lit a fire under me. 😉
Unfortunately, I did not get the scuffed table all finished. But it is next on my list when I get a minute.
Incidentally, I have painted SO MUCH FURNITURE with Cloud White. Here's a little sampling to close out this post.
Benjamin Moore Cloud White Furniture