Alrighty, patient readers…as you know, I've been blessed with lots of free furniture lately, and I've been working on rehabbing most of it.
So, this is the first in an intermittent series of makeovers.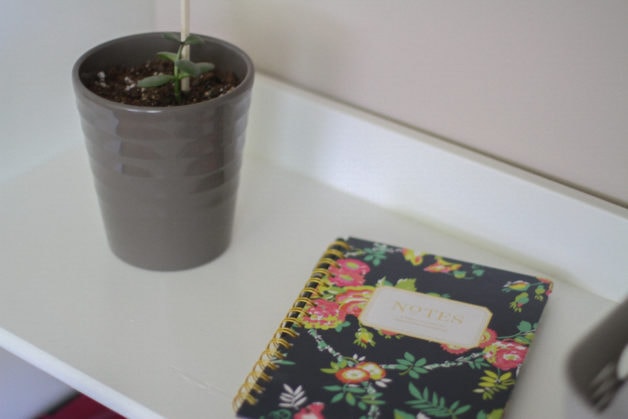 First up? This bookshelf.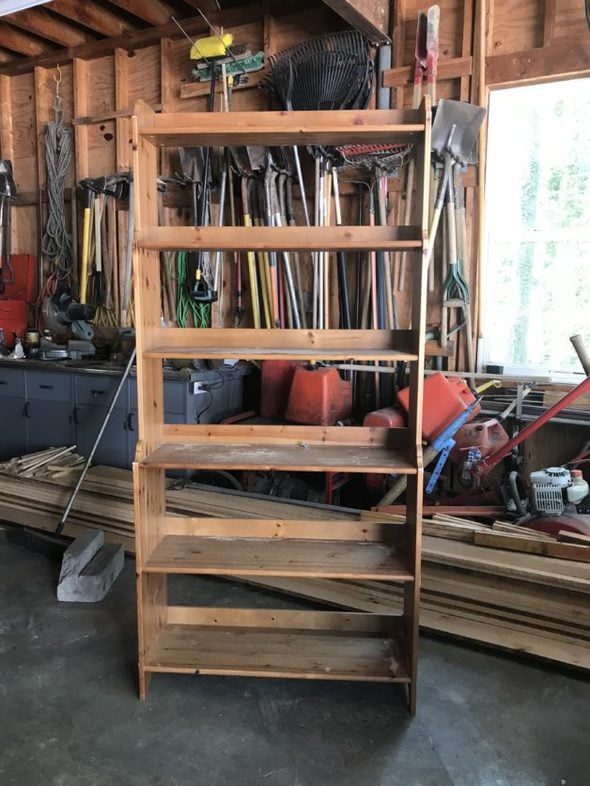 It popped up on the Buy Nothing group in my parents' neighborhood (I joined while I lived there!), so I went with my van to pick it up.
(Again: God bless the versatile minivan.)
It's an Ikea bookshelf, and the person who was giving it away let me know that it was rather wobbly. I'm sure you know how those Ikea things can get after a while!
I showed it to my dad, and since he knew I was going to paint it, he suggested that instead of tightening the weird Ikea anchors, he could just drive a bunch of screws in.
He was very thorough:
Not only did he use screws, but he also glued a lot of the pieces together. As a result, this bookshelf, in its current state, is very possibly the most sturdy Ikea piece in the entire world.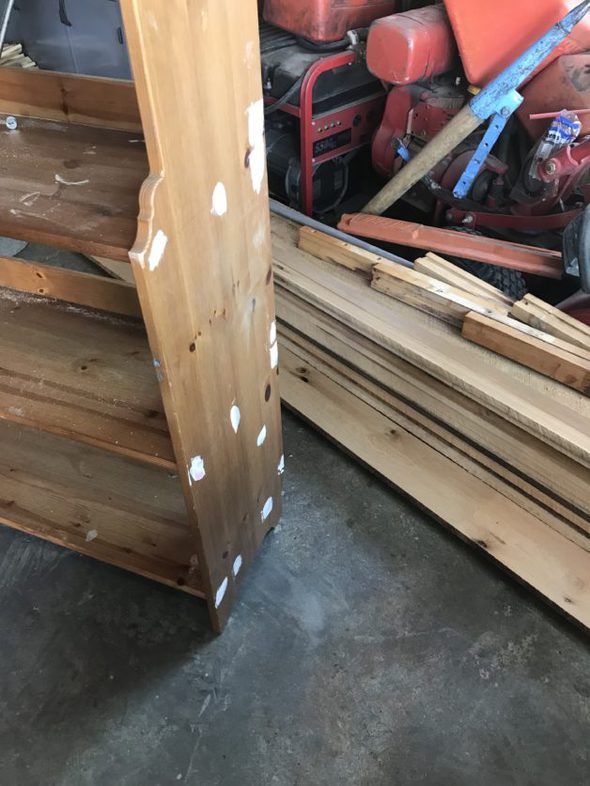 Whenever my dad makes something, it is always extremely solid. Usually, when he's finished securing something, he says, "Well, that's not gonna go anywhere."
And in this case, we could say, "Well, that's not gonna ever wobble again!"
I sanded the whole thing down, primed it, and painted it. And I was again reminded that bookshelves are SO MUCH WORK. They've just got a ton of surface area, and so many corners and edges.
I remember thinking this when I re-did Sonia's huge bookshelf. Which was also a freebie! In case you weren't here then, a pic of that one: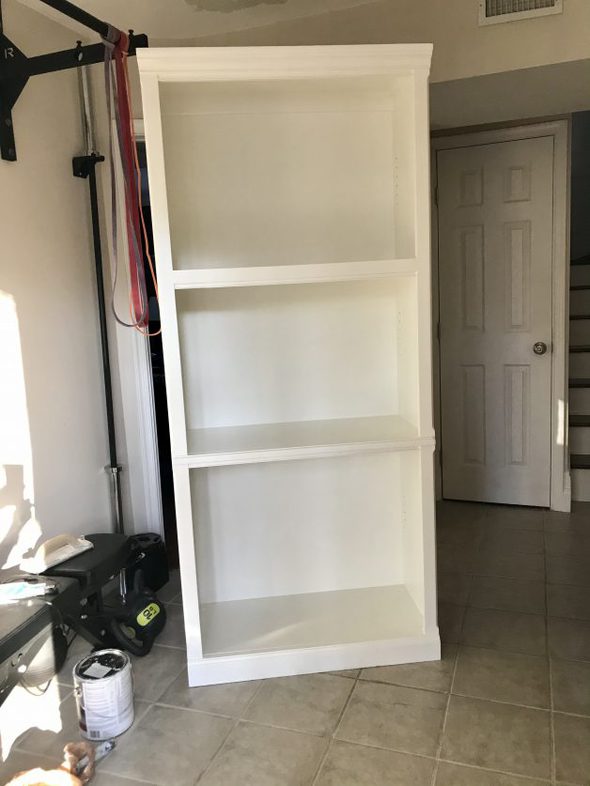 Anyway, this bookshelf took forever.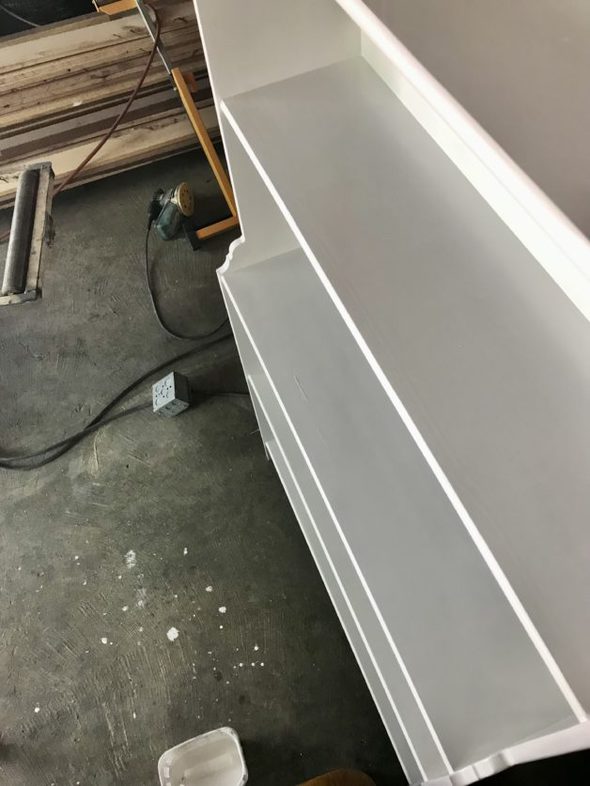 Mid-project, I had an idea: what if there was a kickboard underneath the bottom shelf? I thought it would make the bookshelf look a little more solid.
See how there's no bottom piece in the front?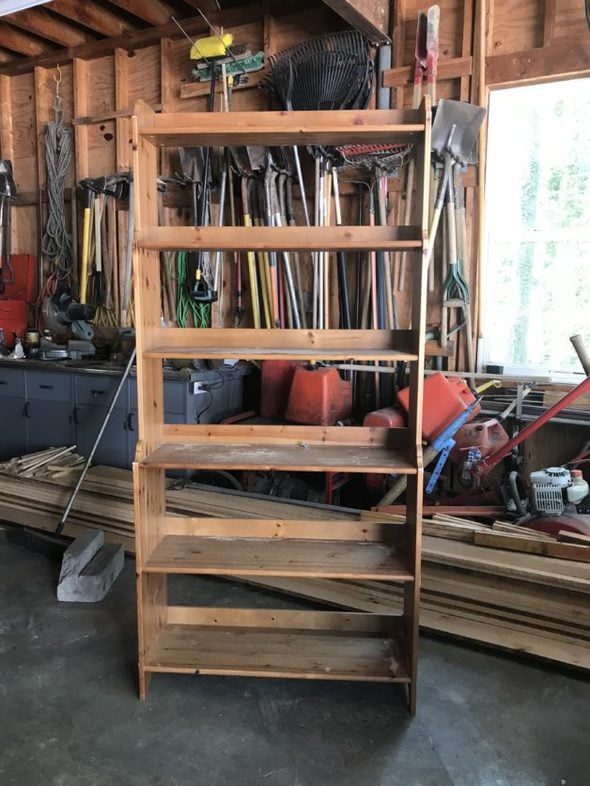 Luckily, my dad had a piece of wood that worked, so he screwed it in for me and I filled the holes and painted it.
Anyway! The bookshelf is now in the bedroom that I'm using as an office, and I DO really love the improvement that the bottom board brings.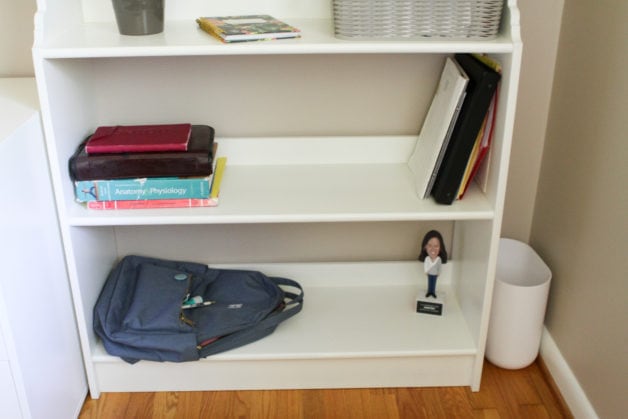 Edit: reader Rose wanted to see the bobblehead up closer, so here's a photo. I got it as a gift from All-Star Money because one of my posts was the most popular article they shared one week…I didn't actually go out and buy a bobblehead of myself. Ha.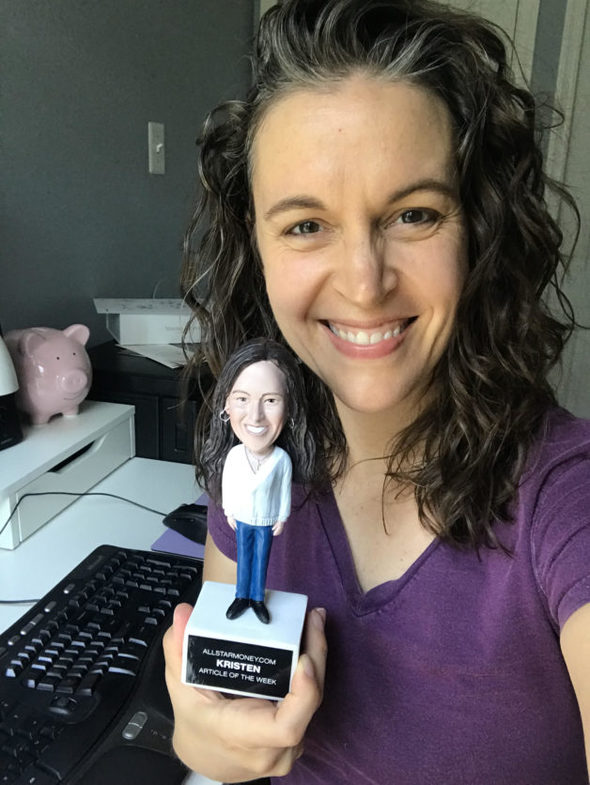 Here's what the whole bookshelf looks like; the picture is kind of grainy because it was getting dark yesterday when I remembered to take these photos.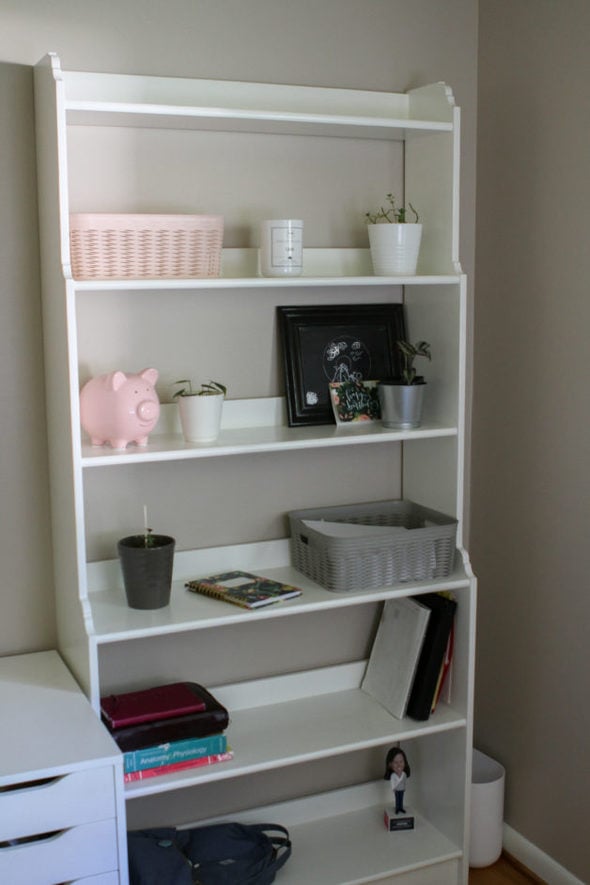 Another view of the bottom board: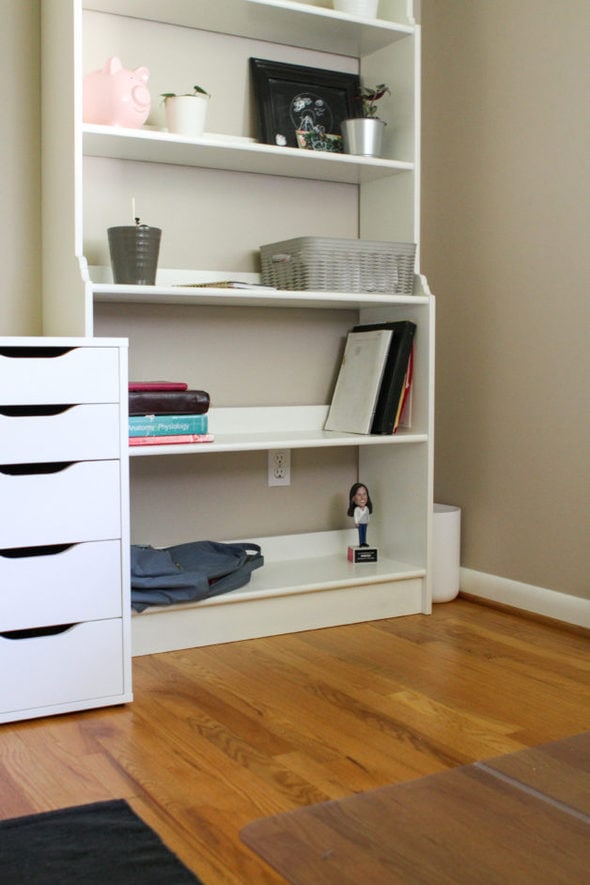 The shelves are still on the empty side of things; I haven't decided what all I want to store here. But I DID quickly decide that my unofficial mascot, the pink piggy bank, needed a home on the shelf. 😉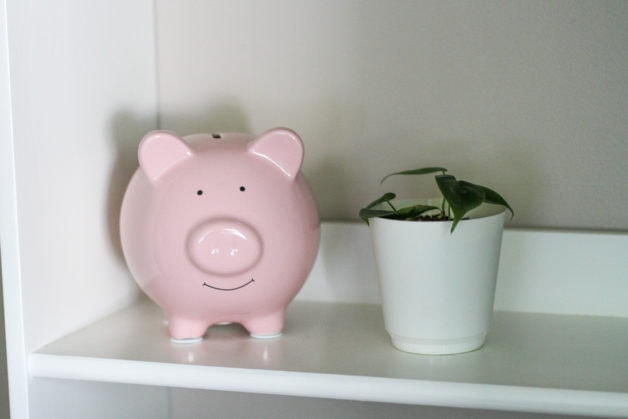 I kinda-sorta think the bookshelf would look better if it had a solid white back, and that would be quite a do-able project; I'd just have to attach a big piece of painted plywood on the back.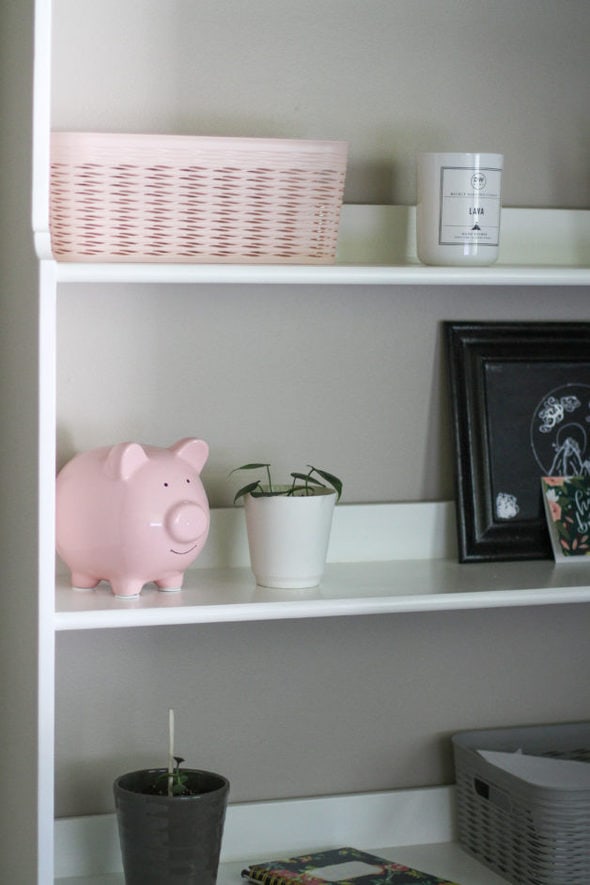 But for now, this is fine.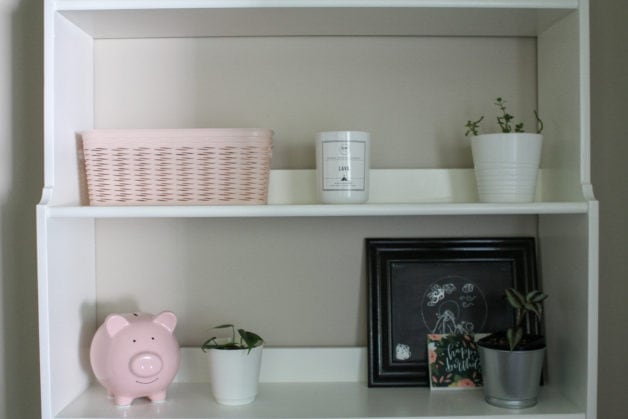 Since I'm renting right now, there's a certain temporariness to my life. And that's part of why it is rather satisfying to redo some furniture for myself; even when I move out of my rental, I get to take the furniture with me.
The house I'm living in is not mine, but my furniture IS mine! And that's a nice feeling.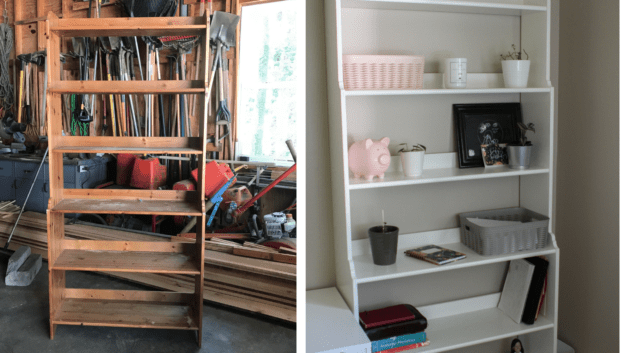 _________________________
Supply/Equipment Details:
I explained my whole sanding/priming/painting process more thoroughly in this post.