Last summer, Sonia was saying she'd like another bookshelf.
Remember this free one that I did for her a few years ago?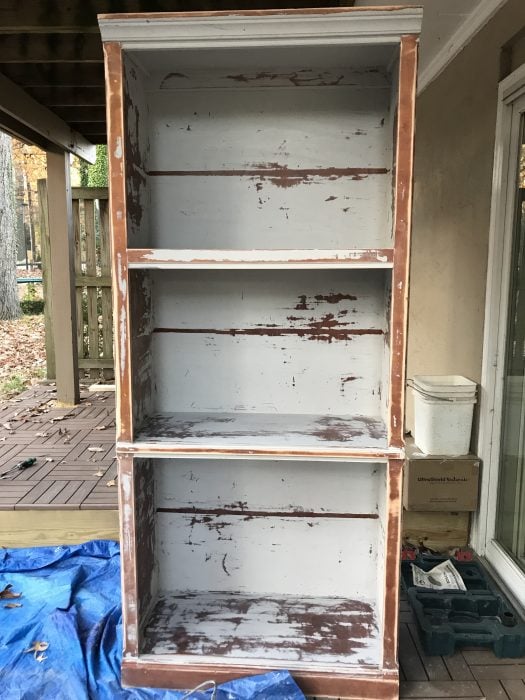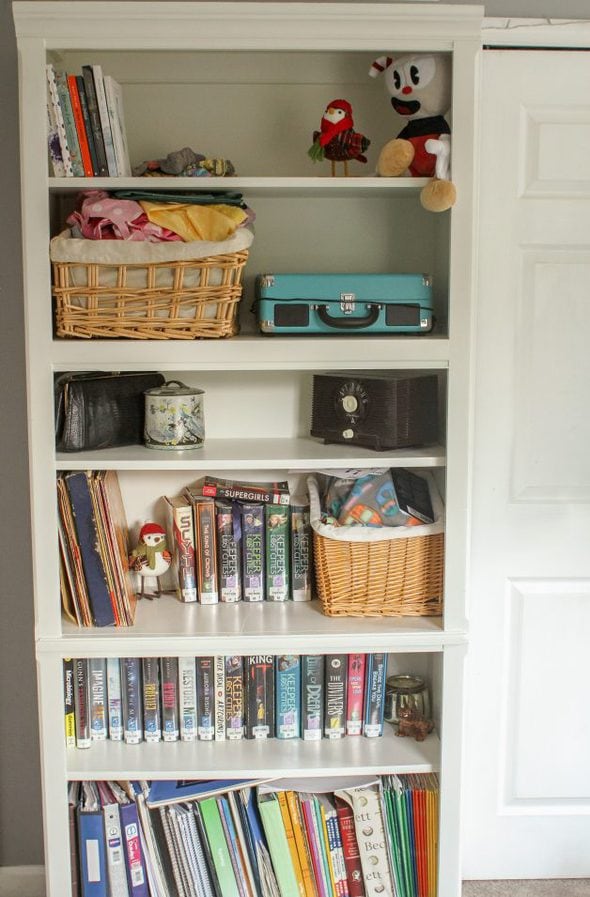 Click here for lots of before, during, and after pictures of that project!
I love that bookshelf so, so much. It's such a solid piece and has classic, beautiful lines.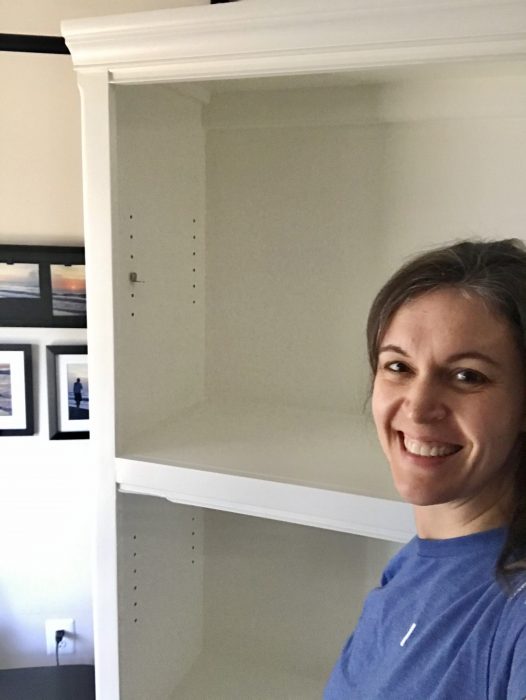 Anyway, since she's the only child left at the other house, she's converted one of the bedrooms into a little office for herself, and a bookshelf seemed like an important addition.
I came across a free one on Facebook Marketplace, and we all know how I like the price of $0. 😉
So, we went to pick it up in my van and I started working on it.
This is one of those pieces of furniture that is a combo of solid wood and veneer/particleboard.
But I have done enough work with pieces like that to know that it can work. Heck, the sides of my kitchen cabinets at the other house were fake wood, and those turned out just fine.
(Click here to see my painted kitchen cabinet project.)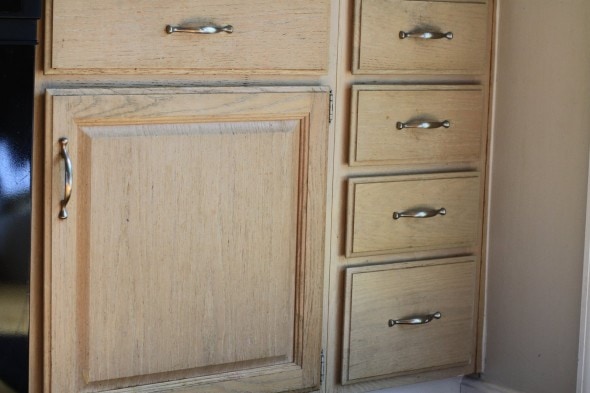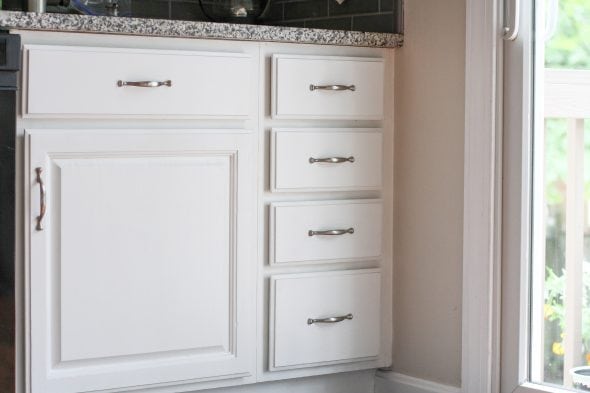 Anyway!
I did my usual process, which you've seen a zillion times:
Those are Amazon links, but you should definitely look for the primer and caulk at a local store; they're usually cheaper than Amazon. The sander is a good price at Amazon, though!
Bookshelves are SO MUCH WORK to redo because they have tons and tons of visible surface area.
By comparison, a dresser is way easier! No one sees the interior parts of a dresser, so you don't have to mess with them at all.
But every surface of a bookshelf is visible, and on a bookshelf this big, there's a lotta labor involved in priming and painting all those surfaces.
I only do one coat of primer, but it usually takes several coats of paint for the finish to be perfect, so you can imagine how many hours of painting that requires!
I also had to paint all the little brown shelf brackets. I tried spray paint first, but the color was too cool to match the Cloud White paint.
So I did a coat of the Benjamin Moore paint, using a tiny brush.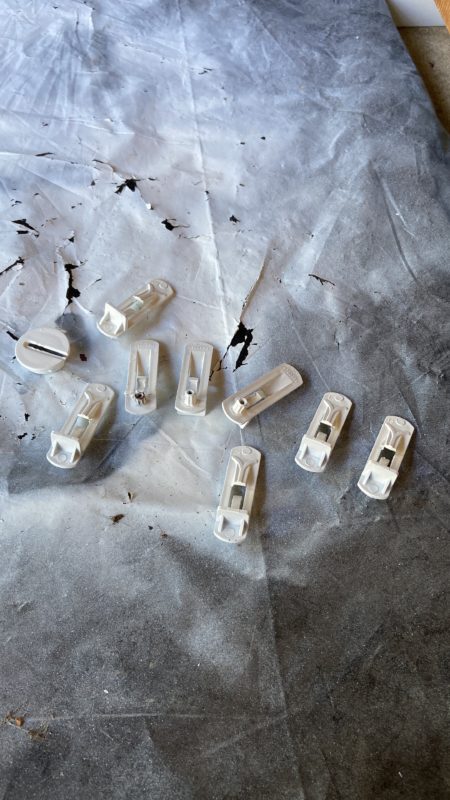 Anyway, I did eventually get it done, and my dad and I delivered it to Sonia. It's so heavy, there's no way Sonia and I could have done it by ourselves!
This shelf has a built-in light, so of course Sonia decided to fill some of her shelves with plants.
And here's how that looks without the light on.
Remember how I was saying I caulk to fill in gaps? Here's an example…the seam on the side of this shelf looked dark once I painted.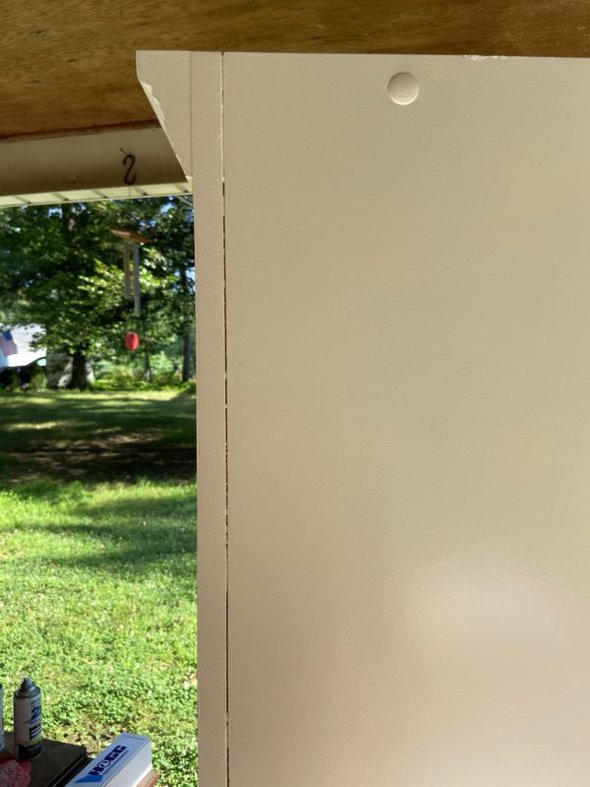 But once it's caulked (and I paint over the caulk), the seam basically disappears.
Considering this is a bookshelf, Sonia doesn't have a lot of actual books in it. But that's because all of her books are on the other bookshelf that I painted for her!
I love it when bookshelves come with a thick molding on the bottom; it makes them look so substantial.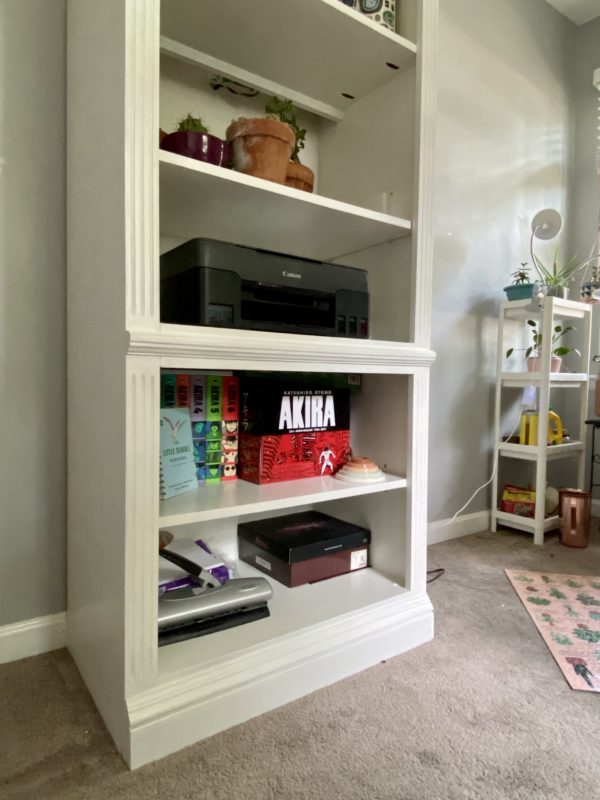 And I love it when they have the crown molding up top too.
While I was over taking pictures, Sonia wanted me to show this to you guys; it's a little swan plant pot that I rescued from the abandoned house, and Sonia made a macrame hanger for it so she could hang it in front of one of her windows.
Anyway! Here's what I started with.
And here's how it looks now.
I used supplies I'd already bought for other projects, so I don't have a good idea of exactly how many dollars I spent on this. But I do know that it's way less than a comparable new bookshelf would have cost.
Obviously, that's excluding the cost of my time (!!) But I did most of the work when I wasn't in school and wasn't particularly busy.
And besides, I'm happy to put hours into:
things for my kids
projects that rescue and rehab unwanted items
Over the last year, I did four bookshelf projects…three for me, and one for Sonia. I dearly hope I will not lose my mind and take any more of those on anytime soon!