I first spied this bookshelf on Facebook Marketplace, where it was listed for $15.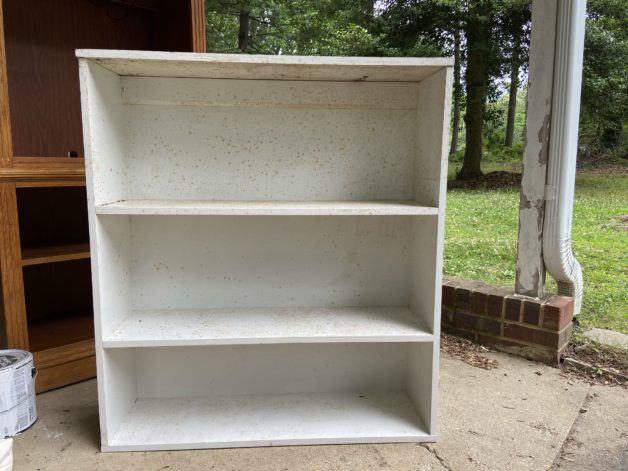 And I thought to myself, "Ummm, nope. Not paying cash for a shelf that looks that dirty!"
But then a little bit later, I saw the same shelf pop up on my Buy Nothing group. Apparently no one else wanted to pay $15 either.
For $0, I figured I'd bite.
This shelf was indeed in terrible shape. For starters, it was spattered with some kind of brown who-knows-what all over.
And one of the shelves had some serious damage to it; it almost looked like some kind of liquid and/or chemical had spilled and eaten the wood away.
But, I thought it had potential, so I picked it up.
I sanded it down, and that was a process because the shelf had multiple layers of paint on it. Some of the layers were latex paint, which gets rather sticky as you sand it.
I sanded the damaged shelf, of course, and I was able to remove some of the damaged parts that way.
However, plenty of damage remained. And it was an awfully large area for me to consider a wood filler repair.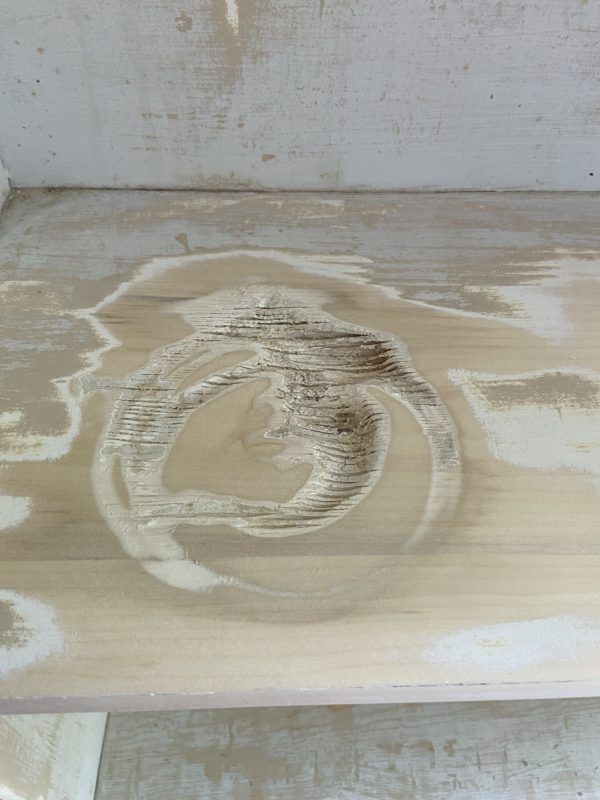 But then I thought, "Hmm, this bookshelf doesn't really have a designated top or bottom. What if I just turned it upside down?"
So I did.
Pro tip: If you can't see the damaged shelf, it ceases to exist. 😉
Damaged shelf out of the way, I thought, "Hmm, you know what would make this shelf look even better? Some legs."
So I ordered a set of four from Amazon and then put the bookshelf in my van and drove over to my dad's garage. I do not currently have the tools to install legs, plus the shelves needed a little reinforcing with screws.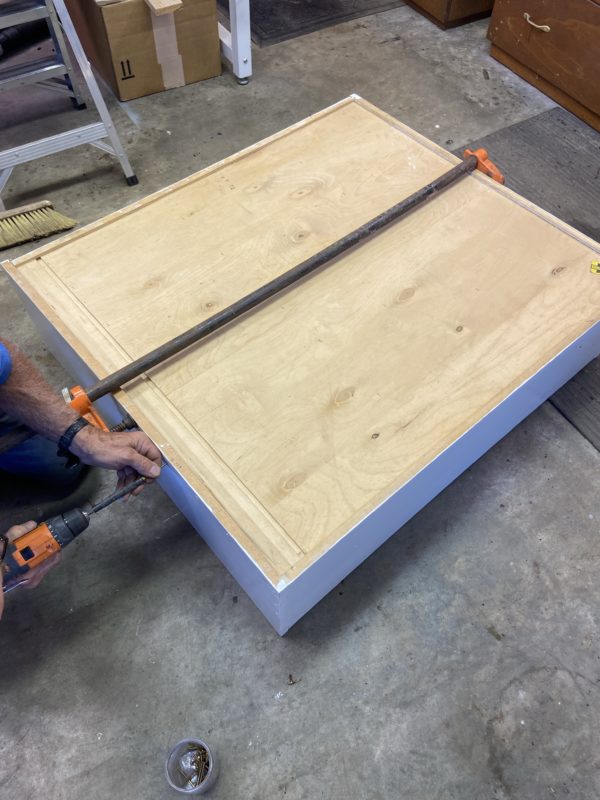 My dad is obviously very experienced with everything related to woodworking, but guys, even he agreed that these legs are tricky to install.
The problem is that they are angled, and you want them all to be pointing in the appropriate direction, so you have to be careful how you install the brackets.
We (ok, mostly he) came up with a method that worked, but it was tricky.
If I did it again, I'd definitely order these straight legs instead! They're not quite as cool-looking but they would be a thousand times easier to install.
After the legs were installed, I filled somewhere around a million dings and dents.
Then I caulked all the gaps and did the usual: one coat of primer, and then probably 3-4 thin coats of paint.
Supplies I used:
(Amazon links, but this stuff is usually cheaper at your local store, like Home Depot)
So. Here's what this looked like before.
And here's what it looks like after.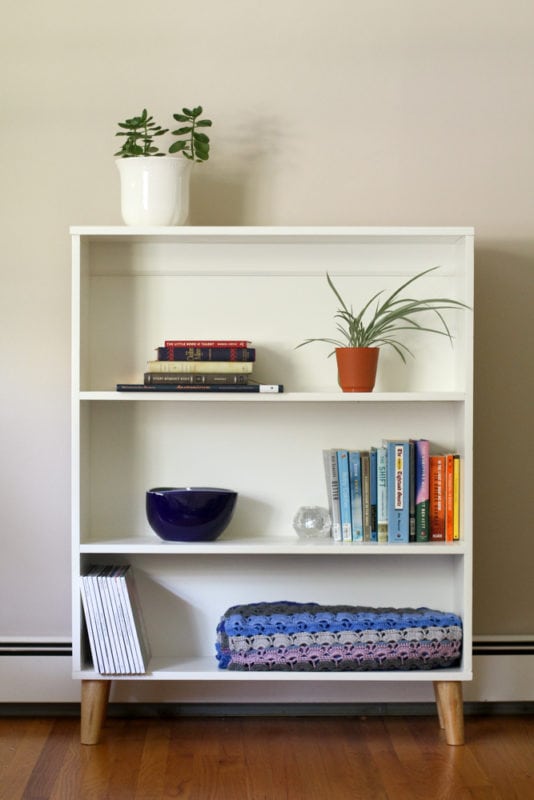 So, so much better!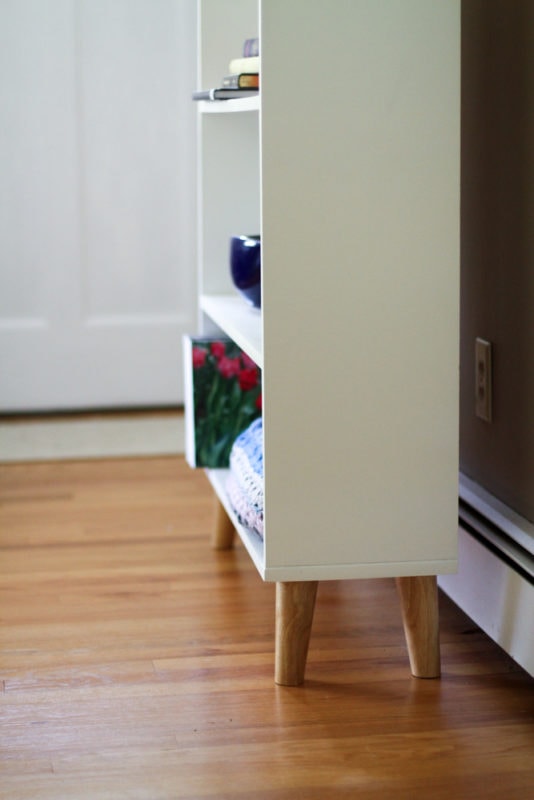 I really, really love what the legs do for this shelf.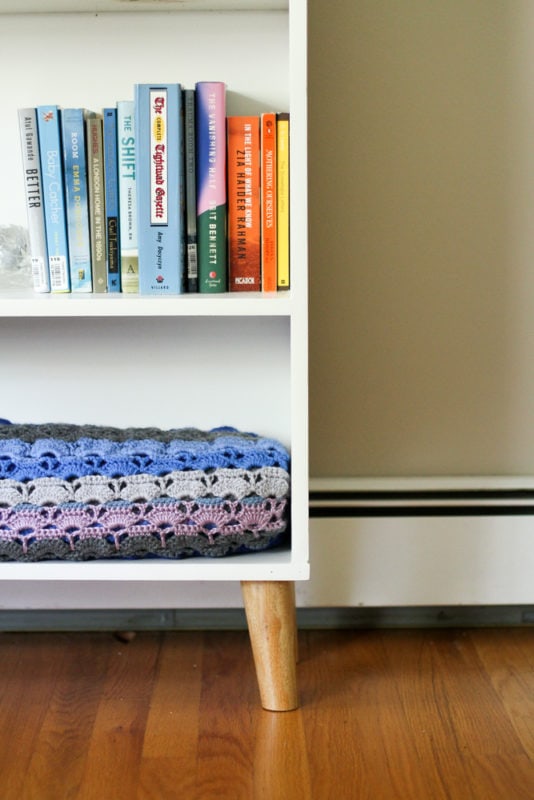 And I like the simple lines; I think this will have no problem looking good in whatever house I live in next.
Now, I have to tell you: these after photos are sort of a lie.
Since I have built-ins at this rental, I don't actually need a living room bookshelf! I just took things off my built-ins and put them on this shelf for the photo.
The bookshelf actually is down in my basement, in Zoe's little TV den, and it's currently holding things like Wii games. It's too dark down there for good photos, though, so staged photos it is. 😉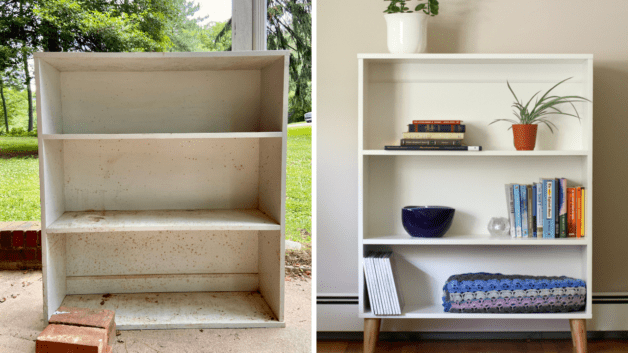 I really love the look of this bookshelf now it's rehabbed, and probably at whatever house I live in next, it will get a more prominent spot than the basement.