Unlike me, Sonia is a person who loves to own books.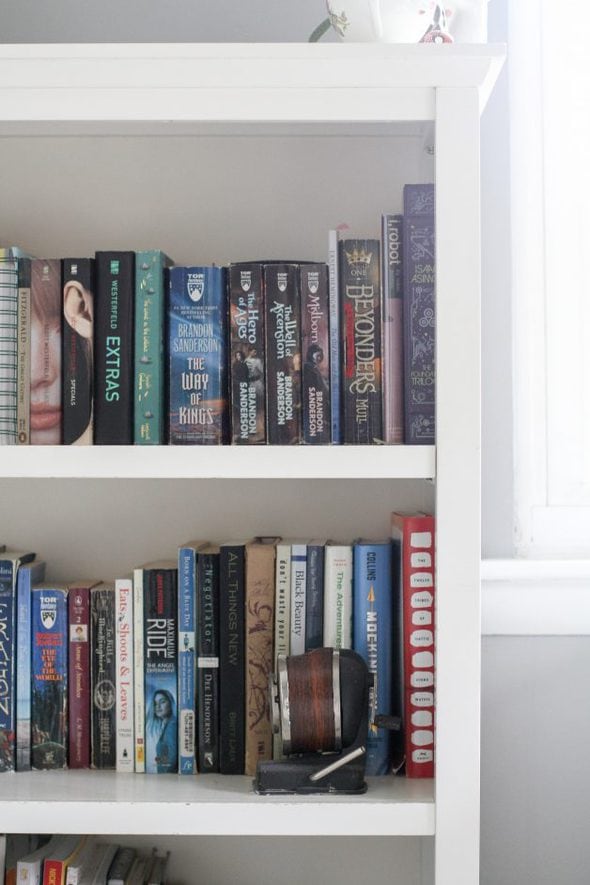 Me? I like to read books and then get rid of them, which is why the library is my favorite thing. You can read books without storing them!
On the rare occasion when I need to buy a book, I almost always immediately resell it on eBay.
Anyway, I'd gotten her a Pottery Barn bookshelf (pictured above) off of craigslist a few years back, but it was a pretty small bookshelf and the shelf heights were not adjustable. That made it hard to store things like tall binders.
So, I went on a mission to find a bigger, paintable secondhand bookshelf.
I perused Facebook marketplace for a while, and then rather randomly, a free bookshelf popped up on a local freecycle-ish group I'm in.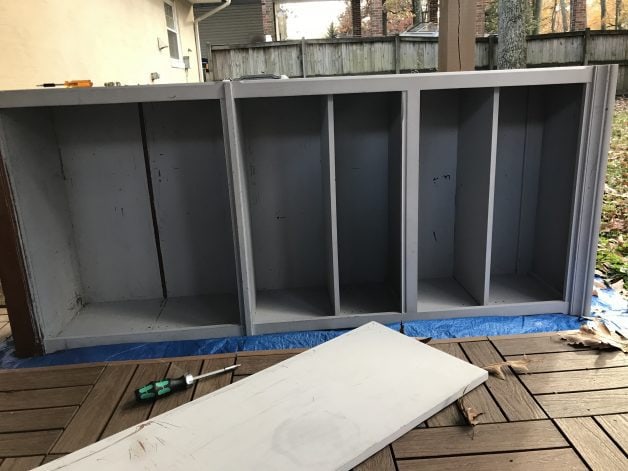 It was partially covered in gray chalk paint, which was probably pretty lucky for me. The half-finished chalk paint made it just ugly enough to not get snapped up right away!
It did have a little bit of damage in a few places, but not enough to discourage me.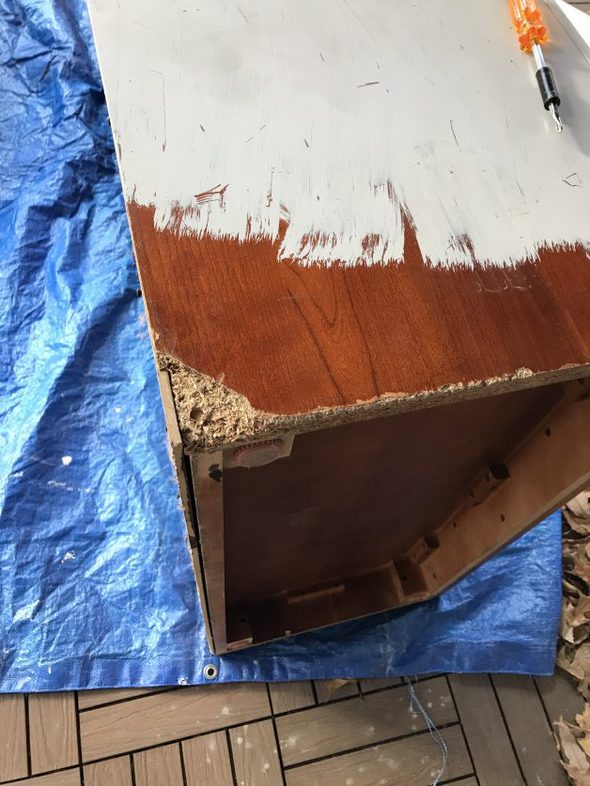 Sonia and I went to pick it up with our minivan. And it's a good thing we have a minivan because holy moly, this bookshelf was quite a big bigger than I'd imagined.
Luckily, it fit in the van. Mad props to my Sienna for its hauling capacity; I have fit a whole sofa in there, a huge dresser, and now an enormous bookshelf.
Mr. FG and I hauled the bookshelf into the backyard so I could start refinishing it.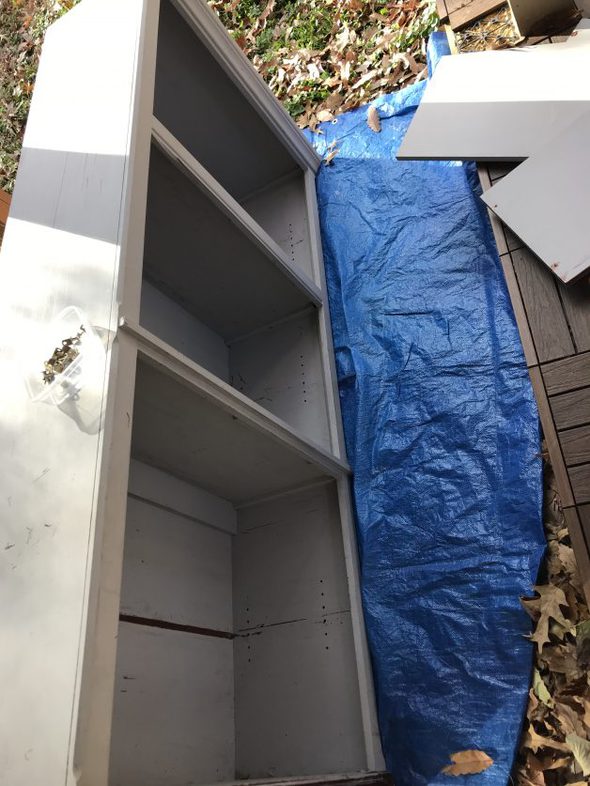 Remove shelving
First, I unscrewed all the shelves and removed them because I knew that would make the sanding and painting process so, so much easier and quicker.
Sand all the surfaces
I used my Bosch orbital sander for this, always! And I hand-sand things like corners or trim work, since the orbital sander is no good there.
I gotta tell you, chalk paint is kind of a bear to sand off. And I was even lucky with mine because the previous owner had not put the wax topcoat on.
I cannot even imagine trying to get the wax off, and this project has taught me that I should not take on finished chalk-painted items in the future.
Too much work!
Wipe every surface down to remove dust
Sanding dust gets everywhere and paint/primer does not like to stick to dust.
So, I used a damp rag to get all the dust off.
Brush/roll on a coat of primer
I used Zinnser 1-2-3 primer, which is the same stuff I used on all my projects. It's water-based, but it holds up really well, the same way oil-based primer would.
And water-based means easy cleanup!
Caulk any gappy areas
When you paint wooden furniture white, any small gaps between pieces suddenly look like obvious dark lines.
So, it helps a lot to run some caulk in those areas. Then the furniture ends up with a nice solid white finish.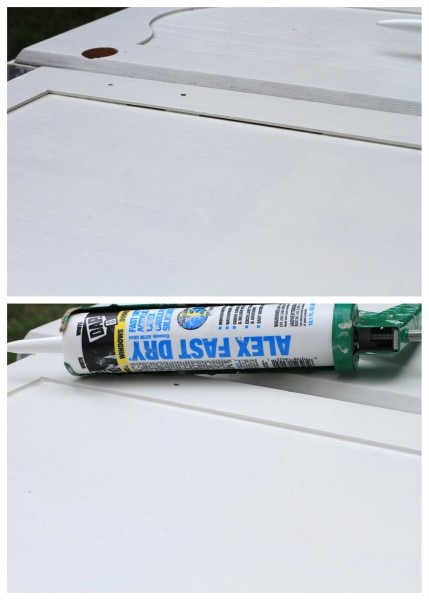 I use DAP latex caulk; I've tried cheap no-name caulk and it is terrible. It's not worth the savings at all!
Brush/roll on a bazillion coats of paint
I used my trusty Benjamin Moore Advance paint, satin sheen, in Cloud White.
I use a small microfiber roller and a couple of small paintbrushes when I paint furniture.
A big wall roller would be unwieldy, but the little roller works great for the flat surfaces of furniture. And the paintbrushes are great for the edges.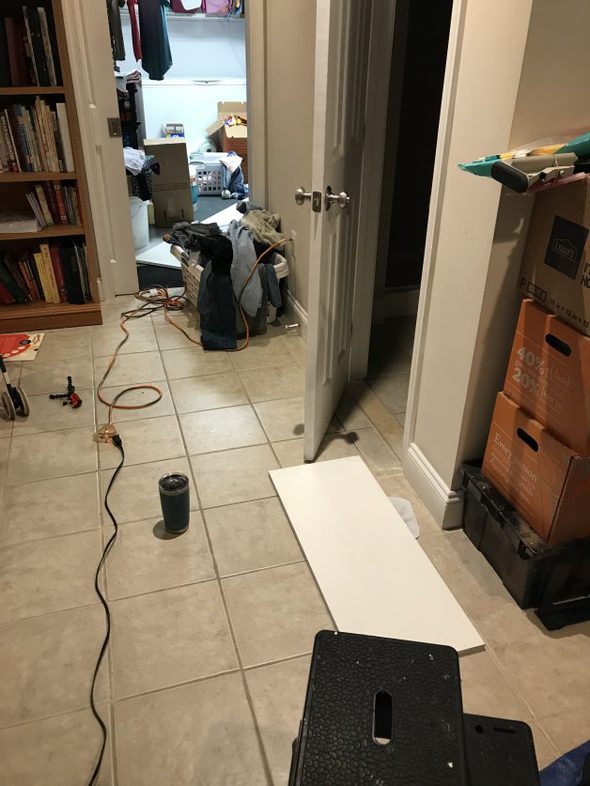 I do multiple thin coats of paint, with time for drying in between. Thin coats are more durable, and it's easier to avoid runs and a gloppy finish if you do thin coats.
Patience is a virtue here!
Remove the paint from the hardware
Chalk paint is pretty hard to remove even from hardware. I tried boiling water and several other DIY methods, but I eventually ended up just using an SOS pad and elbow grease.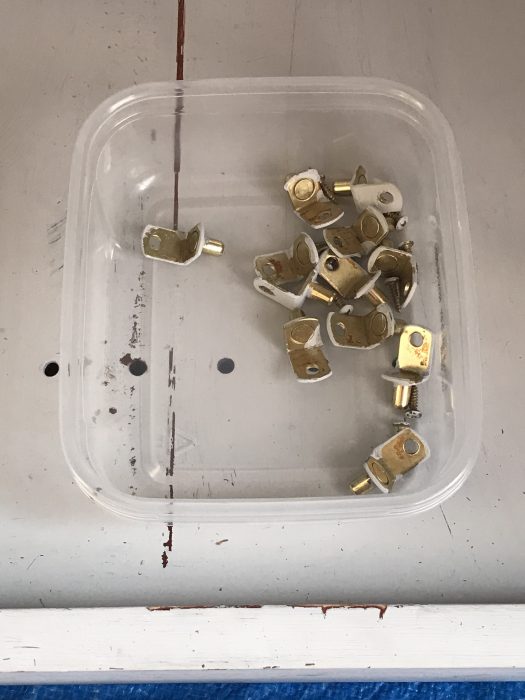 Let everything dry for a few days
The Advance paint doesn't fully cure until a few days have gone by, and since bookshelves get a fair amount of wear and tear, I wanted to be careful!
Once it the finish was nice and hard, Mr. FG and I carried it up to Sonia's room, installed the shelves, and Sonia got to work filling it up.
The after photos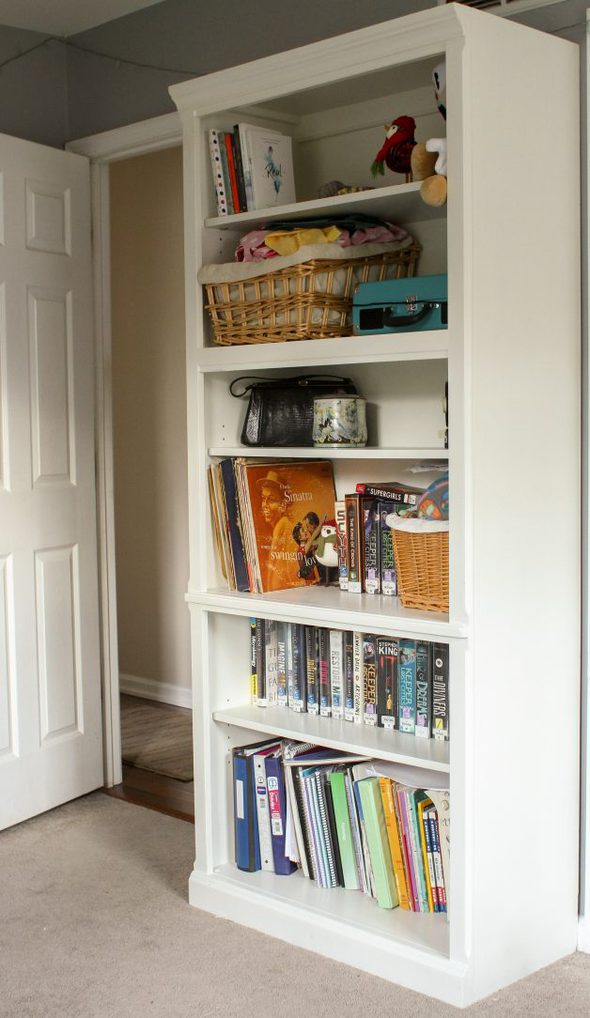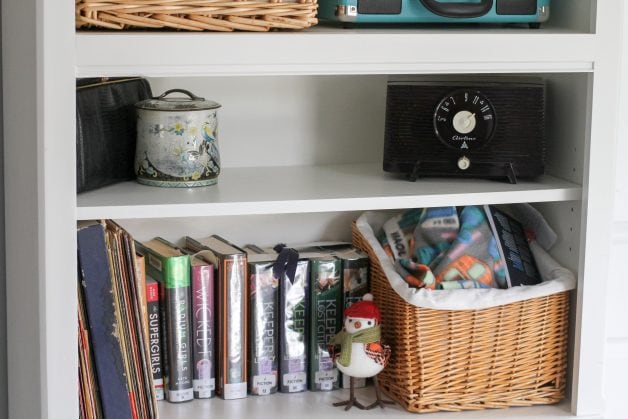 Since the shelves are adjustable, we were able to make one of them high enough to house Sonia's records.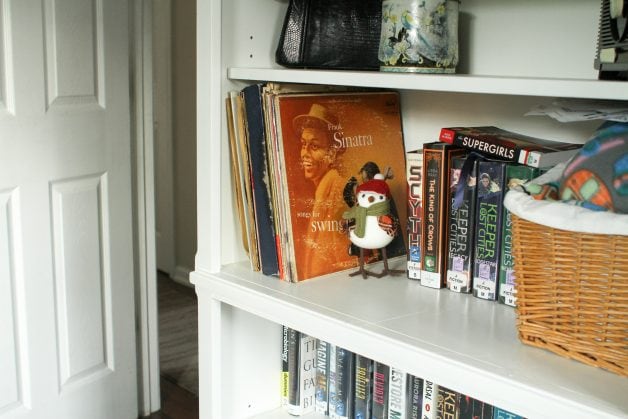 The bookshelf is so big, even Sonia has not managed to fill it up entirely.
(She probably just needs a little more time. 😉 )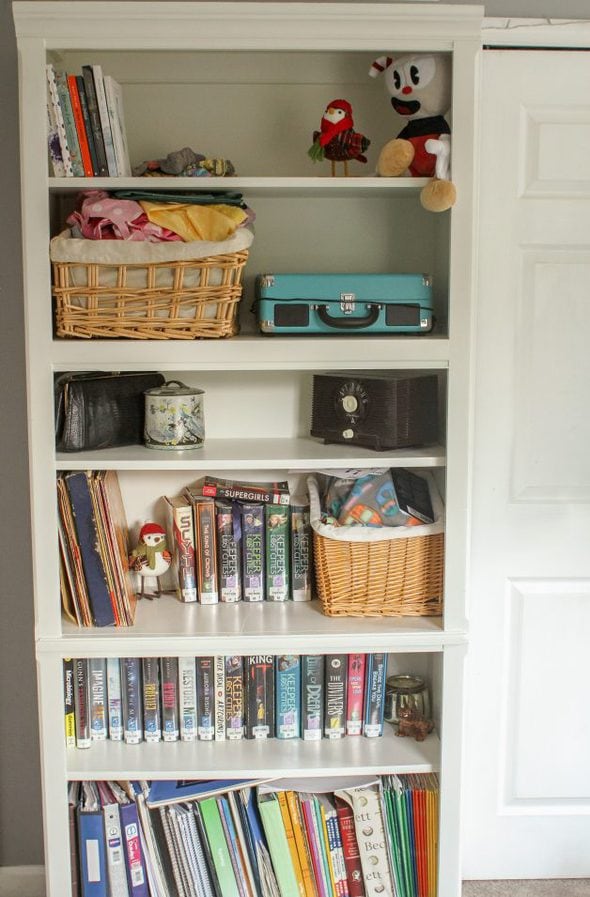 Oh, remember that damaged corner? I just painted it all white, and it's almost invisible here on the carpet.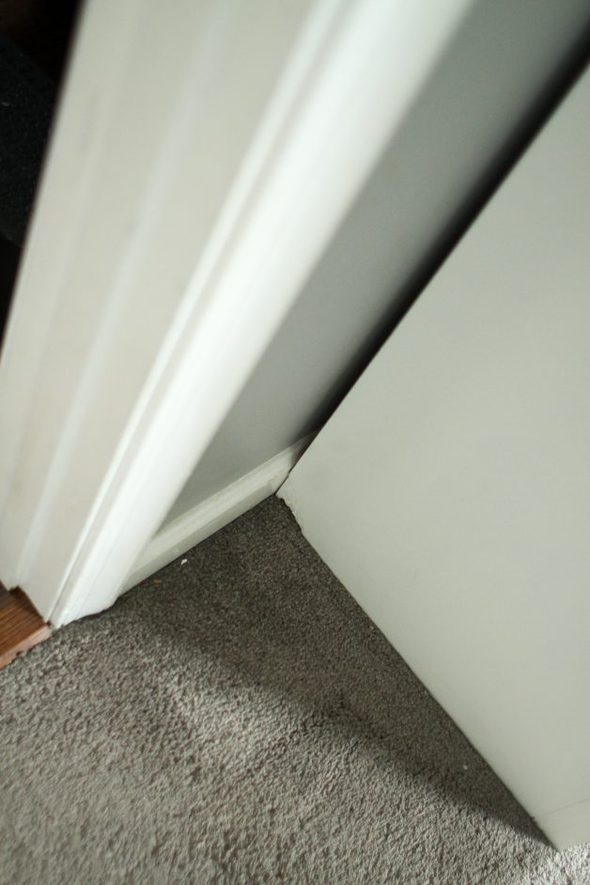 So, I think I will just leave it instead of repairing it.
Good enough is good enough!
Also, there's a small portion of the trim by one shelf that's damaged, but since it's all white, it's very hard to see.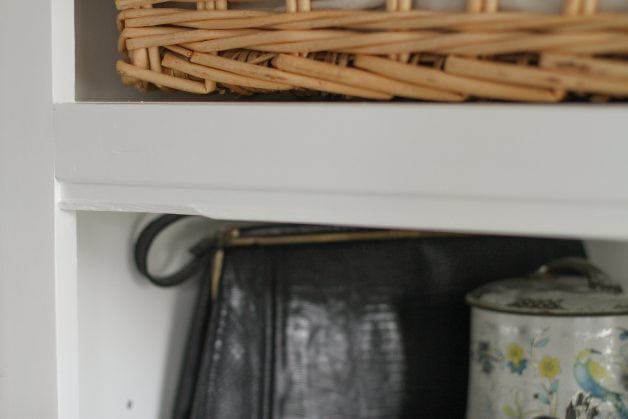 $0 for a $999 bookshelf
I googled the numbers on the tag, and this is a Thomasville bookshelf. It's not made anymore, so I couldn't get a good idea of how much it would have cost initially.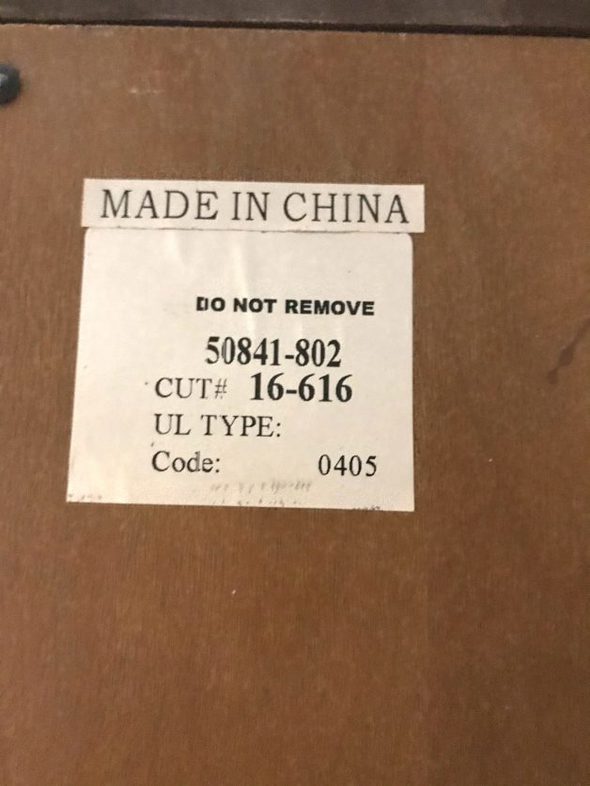 However, as a point of comparison, this white Pottery Barn bookshelf costs $999.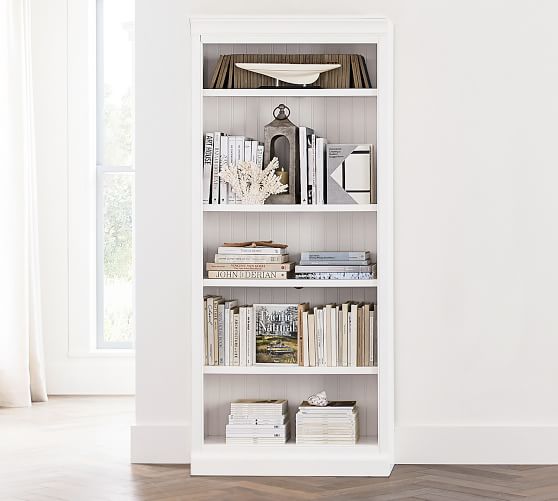 So, I feel pretty darn good about this project, even when you add in two days of labor.
And I bought no supplies for this project at all; the rollers, brushes, paint, and primer were all leftovers from previous projects.
So, my out of pocket cost was $0.
About the paint I used:
Benjamin Moore Advance paint is expensive (!)
This paint isn't remotely cheap, but it's worth it.
It self-levels (reducing brush and roller marks)
It's water-based (easy clean-up!)
The dried finish is tough, durable, and wipeable
Also, when you consider how much it covers, it's a great bargain.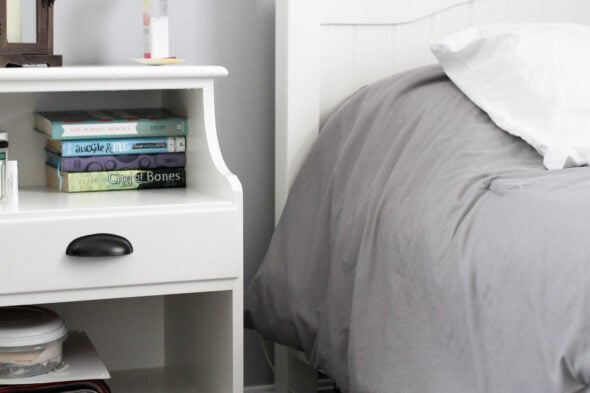 I bought this gallon bucket for $85 and it has covered (click on links for photos):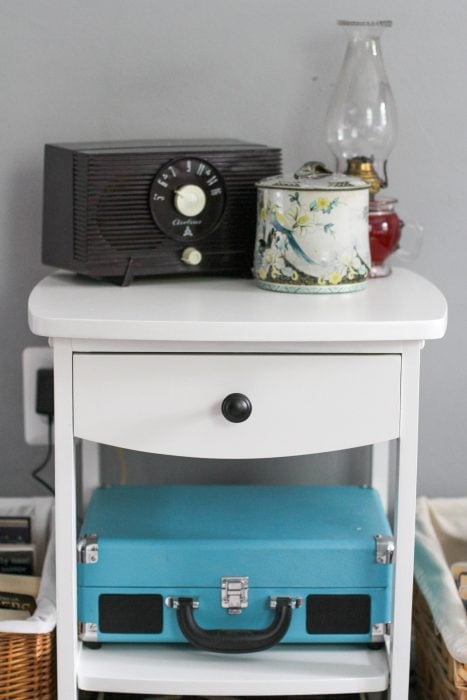 I couldn't have bought even a single solid wood nightstand for $85, and this bucket of paint has covered six pieces of furniture. Definitely worth it!
Seriously, this paint is worth every penny.
And now my bucket is officially used up, which means my next project will require a paint purchase.
I dooooo have this ugly black Ikea bookshelf in our home office that I'd like to replace with one that I can paint white.
Time to stalk bookshelves on Facebook marketplace, I guess!