What I Spent
I am still adjusting to the heat of my new stove. It definitely runs hotter than my old one.
See?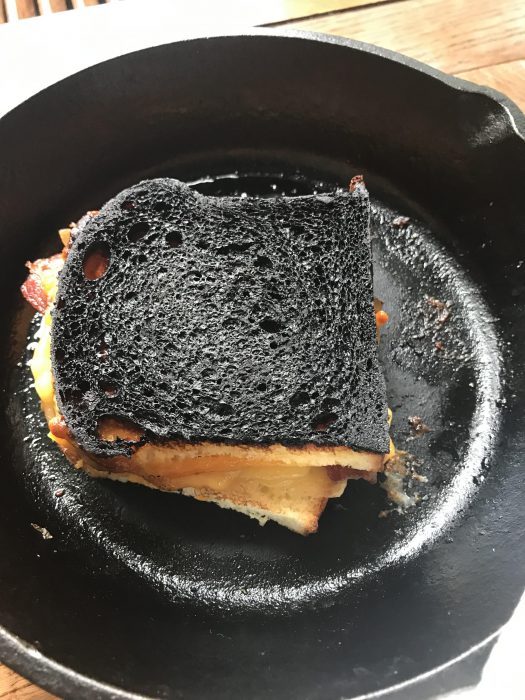 I don't think I have ever made a sandwich that's the same color as my cast iron skillet.
(!)
I will get better at this with a little more practice, though.
On grocery shopping: I didn't really go this week.
I did a quick stop at Harris Teeter for $13.82 and then I spent $36 on a few grocery things at Target (I had to stop there for some other household items).
Plus, I spent $28 on Tuesday night's dinner via UberEats…see below for more details.
So, I spent $78 altogether.
September Grocery Spending
Week 1: $99
Week 2: $155
Week 3: $201
Week 4: $78
What We Ate
Saturday
Mr. FG and I did a takeout date night using the Local Flavor voucher I mentioned in this week's Five Frugal Things post.
(Through September 26th, you can get 25% off Local Flavor deals by clicking on this link. Sometimes my LocalFlavor site has some pretty good vouchers available, so take a peek at yours to see what's there right now.)
Sunday
I made panini with the bread I'd made from the yeast leftover from Zoe's science experiment.
See, I CAN make a sandwich that is not burnt: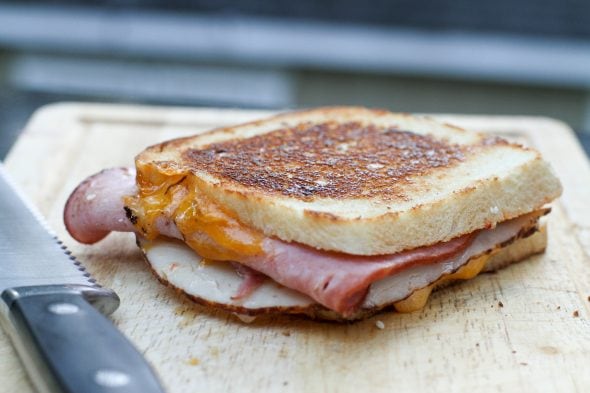 This meal used up the odds and ends of lunch meat in the fridge, so I was pleased about that.
I always make Sonia's sandwich without cheese, which works fine as long as I use mayo inside the sandwich. That gives it a sufficiently creamy feel even without the cheese.
Monday
I made a main dish green salad using a recipe from Dinner Illustrated, and the girls voted for garlic pull-apart bread on the side.
Since I always have an extra pound of bread dough when I make that recipe (my dough recipe makes two loaves), I make one into garlic pull-apart bread and the other into cinnamon swirl bread.
This makes my girls doubly happy. 😉
Tuesday (an UberEats fail)
I got an email from UberEats offering me $30 off my first order.
So I was like, "Ooh! what a good deal."
We placed an order with Panera, but as it turns out, $30 is not that good of a discount.
Between fees and tips, the $30 discount turned into only a $12 discount as compared to doing regular takeout.
Plus, it took an hour for our food to get here, which is way slower than getting it ourselves.
AND, you can't do customizations through UberEats the way you can through the Panera app.
I don't really see myself using UberEats again, but at least now I tried it and I know it's not for me.
Wednesday
I was tired, my head hurt, and I was feeling kind of crabby.
These are not ideal conditions for making dinner.
So I threw a frozen pizza in the oven for Mr. FG, Lisey, and Zoe.
And since Sonia can't do cheese pizza, I made a pot of polenta for the two of us, which we ate topped with a fried egg.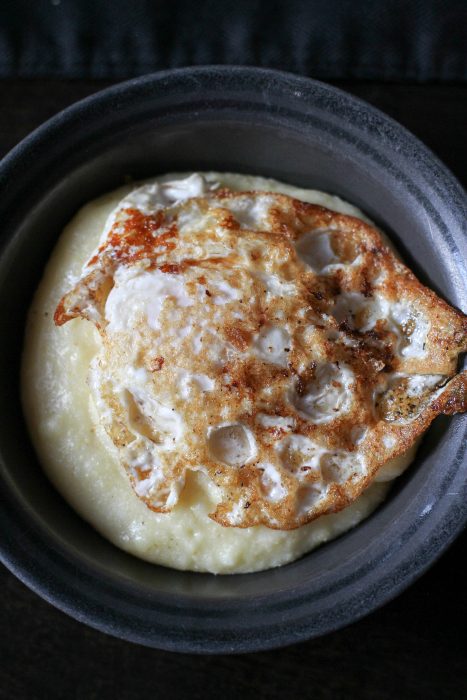 Was this evening my best effort?
Nope.
But people were fed, and we did not get takeout. So I give myself a solid B+.
Thursday
This was sort of a random meal, based on stuff I pulled out of the freezer.
(This is what happens when you don't go grocery shopping!)
I made a main dish green salad with pan-sauteed scallops for those who like scallops.
For scallop-haters (and those who are allergic, aka Zoe), I made some quick pulled chicken.
And I mashed some potatoes to go along with our varied proteins.
Friday
I have not decided yet, but I do know that I am going to the grocery store. My fridge is getting way too bare to make more meals.
What did you have for dinner this week?
P.S. This is totally off-topic, but I noticed that ThredUp is temporarily offering a $20 credit to new ThredUp customers. Usually the new account credit is $10, so this is a nice bump up!