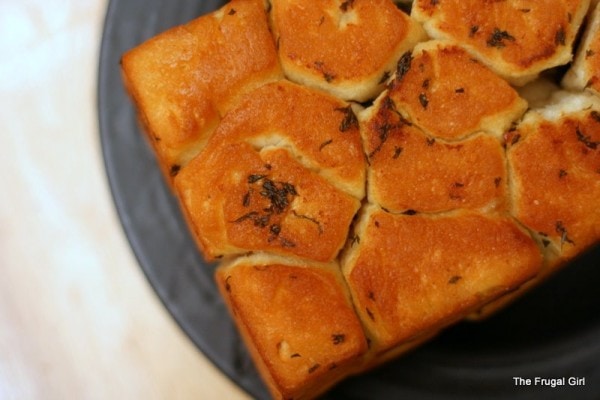 This is a recipe I got from Taste of Home back when I was a teenager. I made it for my parents and siblings then, and I now make it fairly often for my own family (not often enough, though, by their estimation!). It's sort of like a savory version of Monkey Bread, and it's received with nearly as much enthusiasm.
The original recipe calls for a pound of frozen bread dough, but of course, I don't buy bread dough. Instead, I just use a pound of homemade bread dough. If you're pressed for time, frozen bread dough is certainly a good option, but really, in the time it takes to thaw the store-bought dough, you could make your own and save some money.
I usually make a recipe of sandwich bread dough to use instead of the frozen bread dough. The recipe makes more than a pound of dough, so I use about half of it to make a garlic loaf, and half of it to make a plain loaf of bread.
To make a garlic loaf, follow the sandwich bread recipe exactly until it's time to shape the dough (so, make the dough, knead it, let it rise, and stop there).
Take a pound of the bread dough, and divide it into small pieces. This isn't an exact science, but I usually cut my dough into about 15-20 pieces. Roll each piece into a ball.
Melt 1/4 cup of butter, and mix in parsley, garlic powder, and garlic salt. You can use oil or margarine, but of course I think butter tastes the best. 😉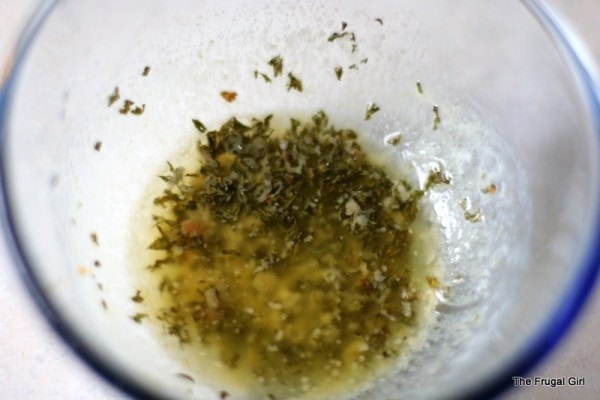 Dip each ball into the garlic butter mixture, and stagger balls in a bread pan. You can use either a 9×5 or a 4×6 pan. A 9×5 pan will yield a shorter loaf, and a loaf from a 4×6 pan will be taller.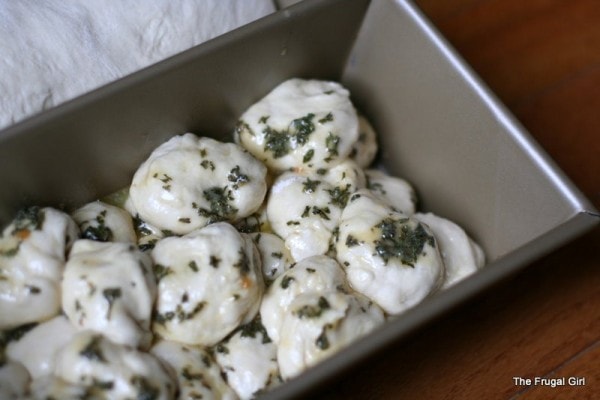 Cover the loaf with a wet tea towel, and let it rise in a warm place for about 45 minutes, or until the dough balls look soft and puffy, like so.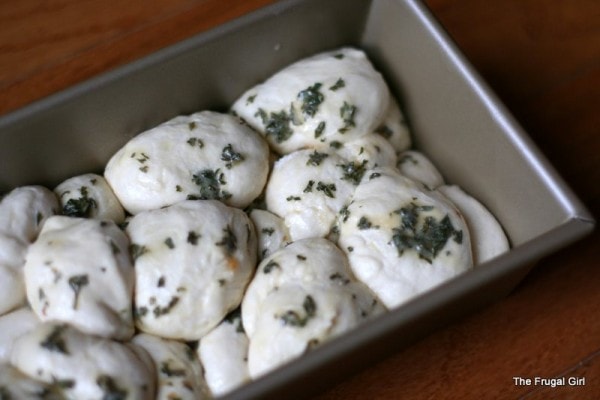 Bake in a preheated 350 degree oven for 25-30 minutes, or until golden brown. Turn out onto a plate and serve warm.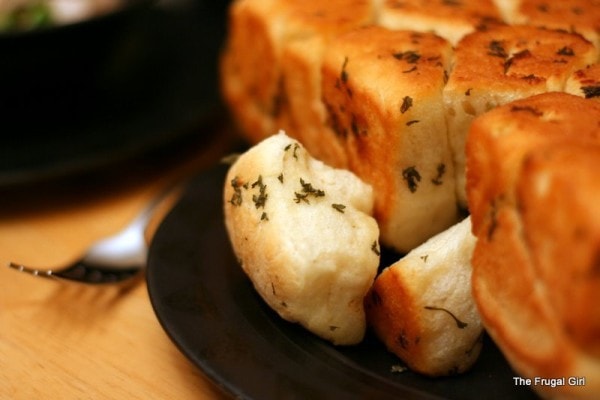 Pull-Apart Garlic Bread
1/4 cup butter, melted
1 tablespoon dried parsley flakes
1 teaspoon garlic powder
1/4 teaspoon garlic salt
1 pound of bread dough, either frozen (which should be thawed first) or homemade
In a small bowl, combine the butter, parsley, garlic powder and garlic salt. Cut dough into 1-in. pieces (about 15-20). Roll into balls and dip into butter mixture. Layer in a 9×5 or 4×6 loaf pan. Cover and let rise until doubled, about 45 minutes.
Bake at 350 ° for 25-30 minutes or until golden brown.
_____________________________
You may also be interested in these posts: