On Tuesdays and Thursdays, I post a picture and just a few words.
I store uncut onions outside of the fridge (my cold laundry room is perfect for this!).
But once they're partially cut, I store them in the fridge, and for a while, I couldn't figure out how to do this in a waste-free way, mainly because onions are so odiferous.
A disposable plastic bag creates waste, so I prefer not to do that, but putting the onions in a reusable container made the lid stink, even after trips through the dishwasher.
So, I've been storing my cut onions in a glass mason jar (This is a wide-mouth pint jar
, which I find to be a really handy size.)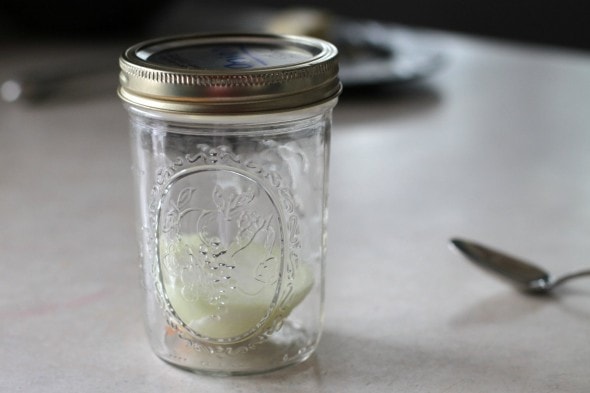 And the onions DO make the lid stink-there is no question about that. That's why I used a sharpie to label the lid, which means I will never make the mistake of using it on some other kind of food.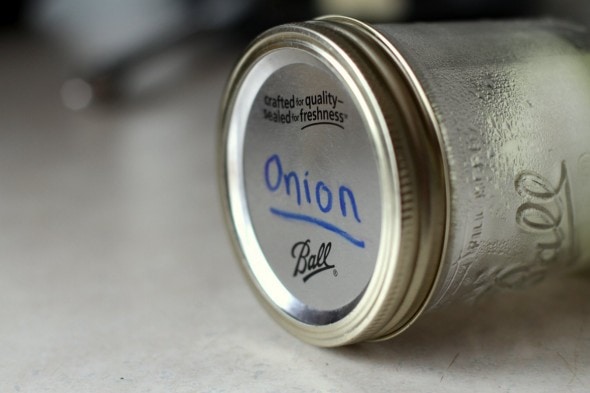 (Remember when I accidentally used an onion lid to make yogurt??)
If you wanted to store an onion for a long time, this wouldn't work because it's not air-tight enough to keep the onion from drying out. But I use onions almost every day, and so mine never live in the Mason jar for long.
____________
P.S. Swagbucks is currently offering a 500 Swagbuck bonus to any new members who sign up through this link and earn 1500 Swagbucks by April 19th.
(Here's what I think of Swagbucks.)
____________
Joshua's 52 post: Ninja
(Fair warning: it's a spider. But it's kind of a cute one, and it totally looks like it's wearing a ninja mask.)