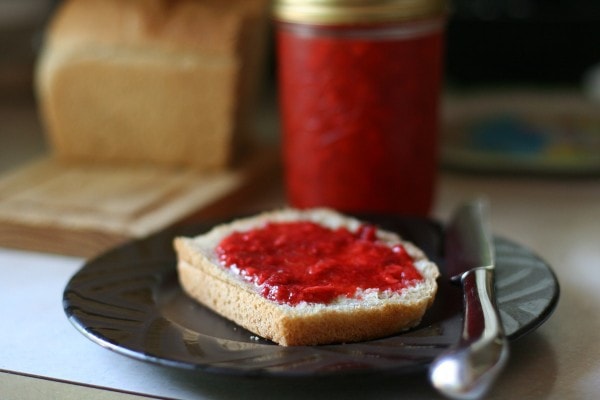 Last summer I sang the praises of freezer jam and I also shared a recipe for blueberry jam. (if you're wondering what freezer jam is, go read that post!)
It's not quite blueberry season yet here in the Mid-Atlantic region, though, so I thought a strawberry jam recipe might be more in order. This is the strawberry jam my mom always made when I was growing up.
It's super easy and super delicious. If you can operate a spoon, you can make this jam.
First, you'll need to crush enough fresh strawberries to make 2 cups. I pulse the berries in my food processor until they're chopped (make sure you don't puree them by accident!)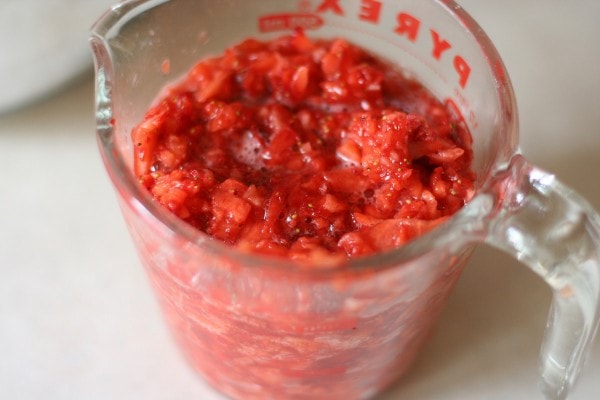 Next, mix the strawberries with 4 cups of sugar.
If you just had a heart attack when you heard how much sugar goes into the jam, you should go read this post and then come back.
<Kristen waits>
Ready to proceed?
Let the combined berries and sugar sit at room temperature for about 20 minutes.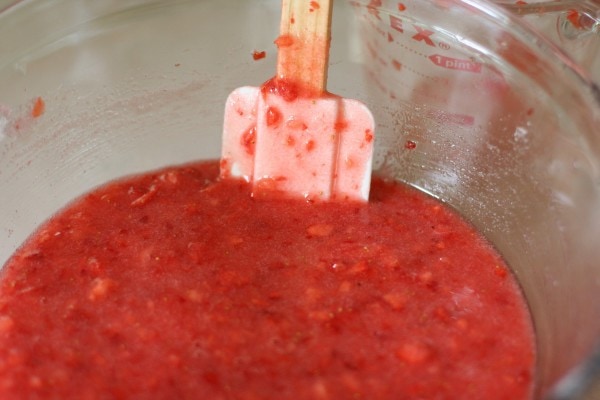 After 20 minutes, combine a package of Sure-Jell pectin and 1 cup of water in a small saucepan (I like to use a whisk to make sure it's thoroughly combined). Bring it to a boil, and boil and stir for 1 minute.
Add the pectin mixture into the berry mixture, and stir for 3 minutes. The jam will start to thicken up a little bit even while you stir it.
Ladle the jam into freezer-safe containers. You can use glass containers if you leave enough space for the jam to expand upward as it freezes or of course you can use plastic.
I try to use glass food containers whenever possible, so I mostly put my jam into Mason jars.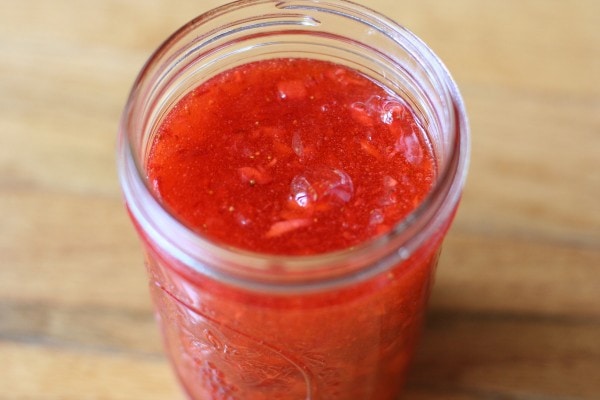 Yum.
The jam will become thick at room temperature, but you shouldn't store it at room temperature (you can only do that with jams that are processed at high heat). You can keep it in the fridge for a month and for longer storage, you should put it in the freezer. When you're ready to use a jar, just put it in the fridge to thaw.
As an aside, I also made some strawberry jam this season using a no-cook freezer pectin, but I wouldn't necessarily recommend going that route. It's not that hard to boil a package of pectin, and the jam I made with the no-cook stuff turned out kind of runny.
It's a gorgeous red color and it tastes really, really good, but it's just not as thick as jam should be.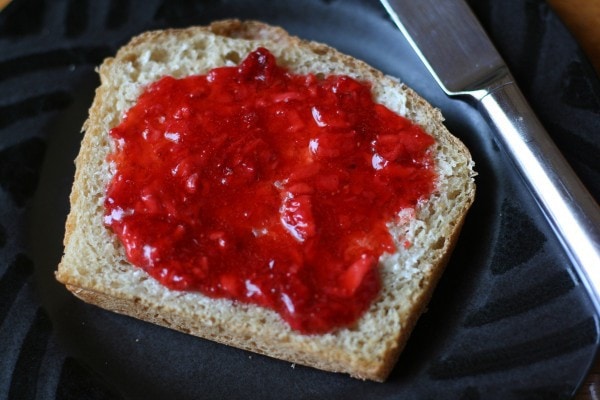 If you do decide to use no-cook pectin, don't follow this recipe…use the one on the no-cook pectin package.
Strawberry Freezer Jam
makes about 3.5 pints

2 cups crushed strawberries
4 cups sugar
1 package freezer pectin (I use Sure-Jell or Ball)
1 cup water
Combine crushed berries and sugar in a large bowl. Let stand 20 minutes.
Whisk pectin and water together in a saucepan and bring to a boil. Boil and stir for one minute.
Stir pectin into the strawberry/sugar mixture and stir for 3 minutes. Pour or ladle into freezer-safe containers. Store in the fridge for up to 4 weeks or in the freezer for a year (I haven't tried storing mine longer than that because we always eat it!)