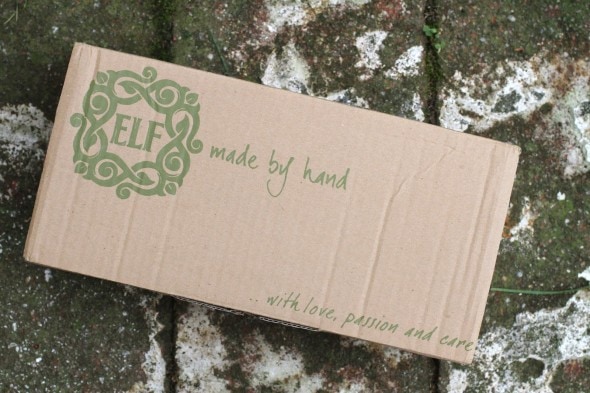 Remember how my cheap flats finally bit the dust?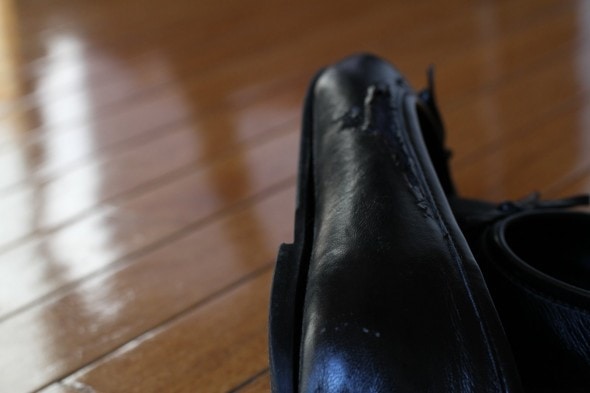 And how I was mulling over a bunch of different high-quality ballet flat options?
(The comments on that post are really helpful-you guys had so many great ideas! I actually made a Pinterest board to organize them all.)
Well, a little while after I published that post, I got an email from Bali ELF because they noticed I'd linked to their site, and they offered to send me a pair of their Aise black ballet flats for review.
Yay!
Bali ELF makes leather shoes, bags, and accessories all by hand (in Bali), not in a factory, which is pretty cool. If you follow them on Instagram, you can get a peek at their process and also see the gorgeous place where they live and work.
(I kind of want to live in Bali now that I've been getting regular peeks at the beaches!)
I traced and measured my foot and sent off my measurements, and when the shoes arrived, they were just a bit on the small side.
So sad.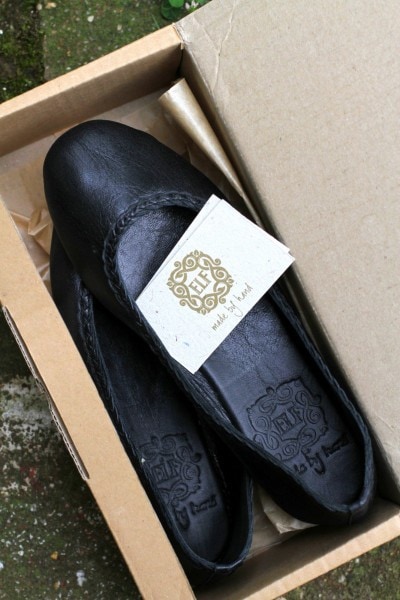 BUT! It turns out that they fit Lisey, so I thought I'd just blog about Lisey wearing the shoes.
However, the sweet people at Bali ELF said they'd like to send me one more pair in a larger size for me too.
So happy!
The larger size fits me perfectly.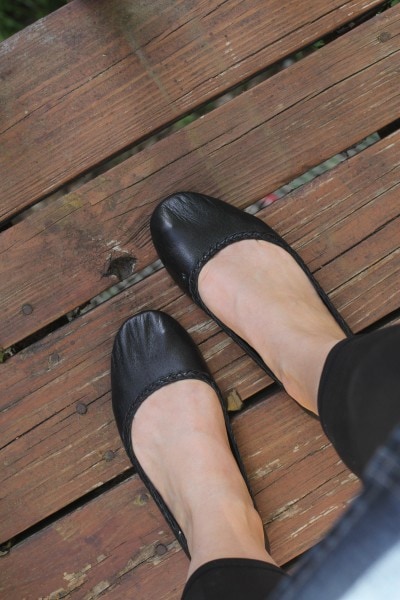 These are really, really soft ballet flats…the shoe is very unstructured, which makes it super comfy. They feel almost like slippers. And I like that the top part covers my toes because that means I can wear the sock liners meant for flats without worrying about them showing.
Because the shoes are made of such soft leather, you do see the outline of your toes a bit, but that doesn't bother me, especially for a casual shoe like flats.
I have a pretty wide toe box, though, so if your feet are narrower than mine, you might not see your toes, since the leather wouldn't be pulled as tight.
(Here's another blogger wearing the Aise flats, and hers do look a lot smoother than mine.)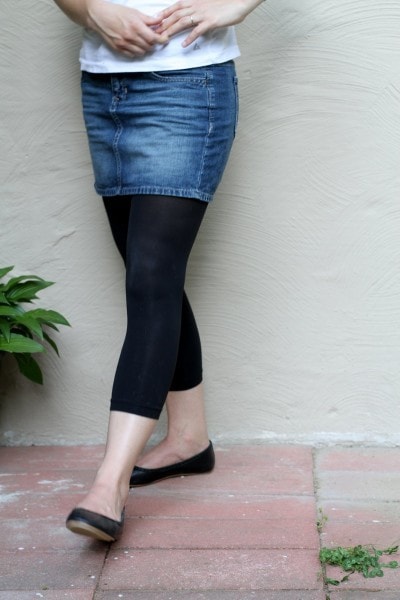 I have difficult feet.
Joshua wasn't around when I needed to take pictures of these, so I handed my camera to Lisey.
But sometimes she didn't actually get the shoes in the shot.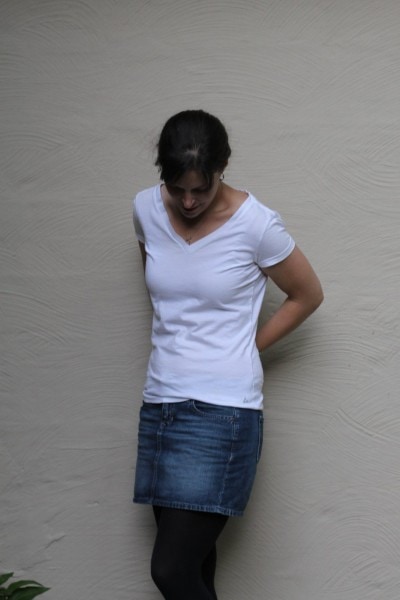 Or my head.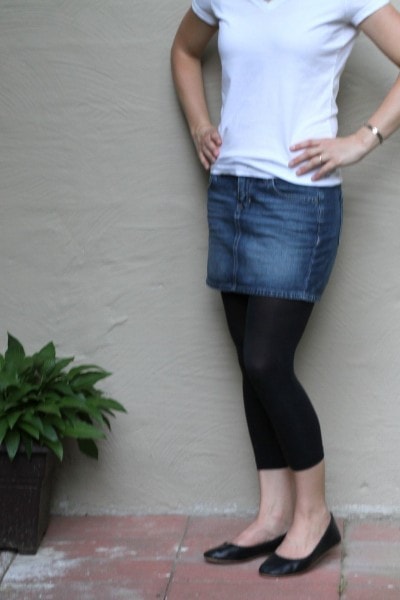 Note to self: plan better so that Joshua can do the shooting. 😉
I did find one with my head and my shoes in the same shot.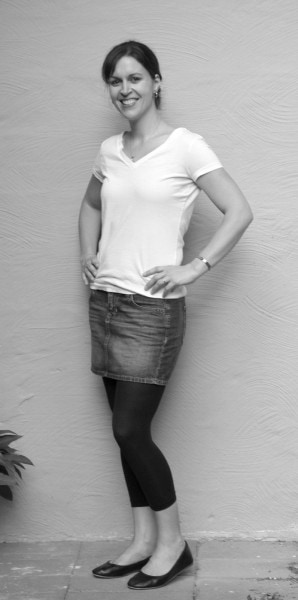 I feel quite confident that these flats are going to be with me a lot longer than my cheap ones were and that makes me so happy.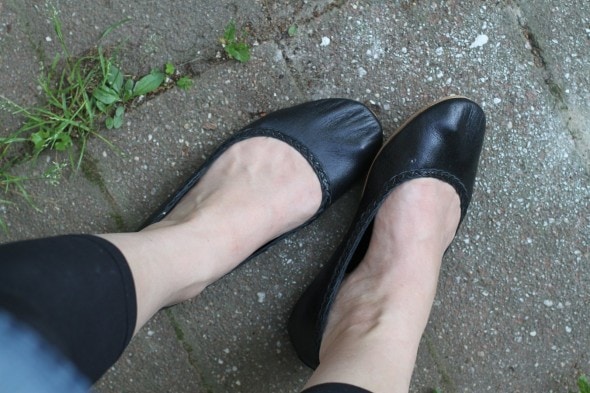 Since Lisey and I both have a pair, we'll be able to give them a nice test run. Remind me to report back to you in about a year, ok?
Edit: Initially, I forgot to include a picture of the bottoms of the shoes. So, here you go: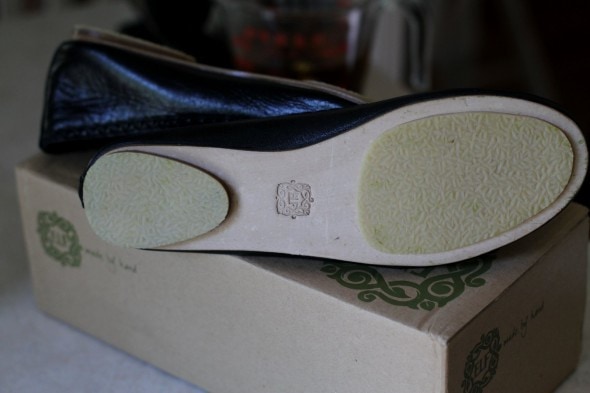 They're definitely more…what's the word? Grippy? Than the bottoms of other ballet flats I've owned, which will be quite lovely when I have to be out in the rain.
Bali ELF has a bunch of other cute flat options in addition to the Aise that I have, and they all are $110 per pair.
$110 is way more than you'd pay for a pair of run-of-the-mill flats, but these shoes are real leather and are handmade, so they should last far longer than cheap flats.
And $110 is nothin' compared to designer shoe prices. 😉
________________________
For those of you whose style is more adventurous than mine, Bali ELF also offers some more out of the ordinary shoe styles, such as this one!
(Whoa.)
Oh, and if you're as disgusted as I am with how difficult it is to find a real leather purse or wallet, go browse through Bali ELF's purse and wallet collection.
Disclosure: Bali ELF sent me two pairs of shoes, but this review was not sponsored in any other way.