When I wrote the post about LuLaRich this week, I remembered the my ThredUp rescue box had included a LuLaRoe piece (scroll down to see). So, I thought it would be appropriate timing to repost this one. If you enjoy me modeling bad fashion, then you'll enjoy this trip through my rejects!
I recently took a bit of a risk and ordered a $100 rescue box from ThredUp*.
The box promised to contain 50 tops that ThredUp had rejected (either because they didn't meet ThredUp's standards or because they'd been listed too long).
*ThredUp is an online consignment store.
I already shared photos of the items we kept, so today, it's time to see the rejects!
Get comfy because there are a whole lotta these.
A lot of these are mirror selfies because this was just too many clothes to ask my kids to photograph me in.
So, forgive the dark cell phone mirror shots. Hopefully you can still assess the fashion (or lack thereof) properly.
The Nopes
Too tight, too short.
A short sleeved sweater with a hood. WHY.
In what climate would you need a hood but no sleeves??
Looks like a maternity shirt; isn't.
I dubbed this one, "the steel wool sweater" because that's exactly what it felt like.
This sweater wasn't terrible but it does kind of make me look…one-sided.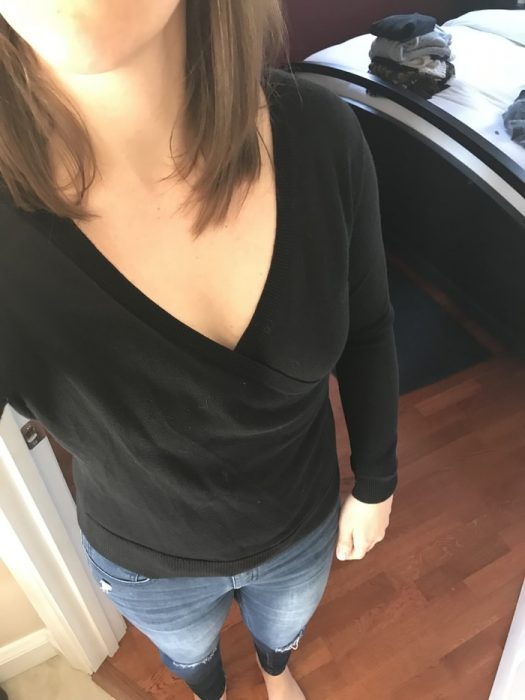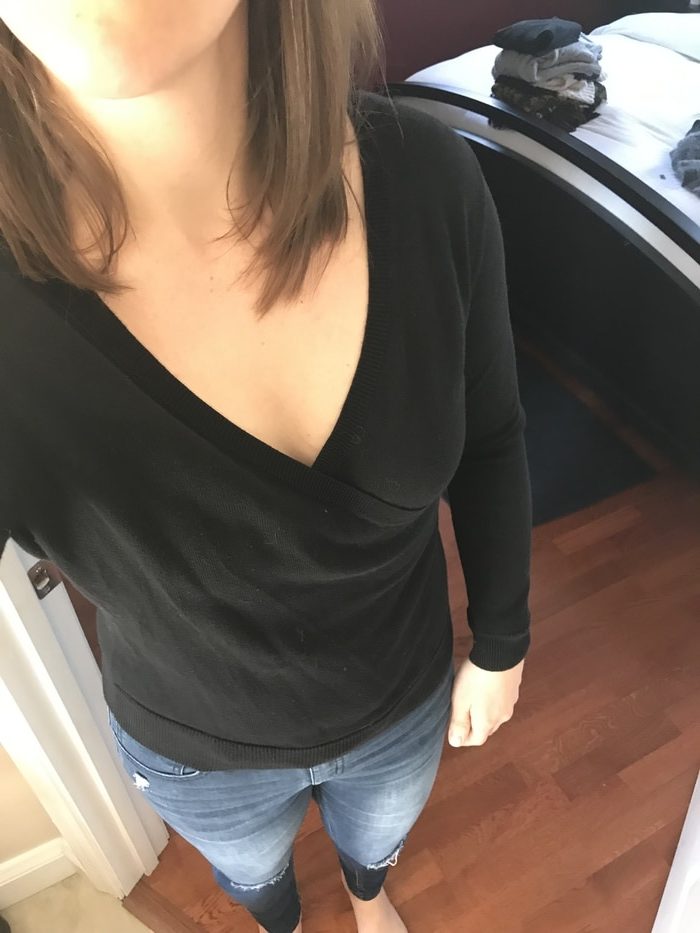 These two polos were just not my style.
Here we have a sweater with a lot of holes, plus 3/4 sleeves.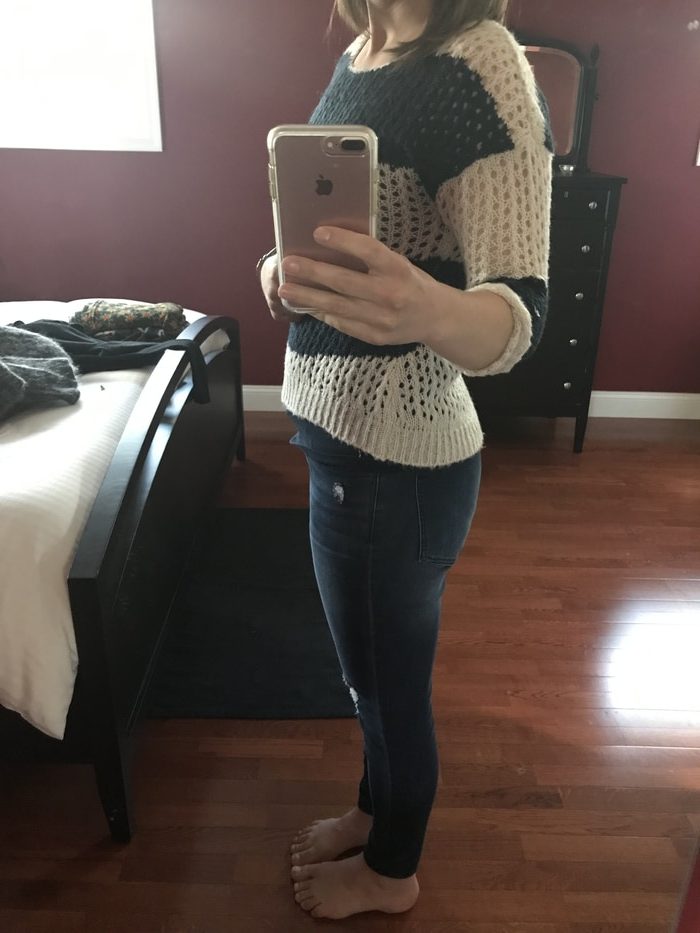 For those times when you want to wear a sweater but you'd also like to be cold.
Continuing with the big-holes-in-sweater theme, except this time they are more random: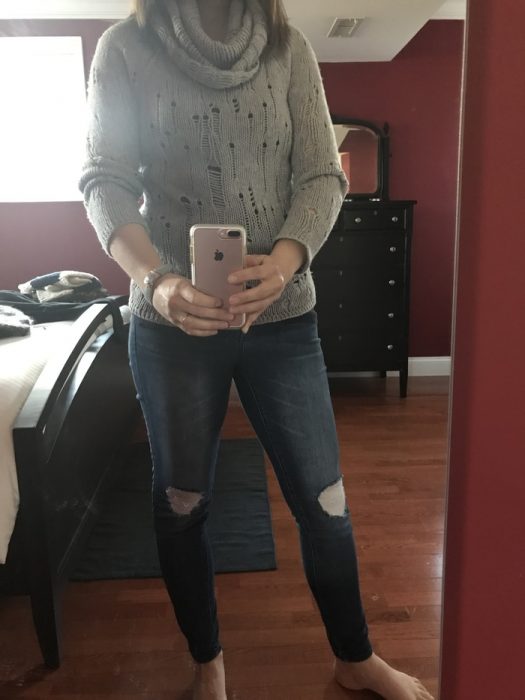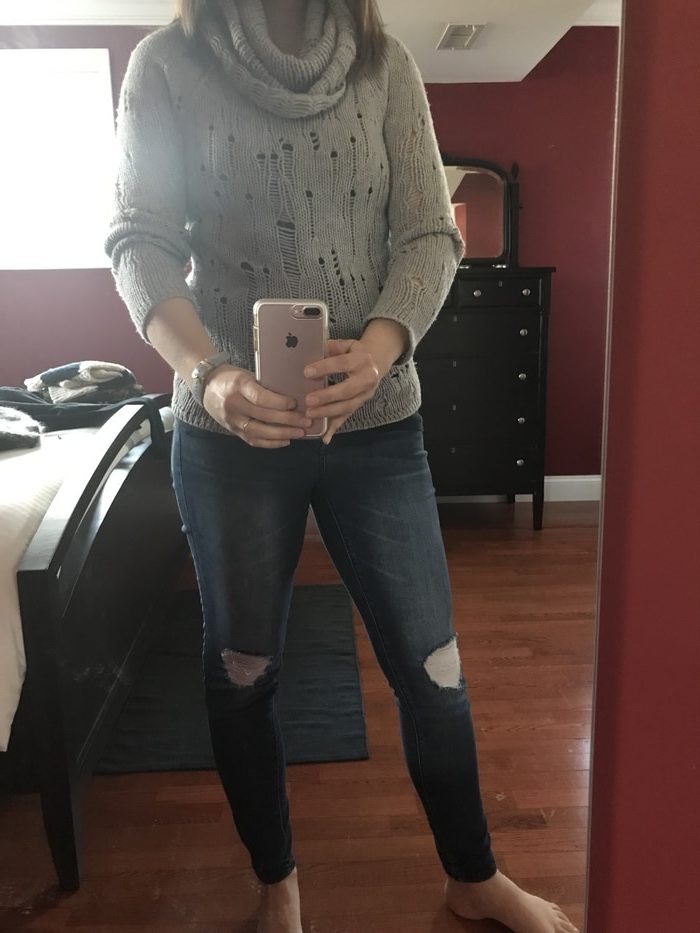 And the short-sleeved sweater theme: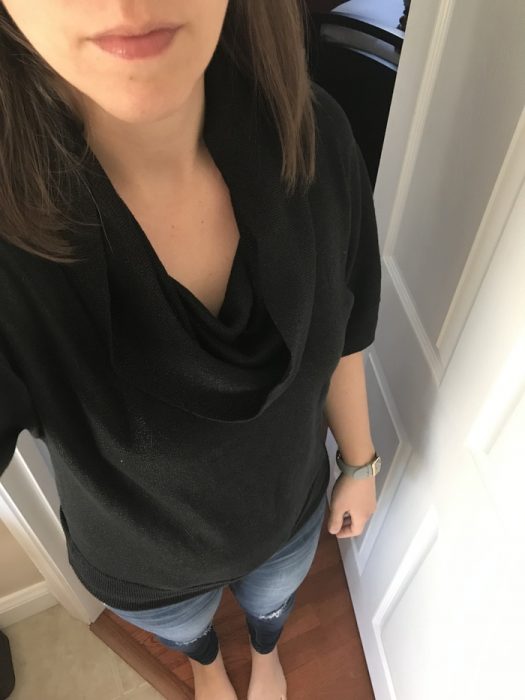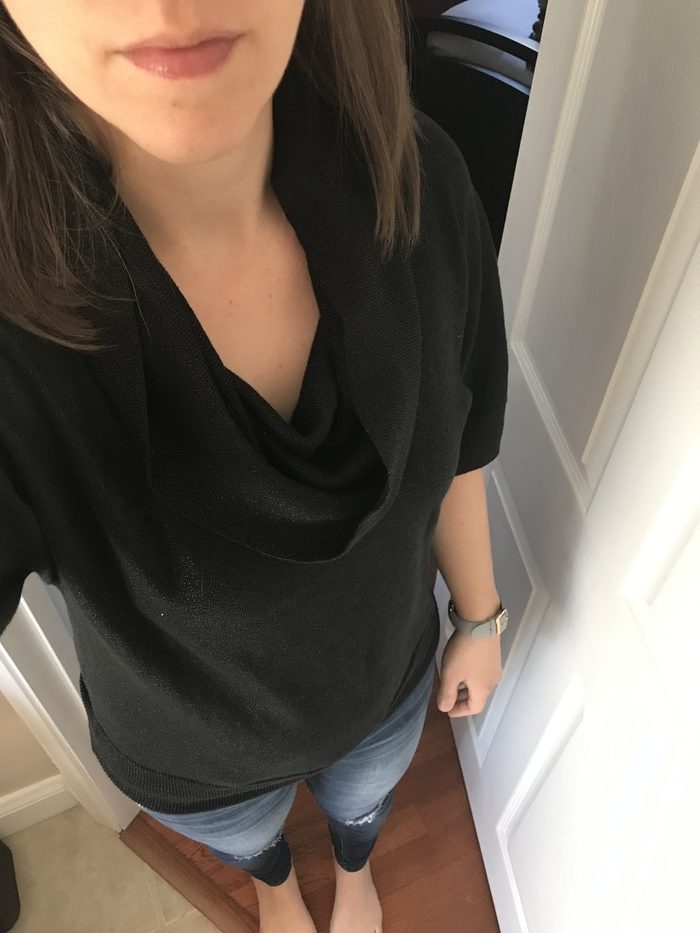 I think I just don't understand short-sleeved sweaters at all.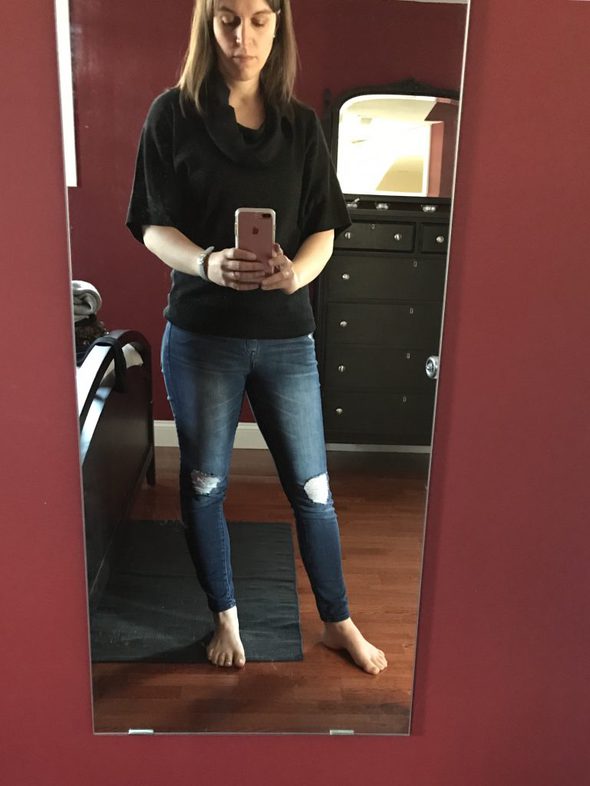 This sweater would not be my favorite with any type of sleeve, but I have to say, I really hate these types of sleeves. They are so annoying when you want to wash your hands!
This jacket is Lululemon, but it has a weird shape…like the bottom is sort of petal-cut. It was too small for me, and my girls definitely did not want it.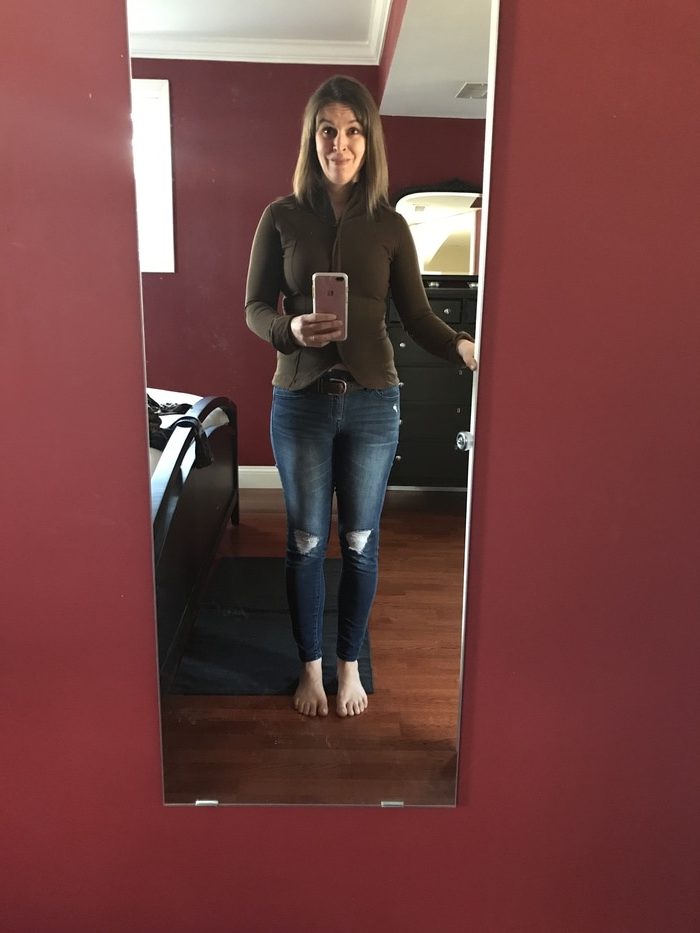 I'm not against long cardigans, but this pattern is not at all my thing.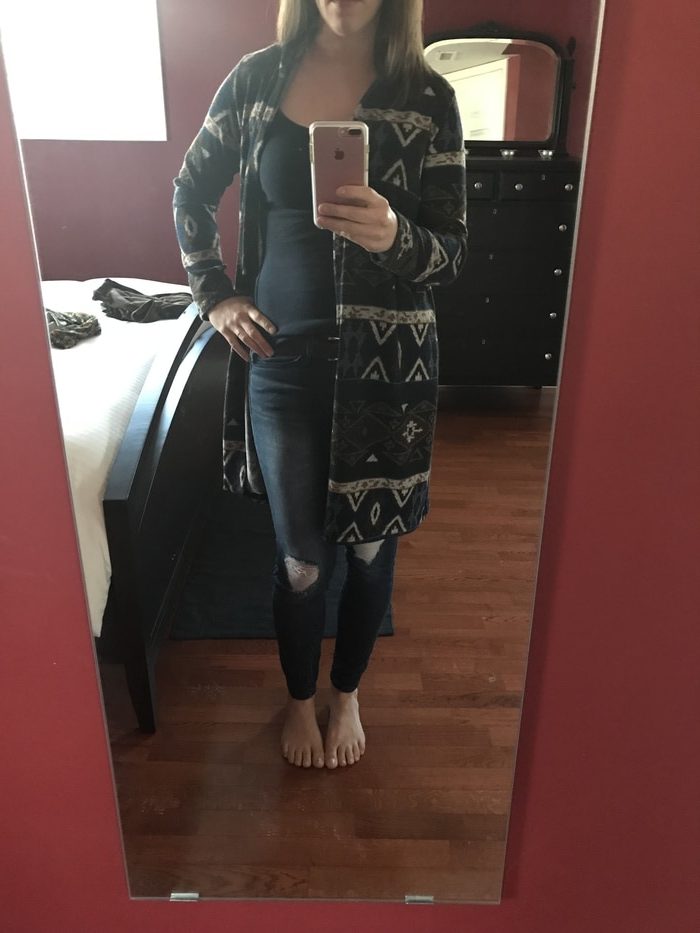 And neither is this LuLaRoe cardigan. I think I look terrible in it!
This shirt looks pretty normal.
But the body of the shirt is attached at the elbows!
NO.
This is made of a dressy-ish woven fabric, but has a graphic-tee look to it. So odd.
And you can clearly see where the lining around the collar begins and ends.
This shirt isn't terrible…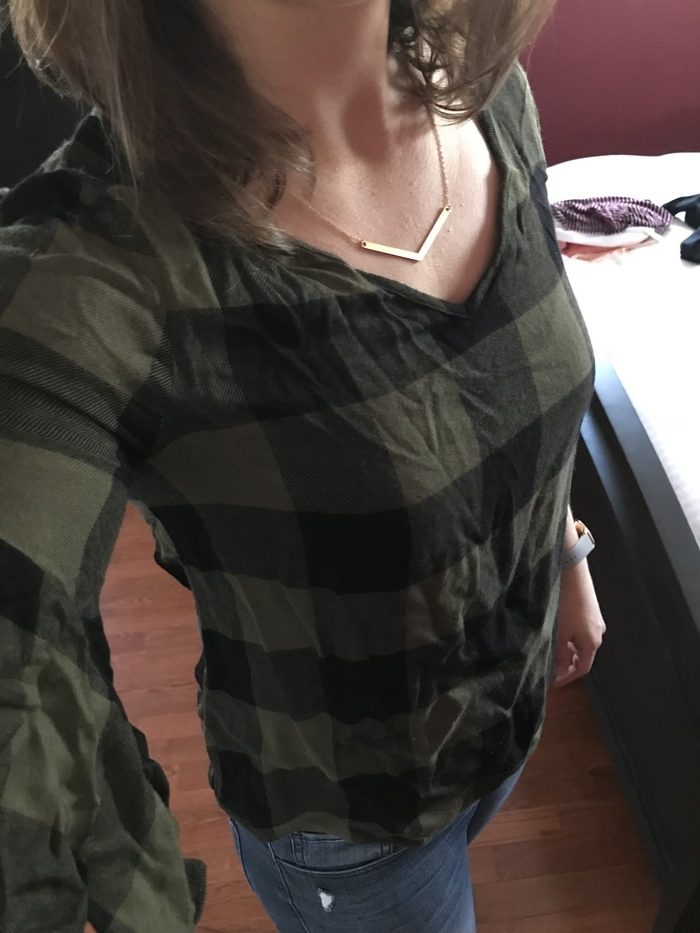 But the sleeves are a little unusual. Also, a short-sleeve cut from a fall-looking print seems odd to me.
This jacket is pretty normal-looking, and I've considered keeping it.
I do not love the symmetrical placement of these flowers.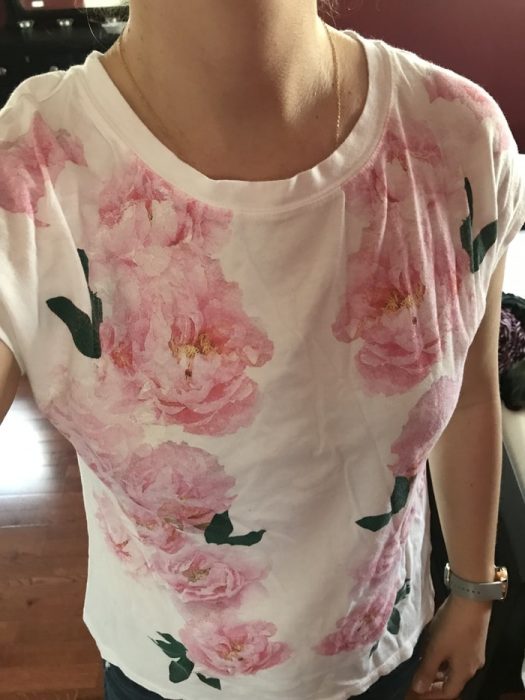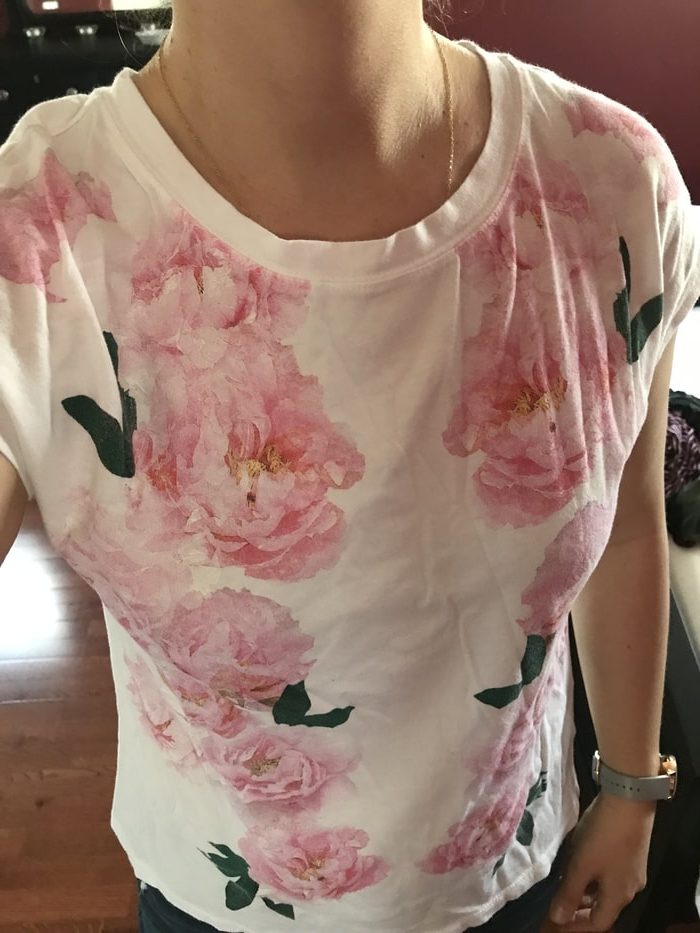 I have bad feelings about this print, and the sweater was super itchy too.
This is not terrible, but it has those really high side slits. And a crew neck, which is not bad, but I really do not prefer myself in crew necks.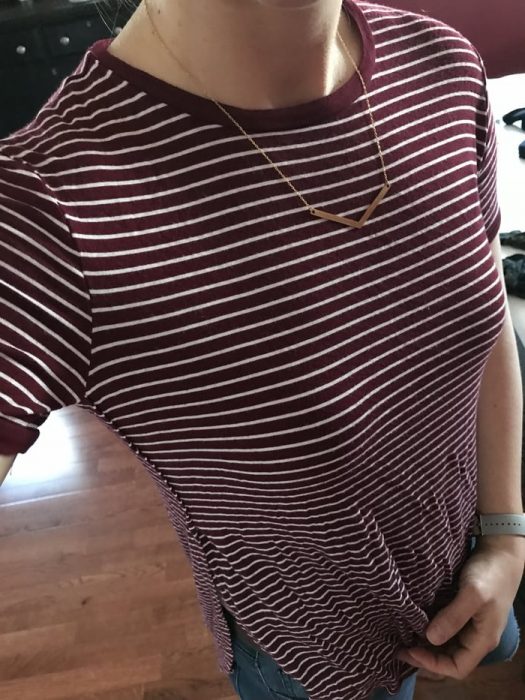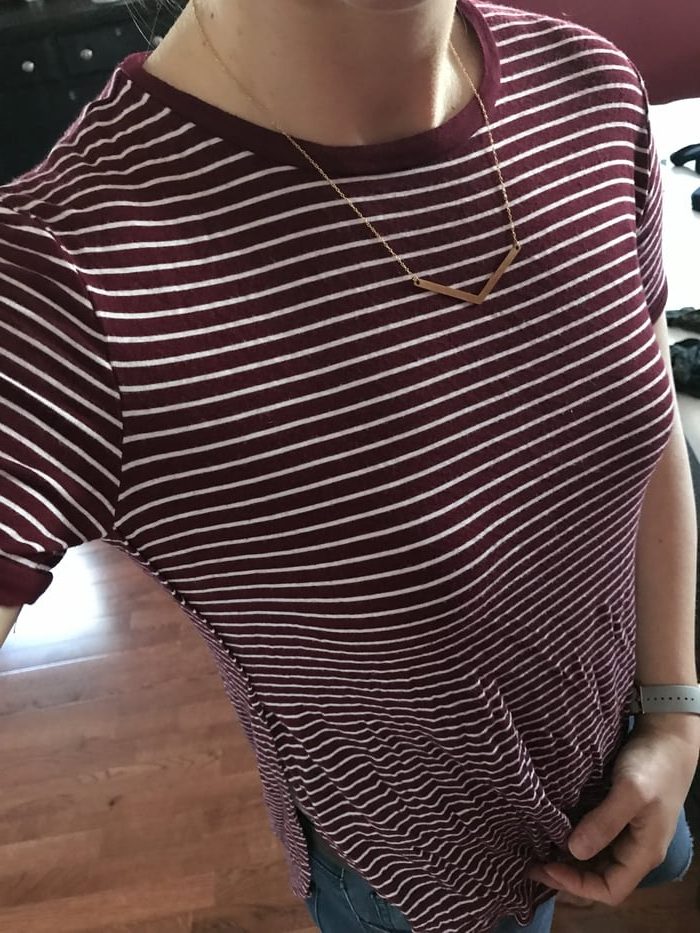 This top…it feels way too old for me. But the sight of me in it cracked us up no end.
This tank looks pretty normal from the front.
But the back is scooped so low that anytime you move, the front falls down.
This shirt just felt out of date.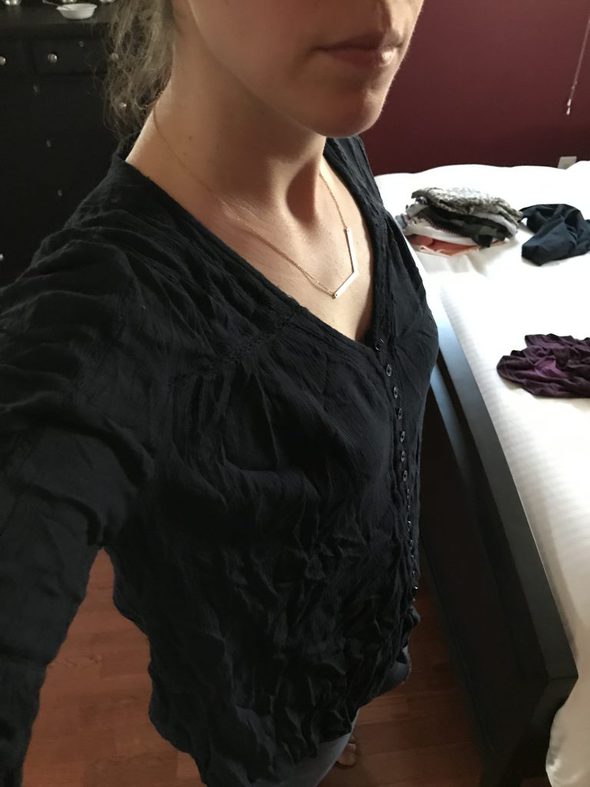 Diane von Furstenburg designed this and I really do not know what she was thinking.
I call it the, "I'm about to have surgery" look.
This shirt looks like it could be normal.
But then you see the sleeves. WHY.
This genuine leather vest fit none of our styles. But it did happen to be Zoe's size, so she kindly modeled it.
Zoe said, "Mom, this shirt looks like something from Friends."
She is not wrong.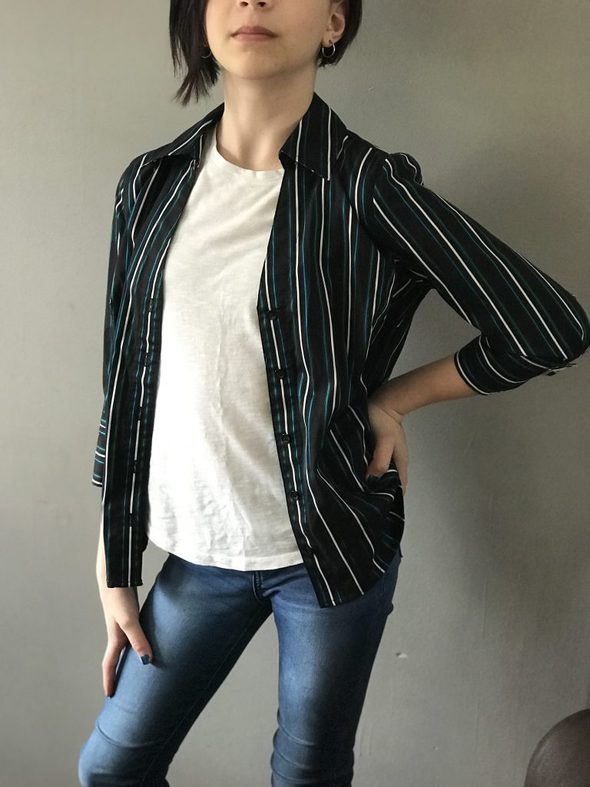 This hot pink cardigan might not be flattering to anyone on the planet, but it is SO definitely too old for any of the four of us.
I couldn't get this top on at all, so Sonia modeled it. It's really too big for her, and it's a weird bandage-like fabric.
We all agreed that maybe someone very fashionable could come up with a outfit to pull this off, but it wasn't working for any of us.
This shirt is not terrible, but it was a little too short and cut in a swingy style that seemed off with the shorter length.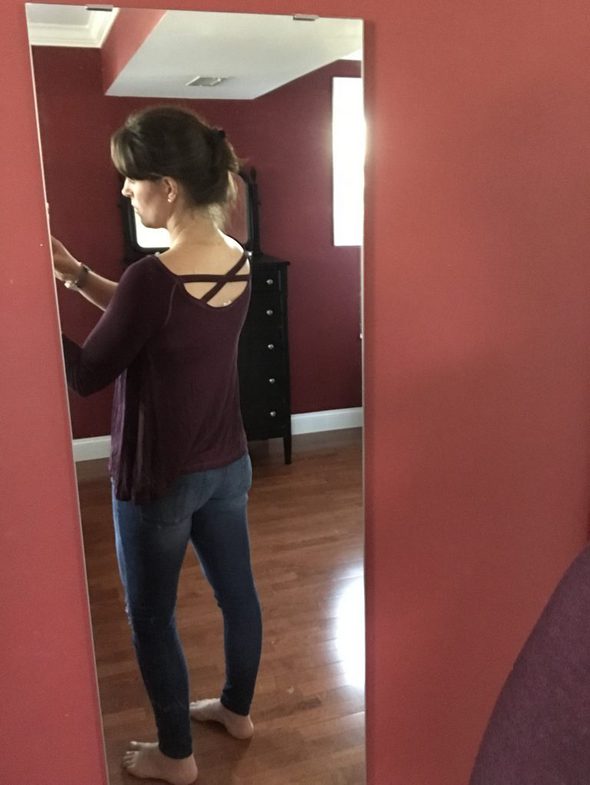 You've seen this shirt on me already.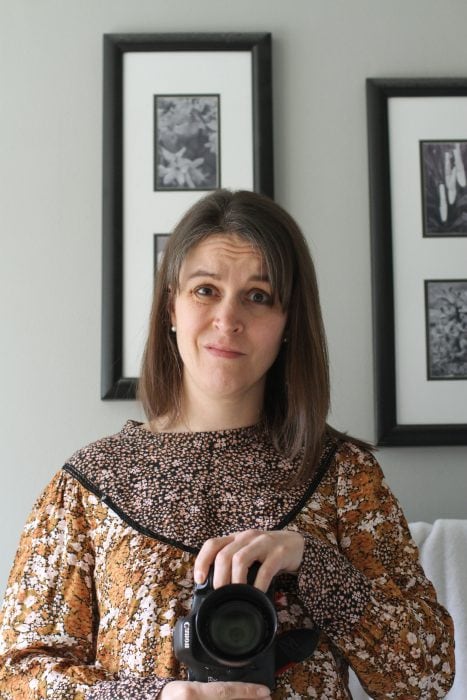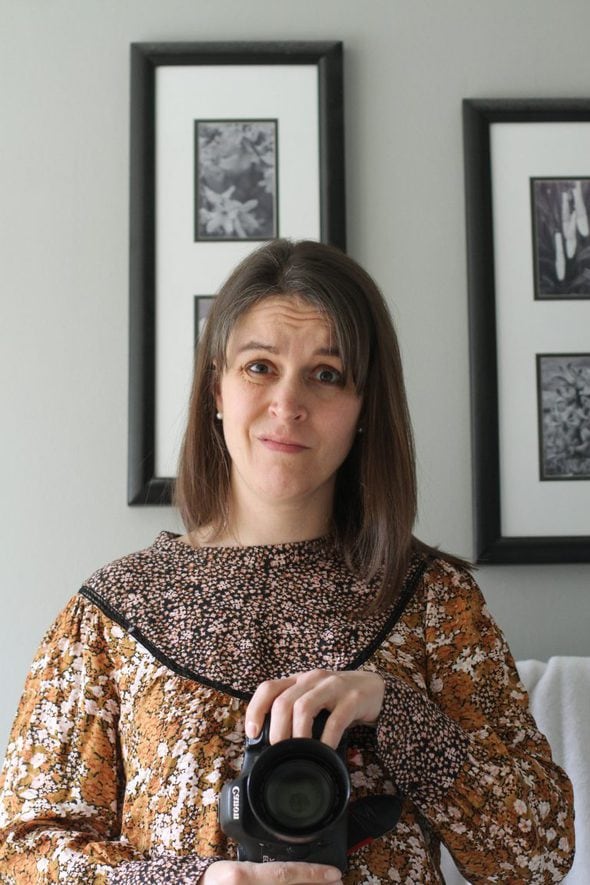 It wasn't any better on Sonia. 😉
This one is technically a top.
It didn't fit any of us, but we wouldn't have modeled it for you anyway. 😉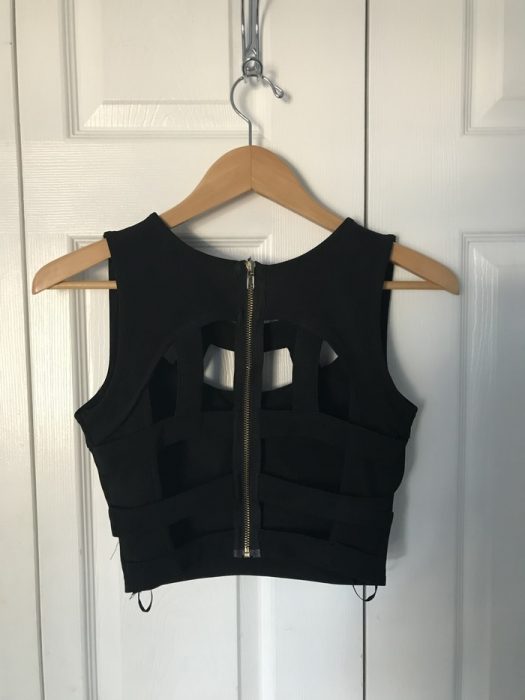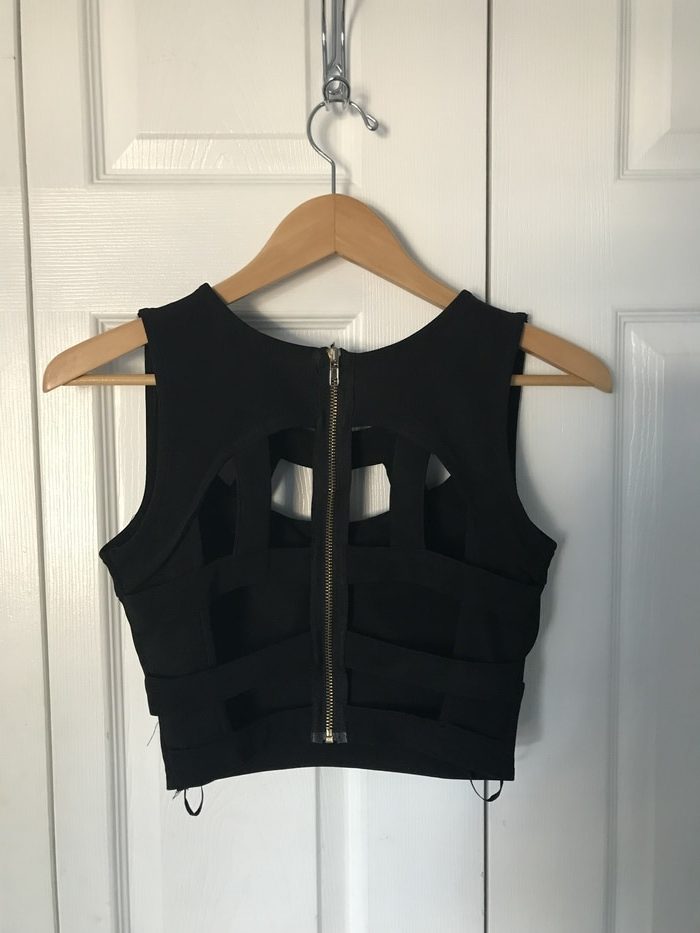 I don't know why this shirt is sheer on the bottom half.
I also don't know why it says, "This is the beginning of never ending fun." What?
And I don't understand this price tag.
I hope you enjoyed this tour of the ThredUp box rejects!
And if, even after seeing this post, you want to try a ThredUp rescue box, click here and look for the "Rescues" tab up at the top of the page.
(You'll get $10 off your order if you are a ThredUp newbie!)
P.S. Here's the post where I shared what we DID keep from our ThredUp rescue box.