Quite a few years ago, I bought a bunch of long-sleeved t-shirts from Lands' End on clearance at the end of winter (My winter uniform is jeans, a long-sleeve tee, and a hoodie.)
The shirts have held up nicely, but since I bought them all at the same time, they all started wearing out at the same time too!
So last fall, I bought two shirts at Target ($).
Then more recently I bought some clearance tees from Lands' End ($$).
Annnnd I got one long-sleeve tee from American Giant ($$$).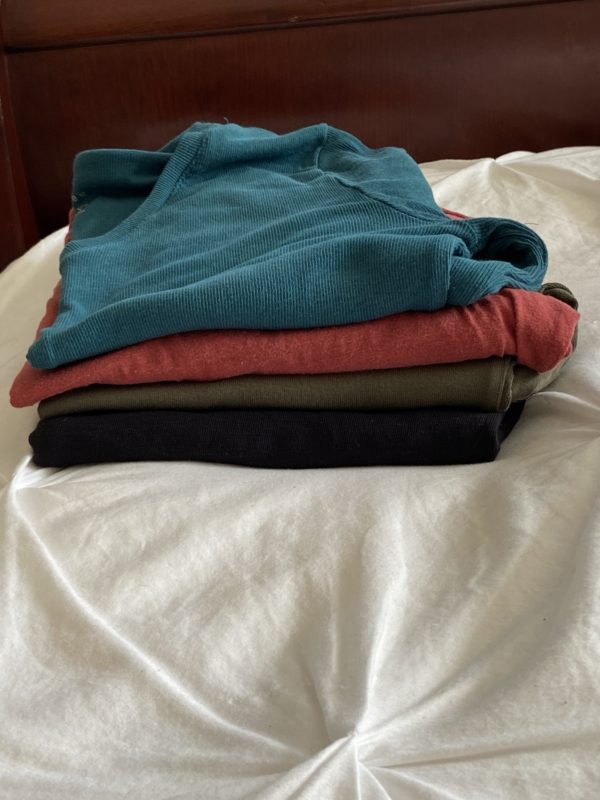 These represent three different price ranges, so I thought a little rundown would be helpful.
Also: fashion is just fun, and I always love seeing real people try things on!
Sooo, I took a bunch of pictures with the help of my phone camera timer.
Target shirts
I bought two shirts from Target; a ribbed one:
And a red boxy one:
I like the price and the fit of these shirts, but the quality is just not there.
The fabric is pretty lightweight, the finishing details are not very good, and the stitching on the sleeve hems of both shirts has already started coming undone.
Lands' End tees
I hadn't shopped at Lands' End for quite a few years, and when I logged on, I was surprised to see that they have switched to using computer-generated models for their clothes, and guys, I DO NOT LIKE THIS.
It gives me weird vibes, like I've entered a cheaply-animated film. Or a Sims game.
I understand that it cuts costs and that it made sense because of the pandemic but my goodness, I think it's a terrible business decision to continue this practice.
Nope, nope, NOPE.
Nonetheless, I ordered a few tops for myself; the prices varied depending on the color, so everything I got was between $12 and $23.
The tees I got are heavy cotton, and the construction is definitely better than my Target tees.
And since I got them on end-of-season clearance, the prices are comparable to Target.
The downside is that the Lands' End styles are rather plain; you don't usually find anything super fun and trendy in the Lands' End lineup.
But for basic, sturdy tees, I think their offerings are good. Also, Lands' End offers plus sizes, unlike American Giant.
Speaking of….
American Giant long-sleeve v-neck slub knit tee
I've written about American Giant before; they're a company that makes clothing entirely in the U.S., from seed to garment.
High quality, high prices.
(Also: fair pay for employees = higher prices.)
I have the v-neck slub knit tee ($60, or $52.50 when you buy two) and it IS a really high-quality shirt; definitely the most heavy-duty out of this whole post's worth of tees.
One of my Lands' End tees has already twisted a little bit, but my American Giant shirts don't do that. Lands' End is good quality; American Giant is excellent quality.
The American Giant fabric is thick, the seams are reinforced, and the cuffs are nice and stretchy (which means that when you push up your sleeves, they stay pushed up!)
You can fold over the cuff if you want a shorter cuff experience.
Also, it's a generous length; I have a very long torso and I can put both arms over my head without showing my stomach.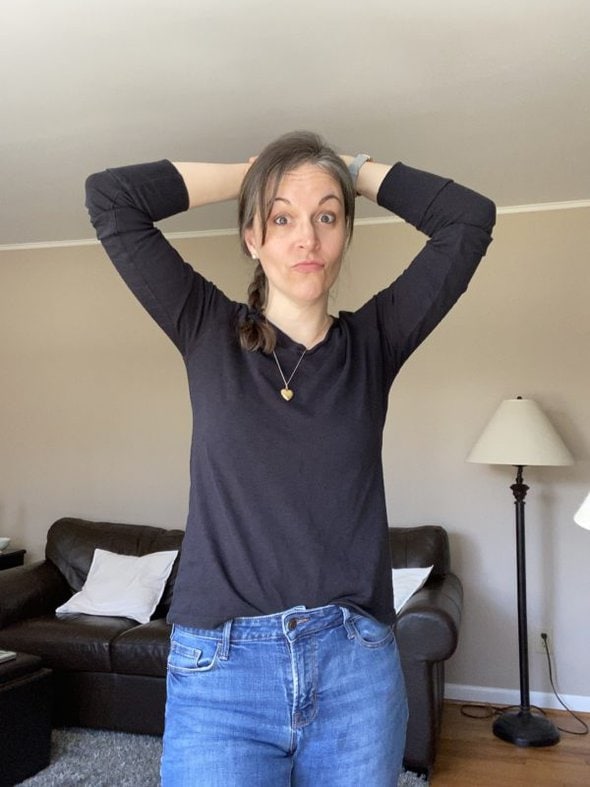 As with Lands' End, you'll typically find very basic t-shirt styles at American Giant.
This makes sense, honestly; if you are buying a $60 shirt, you're doing so with the idea that it will last for years.
And that means you wouldn't really want the trendy, novelty styles because then the shirt would go out of style before it wore out.
My favorite way to buy American Giant shirts is to look in their Last Chance section, where they are clearing out styles/colors. Right now, the premium slub tee that I have is available there for $40, in two colors: cream, and mossy green.
The Last Chance items are final sale, though, just so you know.
If it helps you at all with sizing, I'd say that American Giant items run slightly on the large side; the shirt I'm wearing is a small, and I probably could fit fine into an extra-small (which is not my usual size).
In conclusion
Target wins for:
Lands' End wins for:
quality (at least, far above Target)
price (if you snag clearance items)
American Giant wins for:
quality (above and beyond Lands' End)
ethical purchasing (it is the extreme opposite of cheap fast fashion)
I kept messing up the timer when I was trying to take these photos; taking pictures of yourself is hard! I don't know how fashion bloggers keep this up day in and day out.
Here are some self-timer bloopers, in which I am consistently serious and/or like I have an attitude. 😉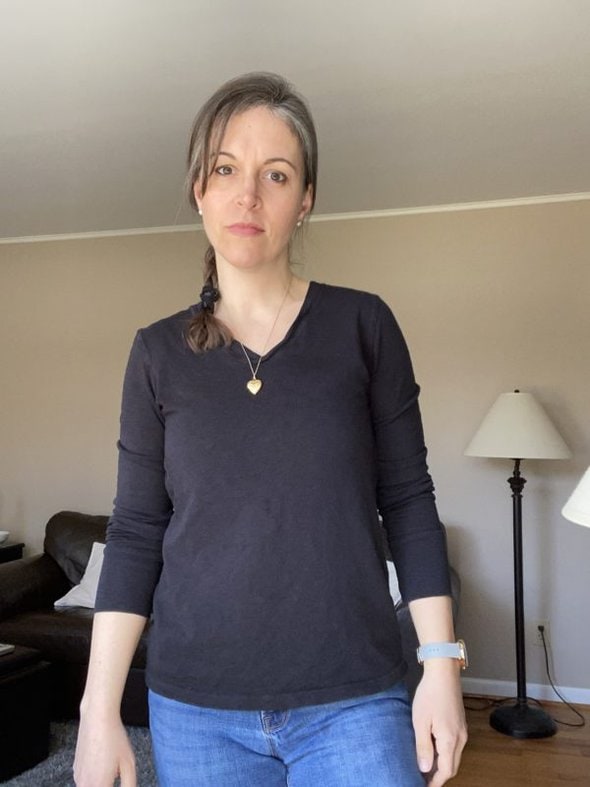 This concludes my t-shirt review!
And a review of the green hoodie dress is forthcoming. 😉
Where do YOU like to buy your long sleeve t-shirts?