A few months ago when American Giant was running their Christmas flash sales, they offered to send me an item for review purposes.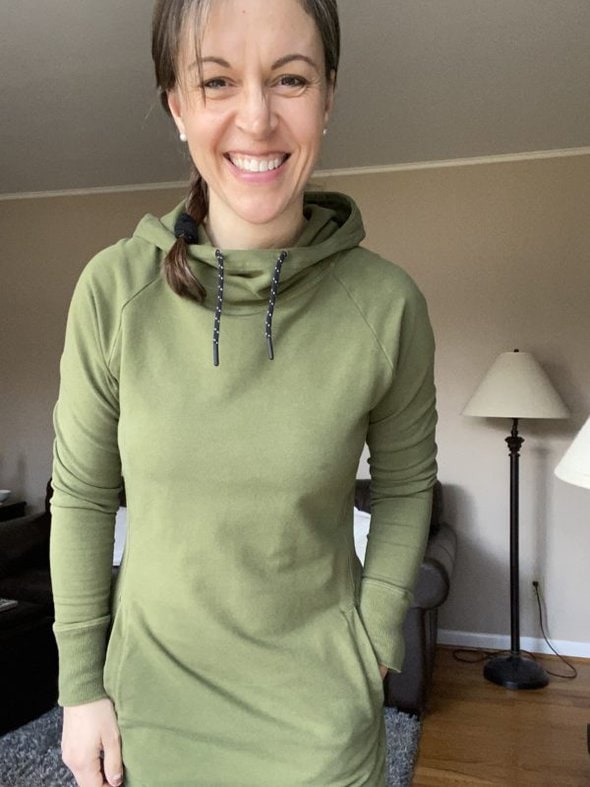 I asked for their hoodie dress, but it didn't arrive in time for the flash sale. Better late than never, though, so I'm gonna tell you about it today!
An American Giant refresher
American Giant is a privately-owned company that makes 100% American-made clothing. From fabric-making to garment construction, it all happens here in the U.S.
Since everything is done here in the U.S., and the workers are paid a fair wage, American Giant clothes are not cheap.
However, their clothes are really well-made, and if you'd like to avoid fast fashion while also supporting an American company, you might decide it's worth it to splurge.
Obviously, no clothing lasts forever! But American Giant items will definitely outlast your usual fast fashion items, which means they may end up being cheaper (or at least equally as affordable) in the long run.
The hoodie dress
I've looked at this hoodie dress in American Giant ads over the years, and I've always felt like it looks a little funny to wear it bare-legged (which is how all the AG models wear it!)
So I've never really wanted to buy one. But then I looked at the customer photos and saw that real people usually wear this with leggings, and then I said, "Hmmmm, ok, that sounds intriguing."
They sent me one in a green color (Moss, to be specific), and I really, really like it!
You've seen it here and there in my photos over the last few months.
Like here.
And here.
and here.
I wear it with a pair of black leggings and it's super comfy and warm.
Also, it's very effortless dressing; you look like you put a little effort in, but really you are just wearing a big hoodie.
PERFECT.
It's stretchy enough to not be constricting at all.
I like that the fit is not too tight, but also that it's cut with enough curves to avoid that shapeless look.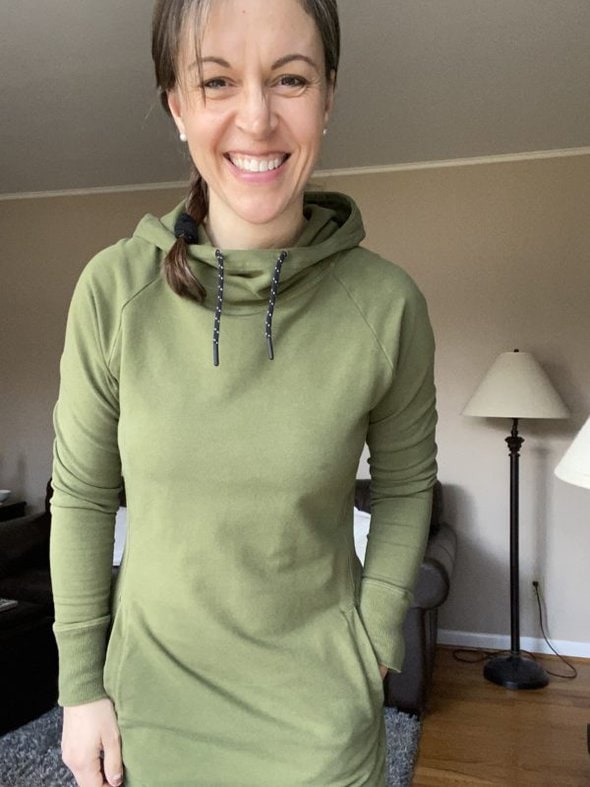 The cuffs are super stretchy, and they stay up when I push my sleeves up (like for hand-washing or cooking).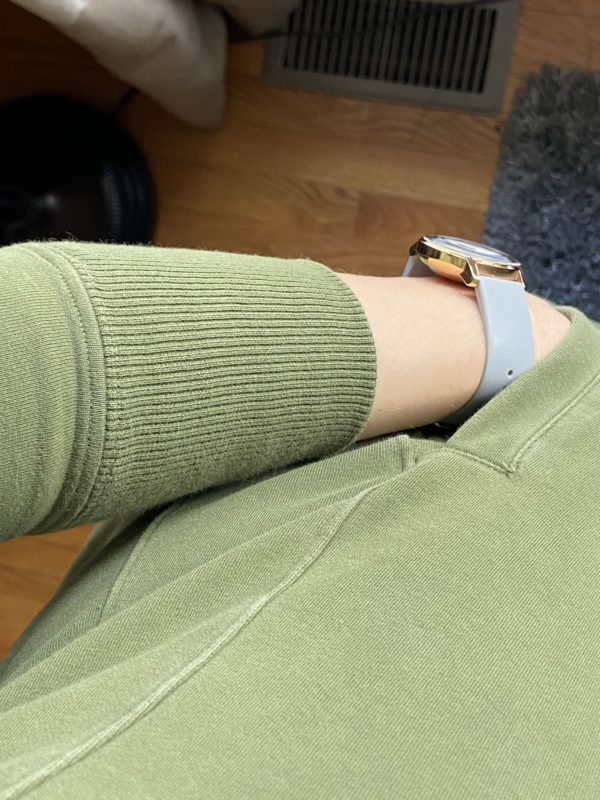 Yep. It's expensive.
The AG hoodie dress is $140 when it's full-price.
And yes, that IS lot of money for an item of clothing.
But, it is super well-made; I'd rather buy one item that will last vs. five items that won't.
And if you want to support fair wages and American manufacturing/farming, it's a solidly ethical purchase.
Also, I will point out that we as a culture have a weird aversion to paying a high price for a consumer good, like a $140 dress (which will presumably last for many years.)
But I would venture to guess that almost all of us have spent $140 on unnecessary takeout/fast food/coffee in a single year.
I am not immune to this myself! I will find myself thinking, "Hmm, $30 is too much for a well-made paring knife that will last me for two decades." but then blithely drop $30 on takeout pho.
And lastly, we have a very skewed idea of what is a fair price for a piece of clothing; fast fashion is artificially cheap and has really given us an odd perspective on how much a piece of clothing should be valued at.
So, if you really want this dress, you could make peace with the price.
But if you'd like to snag one for less, here are a few ideas:
(Edit! I just realized I have a 20% off link that I can share. Click here for 20% off your first American Giant Order.)
Look on eBay, ThredUp, or Poshmark
I did a quick search on eBay and found several AG hoodie dresses for sale, one for as low as $42.99 (unfortunately, it was size extra small, or I'd probably have bought it on the spot. Ha.)
This would take a little persistence if you want a particular color, but the potential savings are tremendous.
Check American Giant's Last Chance section
American Giant always has quite a bit of stuff in their Last Chance category (basically like a clearance), and since they clear stuff out off-season, it's possible that some of their hoodie dresses will show up there in the springtime.
I've checked intermittently in the last few months, and I've never seen the hoodie dress there, but if I do, I'll let you know!
Sign up for AG emails, and watch for a sale
American Giant doesn't run a lot of sales, but I will tell you that in December 2022, they had a flash sale and the hoodie dress was $100 instead of $140. Sooo, maybe it'll happen again at some point!
____________________
Now I want to know:
Would you wear this dress with bare legs?
I'm trying to imagine a weather scenario where I'd want a hefty hoodie situation up top, but nothing on my legs. Give me your opinion!
P.S. I know American Giant doesn't offer plus sizes at this point (women's sizes go up to XL and that's it.) I really don't know why, but I hope they will expand their sizing at some point in the future!
P.P.S. The bare legs + hoodie look is reminding me of some of those super weird sweaters in my ThredUp goody box.