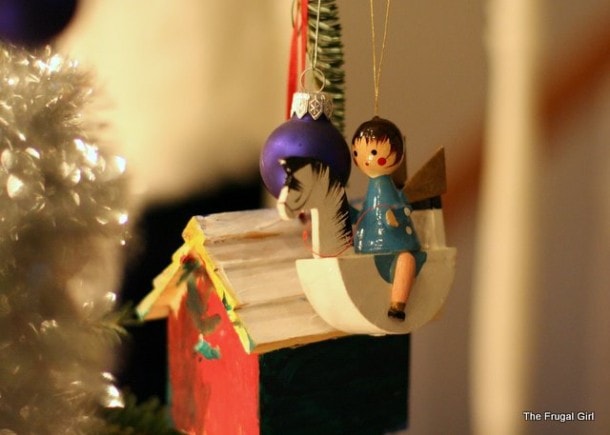 You guys had a lot of Christmas related questions when I asked for Christmas post suggestions, so I thought I'd devote a Q&A post to answering some of them.
I'd love to know what you guys do for Christmas. Do you have special traditions you do every year?
Yup, we've definitely got some favorite traditions at our house. Here are a few of them:
Tree-Decorating
It would most certainly be easier to decorate the tree all by myself (and there would be fewer ornaments broken!), but my kids love, love, love to decorate the tree. They can hardly contain themselves when I get the big ornament box out, in fact. So, despite the fact that it's more work this way, we include them in the decorating process every year.
Cookie Making
When I was a kid, my mom made quite a few fancy Norwegian cookies on her own at Christmastime, but we always spent an evening making and decorating cut-out Christmas cookies together. Since I loved it so much as a kid, I do the same with my own kids. It makes a tremendous mess, but they have a total blast making and eating the cookies.
Gift Giving
The kids who are old enough to have some money to their names buy presents for each other. These sibling gifts are not expensive (a box of candy, a Goodwill find, a package of stickers), but the kids get a real charge out of picking something out for each other (sometimes they make presents for each other instead of buying them). Sonia is hands-down the most generous of our kids…she would spend herself silly at Christmas time if we let her! Usually my husband is in charge of helping the kids shop for each other. He takes them out one at a time to do the shopping, and I help with the wrapping.
Gift Opening
Usually on Christmas Eve, we let the kids open one small present of our choosing. Last year, they all got new slippers from L.L. Bean (purchased with gift cards earned from the credit card we use to buy gas), and they opened those on Christmas Eve.
Though we usually go to see extended family in the afternoon of Christmas Day, we have a policy against going anywhere on Christmas morning. That's when we do stockings and the rest of our present-opening.
With money tight this year, are you going to be doing anything special in terms of frugal gifts? Do you set yourself a budget for xmas or go shopping on Black Friday?
We do indeed have a Christmas budget. Every January, we start saving for next year's Christmas, actually. We put $40 a month into an ING savings account, so by the time December rolls around, we have money set aside for Christmas gifts. I can't stress enough how wonderful this is and I highly recommend the practice.
Though we have a pretty decent amount of money saved at Christmas time, we still have to be sort of careful with our buying so that we don't go over budget. So, I make some gifts, I buy some early in the year as I see good deals, and I buy some things second-hand or at Goodwill (only for people who don't mind!). Also, we don't give gifts to every single extended family member and friend we have, because that is too stressful and too expensive. It's better for our sanity and budget to keep it simple.
And I do not go shopping on Black Friday if I can help it at all (except I DID order my husband's Christmas present online on Black Friday!).
Oh, and I second the homemade gifts suggestion. But here's a challenge: how about homemade gifts that people will actually *want and like*. So often homemade gifts take the giver time and effort and then months later you still see it unused by the person you gave it to. I'm also thinking something that isn't quickly perishable like baking, but something a bit longer lasting. Hmm, that's a bit demanding, eh?
I think that this requires studying the person that will receive your gift. I don't usually produce homemade gifts in bulk and then give the same thing to everyone on my list simply because the people on my list have different preferences. Instead, I try to pay close attention to the likes and dislikes of the giftee, not just in December but all through the year. I would give some specific examples here, but if I did, I'd give away some of the secrets I'm trying to keep until Christmas (an awful lot of my family members read my blog). I'll share after Christmas, though (and in case you missed it, last week I wrote about some homemade Christmas gift ideas I've used in the past).
Beyond the above advice, I'd just offer that I find homemade yeast bread to be almost universally appreciated because people who know how to make it and make it well are few and far between.
I would love to hear about your favorite holiday baked goods, decorations, and wrapping methods. These are all things I'm working to do in more frugal and sustainable manner.
These are all such fun post ideas! I'd like to talk about them in more detail than I can here, so I'll take some pictures of my decorations and post them later this week (hopefully!), and as I do some holiday baking, I'll share that with you too.
Actually, ditto for the wrapping methods topic too…that should probably get its own post as well. Last year, though, I wrote about how I make cloth gift bags from old clothes, so maybe that post will hold you over for now.
With regards to asking readers about Christmas suggestions: can you please address frugal tips for Christmas baking? I make goodies for my friends at work and I find that it gets expensive with the butter and other ingredients. Any money saving tips would be great.
If you want to give inexpensive baked goods, yeast breads are your best bet. They require way, way less butter, oil, and eggs than quick breads or cookies. A simple loaf of sandwich bread requires only milk, yeast, flour, and a little bit of butter, salt, and sugar. You can't get much cheaper than that. Even the richer yeast breads like Challah still don't use nearly as much butter as do cookies and quick breads.
_______________________________
Thanks for all the questions, dear readers. More frugal Christmas goodness is coming this week to a blog near you (this one, actually!), and of course, if you've got a burning Christmas-related question you'd like me to answer, you can email me or leave a comment here, and I'll do my best to answer it before Christmas.