Last week, I didn't post about my grocery spending because I hadn't gone yet (and because I wanted to share about my Living Water donation plan). Instead, I made a quick trip on Monday just to get us through until the next regular shopping day. So, here's my spending totals for the last two weeks:
Local Store-$6.28
Weis #1-$31.56
Aldi-$51.62
Weis #2-$56.31
I had $200 to spend over the last two weeks, and I only spent $145.77 of that. This means that I have an extra $55 in my envelope to give to Living Water at the end of the month as long as I don't go over budget in the two remaining weeks of December. Yay!
The groceries here are just what I bought during the last Weis and Aldi trip.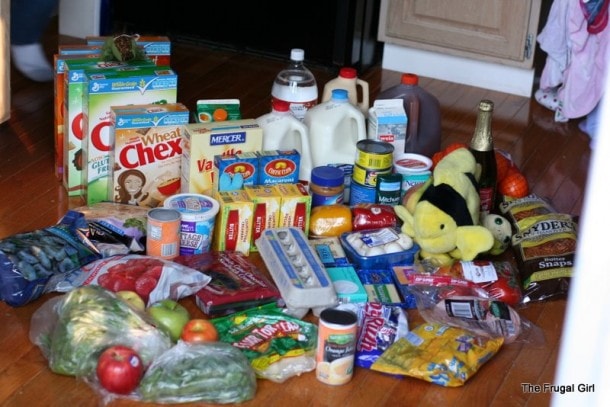 (there are four stuffed animals in this picture, by the way. I think the peep is hidden the best….Lisey did that! )
Breakfasts this week will be muffins, oatmeal, sweet potatoes (for Lisey and me!), cereal, and fruit. Lunches will be sandwiches, yogurt, yogurt smoothies, fruit, nuts, and leftovers as necessary.
Dinners are as follows.
Saturday
Sunday
Monday
Tuesday
Fajitas (made with grilled vegetables, chicken, and shrimp)
fruit salad
Wednesday
Clam Chowder
an attempt at bread bowls, because I have never quite figured this out
whatever vegetables need to be used up
Thursday
Friday
I think that we might try to have a date night sans kids, but I'm not positive. Must find babysitting.
(I am seriously looking forward to the day, a few years from now, when we can leave the kids home for a short while by themselves. That will be fabulous!!)