Inside today's post: winners from all three of the recent giveaways I've had, plus I'm gonna show you what we did with our blue Christmas tree!
Cookie-guessing answers
We'll start with this since you are probably on pins and needles the most about this winner.
Here are all the correct answers: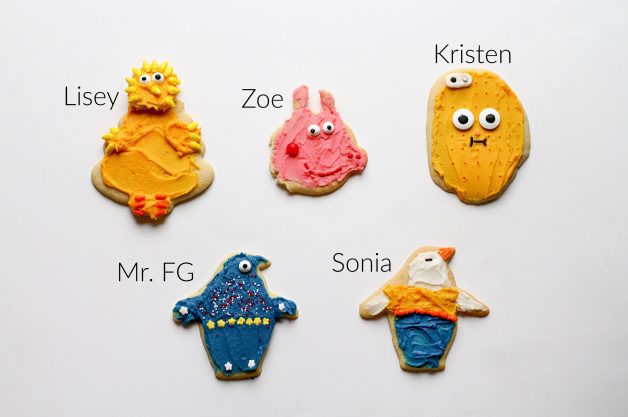 Lisey loves Sesame Street, which you might know if you follow me on Instagram, so I thought that one might be easy to guess.
And I thought Sonia's might be easy to guess because her cookie had such an emphasis on fashion (which is right in line with how Sonia operates in her life!)
DarleneH was the first one to guess the correct order of the cookie artists. Darlene, you've been emailed.
Thanks for playing along with us; we always have so much fun making cookies to try to stump you all. : )
Novica and Third Day Naturals giveaway winners (plus discount codes for all of you!)
Carol H won the Third Day Naturals giveaway and Jennifer (commenter #49) won the Novica giveaway. Carol and Jennifer, congrats!
(You've both been emailed.)
Third Day Naturals 20% discount
Use code FRUGALGIRL20 when you shop at Third Day Naturals and you'll get 20% off your purchase.
Novica $7 discount
If you are new to Novica, you can get $7 off your first purchase. Just click the graphic below and use the code SAVE7NOW.
So, about our blue tree…
You know how I told you we bought a blue Christmas tree?
Well. It was Lisey's idea.
She really loves Sesame Street characters; in fact, she wears Sesame Street socks to her job at Valvoline.
(Everyone knows that you can change oil better in Big Bird socks.)
Her boss at work obviously knows she loves Sesame Street, so he showed her a picture of a Cookie Monster tree.
She texted it to me from work, and within 15 minutes, we'd all approved of the idea and I had a blue tree in my cart from Wayfair. 😉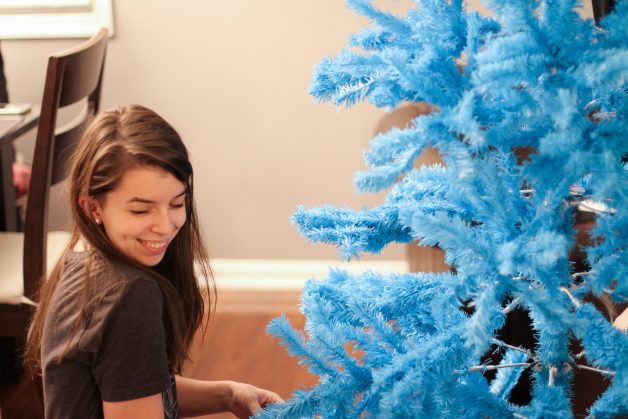 We have never had a fake tree before, and when we opened this one up, we were a little shocked at how scrawny the branches were.
And then we realized, duh! You have to fan out the branches.
The fluffing REALLY helped.
We added lights, a hat, eyes, and a mouth, and we were all set.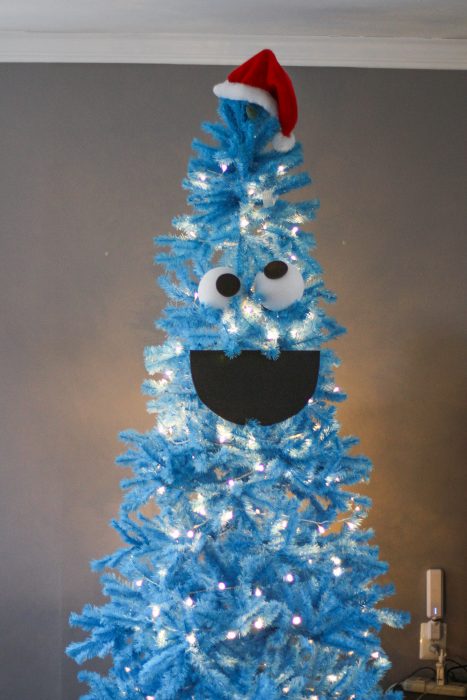 For the eyes, I bought white styrofoam balls and then I used self-adhesive black felt to make the eyeballs.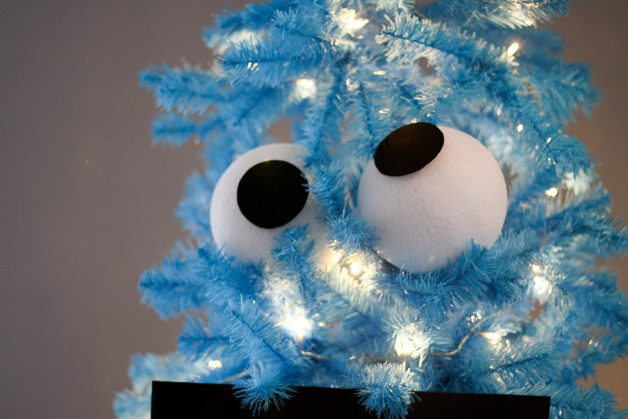 The mouth is made of foam board, and at first, I couldn't think how I was going to sketch a symmetrical shape for the mouth. None of our compasses expand far enough for that!
So I looked around the house for a big circle and I spied the bowl of our usual Christmas tree base. That worked great.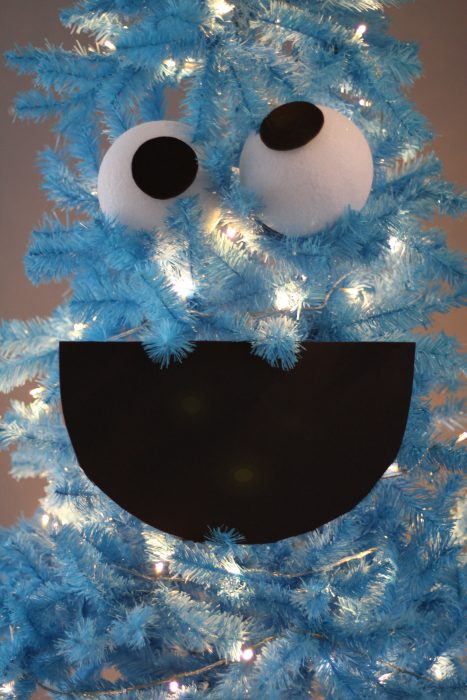 We did have to buy some new lights because all of our Christmas lights have a green cord, which looked super weird on a blue tree.
So we used two strings of these LED lights.
Since they're LEDs, and since the tree is fake, it's no biggie to leave them on all day. Which is nice on a dark December day!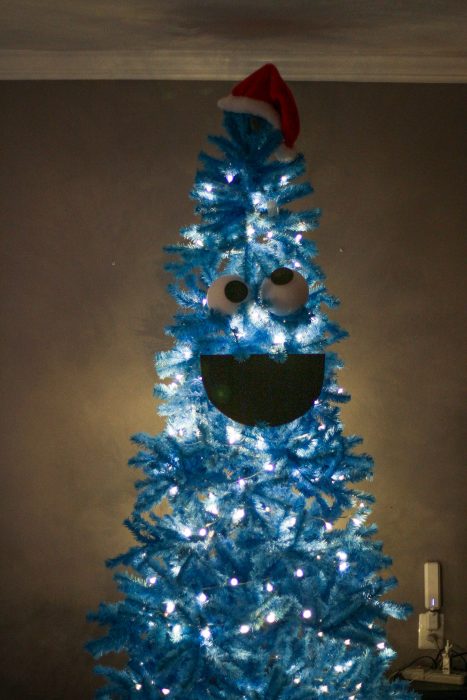 Zoe had the idea to buy a chocolate chip cookie ornament to hang by Cookie Monster's mouth, so I ordered one from Etsy. It just hasn't arrived yet.
Will we use this tree again in the future? I don't know. I might try to sell it to someone else who wants to make a Cookie Monster tree.
But for the moment, this tree is fulfilling Lisey's Christmas dreams, and that's worth it to me even if we only use it for one season.