On Tuesdays and Thursdays, I post a picture and just a few words.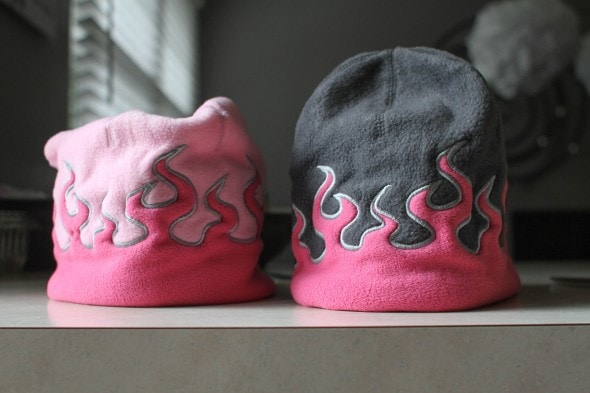 We buy most of Mr. FG's work clothes from L.L. Bean, and a few times a year, they run a promotion where you get a $10 gift card with a $50 purchase.
Last time, my order was $5 short, so I browsed the clearance section and added the gray flame hat on the right, for Zoe.
And then last week, I placed another order and it was $5 short again. I popped over to the clearance section, and surprisingly enough, they still had the hats!
So I ordered the pink one for Sonia (in a smaller size, because while she might be taller than Zoe, Zoe's got her beat on head size.)
I realize this makes the actual value of my gift card more like $5, due to the extra $5 spent on the hat, but it's the sort of thing that is difficult for my frugal self to resist. 😉
(Which is no surprise to you if you remember my crazy socks from last winter.)
_________________________
P.S. We buy L.L. Bean (not affiliated) because they offer tall sizes in shirts (yay!) and also because their work clothes seem to hold up longer than other brands. Things don't go on sale super often there, but since I'm on their email list, I get notified about the $10 gift card sales, which helps. And I always hop over to TopCashBack (affiliated) before I shop so that I get a bit of cash back on my purchases.
P.P.S I totally didn't plan this to coincide with today's post, but TopCashBack is offering $10 to anyone who opens a new TopCashBack account right now.