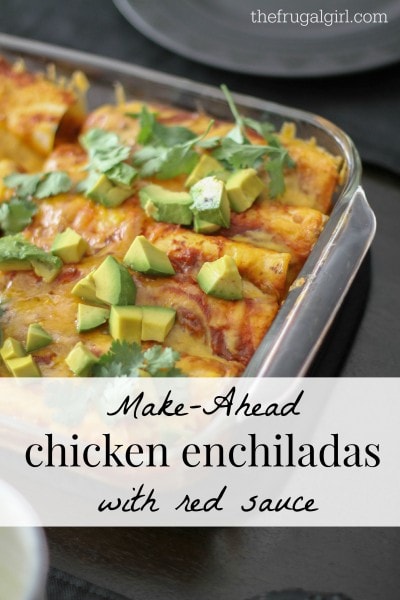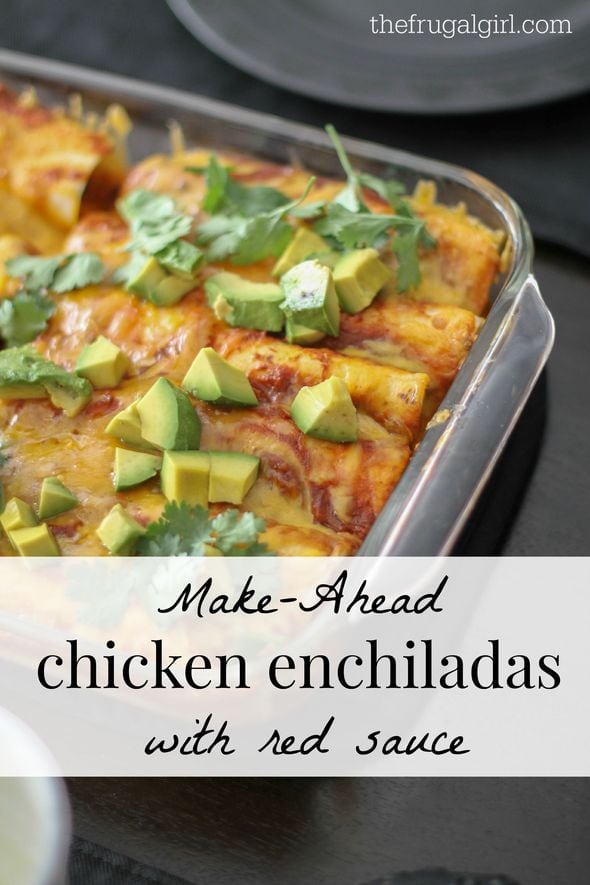 When I subscribed to the paper version of Cook's Illustrated this year (I used some of my birthday money!), I got a bonus in the form of a free issue of Cook's Country.
In that issue was a recipe for low-fat enchiladas, covered in a sauce made with chipotles in adobo sauce, and topped with avocados.
I don't have a thing for low-fat recipes (given the crop of super slender youngsters in my house).
But I DO have sort of a thing for avocados. And chipotles in adobo sauce.
So, I made the recipe. And I ignored some of the low-fat recommendations.
(Sour cream may have been was ingested.)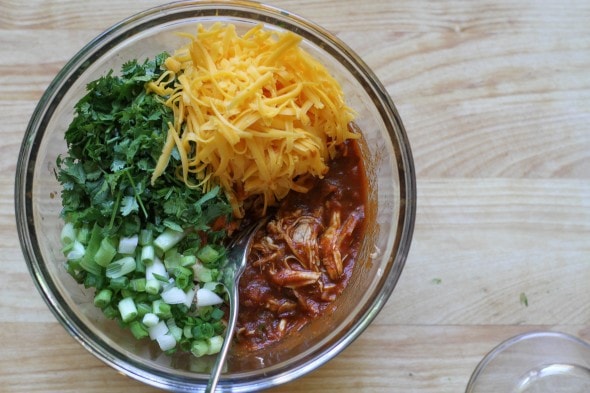 Anyhoo, they turned out to be super delicious (high praise coming from me, since I normally prefer creamy enchiladas) and since they can be mostly made ahead of time, they've been coming in pretty handy on days when I'm busy around dinnertime.
A lot of enchilada recipes called for a can of pre-made sauce, but this homemade sauce is super simple and it doubles as a cooking liquid for the chicken (which simmers right in the sauce.)
A couple of notes:
I used flour tortillas instead of corn
I used full-fat cheese.
I used more than a teaspoon of oil for sautéing my onions.
Chipotle chilies in adobo sauce are pretty spicy, so if you and yours are a little heat-phobic, you may want to use less than the recipe calls for. I've used a little less than a tablespoon most times.
So. First you're going to saute some onions in a 1/2 teaspoon salt and little oil. A teaspoon seems stingy to me, so I use more than that.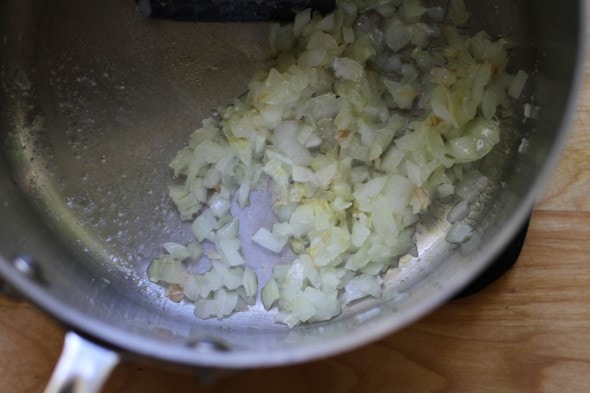 Next, you're going to add a bowl full of deliciousness, aka garlic, cumin, chili powder, and chipotles in adobo sauce.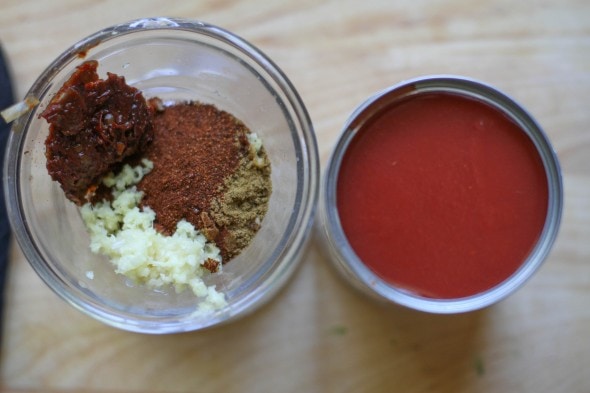 And after about 30 seconds, you're going to stir in tomato sauce and water…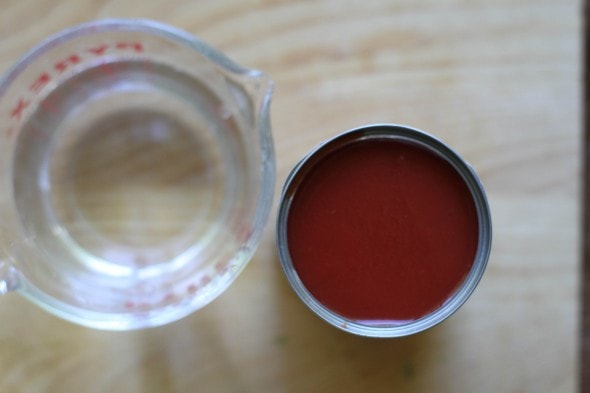 to make a sauce, which you'll bring to a simmer.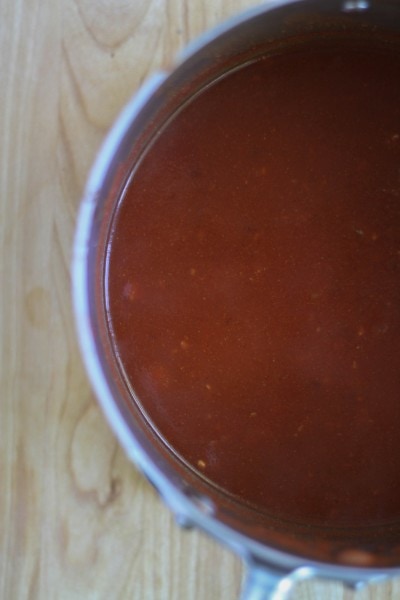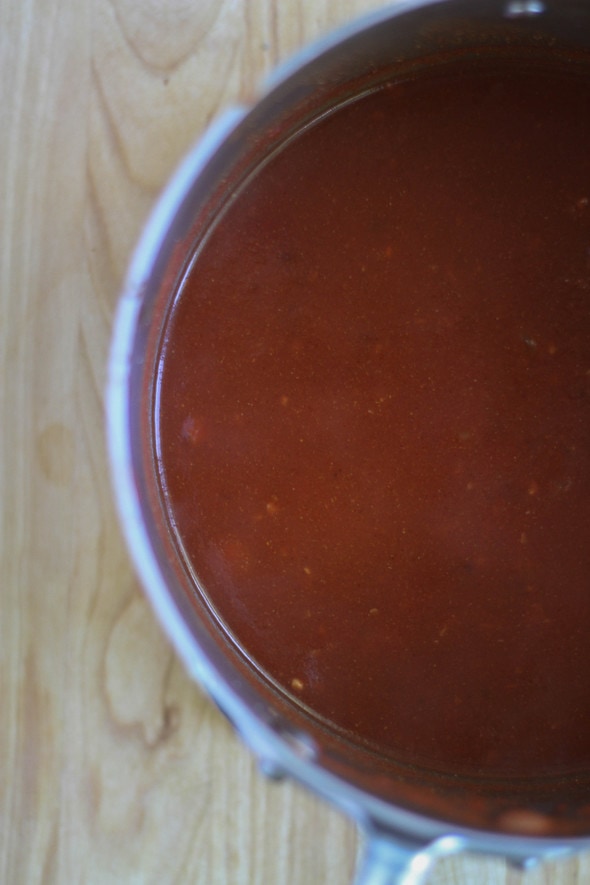 Next, you'll need a pound of boneless, skinless chicken breasts.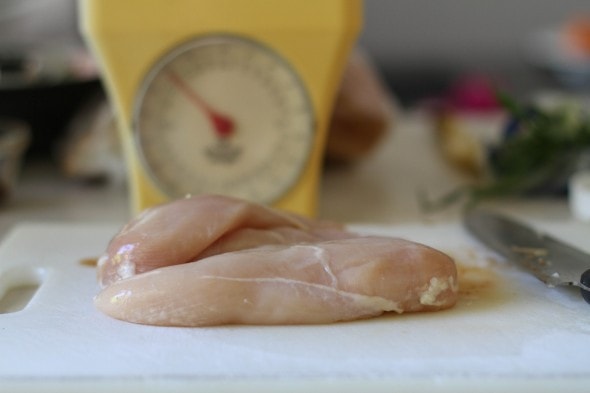 Add them to the sauce, and bring it back up to a simmer. Continue to cook for about 10-15 minutes, or until the chicken registers 160 ° F.
Depending on the size of your chicken breasts, this could take more or less time, so use a thermometer to check!
Once the chicken is done, remove it from the sauce, let it cool a bit, and then shred it into bite sized pieces.
Combine the chicken, 1/2 cup of the sauce, plus cheese, cilantro, and onion to make the filling. You're supposed to use white onion, but I didn't have enough when I last made these, so I used green onion.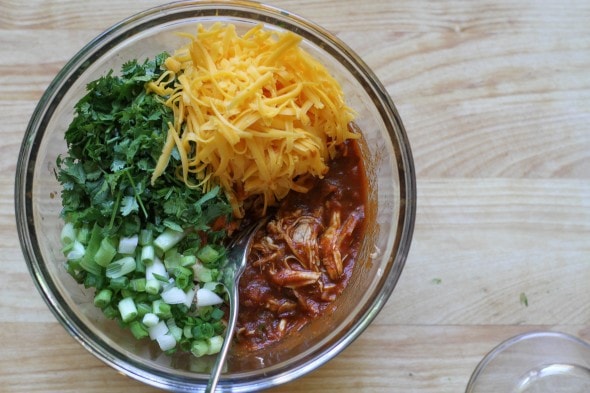 It worked out just fine.
Spread your tortillas out on the counter, and spoon 1/3 cup of the filling down the middle of each.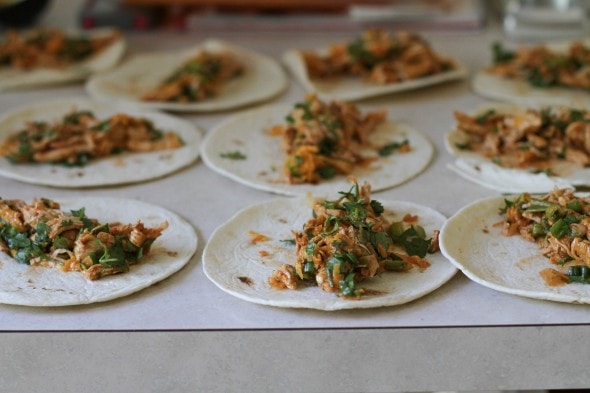 Spread 1/2 cup of the red sauce in a 9×13 inch pan. Then roll up your tortillas tightly, and place 'em seam side down in the pan.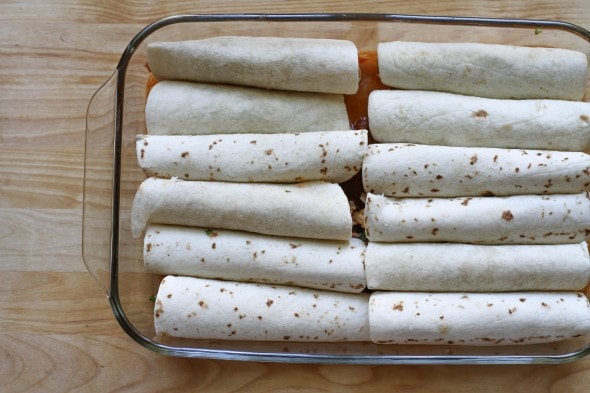 If you're baking your enchiladas right away, go ahead and cover them with the rest of the sauce and sprinkle 'em with cheese.
Buuut, if you want to wait, put the sauce into a jar, hold off on the cheese, cover your bare-naked enchiladas with foil (or a lid), and refrigerate them until later.
When you're ready to bake, pour the sauce over the enchiladas, and sprinkle cheese over top.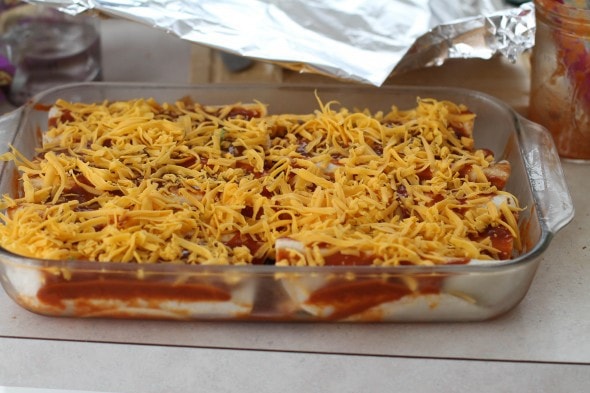 Cover them with foil, and bake in a preheated 350° oven for 20-25 minutes. If your enchiladas were refrigerated, they'll probably need a little more baking time. Just keep them in the oven until they're nice and hot.
Sprinkle cilantro and chopped avocado over the enchiladas and serve them with sour cream on the side.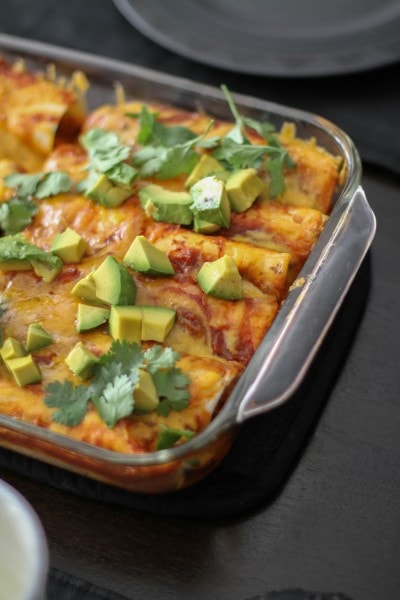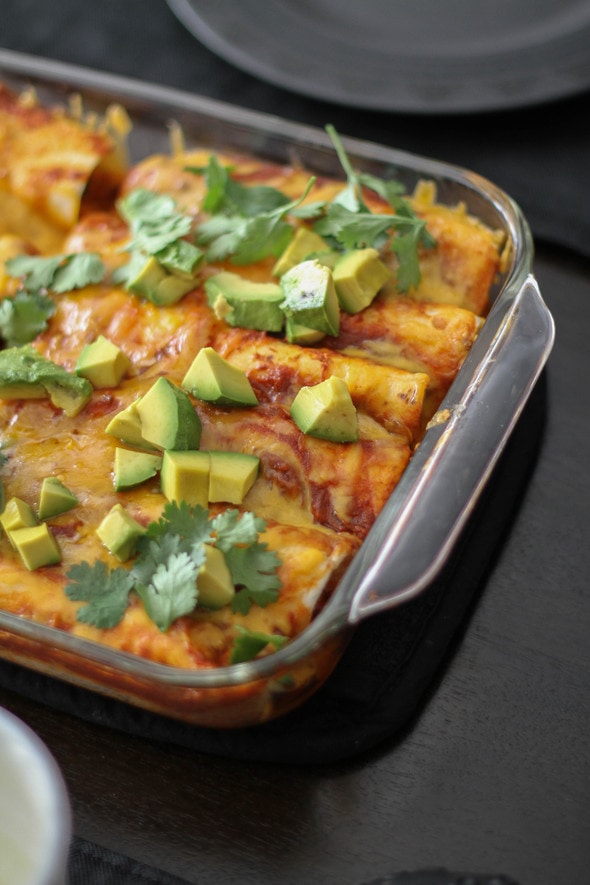 If you're lucky enough to have some left over, they make quite a delicious lunch the next day.
I hope you love these as much as we do!
(By the way, I added this recipe to the handy-dandy main dish index.)
Chicken Enchiladas with Red Sauce
Printable Make-Ahead Chicken Enchiladas Recipe
1 cup chopped onion
1/2-1 tablespoon vegetable oil
salt and pepper
1 tablespoon (or less) minced canned chipotle chili in adobo sauce
3 garlic cloves, minced
2 teaspoons ground cumin
2 teaspoons chili powder
1 15-oz can tomato sauce
1 cup water
1 pound boneless, skinless chicken breasts
8 ounces shredded cheddar cheese
1/2 cup minced fresh cilantro
12 6-inch flour or corn tortillas
In a large saucepan, combine 1/2 cup chopped onion, oil, and 1/2 teaspoon salt. Cook over medium high heat until softened and lightly browned, about 5-8 minutes.
Stir in chipotle and adobo sauce, garlic, cumin, and chili powder, and cook until fragrant, about 30 seconds. Stir in tomato sauce and water and return to simmer. Add chicken and return to simmer.
Reduce heat to low, cover, and cook until chicken registers 160 degrees, 10-15 minutes, flipping chicken halfway through cooking.
(My chicken took a little longer than 10-15 minutes, so test your chicken with a thermometer!)
Off the heat, transfer chicken to a plate, and let it cool. Shred into small pieces. Season sauce with salt and pepper to taste.
In a separate bowl, combine 1 cup cheddar, plus the cilantro, shredded chicken, 1/2 cup sauce, and remaining 1/2 cup onion. Season with salt and pepper to taste.
Adjust oven rack to middle position and heat oven to 350° F.
Spread 1/2 cup sauce in the bottom of a 9×13 inch baking pan. If using corn tortillas, stack tortillas on a plate, cover with a damp towel, and microwave until soft. Flour tortillas shouldn't need to be microwaved.
Lay tortillas on the counter, and spoon 1/3 cup chicken mixture across center of each tortilla. Roll up tortillas tightly and arranged in dish, seam side down.
Cover enchiladas with remaining sauce. Sprinkle with remaining 1 cup cheddar. Cover dish with aluminum foil and bake until enchiladas are hot, about 20-25 minutes. Let cool for ten minutes.
Serve with sour cream, diced avocados, shredded lettuce, and lime wedges.
To make ahead: Follow recipe through arranging tortilla in dish, but do not top with sauce. Cover enchiladas with foil and refrigerate. Cover sauce and refrigerate. When ready to bake, remove foil, cover enchiladas with sauce, and replace foil. Baking time will be longer than 25 minutes due to the enchiladas being cold.