Apples, that is.
1. I got 48 pounds of apples for $14
I've struck out a few times when stopping for apples lately, but yesterday my stop paid off!
The produce stand had two boxes of bruised apples, and rather than weighing them and going by the pound, the owner just said, "How about $14?"
Well, yes, that would be just fine by me.
I weighed them when I got home and figured that I'd paid $0.29/pound, which is seriously fantastic.
2. I used Honey to save $10 on a Novica purchase
Novica sent me a $50 voucher for me and also one for you guys (giveaway coming up).
Of course, I have Honey installed on my browser, and as a result, I got a $10 coupon on top of my $50 voucher.
So, Sonia got a necklace and earrings, and I got a pair of earrings, and our out of pocket was less than $5. Yay!
(Honey is a coupon-code finding extention for your browser. I find it way easier than using coupon code sites, and way more effective. Lisey first discovered it and shared it with me.)
3. I bought another pair of Converse on eBay
I did not technically need another pair, so the frugality of this is questionable.
I had just bought a white pair from eBay last week to replace my seriously old Converse (see above photo), but then there was this pair of red ones from eBay that were calling my name.
So, now those are on their way to me as well.
My net cost for these two pairs of shoes is still less than what one new pair of Converse would cost me, so I guess you can look at it as me getting two pairs for the price of one.
Definitely not frugal: There's a pair of mint green Converse on my eBay watch list. I do not need three pairs of Converse.
4. I said yes to a book offer on eBay
This makes the third book to sell in a week's time. And all of the books I sold recently are ones I listed quite some time ago.
eBay is often a slow game; patience wins!
(Feeling patient? Here's how to sell books on eBay.)
5. Mr. FG patched the drywall holes around the new windows
Did I mention I have new windows?
I did? Well, who cares. Here's a photo anyway.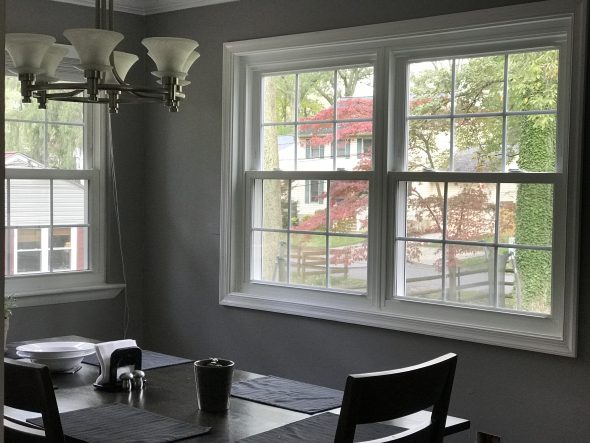 The electrician had a heck of a time rerouting the wire, and that resulted in three wall holes. Sigh.
Wouldn't it be nice if drywall repair was included in plumbing and electrical work??
Mr. FG patched the holes using some leftover drywall we've been storing in the shed, and once they're ready for paint, I'll use the paint I've been saving since we painted that room in 2011.
(I'm 99% sure the paint is still usable because I have stored it properly; it just might need a little thinning. Stay tune for an update!)
Your turn! What frugal things have you been up to?
P.S. It's ok if it's not five. Share however many you'd like.