Remember how I tried making my own oxi-clean this summer? And remember how fabulously it worked on underarm stains?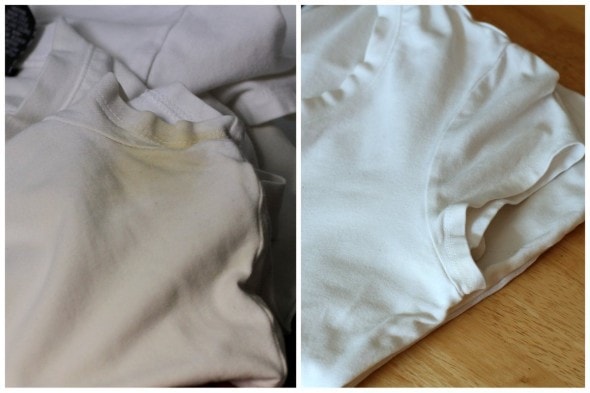 (I know. This is such a fun topic, isn't it? Sweat and armpits are where it's at!)
Well, in the discussion on that post, it was pointed out that you can get super cheap oxygen cleaner at dollar stores, and the price of that stuff beats the homemade stuff any day.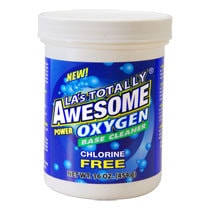 So, I went out and bought myself a container, but I couldn't really test it right away because I'd already gone on an oxi-cleaning-the-underarms-of-all-the-shirts spree.
(Try not to be jealous of my super-exciting life, mmkay?)
Anyway, after a summer of wear, some of my previously clean shirts were needing another deep clean, and I discovered that some of my winter shirts could really use some help as well.
I cracked open my container of dollar store oxi-clean, dissolved a scoop in a small amount of warm water, and poured it on the underarms of the shirts. After a good long soak, I laundered them and I have to say, I was kind of disappointed in the results.
I mean, the shirts were cleaner than they were before, but this stuff wasn't nearly as good at removing odors as the homemade version was, and it also was less effective at removing deodorant/sweat stains.
So, I made up a batch of the homemade stuff, poured it on the offending areas, let them sit overnight, laundered them, and tada! They're clean and stink-free.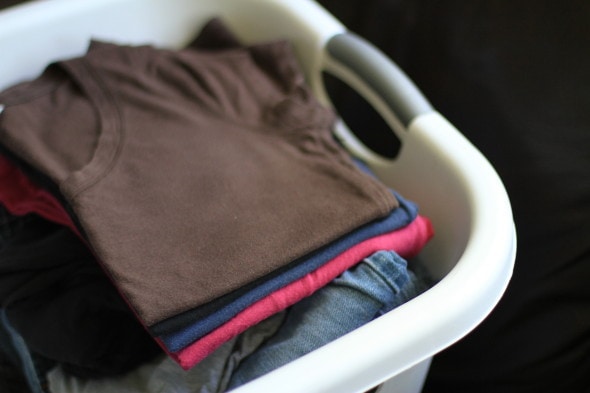 Now, I don't know…maybe this dollar store oxi-clean is pretty good at removing other kinds of stains or at whitening laundry, so I'll keep it around and give it a try on other laundry issues.
But when it comes to the underarms of shirts, I'm gonna stick with the homemade stuff.
_________________
P.S. Food Waste Friday is over at Simply Being Mum today.
P.P.S. The $15, 15-ebook bundle sale is over tomorrow, so if you were wanting to buy one, go get it today. Or tomorrow. But not Sunday.