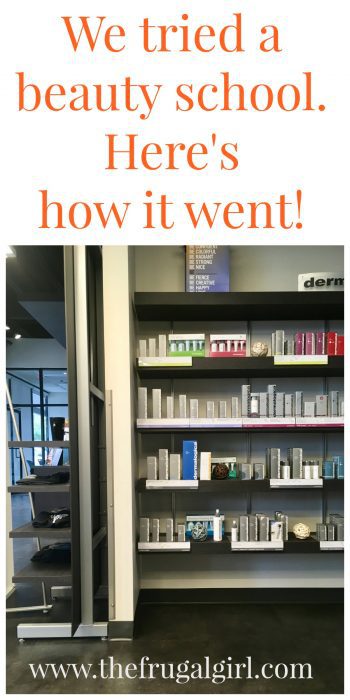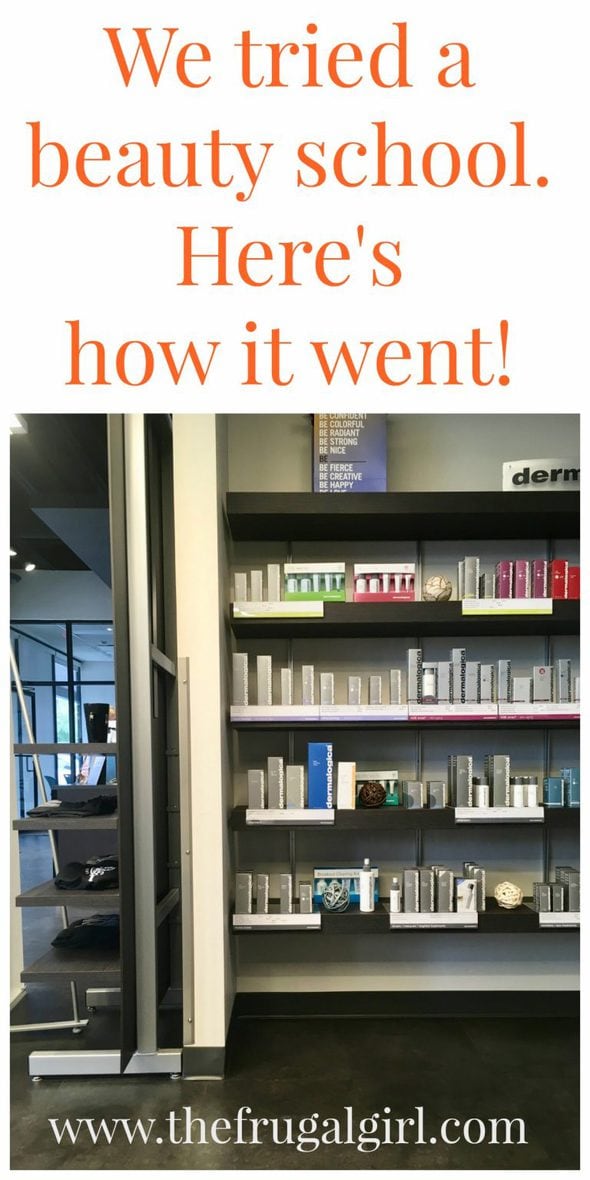 In my years of frugal reading (books, blogs, articles), I've frequently come across the advice to get hair services done at a beauty school.
But since I usually only get my hair cut once or twice a year (I know, I know), I haven't been super motivated to give it a try.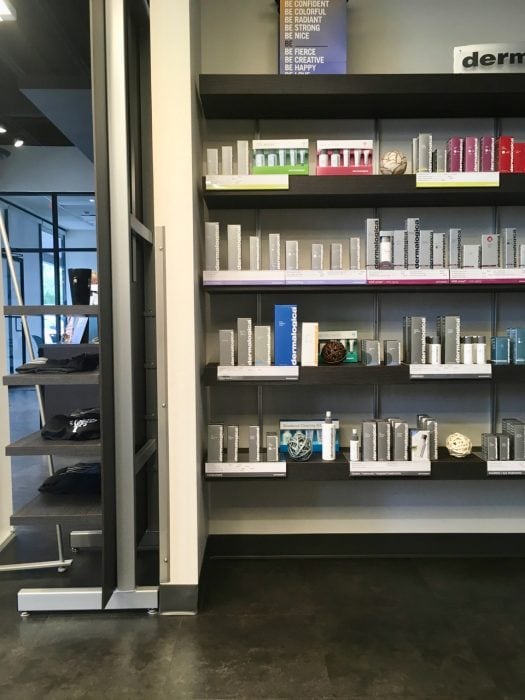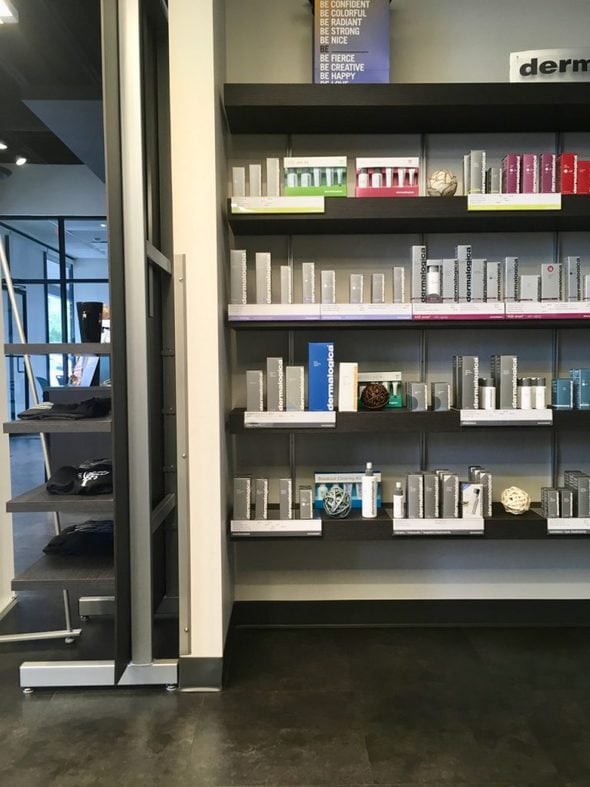 However, Zoe's had a hankering to get her ends dyed purple, and because that's very much not a necessity, we told her she could do it if she paid for it.
This was going to cost $120 or so at a regular salon, though, and I hated for her to spend her hard-earned money on that!
So, I checked to see if our local beauty school did kids' hair, and it turned out they did.
And instead of $120, the purple dye job would only cost $60.
Zoe said yes to that idea, so I scheduled her for the dyeing and myself for just a haircut ($12).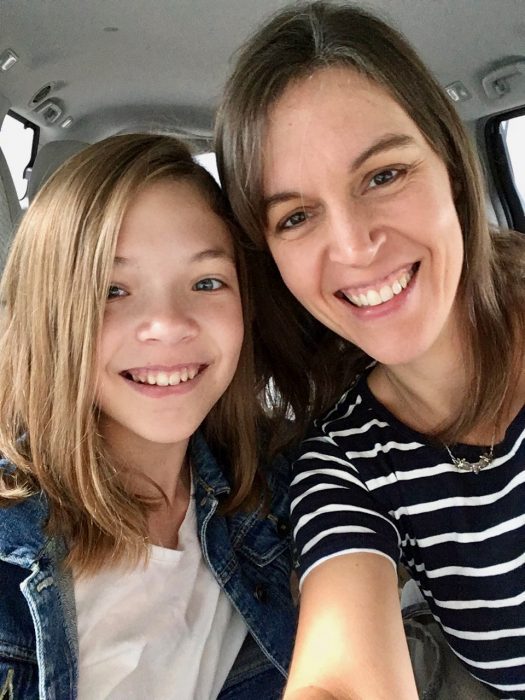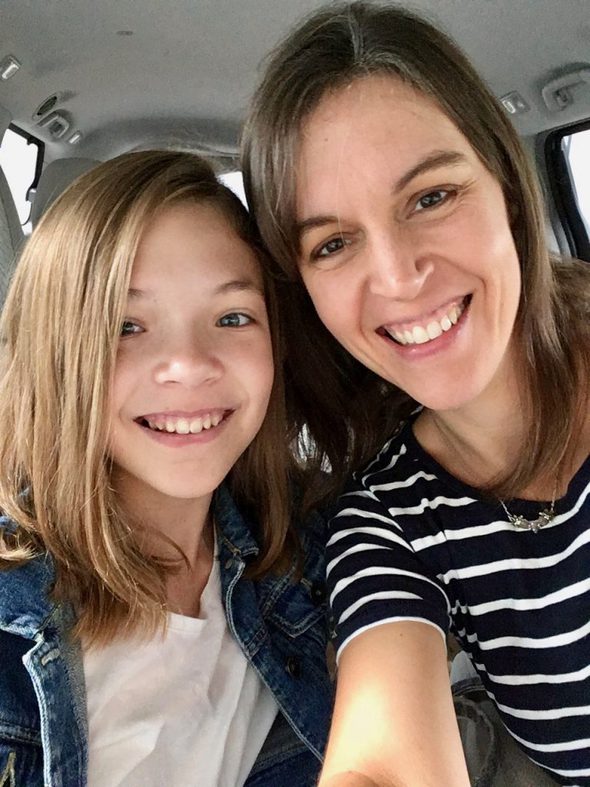 (Because the last time I got my hair cut was last October for my Halloween costume!)
What is the beauty school like?
I've always kind of pictured a hair school looking something more like a high school, but the one we went to felt more like a really, really big salon.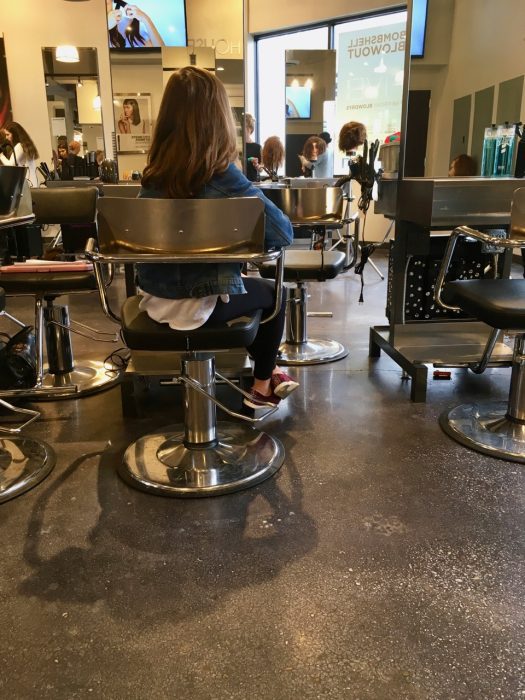 There was a very salon-like waiting room downstairs, where Zoe and I took another selfie. Because of course.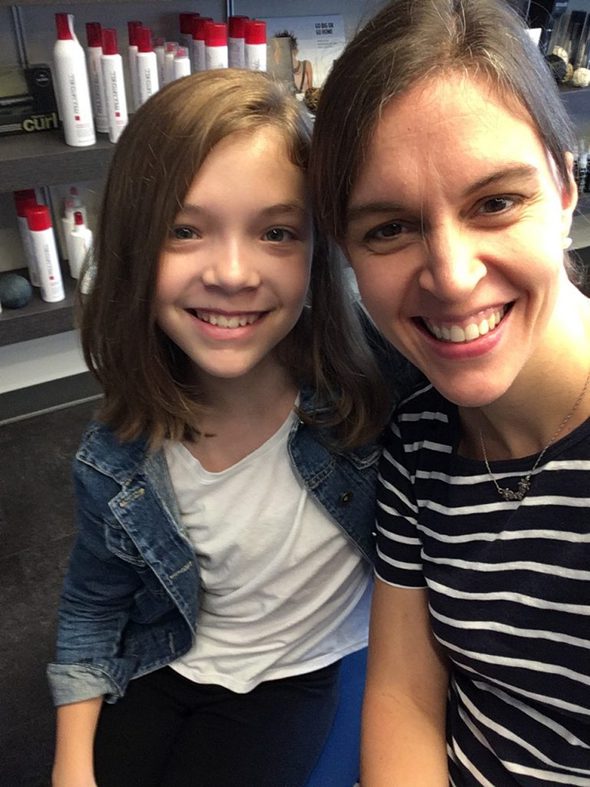 After signing in, we got called upstairs, where there's a huge room filled with dozens of hair stations, and a really nice hair-washing room, just like a salon.
How involved are the instructors?
At the beginning of the appointment, the instructor asked Zoe and me what we wanted (we'd brought photos), and then chatted with the stylist to come up with a game plan to fulfill our hair wishes.
After agreeing on a plan, the instructors left the stylists mostly to themselves, checking back in every now and then to correct things/offer reminders.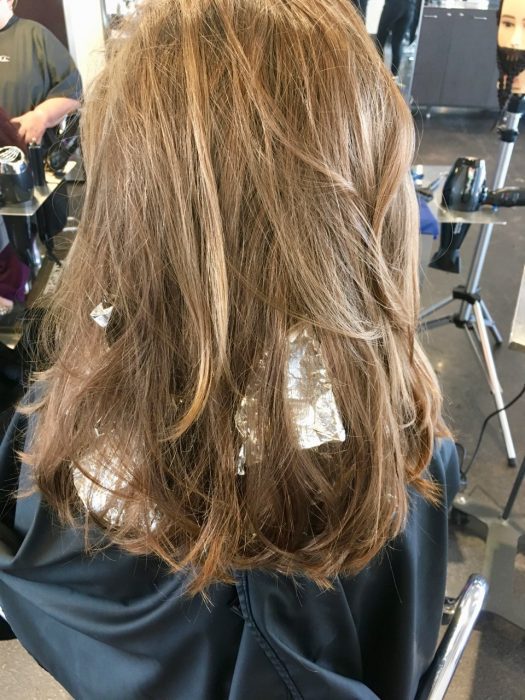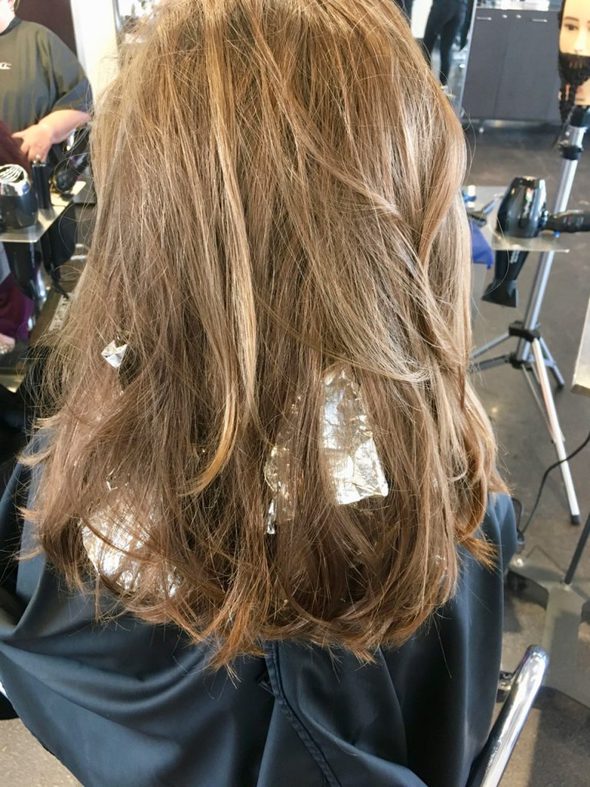 Is it scary to trust your hair to a student?
I think this would depend on how much you care about your hair and also on how difficult a style you are hoping for.
I'm not super picky about my hair, and I was just asking for a trim with some layers, which is not exactly a high-stakes, difficult haircut. So my stress level was fairly low.
But if I were getting a pixie cut or some other very short hairstyle, I think I'd be more nervous.
Zoe's hair was also fairly low-risk, since she was getting her ends dyed. If she hated it, she could always just get a haircut!
What's the biggest downside of a beauty school?
Things take a REALLY LONG TIME. The students are just not nearly as fast as an experienced stylist, so my haircut took an hour and a half from start to finish.
And Zoe's hair took 4 hours (she had to get her ends bleached before she could get the purple dye, so her hair had to be processed twice).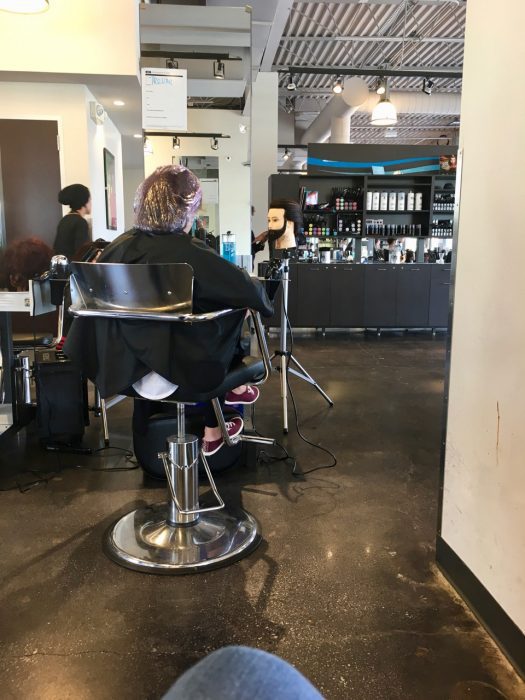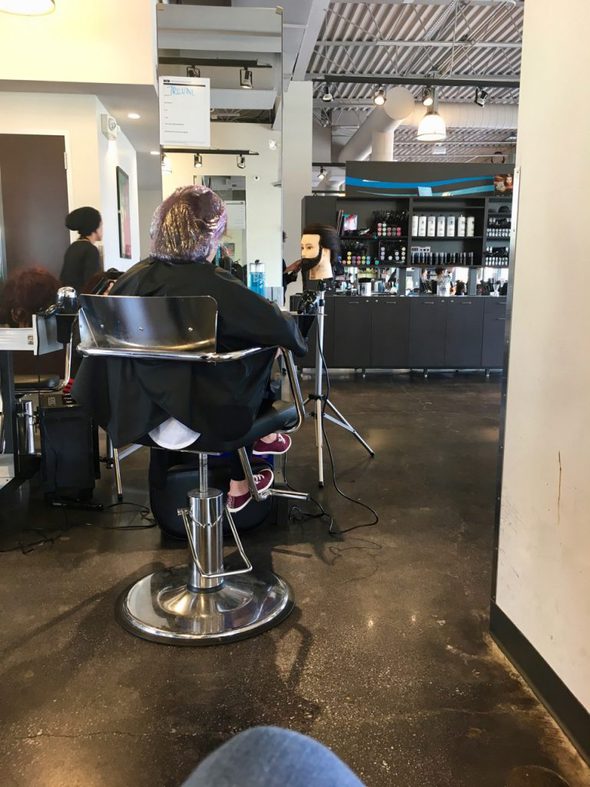 She got really, really tired of sitting in the chair!
Were the savings worth it?
For a haircut, I'm gonna go with no. I can get a decent haircut for about $30 and it would take less than 30 minutes. Spending an extra hour to save $18 doesn't feel terribly worth it to me.
Now, Zoe's hair took maybe an hour or two more than it normally would have, but she saved $60. Even if we go with the idea that it took two extra hours, that's a savings rate equivalent to $30/hour.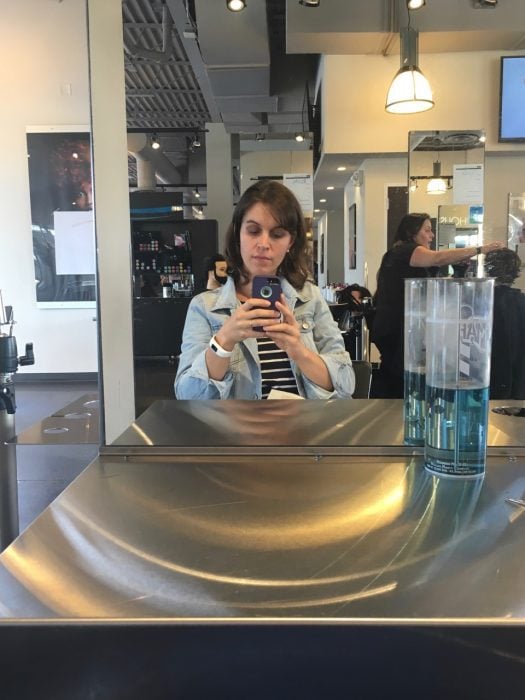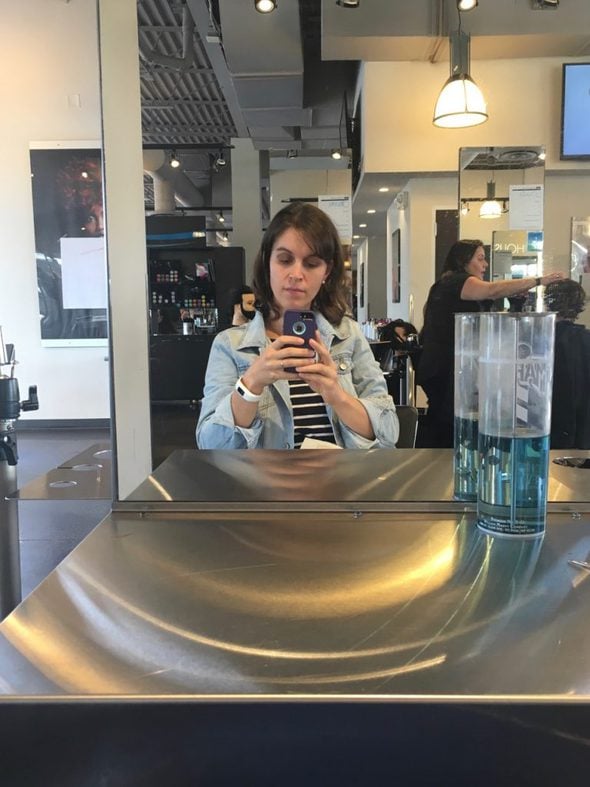 So for coloring, the savings seem a little more worth it, and I think I'll consider the beauty school when I want to color my hair.
How did your hair turn out?
I was happy with my haircut…it took a while to get it done, but I ended up with the style I requested. So, thumbs up.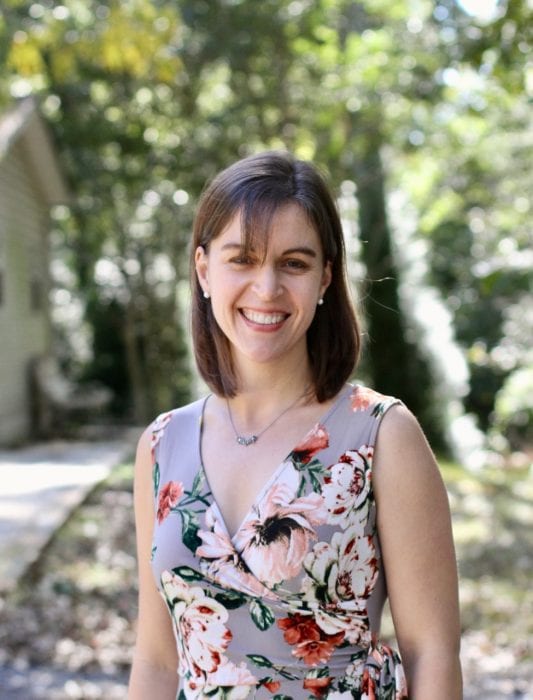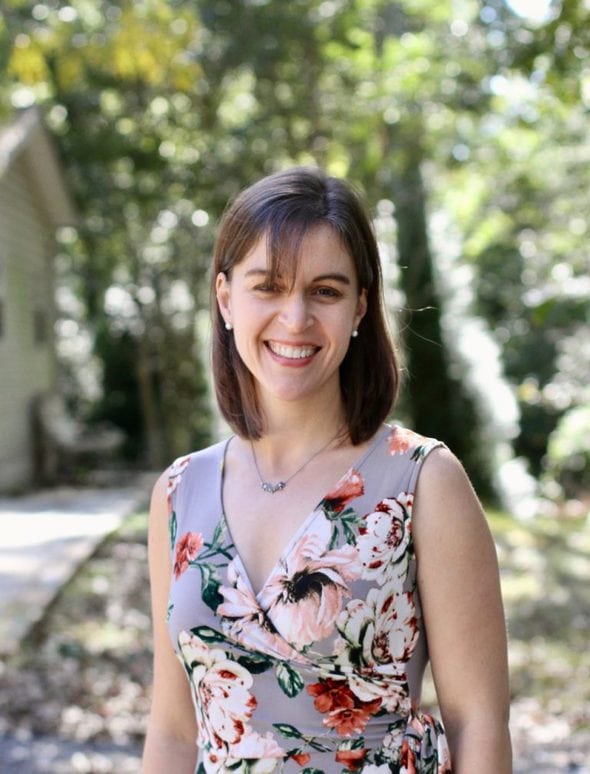 Zoe was happy with hers too. Unfortunately, I didn't get a photo when the purple color was super fresh…so you'll have to trust me when I there was more purple there initially!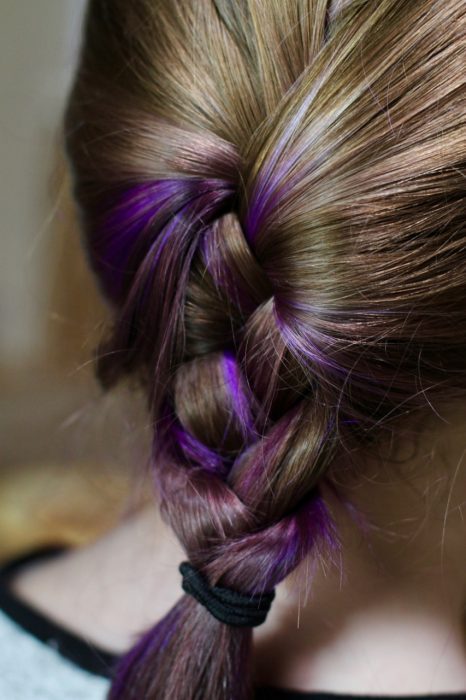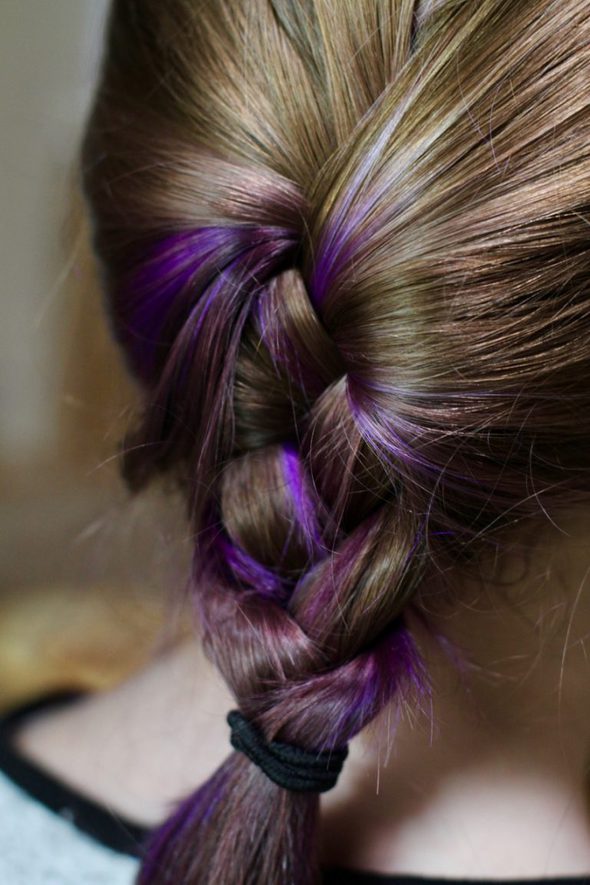 We'll touch up her color with Viral Colorwash (which I already have in purple!), so that way she can get more mileage out of her salon experience.
They bleached some of her hair, and just applied color on the brown in other areas, and the purple definitely did not stay on the unbleached areas very well. It was really purple at first, but then it faded pretty quickly after a few showers.
Would I recommend visiting a beauty school?
If you have way more time than money, I'd definitely give this a shot.
Or, if you need a hair service that's fairly expensive, then the 50% off could make it very worth your time.
But if you are short on time and you just need a haircut, I think a regular salon would work better for you.
If you've tried a beauty school service, I'd love to hear about it! Share in the comments.