This giveaway post is not sponsored. Ting is providing the phone for the giveaway. Ting links are affiliate links.
As you all know, we are big fans of Ting Mobile here at the FG house.
I've written about Ting somewhere around eleventy times before, and you may remember that I recently ran an offer for a $50 credit for signing up with Ting through any links on my blog.
It was initially only for two weeks, but I asked Ting if they'd extend it through the end of October and they said yes.
(You're welcome!)
To make the deal even sweeter, Ting asked if I'd like to give away a smartphone to one of you. And of course I said yes because I love to give you all free stuff! 😉
Ting is offering a 32 GB Moto G6 Play to one Frugal Girl reader. Of course, it will be Ting-ready, and when you're ready to use it, you can sign up through a link on my blog and get a $50 credit if you're a first-time Ting customer.
That would be pretty sweet, right?
Wanna know all about the G6 play?
Umm, I can't really help you! I'm an iPhone user myself (refurbed, never the newest model) so I don't know that much about Androids.
(Joshua's been using an Android phone on Ting ever since he got a smartphone, though!)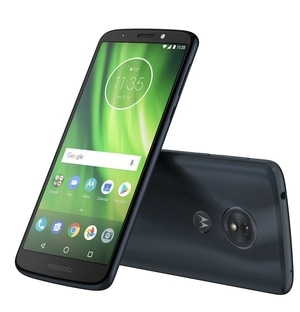 I do know that the Moto G6 Play sells for a little under $200, though, and you can read all about it from an Android-savvy person right here.
Even as a diehard iPhone user, I do have to admit that Androids are a great option if you want to get cutting edge features without spending a gazillion dollars on a new Apple phone.
And if you win a free one from this giveaway, well, that's a price that can't be beat.
How to enter the giveaway
You just need to comment on this post…nice and simple.
Since Ting is kind of a pay-as-you-go carrier, leave a comment with your best tip for keeping data usage down. Help us all keep our Ting bills nice and low!
P.S. Switching to Ting is simple, and Ting has great customer service (I've experienced it, and so have tons of my readers!). Totally worth it, especially given how much you could save by switching.
NO PURCHASE NECESSARY. Void where prohibited. Odds of winning depend upon the number of entrants. Phone is furnished by Ting. Winner will be contacted via email address in contact form.