On Tuesdays and Thursdays, I post a picture and just a few words.
While I'm mostly a solids girl, I do love stripes.
Especially navy and white stripes.
They make me weak in the knees.
Happily, there's a lot out there right now in the way of stripey things, but one irritating thing I come across frequently are stripes that are printed rather than dyed/woven into the fabric.
(You can tell whether they're printed or not by looking inside the garment. If the stripes are just as bright on the inside, they're not printed.)
The trouble with stripes that are printed is that they fade/crack/become weathered, and I just hate paying good money for clothes that won't last.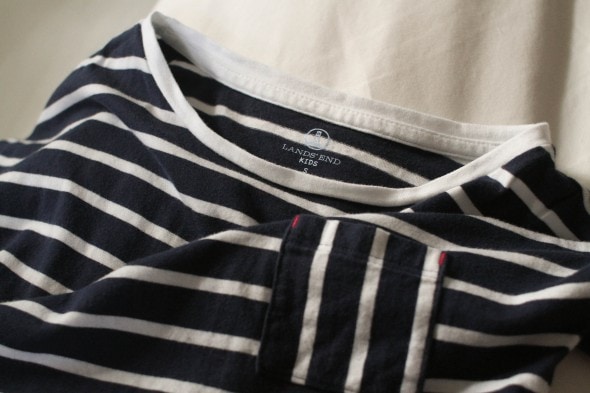 (Dyed stripes! Love them.)
I especially have trouble finding good stripes for my girls…it seems like printed stripes are more common in the kids' section.
(Kohl's, I'm looking at you!)
So, when I got a Lands' End sale email a few weeks ago, I decided to order a striped dress (not an affiliate link) for Sonia since I knew Lands' End wouldn't carry printed stripes.
I also saw some some dyed-stripe dresses at Target just the other day. And oddly enough, we do have a few dyed-stripe kid dresses from Old Navy too.
(Although we've also found and passed up plenty of printed stripes at Old Navy.)
___________________
P.S. I ordered Sonia's dress several weeks ago using a coupon code, but just yesterday I got an email letting me know that if you sign up for email from Lands' End, you get 30% off 1 regularly priced item.
So, if you're gonna buy something from Lands' End, be sure to get your coupon first! And go through Ebates or TopCashBack to get a little extra moola back as well.
(This P.S. contains affiliate links, which help keep the lights on around here at no extra cost to you.)
P.P.S. Joshua has some more pictures up from his CA trip…the Sequoias, specifically.