This has been a week of unusually little sleep for me, mostly because Mr. FG and I have been staying up way too late working on getting things ready for our wood floor installation.
Normally I get a pretty consistent 8 hours of sleep, but this week has been full of nights that are more like 6 hours long.
For a few days, I was doing all right and I thought, "Oooh, maybe I don't need as much sleep as I thought! Think how much time this will save me!"
But then after about three nights of this, I really started to hit a wall and it's become clear that 8 hours is ideal for me.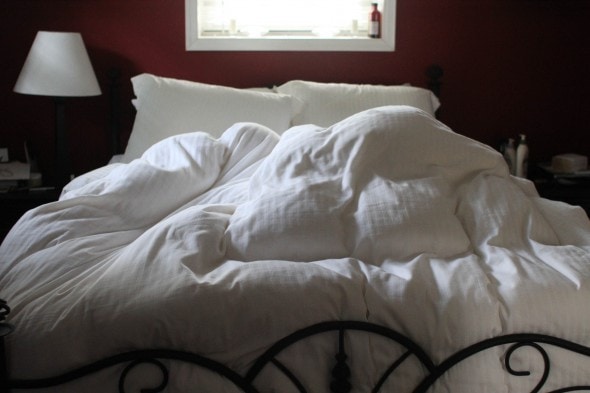 (Sonia and Zoe are under there…"burrowing" as they call it!)
Yesterday I felt super exhausted and it is SO hard to stay motivated and inspired and productive in that state.
This week has been a fresh reminder that staying up late isn't really a key to productivity.
If I got less sleep, I could theoretically have more hours to be productive, but the reality is that my exhausted self isn't productive.
Basically, a rested me can get more done in 16 hours of awake time than an exhausted me can get done in 18 hours of awake time.
Sleep = Investment in the next day.
(I did function on little sleep for many, many months with our babies…so I know I can do it if necessary, but the point is that it's definitely not ideal for me! Given the option, it's smart for me to put myself to bed.)
_________________________
Simply Being Mum is out of her blogging office this Friday, so she asked if I'd be willing to host Food Waste Friday for her this week.
So, let's see…
-I do know I composted a pepper top and a few stalks of celery, but I didn't take pictures.
-I didn't do anything heroic this week to use up food, although we did eat all of the bridal shower leftovers.
-Mr. FG ended up eating out one day for lunch, but he refrigerated his packed lunch and I ate it the next day.
-I had two cooked chicken breasts in my fridge, so I made curried chicken salad sandwiches for dinner one night.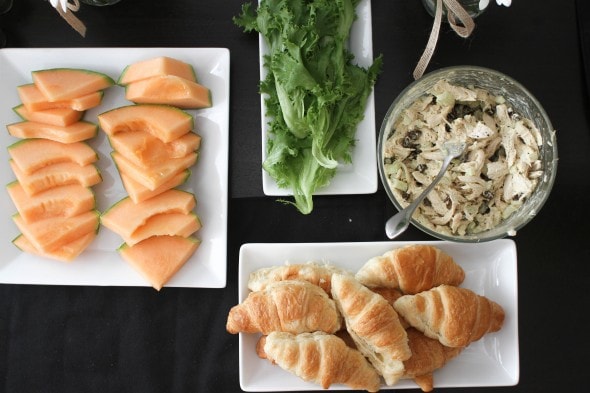 (I did not make the croissants. They're from Aldi!)
I'll do a more proper Food Waste Friday post next week, with fridge/freezer pictures and all.
Plus, my life promises to be filled with fewer commitments and more sleep starting next week, so, maybe I will actually do some things on the food waste front that are interesting. 😉
_______________________
How's the food waste scene at your house? Tell us in the comments!