Every Wednesday (ok, most Wednesdays!) I share a baking recipe. And lots of pictures of said baking recipe. I don't call this Wednesday Baking because I bake solely on Wednesdays…no, my oven gets a workout much more frequently than once a week! Wednesday just happens to be the day I share baking recipes with you. All the past baking posts are archived in the Wednesday Baking category, which can also be found in a tab underneath my blog header.
You know how there's sometimes a very fine line between muffins and cupcakes?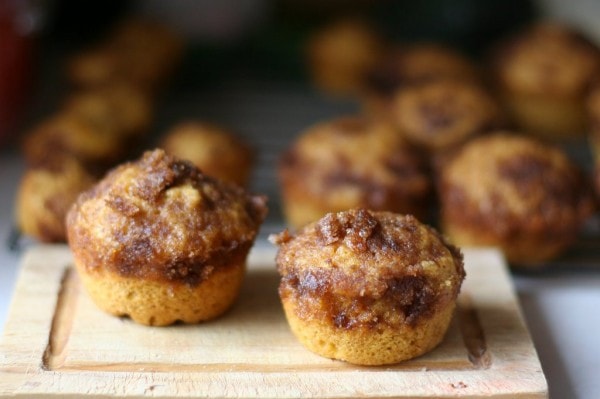 I think this recipe crosses the line, sort of like Chocolate Cookie Muffins (which I've never made).
Because really, when muffin batter contains a stick of butter and more than a cup of sugar, (not including the streusel topping), I think it's close to becoming cupcake batter.
So, I don't make these for breakfast too often, despite the fact that they do contain 3/4 cup of very healthy butternut squash. 😉
Like the other muffin recipes I've posted, this one is fairly simple, especially if you have butternut squash ready to go. I usually cook up several butternuts, run the squash through the food processor, and freeze it in 1 cup (or 3/4 cup for this recipe) portions. I do this by dumping 1 cup portions onto a greased cookie sheet. I put the whole cookie sheet into the freezer and when the mounds of squash are solid, I transfer them to a plastic bag for longer storage.
However, I know you can also buy frozen cooked squash at the grocery store, so you can still make these if you don't have access to fresh squash. I imagine that you could substitute pumpkin or cooked sweet potato as well.
Before you start making the muffin batter, turn your oven on to 350 ° F. That way it'll be hot when your muffins are ready to be baked.
To make these muffins (er, cupcakes?), mix the dry ingredients together. Whenever a recipe calls for baking powder/soda, I like to run it through my little sieve. If I don't, I sometimes end up with little lumps of baking powder/soda in my end product, and I am really, really not a fan of that.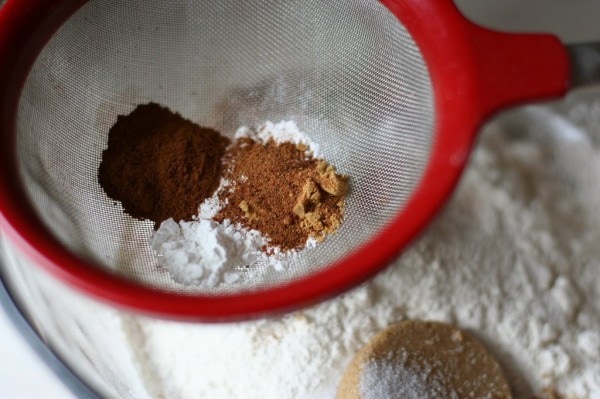 Next, mix the wet ingredients.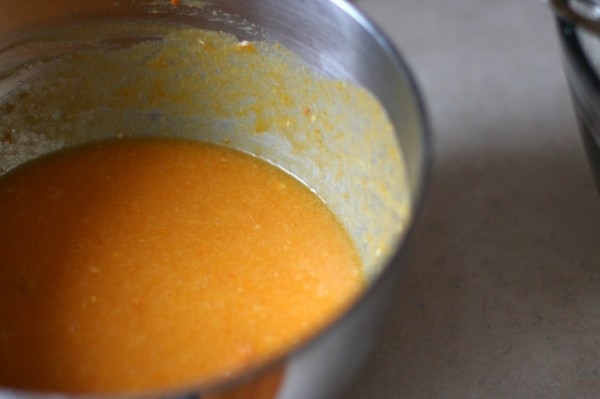 Add the wet ingredients to the dry ingredients, and mix gently, just until everything is almost combined. If you don't have a few flour bits peeking through, you probably over-mixed. Use a light hand with muffins!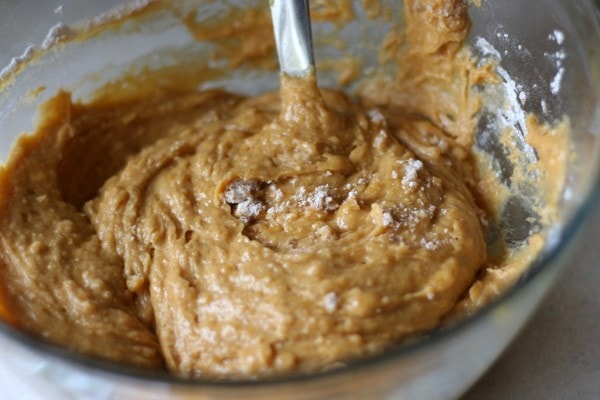 To make the streusel topping, you'll need butter, brown sugar, and cinnamon.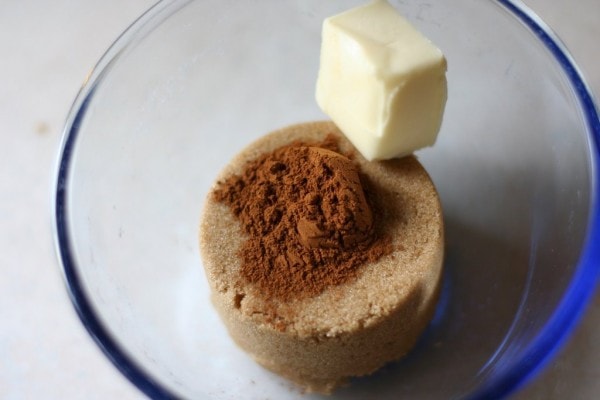 Cut the butter into the cinnamon and sugar until you end up with a crumbly mixture.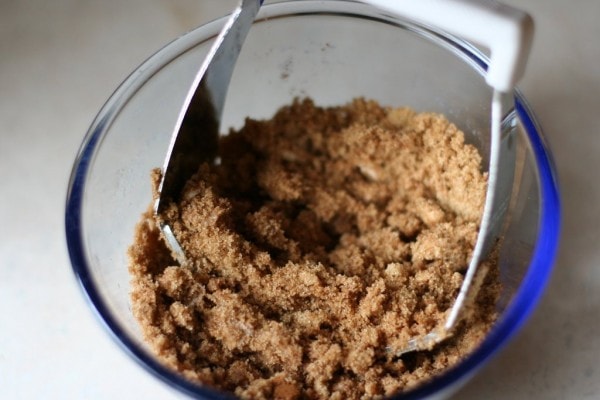 Spoon the muffin batter into greased muffin tins and top with the streusel. I usually make 12 regular muffins and 12 mini muffins, but you could make 18 regular muffins instead.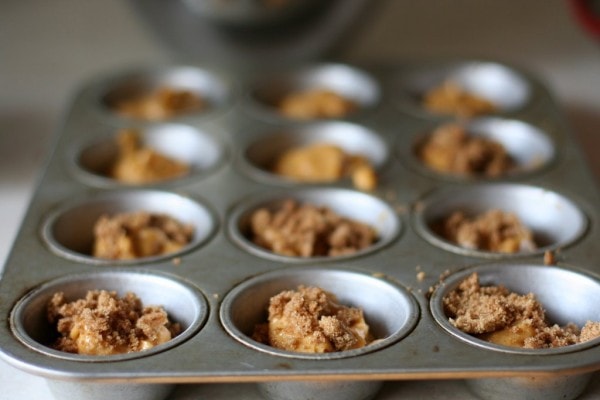 The recipe says it only makes a dozen muffins, but when I do that, the muffins get so tall that the streusel topping falls off of them and ends up all over the pan. Although, maybe if you use muffin tin liners, that's not so much of a problem.
Hmm.
Let me know if you try it that way!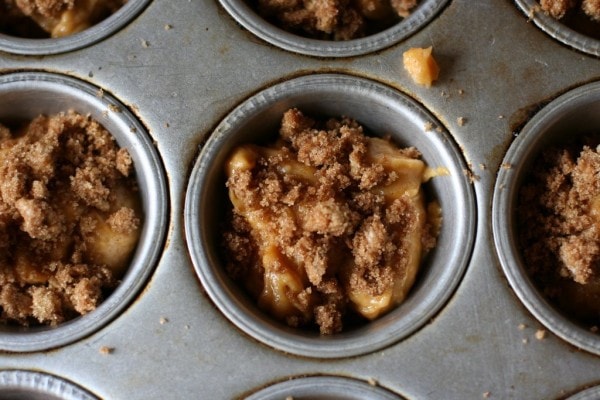 I should say that I think this recipe makes more streusel topping than is necessary. I think you could halve the streusel and still be good to go, in fact.
Bake the muffins for 15-18 minutes, or until a toothpick inserted into the center of a muffin comes out clean.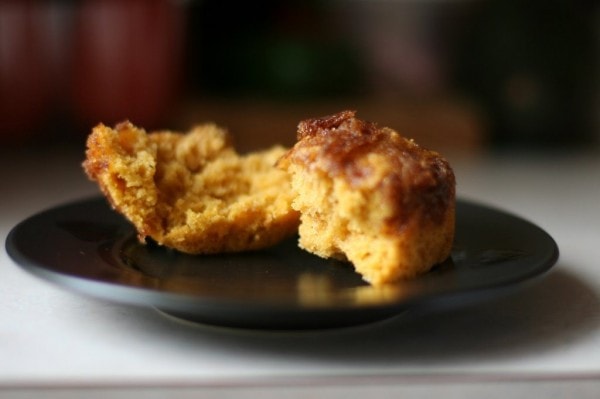 This recipe is from Taste of Home, and you can print it out from their site. The only change I made was to substitute butter for the 1/4 cup of vegetable oil. That, and I made more muffins than the recipe originally called for. And I baked my muffins at 350 °, not 400 °.
Perhaps "only change" was not the right phrase to use there.
Spiced Squash Muffins
Ingredients
2 cups all-purpose flour
1/3 cup packed brown sugar
2 teaspoons baking powder
1 teaspoon ground cinnamon
1/2 teaspoon salt
1/4 teaspoon ground ginger
1/4 teaspoon ground nutmeg
2 eggs, lightly beaten
3/4 cup mashed cooked butternut squash
3/4 cup light corn syrup (you can sub 3/4 cup sugar & 3 tablespoons water)
1/2 cup butter, melted
1 teaspoon vanilla extract
Topping
1/2 cup packed brown sugar
1 teaspoon ground cinnamon
4 teaspoons cold butter
Preheat oven to 350 F.
Combine the first seven ingredients in a large bowl. In separate bowl, combine the eggs, squash, corn syrup, butter, and vanilla. Gently stir wet ingredients into dry ingredients. Spoon batter into greased muffin cups.
In a small bowl, combine brown sugar and cinnamon; cut in the butter until the mixture is crumbly. Sprinkle over top of the unbaked muffins.
Bake for 15-20 minutes, or until a toothpick inserted into the center of a muffin comes out clean. Cool muffins for 5 minutes, then turn out onto a wire rack. Serve warm.
Today's 365 post: A beautiful kind of mess