As a blogger, an awful lot of books for review end up in my mailbox, and through coincidence, two of the recent ones are books written for a young audience (one for younger kids, one for older kids). So, I thought I'd review them together.
Pirates of Financial Freedom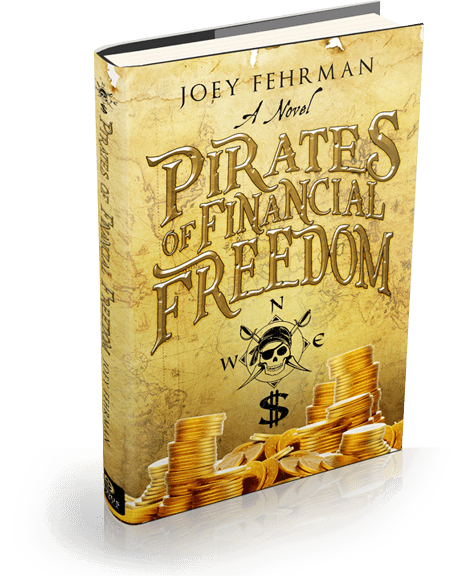 Pirates of Financial Freedom is aimed at high schoolers/young adults who are bored to death by regular personal finance books. Rather than being written in a textbook style, this is a personal finance book written in story form.
Basically, it follows the journeys of a band of pirates who are learning about things like investing, getting out of debt, saving for retirement and such (all the things personal finance books usually cover!). The finance advice and information is completely and utterly sound, so I give the book an A+ on that front.
How much you'll like this book will depend SO much on your personality and learning style. I tend to prefer a fast, efficient delivery of information, so books written in a faux conversation style or story style usually feel too slow to me.
Give me bullet points! And headings! And lists! And make it speedy!
In fact, I've actually given up getting through a book or two because of inefficient information delivery, despite the fact that the book contained helpful info and despite the fact that the books got rave reviews.
(Master Leaders was one such book. I just could NOT take the manufactured conversations any more.)
(Ooh! I just remembered another dialogue non-fiction book that drove me crazy…The Myth of Multitasking. I did make it through because it was super short, but I barely dragged myself over the finish line.)
But I know that a whole 'nother set of people struggle mightily to get through a book that's all down to business. They might not even make it through the first chapter of a bulleted, listy personal finance book. So for this group of people, the story bits of the book could hold their interest long enough for them to digest nuggets of personal finance wisdom.
Also, I think your degree of love for the book will depend on your expectations. If you expect it to be a novel on, say, C.S. Lewis's level, you will be disappointed. The anachronistic nature of the book (Pirates discussing Vanguard! Investing doubloons in an IRA!) and the frequent insertion of personal finance information makes the story feel a little bit clunky.
(The author is a CFA by trade, not a novelist, so I'm not super surprised by this.)
However, if you approach the book expecting it to be interesting personal finance book rather than an award-winning novel, then you'll probably feel completely differently about it.
So, an unabashed thumbs up from me for the personal finance advice contained in this book, but before you buy it, make sure to take into consideration your (or your recipient's) learning style.
Which, actually, is important any time you're trying to teach someone. 😉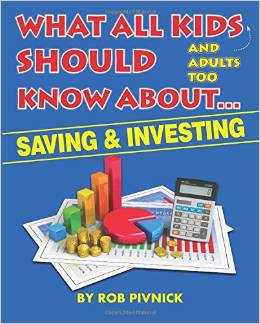 This book was written by Rob Pivnick (a dad and vice president and associate general counsel at Goldman, Sachs & Co.) who wanted to get some financial principles down on paper for his three grade-school boys. In the process, he ended up turning the information into a book.
Since this is intended for kids, it's written in a casual, conversational tone (I love textbooks that are written conversationally!), and all the concepts are explained in simple terms. The text is broken up into small paragraphs and there are lots of graphics and drawings which help to make the information more digestible. I'd say that kids as young as fourth grade could read and understand this book.
This is a fairly down-to-business sort of book, so it's far shorter than Pirates of Financial Freedom. However, it does cover the same solid financial basics, and despite the fact that I'm way older than the target audience, I learned some things about investing while reading the book.
(I'm so encouraged to hear that actively buying and selling individual stocks usually doesn't help you beat the market because heaven knows I am way happy to let Vanguard manage our target date fund!)
Since this book is written for kids the age of my own, I definitely am going to have them read it (Zoe might not pick up on everything, but I think even she will understand and remember some of what she reads here.)
Once caveat, which is not really a big deal, but here you go: this is a self-published book, so the physical version is a paperback and the presentation isn't as professional as Pirates of Financial Freedom. To me, this doesn't matter a whole lot (the info is good! John Bogle endorses it, for heaven's sake.), but I know some people won't touch a book if it's not slickly packaged.
Which book should you get for the young people in your life?
For easily distracted and bored older kids/young adults who can't stand anything resembling a textbook, Pirates of Financial Freedom is a good option.
For younger kids or people who prefer a more direct, informational approach, Pivnick's book is a solid choice.
Oh, and both of these books are available in ebook formats if you or the young people in your life prefer that.
(I received complimentary review copies but this post does not contain affiliate links. I am partnering with the Pirates of Financial Freedom to share this post. Opinions are my own.)
___________________________
So, I told you what nonfiction style I prefer (a conversational tone with no-frills delivery), but what about you?

Do you like efficient information delivery, or do you prefer a novel/dialogue format?