I can tell right now that this is going to be a sort of lengthy post, so get comfy, k?
A while back, Shabby Apple, a purveyor of women's attire (mostly dresses and skirts) emailed to see if I'd like to do a giveaway. I'd seen enough of Shabby Apple to know that this would be really fun, so I said yes.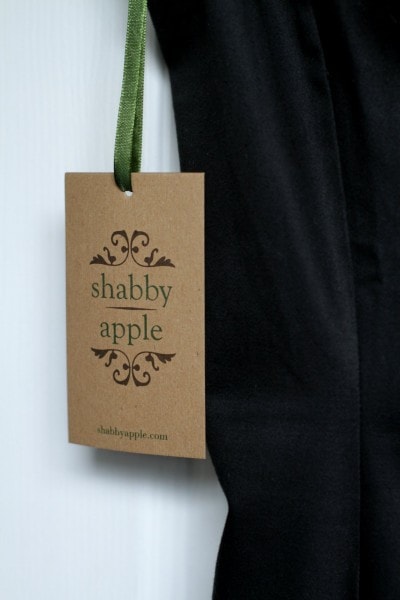 Shabby Apple clothing is vintage-inspired, and it's all designed to be very appropriate without being frumpy. Though there are a bazillion and one sites that promise to be frump-free while keeping you covered, an awful lot of them are, well, dreadfully frumpy.
In Shabby Apple's case, though, I really do think they've managed to avoid the frump and I think a lot of that is due to the fun vintage look that so many of their clothes have.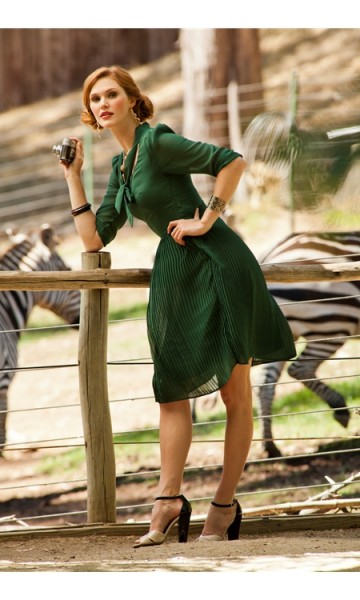 As part of the giveaway process, I got to choose an item for myself from a pre-approved list. After poring over it forever, I narrowed it down to six choices and then I emailed my gal pals for fashion advice.
Because I am terribly indecisive about these sorts of things.
They were all nearly unanimous in advising me to do with the Da Vinci dress, because it looked comfy, would be less specific in its fit (as compared to a woven dress, which needs to be quite exact). Plus, it seemed like a really versatile dress.
Soo, I was all set, and then when I placed my order, it turned out that the size I wanted was out of stock.
Gah!
That meant I was back to square one, so I hemmed and hawed again, and decided that I really liked the Phi Betta Kappa dress.
Cute, isn't it?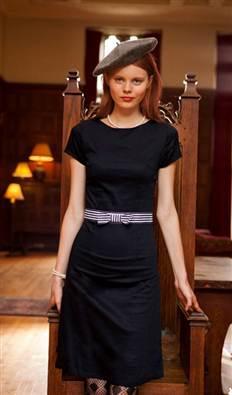 But, um, that one went out of stock in my size too.
I think Shabby Apple should hire me to predict which dresses will be going out of stock soon, because I seem to be very good at that.
So, then I decided to see if I could get the V.P. dress to review, since that was my very favorite item on the whole entire site to begin with.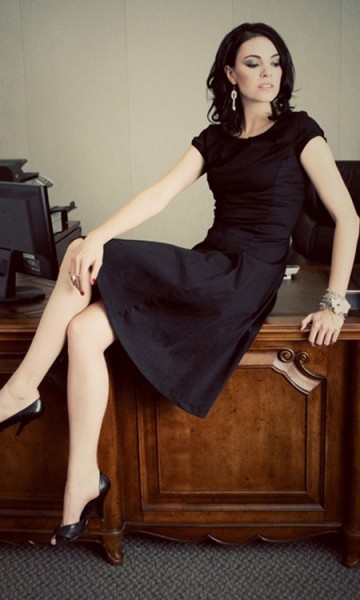 I decided on my size, placed my order, and was delighted to see that this was indeed in stock in my size.
My package arrived (yay!) and I tried on the dress (woo!) only to discover it was a bit too big (boo!).
So, I shipped it back, which was very easy because Shabby Apple gives you a free return label. And it is truly free, not the pseudo-free kind that come out of your refund. This is pretty lovely, because ordering clothes online is always bit of an iffy thing as far as sizing goes.
Anyway, when my new dress in the smaller size arrived, it fit. Phew!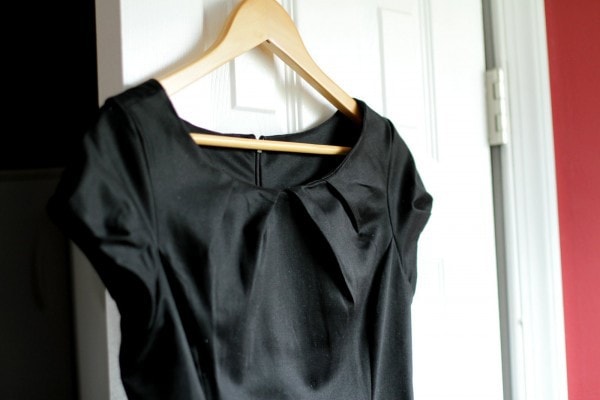 I was really happy to see that the fabric isn't nearly as shiny as it looks in the photo, which means that this dress actually works when you dress it down a bit with tights and boots. I also have some heels that make it look more fancy-pants (uh, fancy-dress?)
The material is of lovely quality and the whole dress is made really well, so I think it will last me for a really long time.
(Of course, that makes the "Buy Heirlooms" side of me very happy.)
I think the style is pretty timeless too, so I should be able to get many years of wear out of it. By the way, this dress also comes in bright blue for those who dress in less neutral colors than I do!
Oh, and remember how my title said I got two dresses?
Well, I ended up with a Da Vinci dress in the end, but I bought it myself.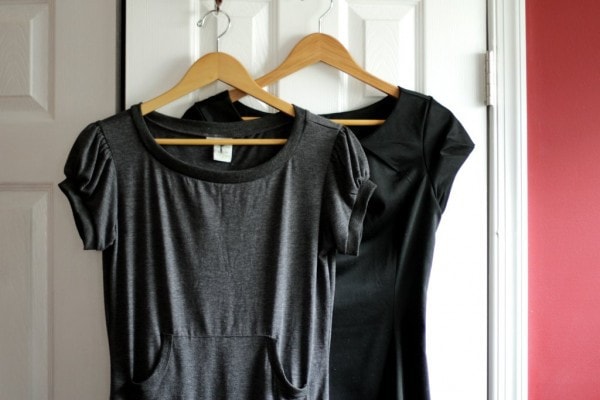 See, after it went out of stock, I checked back and noticed that it appeared in Shabby Apple's Practically Perfect section. This is the part of the site where they sell dresses at a discount because they have small imperfections. I love this concept, because you can get an awesome dress for way less than you'd pay otherwise and also because this allows Shabby Apple to sell stock that they might otherwise have to dispose of.
It's kind of like the "reduced for quick sale" bin the grocery produce department, except this is for dresses.
Anyway, because I could get it for almost 50% off, and because I wanted to try out the Practically Perfect deal (so I could write about it!) I decided to go ahead and buy a Da Vinci dress with my own moola.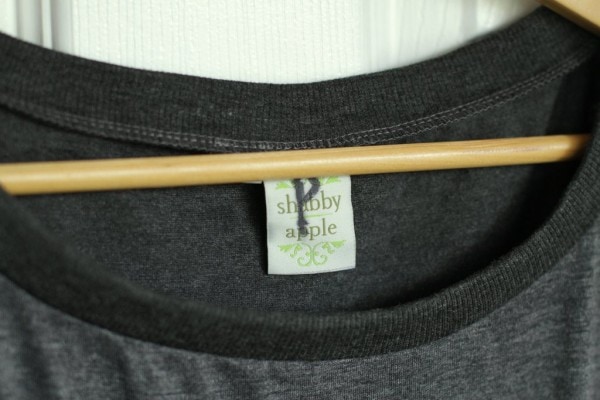 The only imperfection I can see on my dress is on the front pocket…just a teeny bit of the one side isn't sewn down. It'll be a quick and easy fix, and it's so minor, I wore the dress without even fixing the problem.
I'll probably be wearing this a lot in the summertime with flip-flops, but it also works great with a sweater and boots when the weather is colder.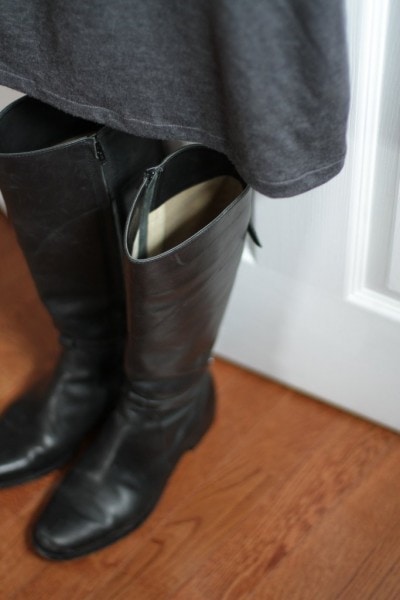 The material is very breezy and the drop-waist style is really flattering, especially if you happen to have had children and you aren't exactly sporting a supremely flat stomach. 😉 And the comfort of this dress really can't be beat.
(You can see lots of real life women wearing this dress on Google images.)
Though I tend to lean toward neutrals, Shabby Apple does sell lots of colorful clothes, like this skirt from the Ferris Wheel collection.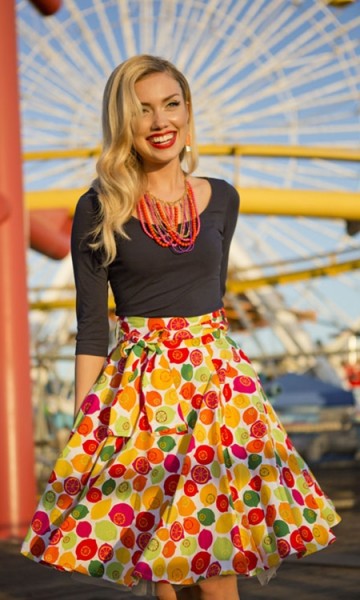 Let's see…what else should you know? Shabby Apple has a maternity collection, and a Fit Finder, which helps you find dresses that will flatter your body type (their sizes run from XXS-2X, though not every size is available on every item).
Ooh, and they also carry a lot of clothing made in the United States.
Lastly, you should know that Shabby Apple donates 5% of its net income to Accion, a charity that helps women around the world build their own businesses by offering microfinance.
So, I would recommend Shabby Apple if:
-you're looking to buy a well-made piece of clothing.
-you're excited about their donations to Accion.
-you want to buy a piece of clothing made in the U.S.
-you love vintage-inspired clothing.
-you're having trouble finding a fashionable but appropriate dress.
Shabby Apple clothes aren't as inexpensive as what you could find in a thrift store or at a mass merchandiser, of course, but they are high quality, and as you know if you've read here for a while, I am not opposed to paying more for quality (I'd rather buy one really great dress than 5 cheap ones that will fall apart shortly.)
___________________________
Ok. I think that's more than enough words from me! How about a giveaway for you? I've got a $50 Shabby Apple gift card to give away to one of you.
(That could get you a DaVinci dress for just $6, or a Ballerina dress for free!)
To enter, just leave a comment and tell me what your favorite Shabby Apple item is (go browse to find out…I think it's so much fun to scroll through Shabby Apple's offerings!)
I'll close the giveaway at midnight EST on Wednesday, April 17th, so don't delay…comment now!
One entry per person, please.
Disclosure: Shabby Apple sent me one complimentary V.P. dress, but I bought the Da Vinci dress myself, and I was not otherwise compensated for this post in any way, shape, or form.