New here? Thankful Thursday is something we've been doing in these COVID times; an exercise to help us hunt for the good that is in our lives and in the world, even in the midst of a pandemic.
Ready for our weekly gratitude muscle workout? 🙂
This week I am thankful:
for library books to read
I finished two this week and am working on a third and fourth.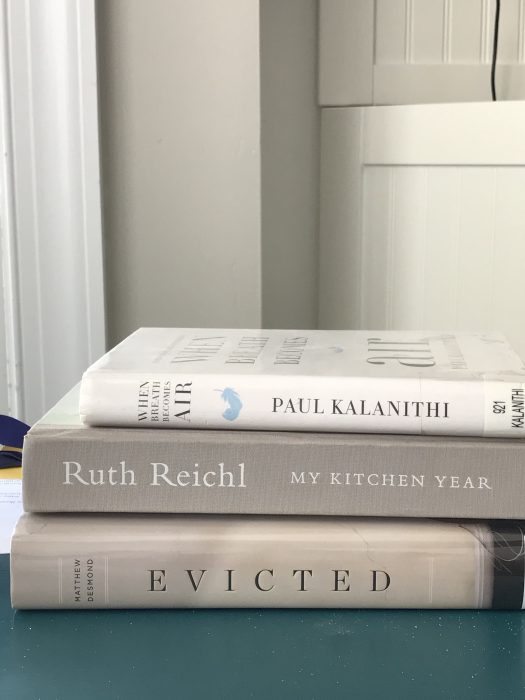 for a sunny day instead of rain
Sunny days are great in any circumstances but they're particularly sweet when rain was promised and then you get sun instead!
That happened this week and it made my heart happy.
for dry air
I will never not be grateful for low-humidity air in the fall. NEVER.
(in other words, my delightedness over the dry air may reappear in future Thankful Thursday posts.)
for plentiful food and safe housing
One of the books I'm reading right now is Evicted, and it has reminded me again that there are people in the world for whom food and housing are not a given.
for the many privileges I've had
Reading the stories of the people in Evicted is making me think about how many hardships some people face. Like, the odds are terribly stacked against some people from the start of their lives and my goodness, I just have never faced the level of challenges that they do, even in my most penniless days.
Part of me feels guilty about this, but that's probably not a super helpful reaction. Better to let this make me thankful, give me compassion, and inspire me to help others.
that I got to learn how to cook as a teenager
Being comfortable in the kitchen makes life much easier in a lot of ways. So I am grateful that my mom let me make daily messes in the kitchen while I was a teenager.
that I usually sleep pretty well at night
I have occasional sleep issues, but for the most part, I get a decent amount of sleep each night.
I know that makes even the hard days much more manageable.
that I am able to help Sonia and Zoe with their math
I am glad that I can understand what they're doing and help them with it.
Happily, this gets easier and easier for me as I homeschool, because by the time Zoe gets to a particular math level, I've already gotten a refresher on it three times with her older siblings.
Now, anything beyond Algebra 2? Nope. Not doing it. The college professors can handle it from there. 😉
that Sonia and Zoe have each other
Sonia is a very social person, and now that one older sibling has moved out and the other is very busy with work and college, she would be pretty lonely if she were the baby of the family.
So, it's a mercy that Zoe is here! Zoe's pretty introverted, but still, she and Sonia have some fun times together, and Sonia is much less lonely than she'd be without Zoe.
Zoe will probably eventually be the sole kid at home, but since she's an introvert, she's gonna be fine with that situation. 😉
that I live in a world where there are Octobers
As Anne from Anne of Green Gables says. 😉
What are you thankful for this week?