This has been on my menu plan a few times of late, and each time, several of you have asked for the recipe.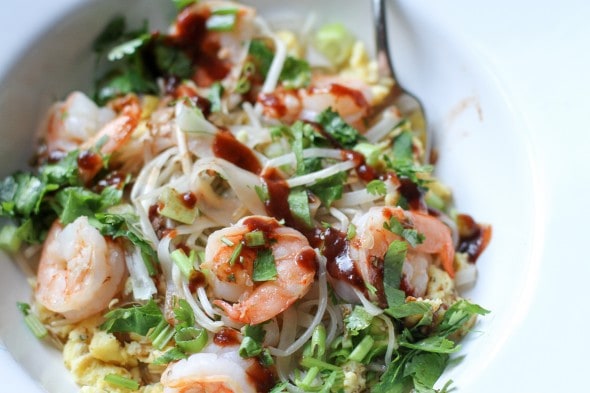 Like most of the recipes I make, this comes from Cook's Illustrated. It's the only Pad Thai recipe I've ever tried, but my family likes it and so I haven't seen the sense in trying another version.
If it ain't broke, don't fix it. 😉
While I've had Pad Thai in restaurants a few times, I didn't realize until recently that the noodles are rice, not wheat. So, if you need to eat gluten-free, this is a pretty handy-dandy recipe because it totally does not scream "gluten-free!" when you eat it.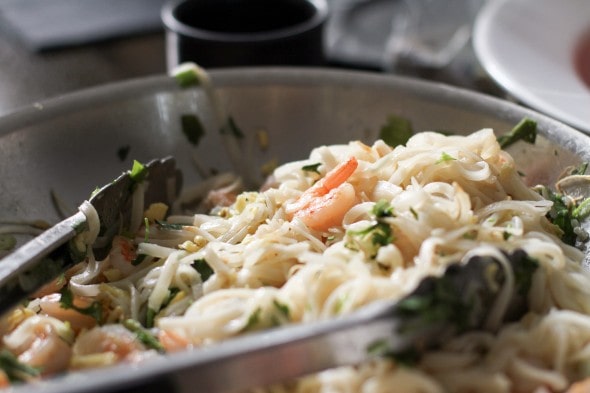 Cook's Illustrated says that a number of Pad Thai recipes call for hard-to-find ingredients, but theirs is pretty simple. It does call for fish sauce and rice noodles, but those are both easy to locate at a grocery store (as long as you're not at Aldi!).
Pad Thai cooks up in just a few minutes, rapid-fire fashion, so you will need to set aside some time to prep all the ingredients. If you don't have them ready before you start cooking, you will feel mildly stressed. 😉
First up, you'll want to start the rice noodles. Rice noodles are a little weird in that you soak them in hot water rather than boiling them.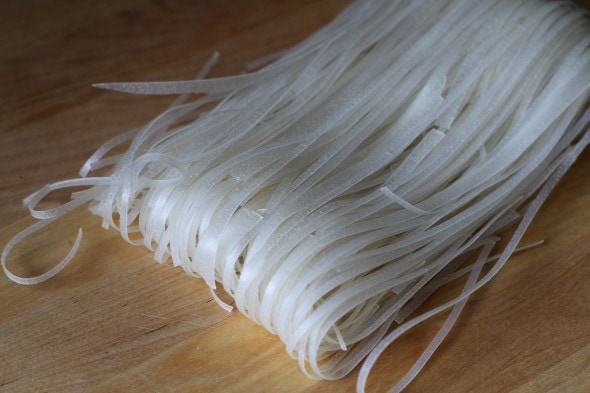 This takes 20 minutes, so you can cover them with hot tap water and leave them to soak while you prep the other ingredients.
To make the sauce, combine lime juice, fish sauce, rice vinegar, sugar, cayenne pepper, and vegetable oil.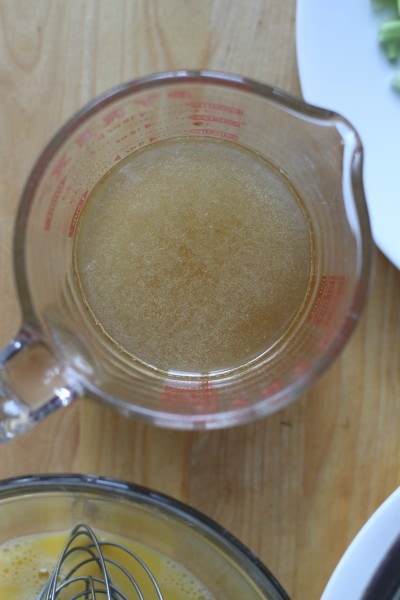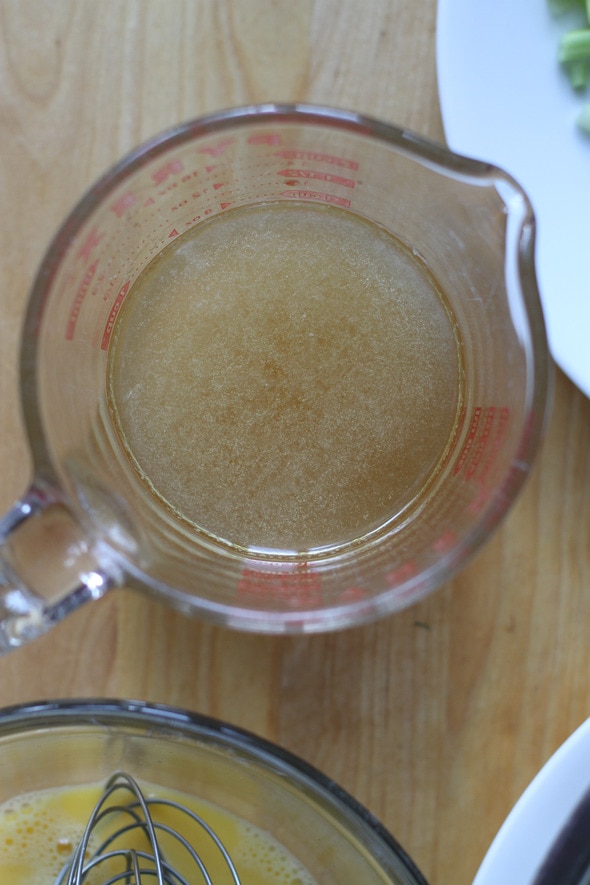 Fish sauce is a foul-smelling liquid that somehow cooks up into something very edible. But every time I use it, I have to remind myself that it does not taste as bad as it smells.
Whatever you do, don't take a big whiff of it. So gross.
Whisk 2 eggs and 1/8 teaspoon salt together.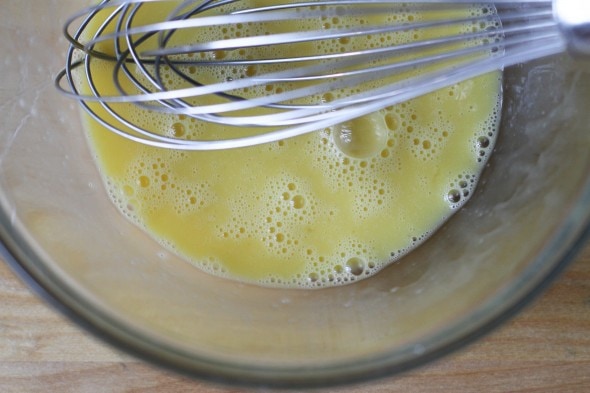 Peel 12 ounces of shrimp.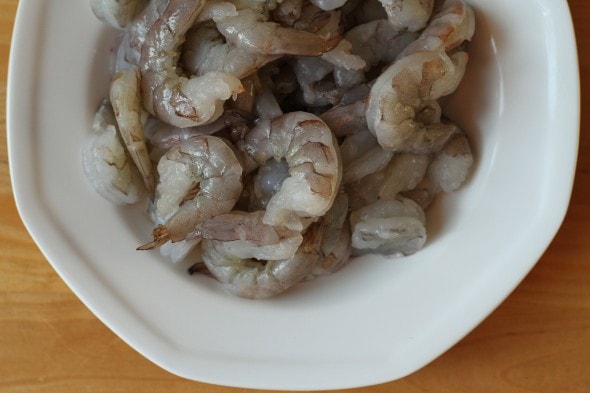 Rinse the bean sprouts.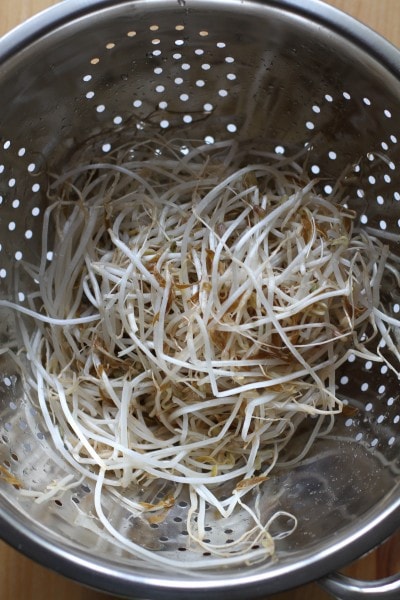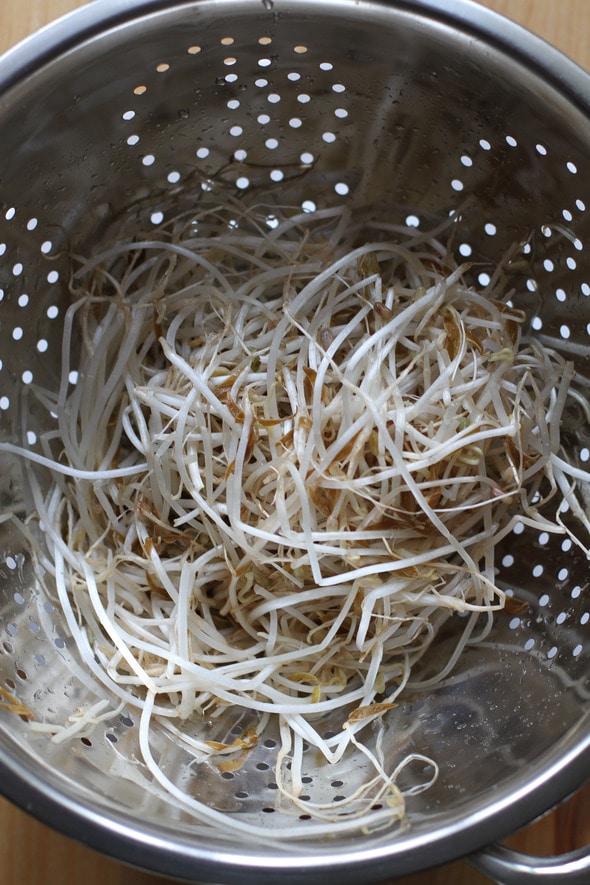 And chop the scallions and cilantro.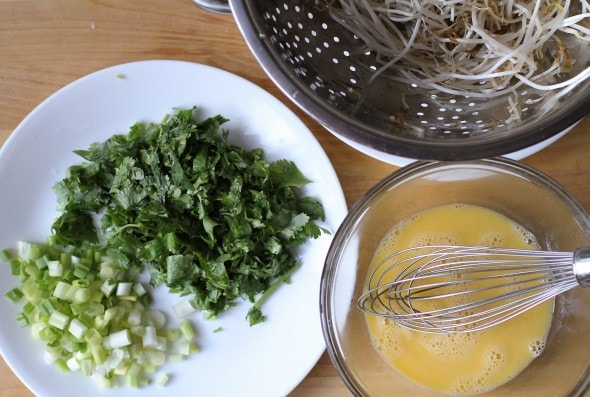 By this time, your rice noodles should be lovely and soft. Drain 'em, and set 'em aside.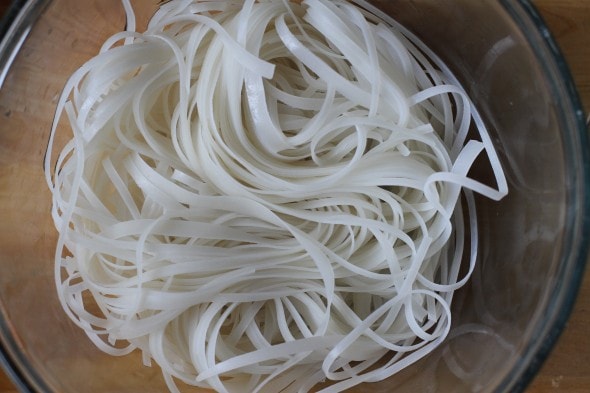 Heat vegetable oil in a skillet over medium-high heat. The recipe calls for a nonstick skillet, but I just use my stainless steel All-Clad skillet and it works fine. I need a bit more oil than the recipe calls for, but otherwise it works fine!
Add the shrimp to the hot pan, sprinkle them with 1/8 teaspoon of salt, and cook them for a few minutes on each side, or until they're opaque.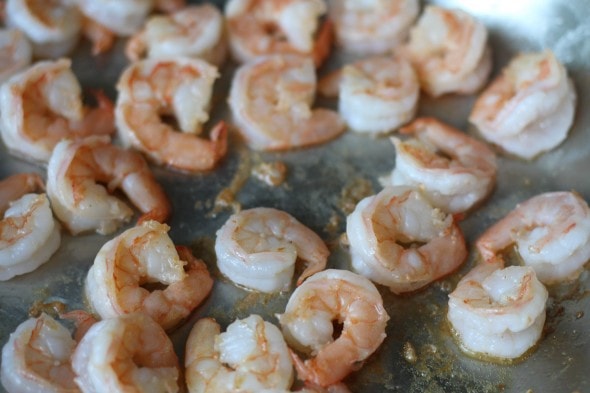 The recipe doesn't specify this, but I have much better luck with shrimp browning a bit if I pat them dry with paper towels first.
Dry food = better browning.
Remove the shrimp from the pan and add a little more oil. Add minced garlic and chopped onion, and saute for a minute or two, just til they're softened. Add the eggs and scramble them until they're just cooked.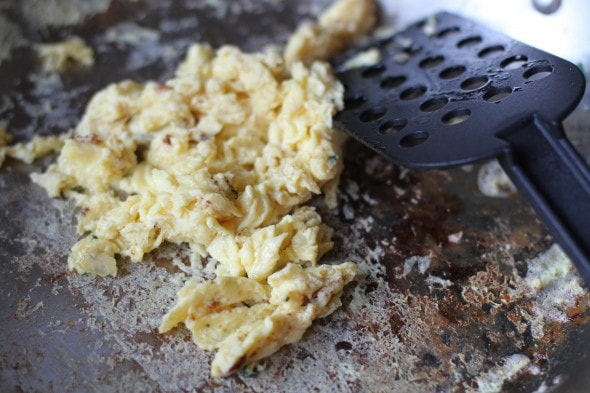 Add the drained noodles and the fish sauce mixture and cook the whole mess for a few minutes, using a tongs to make sure all the noodles get coated in sauce.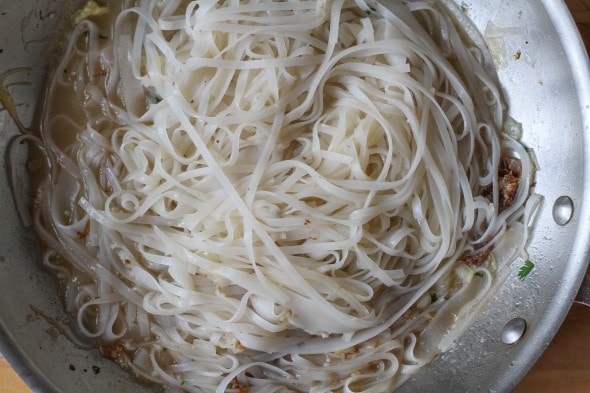 Add the shrimp, bean sprouts, and scallions, and cook and stir for a few minutes, until everything is coated nicely and the noodles are soft.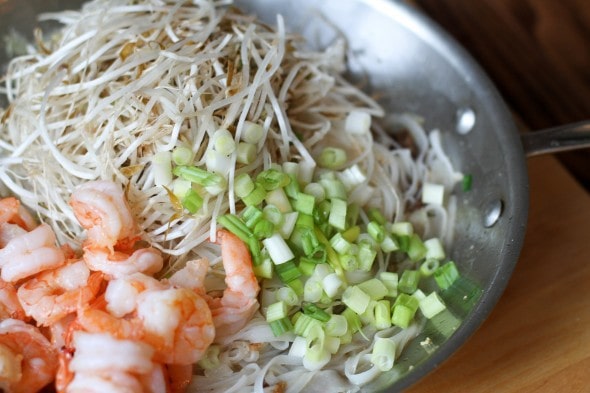 I always have a little bit of trouble getting the bean sprouts to mix with the noodles, but it does happen with enough persistence!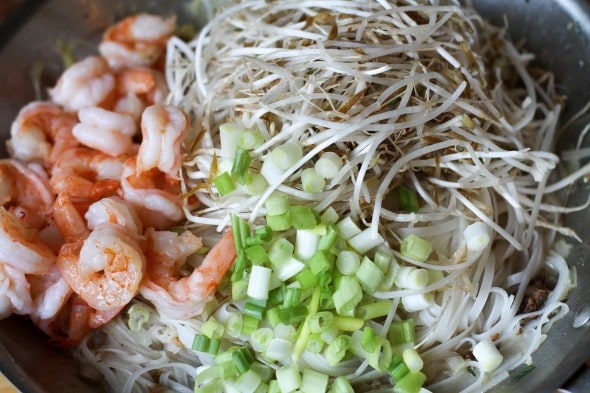 Then you're pretty much done. Sprinkle cilantro liberally over the Pad Thai, along with chopped salted peanuts (my kids think that sounds gross, so we skip the peanuts.).
And I like to drizzle sriracha sauce over mine. So good!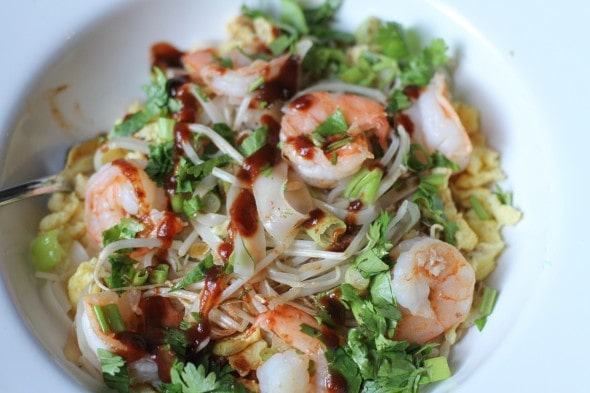 Shrimp Pad Thai
Printable Shrimp Pad Thai Recipe
serves 4
Save
1/3 cup lime juice
1/3 cup water
3 tablespoons fish sauce
1 tablespoon rice vinegar
3 tablespoons brown sugar
¾ teaspoon cayenne pepper
4 tablespoons peanut oil or vegetable oil
8 ounces dried rice stick noodles, about â…› inch wide
2 large eggs
¼ teaspoon table salt
12 ounces medium shrimp (30-40 count), peeled and deveined
3 cloves garlic, pressed through garlic press or minced (1 tablespoon)
4 tablespoons minced onion
6 tablespoons chopped salted roasted peanuts
3 cups bean sprouts (6 ounces)
5 medium scallions, green parts only, sliced thin on sharp bias
¼ cup fresh cilantro leaves
lime wedges
In a medium bowl, combine lime juice, water, fish sauce, rice vinegar, sugar, cayenne pepper, and 2 tablespoons vegetable oil.
Pour hot tap water over rice noodles in large bowl; let sit 20 minutes, then drain.
In a small bowl, beat eggs and add 1/8 teaspoon salt.
Heat 1 tablespoon vegetable oil in a large skillet over medium heat until oil is nearly smoking. Add shrimp and sprinkle with 1/8 teaspoon salt. Cook, stirring occasionally, until shrimp are opaque and pink. Remove from pan and set aside.
Add 1 tablespoon oil to now-empty pan, return to heat, and add onion and garlic. Cook for 2-3 minutes or until onion is softened. Add beaten eggs to pan, and cook, stirring constantly to scramble (20-30 seconds).
Add drained noodles to pan; stir to combine. Pour fish sauce mixture over noodles, tossing to combine. Add bean sprouts, cooked shrimp, and 1/4 cup peanuts and all but 1/4 cup scallions; toss to combine. Cook about two minutes, or until noodles are tender and Pad Thai is heated through.
Sprinkle Pad Thai with cilantro and remaining scallions. Serve with lime wedges.


Save