My readers who have been with me for a while (since last October, to be specific) will remember the pants I posted about last fall. If you're the sort that won't click on links, the Cliff's notes version is that I got a pair of mildewed khaki pants for free, bleached them, Sonia wore them for 3 seasons in varying ways, and I predicted that Zoe would also get 3 seasons out of them, which would make me ridiculously happy. Now you're all caught up. 😉
As I predicted, Zoe did indeed wear them all winter, and by this spring, she was tall enough to wear them as capris, with a few cuffs at the bottom.
She's been sporting them this way all summer.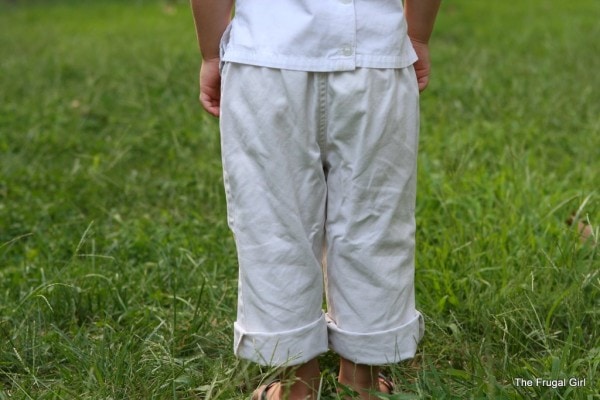 But the other day, something bad happened to them.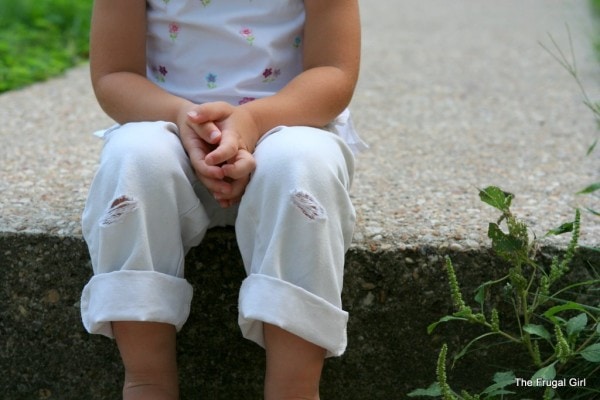 The fabric had just gotten so soft and worn, it split apart at both knees.
And that's not all. The fabric around the corners of the pockets has started to sprout holes as well.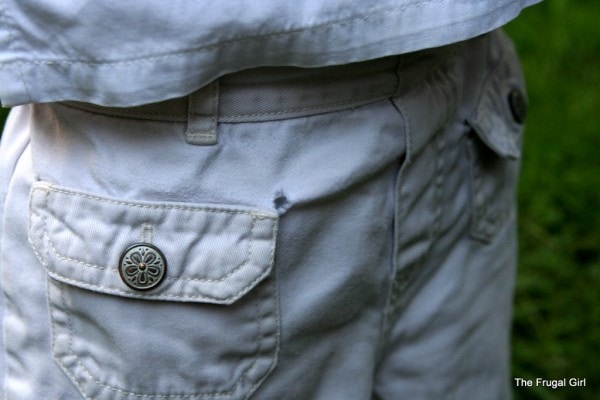 It's possible that I might find time to turn these into a skirt the way I did with a pair of my pants and a pair of Lisey's pants (I could cut the knees off and I know how to mend the holes by the pockets), but I'm thinking it's fairly doubtful that I will get around to it.
So, I think these pants have met the end of their useful life.
Goodbye, faithful pants. You have served us well, especially considering that you cost $0.00.